Switzerland 29 June: Lausanne - Geneve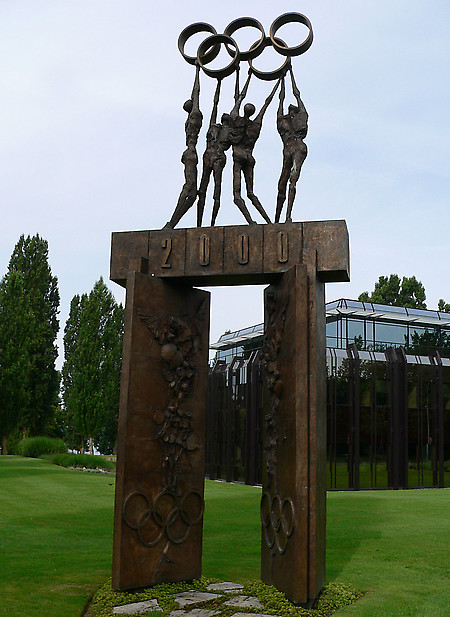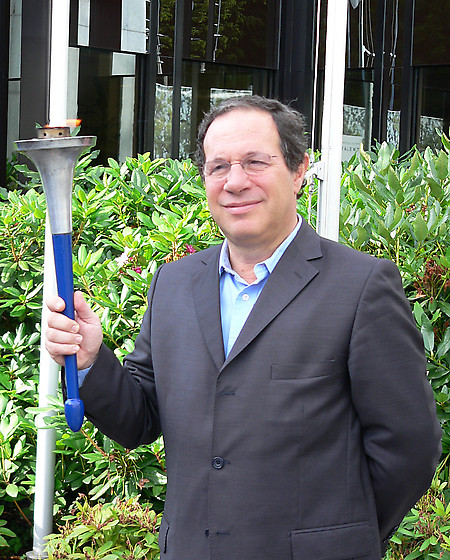 We started in Lausanne today, at the headquarters of the Olympic Committee. The president of the Olympic Museum, Mr. Francis Gabet, received us on behalf of the IOC President, Mr. Jacques Rogge.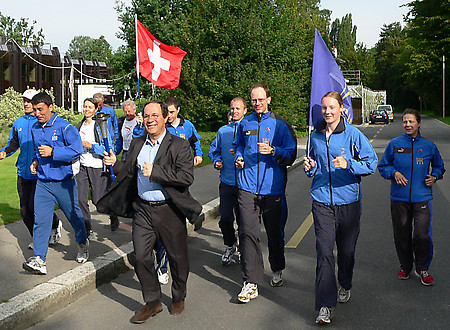 Mr. Gabet turned out to be quite athletic: spontaneously, he took the torch and startd running with it! We presented the ideas of friendship and understanding underlying the Run and he shared some warm words with us.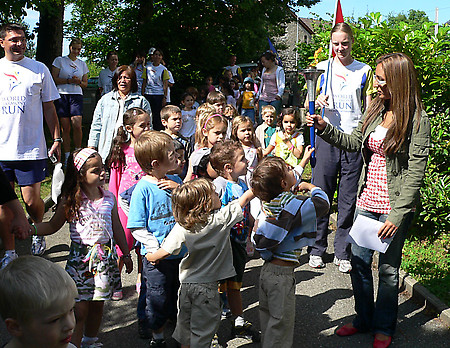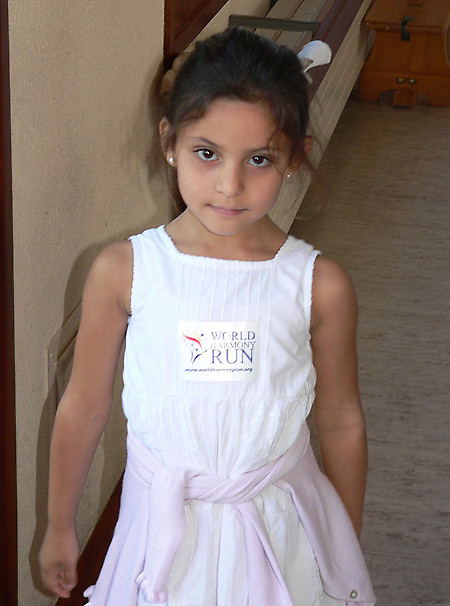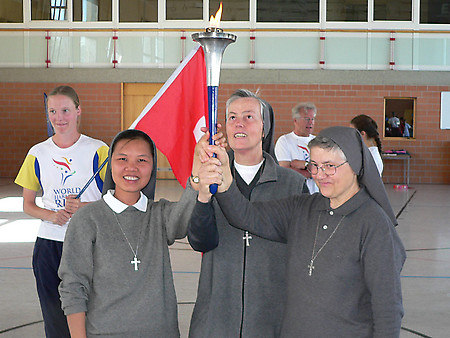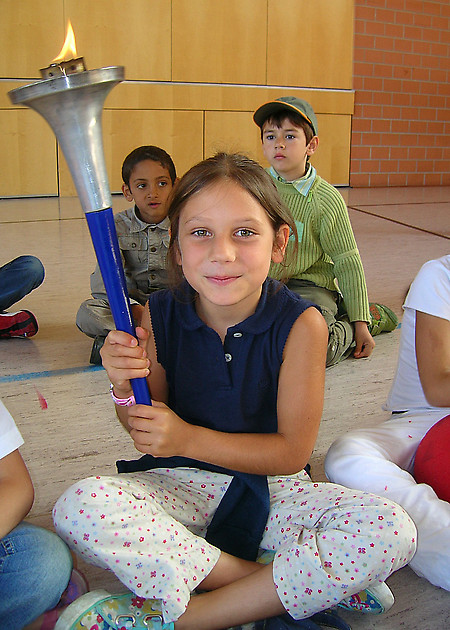 Later on, in Geneva, we visited a school with kids from 67 different nations! As it was the last school day, many kids had left already, but the remaining children had a nice time with our team.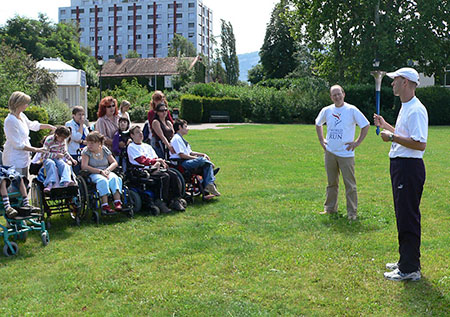 Next, was a school for disabled children. The kids had just watched our WHR DVD before we ran in; they cheered us enthusiastically and together we sang the World Harmony Run Song , which they were learning for weeks beforehand!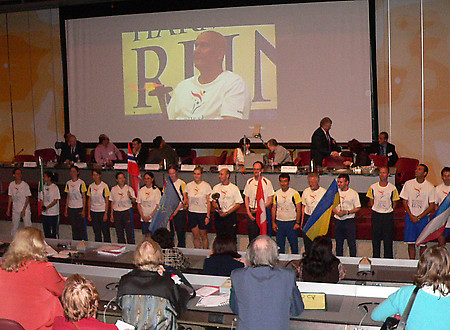 The highlight today was a presentation of the World Harmony Run at the First Civil Society Development Forum. This is a conference of Non-Governmental Organisations (NGO's) that regularly consult with the U.N. at the Geneva Conference Centre.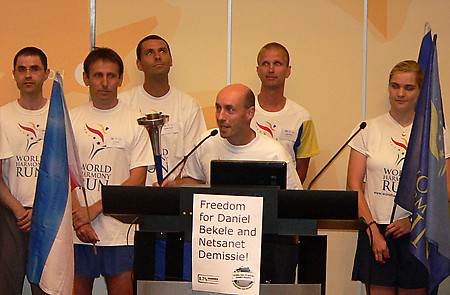 We ran in with torch and flags while they showed our promotion DVD. An introduction by the chairman was followed by a short presentation by our Swiss Coordinator, Pranam Horlbeck.
After the presentation, many people from the audience came to greet us and to take pictures with the torch.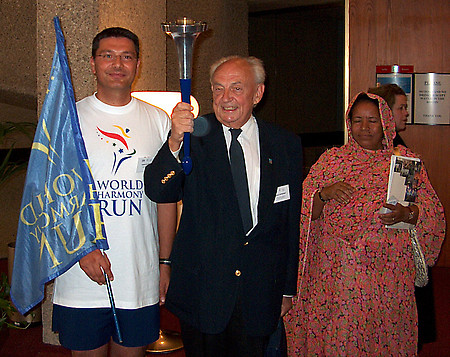 An old friend of the World Harmony Run, former Director-General of the U.N. in Geneva Mr. Vladimir Petrovsky, also met with our team afterwards for a nice photo. We exchanged warm words and shared some good memories about Mr. Petrovsky's time in Geneva.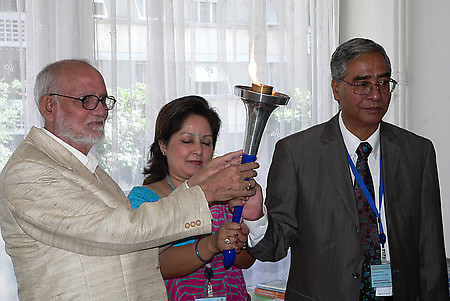 A final surprise meeting took place at the Permanent Mission of Nepal to the United Nations and Other International Organisations at Geneva where Mr. Bharat Raj Paudyal, Acting Ambassador, Deputy Permanent Representative to the UN received us first. Then we had the great fortune to meet Mr. Sher Bahadur Deuba, former Prime Minster and President of the Nepali Congress (Democratic) Party. His wife Dr. Arju Deuba, a leader of the Nepalese Women Empowerment movement. Also present was Mr. Sushil Koirala, Vice-President of the Nepali Congress Party. The meeting was brief, since our hosts had to hurry to attend their meeting, but they took time to return our short presentation with very warm words. They held the torch together and we told them a little bit about our Run in Nepal some time ago.
This happened to be our last meeting in Switzerland, as we were crossing to France later in the afternoon to catch up with our second team, which is already on its way to Paris.
The World Harmony Run in Switzerland was a great success this year and we really had a good time. Thanks for all the hospitality and enthusiastic organisation!
---
Distance: 60km
Team Members:
Dipavajan Renner and Tanja Potocnik (Austria), Anita Borics (Hungary), Jürgen Säger (Germany), Roos de Waart (Netherlands), Silvia Dinunzio (Italy)
Harmonemail:
You can send a message to the runners or read the messages.
Gallery: See more images!