Iceland 27 April: Reykjavík
Today is the 25th anniversary of the World Harmony Run! On this day, 25 years ago, started the Sri Chinmoy Oneness-Home Peace Run, which later became the World Harmony Run. Present at the opening ceremony 25 years ago were such greats as the founder, Sri Chinmoy, Carl Lewis and Narada Michael Walden.
Í dag er 25 ára afmæli Friðarhlaupsins! Á þessum degi hófst hið alþjóðlega Sri Chinmoy Oneness-Peace Run, sem síðar var nefnt World Harmony Run. Á Íslandi höfum við alltaf nefnt það Friðarhlaupið. Á opnunarathöfninni fyrir 25 árum voru menn eins og Sri Chinmoy, stofnandi hlaupsins, Carl Lewis, margfaldur heims- og ólympíumeistari í spretthlaupum og langstökki og Narada Michael Walden, margverðlaunaður Grammy verðlaunahafi.
We chose Höfði house as the site for our anniversary celebration. This house hosted, among other events, the summit between Gorbachev and Reagan in 1986, which marked the beginning of the end of the Cold War. We felt that Höfði was precisely prestigious enough for our anniversary.
Höfði var valinn fyrir afmælishátíðina okkar, enda hefur húsið tengst friði órjúfanlegum böndum síðan leiðtogafundur Gorbachev og Reagan fór þar fram árið 1986.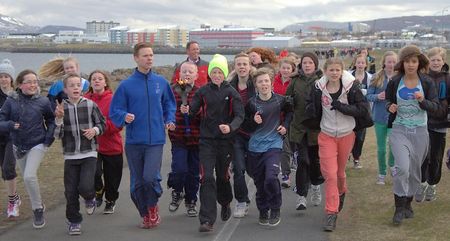 Running with us today were 150 kids from Laugalækjarskóli school. These 12-13 year old kids have been studying peace for the last 2 months in anticipation for the anniversary. Today they got to run with us from their school to Höfði house (roughly 2 kilometres).
Í dag hlupu með okkur krakkar úr Laugalækjarskóla, 150 talsins. Þessir krakkar úr 7. og 8. bekk hafa kynnt sér friðarmál síðastliðna 2 mánuði og í dag fengu þau að hlaupa með okkur frá skólanum sínum að Höfða (tæpa 2 kílómetra).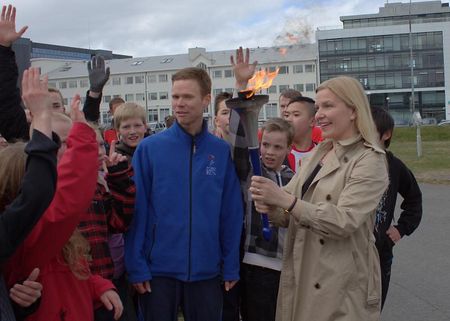 At Höfði, we were met by Reykjavík City Councilwoman Eva Einarsdóttir.
Eva Einarsdóttir, borgarfulltrúi og formaður ÍTR, tók á móti okkur við Höfða.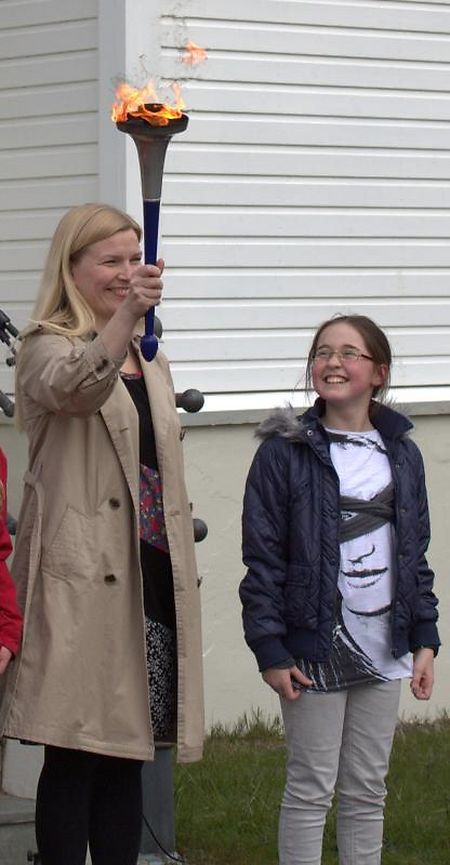 All of us, together, formed a circle around Höfði and then we passed the Torch between ourselves, all around the house. Eva started the passing.
Við mynduðum mannlega friðarkeðju um Höfða og létum Friðarkyndilinn ganga manna á milli allt í kringum húsið.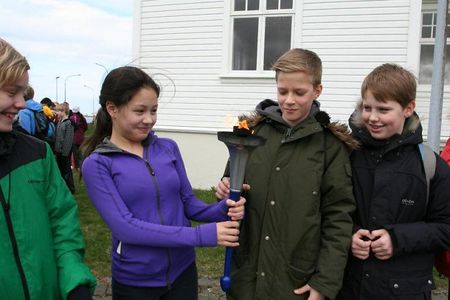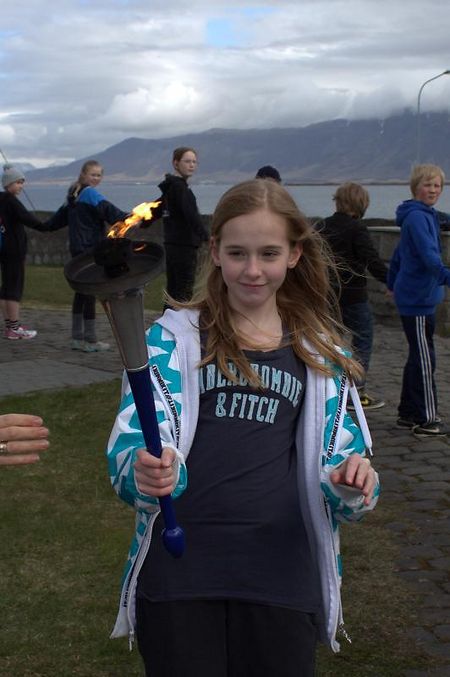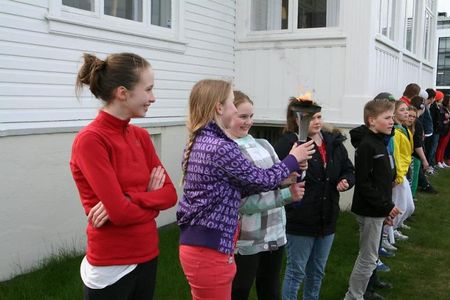 The kids were excited to hold the Torch.
Krakkarnir voru spennt að fá að halda á Friðarkyndlinum.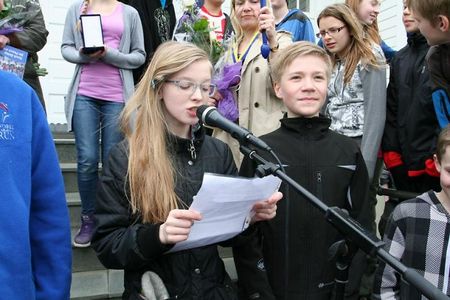 After the passing of the Torch was done, the kids read out poems on peace. During the last 2 months, all the kids wrote assignments were they expressed their thoughts and feelings about peace. Two students were selected to read out these expressions: Hólmfríður Hafliðadóttir (pictured reading) and Garðar Ingvarsson (next to Hólmfríður). The two of them are very talented public speakers and have won a public speaking competition for kids for the last two years.
Við fengum að heyra friðarhugleiðingar sem krakkarnir höfðu samið fyrir hátíðina. Hólmfríður Hafliðadóttir og Garðar Ingvarsson, sigurvegarar í Stóru upplestrarkeppninni síðustu tvö árin, lásu lítið úrval af þeim mörgu fallegu friðarhugleiðingum sem krakkarnir höfðu sett á blað.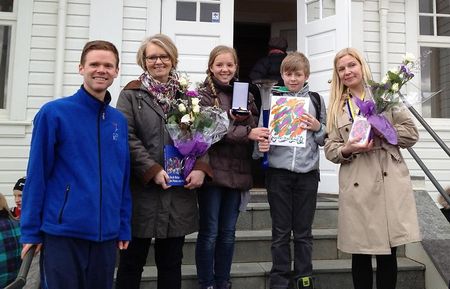 We felt that the school deserved a Torch Bearer Award. Two students who exemplify peace and harmony, Kristrún María (holding the Torch Bearer Award) and Huginn Orri (holding the reprint of Sri Chinmoy's World Harmony painting), received the award on behalf of the school. We also wanted to honour their enthusiastic teacher, Guðrún Ebba Ólafsdóttir (second from left). Finally, we well and truly felt that Councilwoman Eva Einarsdóttir deserved the Torch Bearer Award. We know that, despite her very busy schedule, Eva always finds time to support and promote peace initiatives in the City of Reykjavík.
Laugalækjarskóli hlaut hvatningarverðlaun Friðarhlaupsins, "Kyndilberi friðar" fyrir þessa miklu og glæsilegu vinnu sem þau hafa lagt í að kynna sér friðarmál. Tveir nemendur sem leggja sig fram um að stuðla að sátt og samlyndi innan skólans, þau Kristrún María og Huginn Orri, tóku við medalíunni og málverki eftir stofnanda Friðarhlaupsins, Sri Chinmoy. Einnig heiðruðum við kennara þeirra, Guðrúnu Ebbu Ólafsdóttur (önnur frá vinstri), sem hefur kynnt friðarmálin fyrir krökkunum af miklum áhuga. Að lokum veittum við Evu Einarsdóttur verðskuldað hvatningarverðlaunin "Kyndilberi friðar," en við hjá Friðarhlaupinu vitum að Eva gefur sér alltaf tíma til að styðja og hvetja friðarmálin og friðarfrumkvæðin, þó hún þurfi að sinna annasömum skyldum sem borgarfulltrúi.
---
Video Message from Davidson Hepburn, President (2009 - 2011) of the General Conference of the United Nations Educational, Scientific and Cultural Organization (UNESCO) for 25th Anniversary of the World Harmony Run and a vision for the decade: "Toward a Oneness-World".
Full Text of the 25th annversary message and link to 25 language informal Translations: http://www.worldharmonyrun.org/25
or Click on language button for separate youtube videos wth sub titles in varous languages
See also: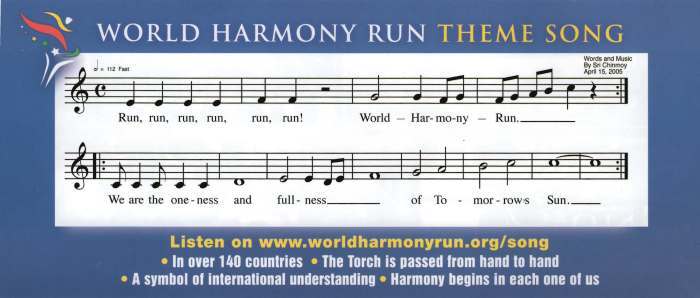 ---
Distance: 2 km
Team Members:
Suren Torfi Leósson (Iceland), Pranava Rúnar Gígja (Iceland)
Harmonemail:
You can send a message to the runners or read the messages.
Gallery: See more images!