Slovakia 4 June: Presov - Polish border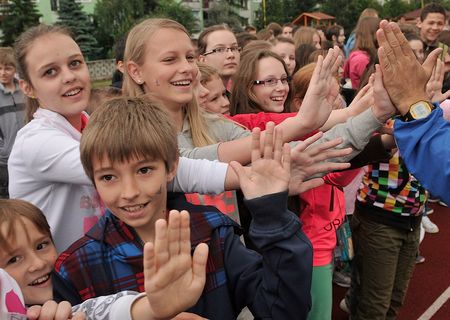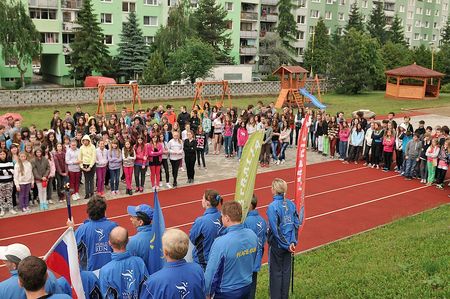 400 enthusiastic kids from PS Šrobárova in Prešov has started us up before another long day.
Entuziazmus 400 detí zo ZŠ Šrobárova v Prešove nás hneď ráno naštartoval do ďalšieho náročného dňa.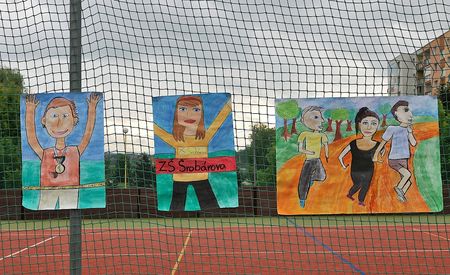 Unconventional decoration of the sport playgrounds.
Netradičná výzdoba športového ihriska.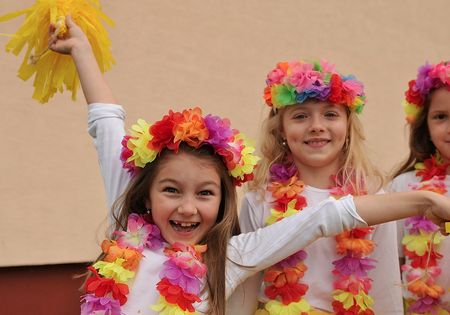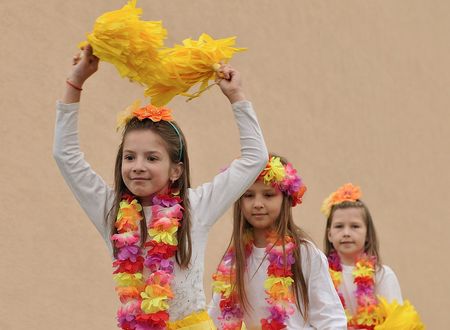 Cheerful exotic dance performed by little princesses.
Veselé exotické tance v podaní malých princezien.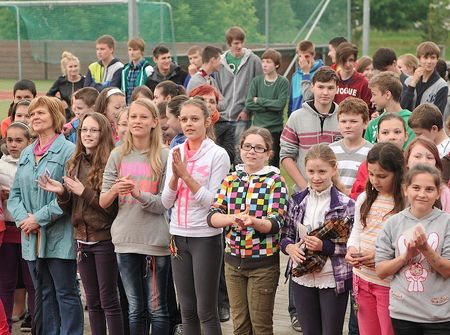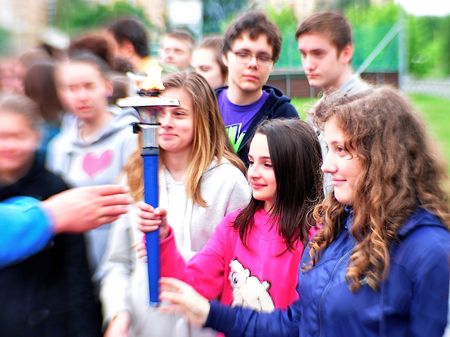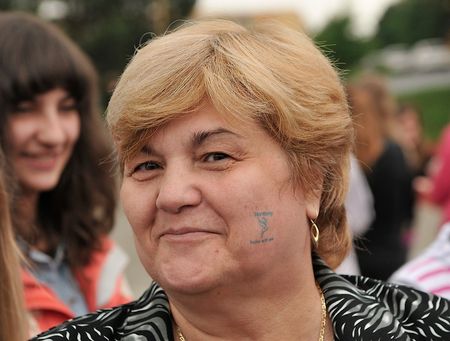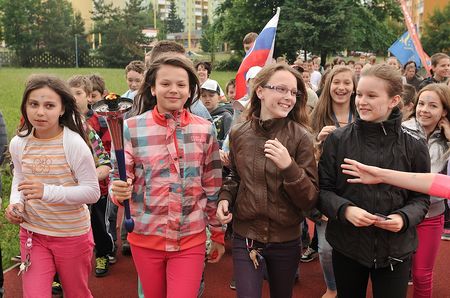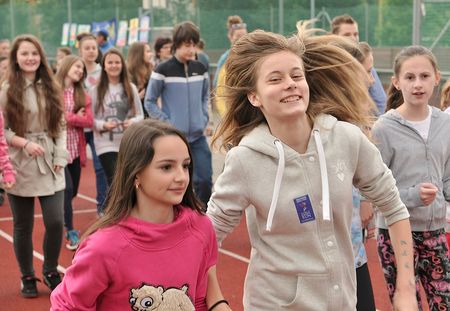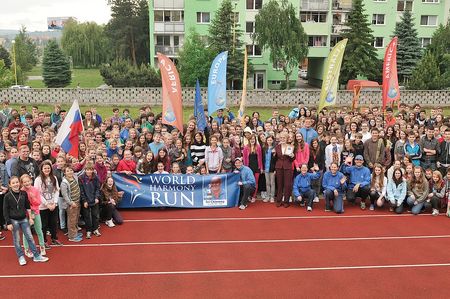 There were so many of us that we couldn't fit into the picture.
Bolo nás tam toľko, že sme sa ani všetci nezmestili na fotku.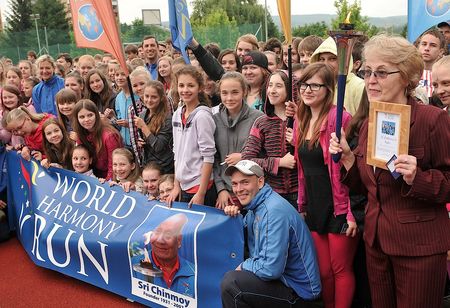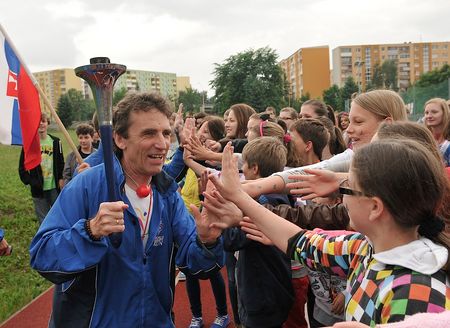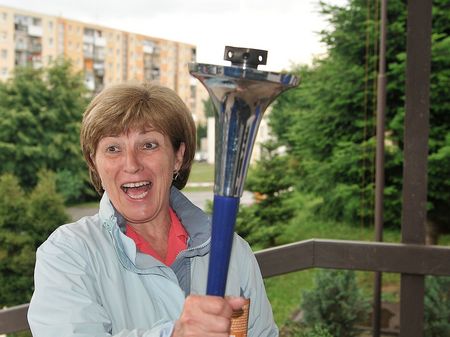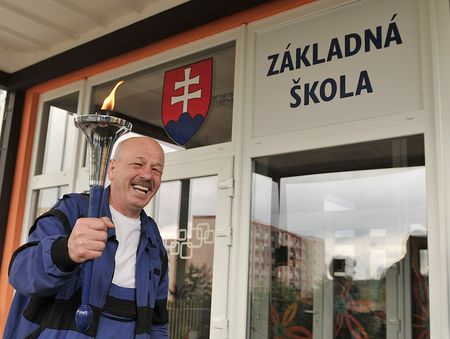 Joyful Mr. janitor with the torch.
Veselý pán školník s pochodňou.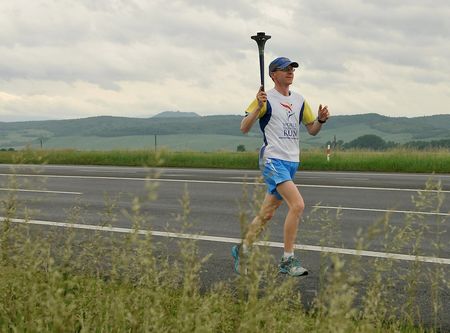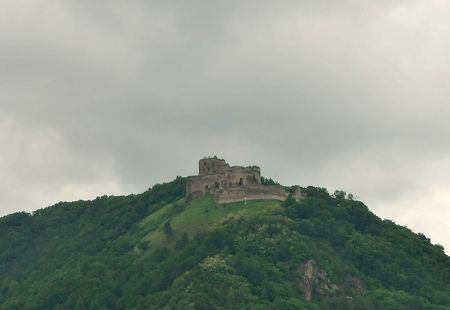 Kapušany castle is guarding us from coming rain.
Kapušiansky hrad na stráži pred prichádzajúcim dažďom.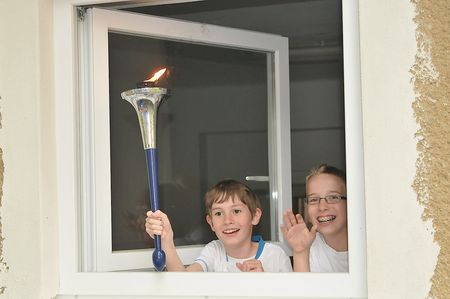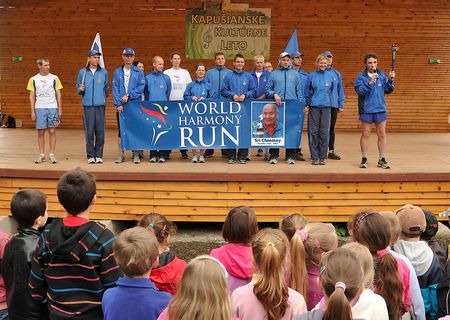 The kids in Kapušany were waiting for us at a newly built amphitheater.
Deti v Kapušanoch nás čakali v novovybudovanom amfiteátri.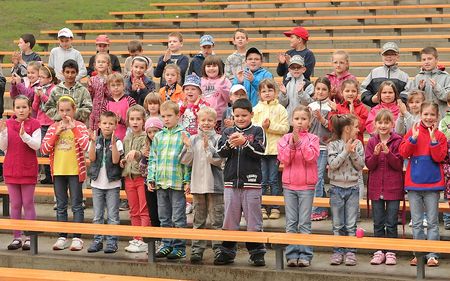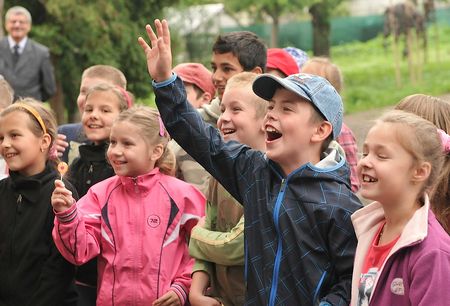 They were cheerful and playful.
Boli veselé a hravé.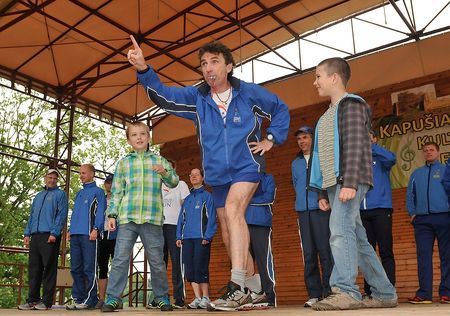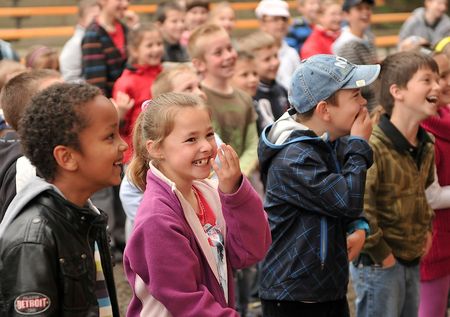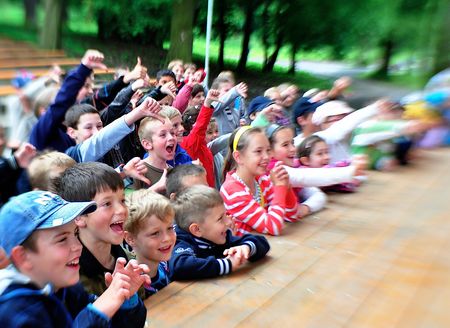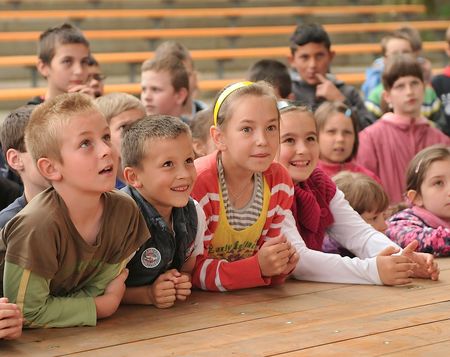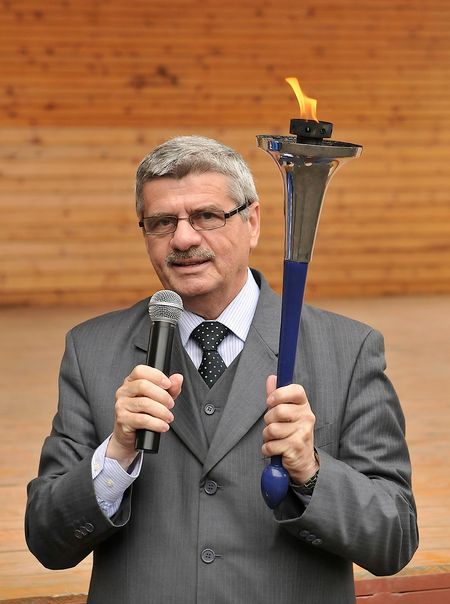 The Mayor Jozef Pribula encouraged us with kind words and decorated our torch with a ribbon.
Pán starosta Ing.Jozef Pribula nás povzbudil krásnymi slovami a stuhou ozdobil našu pochodeň.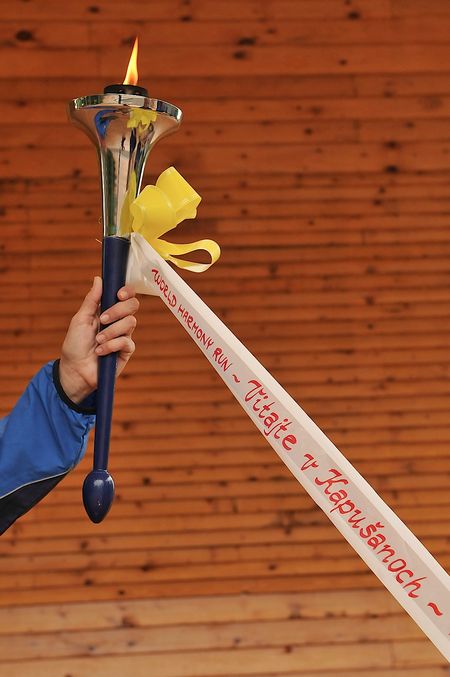 World Harmony Run, welcome in Kapušany.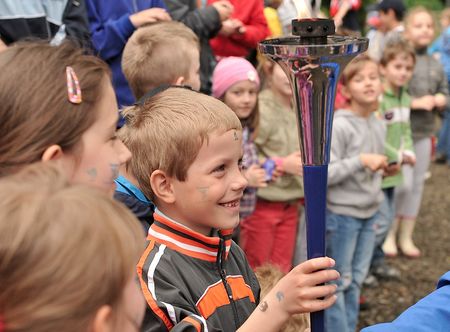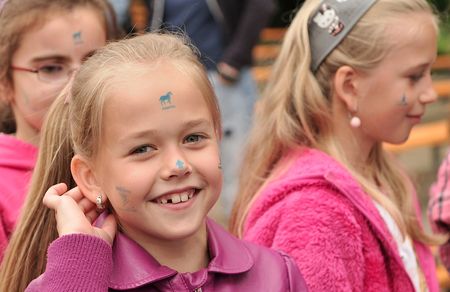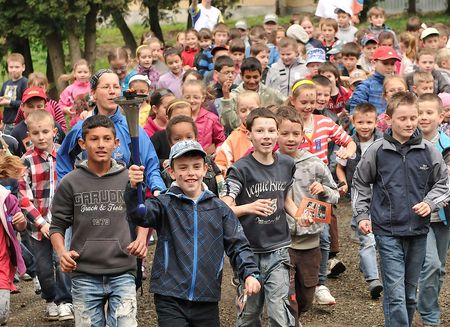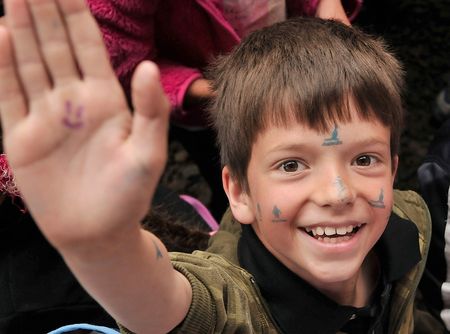 High five!
Ťapka!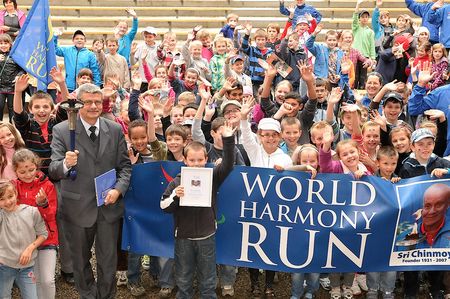 Group picture with the Mayor.
Spoločná fotka s pánom starostom.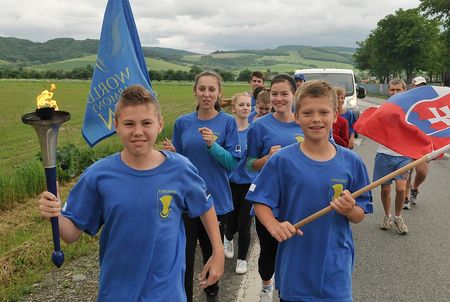 Young sportsmen escorted us to Giraltovce.
Do Giraltoviec nás doprevádzali mladí športovci.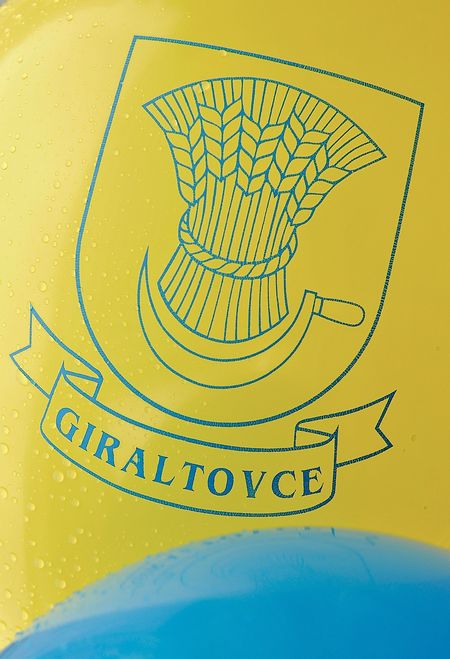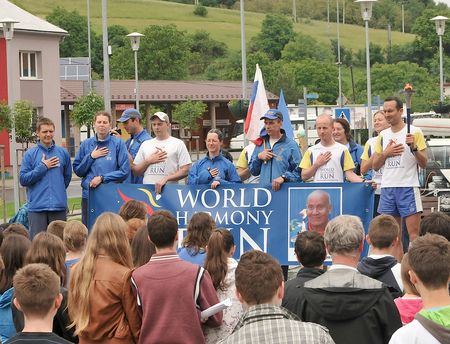 Despite bad weather there were many people waiting for us at the square in Giraltovce.
Aj napriek zlému počasiu na nás na námestí v Giraltovciach čakalo veľa ľudí.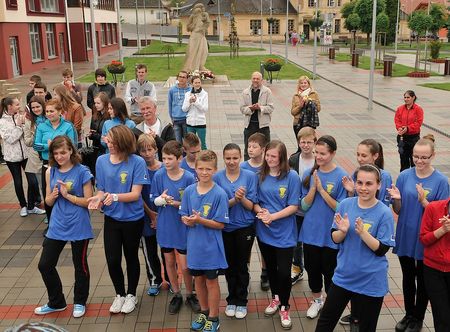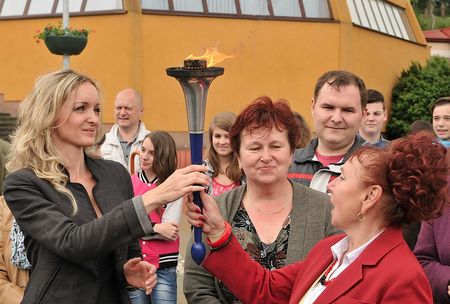 A wish for peace - some out loud...
Prianie pre mier - niekto nahlas...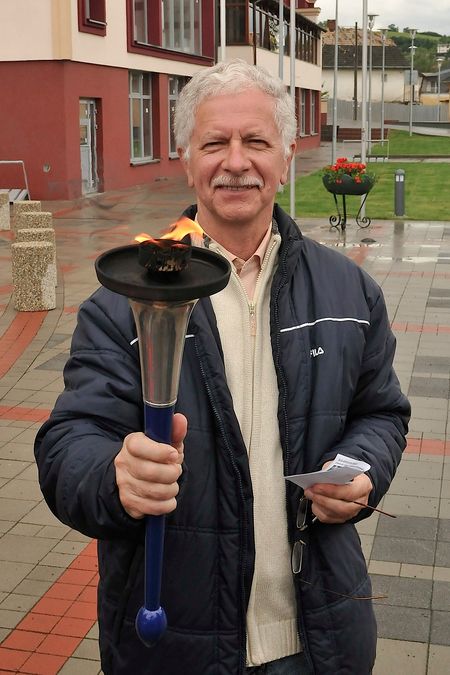 ...some in silence.
...niekto len v duchu.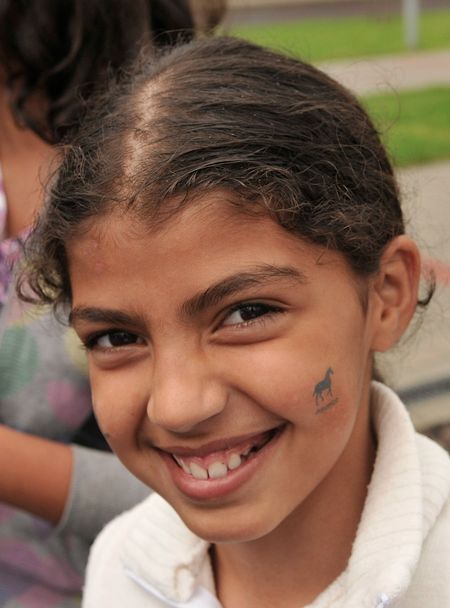 After the program Števka ran with us to the end of the town.
Števka s nami po programe bežala až na koniec obce.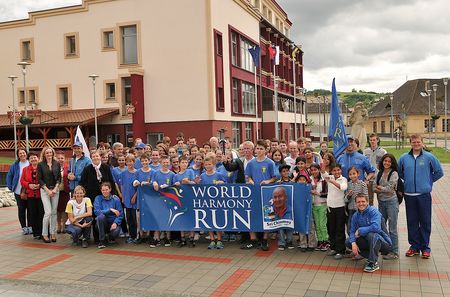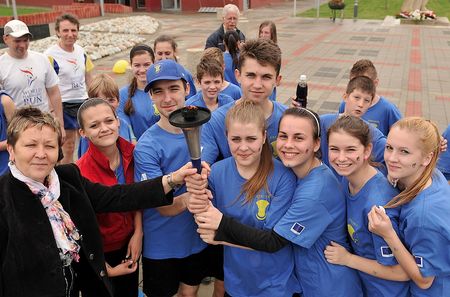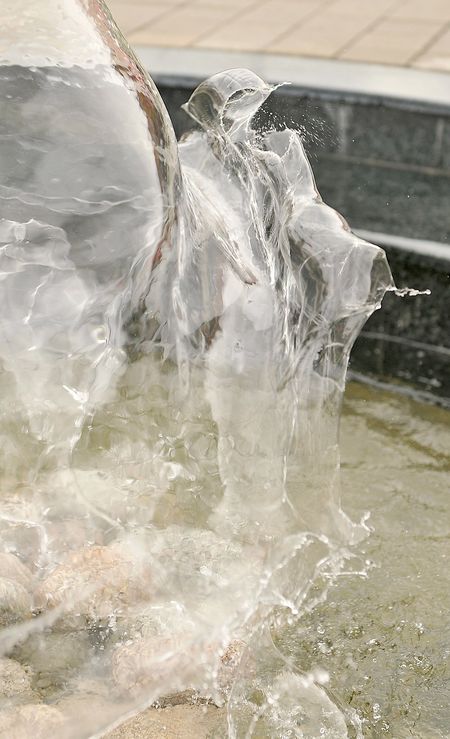 Water statue.
Vodná socha.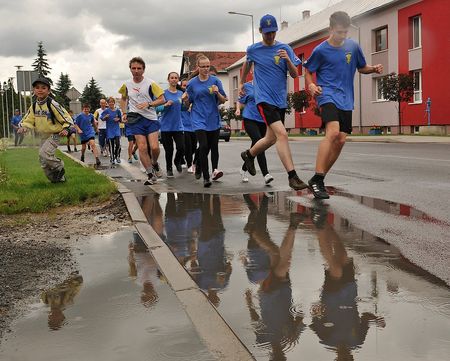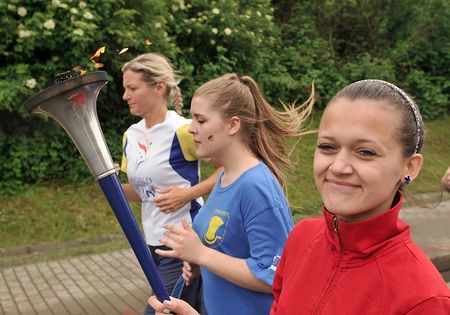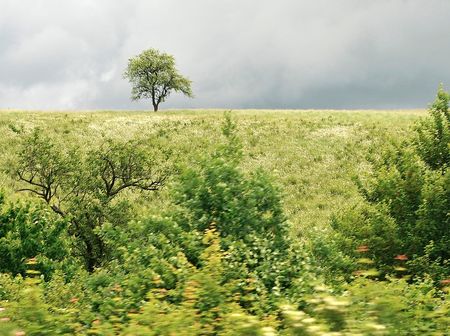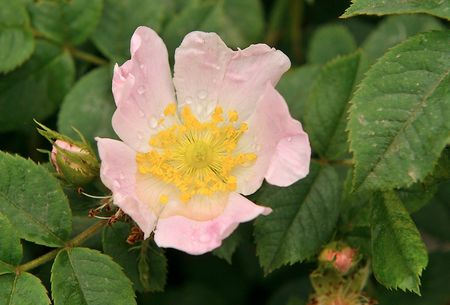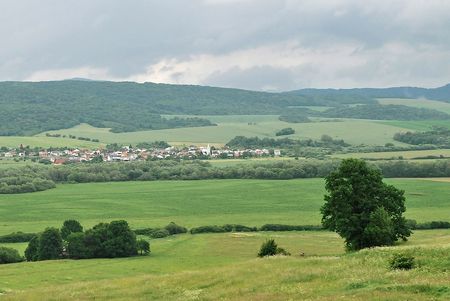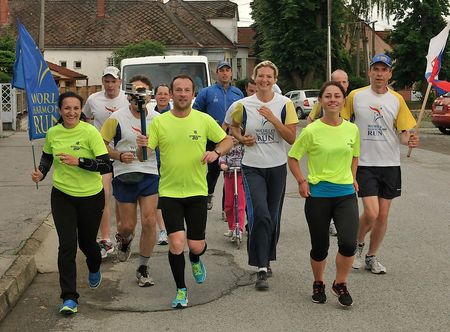 The group of local runners were a great company on the way to Stropkov.
Skupina miestnych bežcov nám robila skvelú spoločnosť pri dobehu do Stropkova.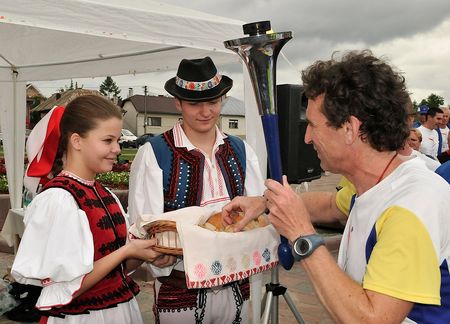 Reception in Stropkov acording to traditional slovakian customs - with bread and salt.
Privítanie v Stropkove podľa tradičných slovenských zvykov - chlebom a soľou.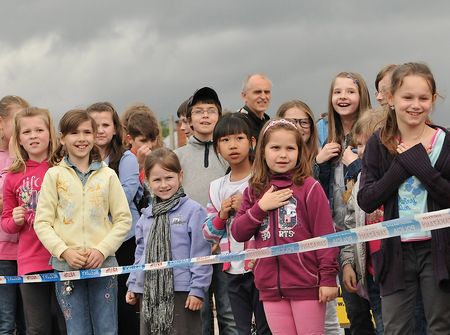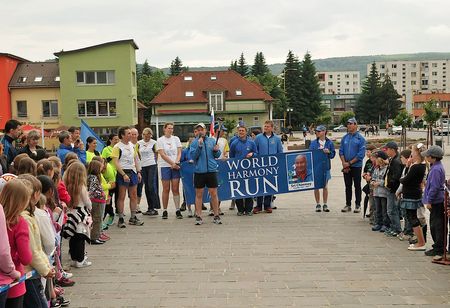 We had a program for kids...
Mali sme pre deti pripravený program...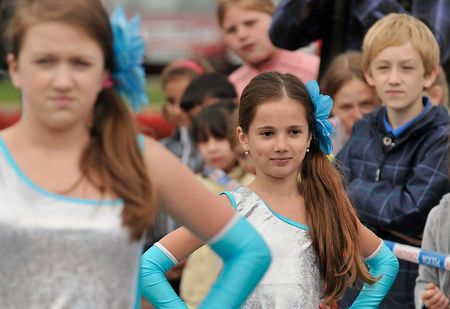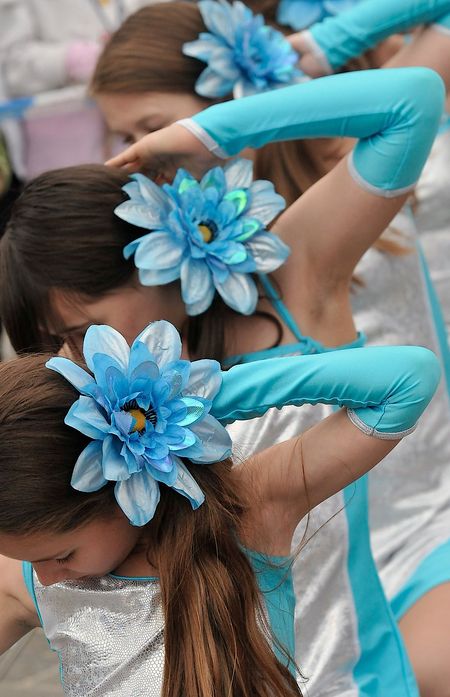 ...and so they had some for us.
...aj oni pre nás.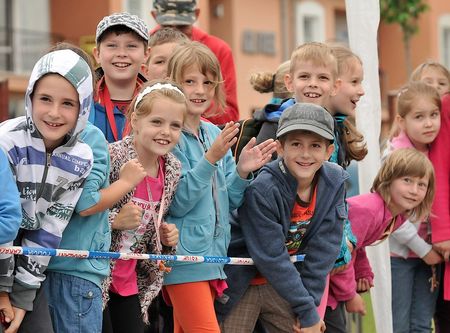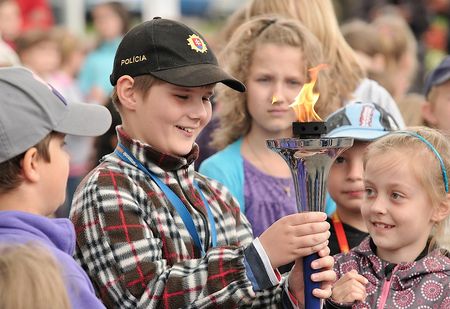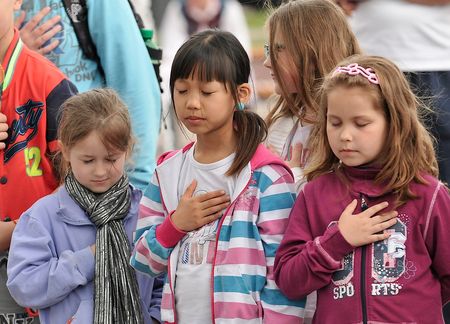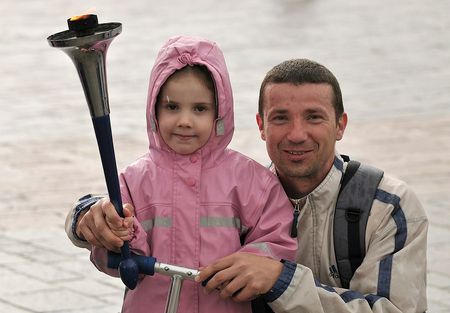 Daddy pushed little Kamilka on scooter through the whole Giraltovce and she liked it.
Ocko tlačil malú Kamilku na kolobežke celými Giraltovcami a veľmi sa jej to páčilo.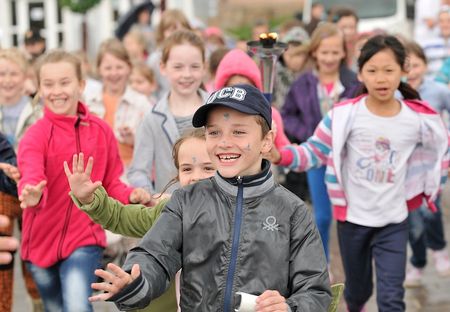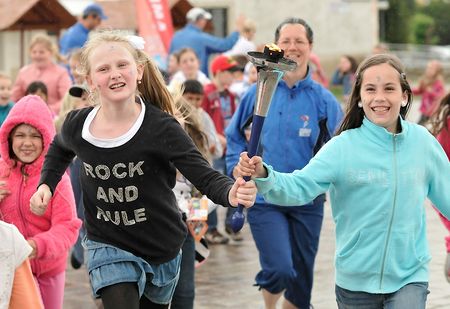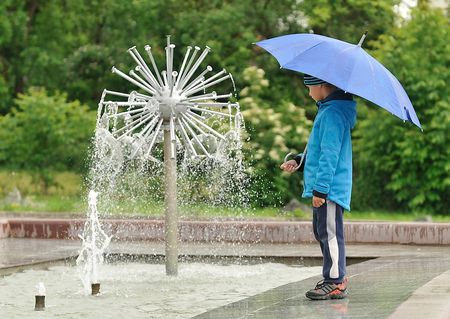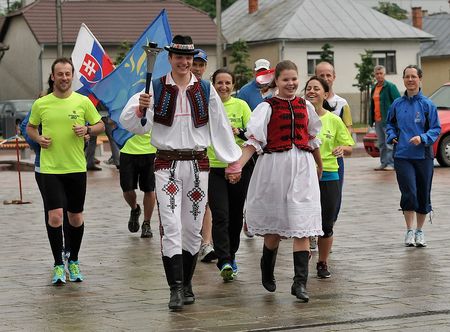 Unconventional traditional running outfit suitable not only for dancing.
Netradičné tradičné oblečenie vhodné nielen do tanca.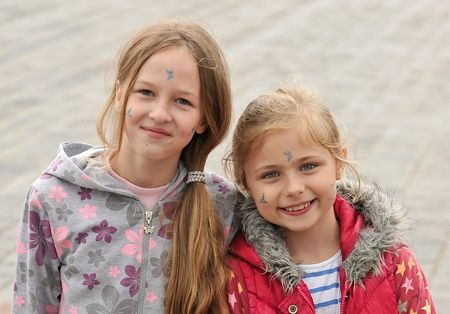 Two friends did not want to go home after the program...
Dvom kamarátkam sa po programe domov nechcelo...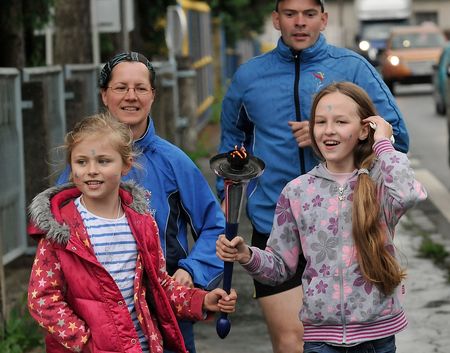 ...so they decided to run a little bit with us.
...a tak sa rozhodli, že si s nami ešte pobehnú.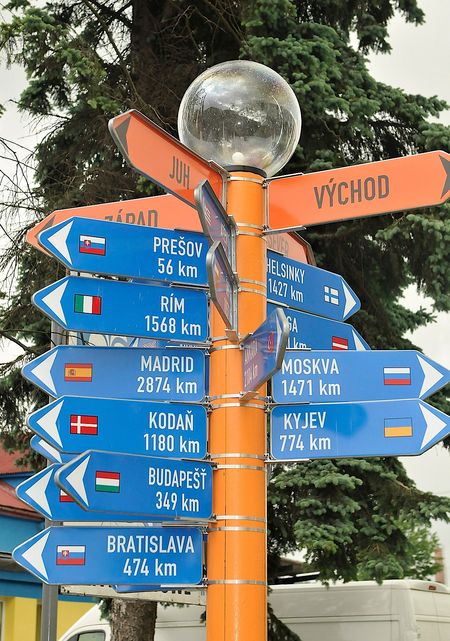 Which way now??
Kam teraz??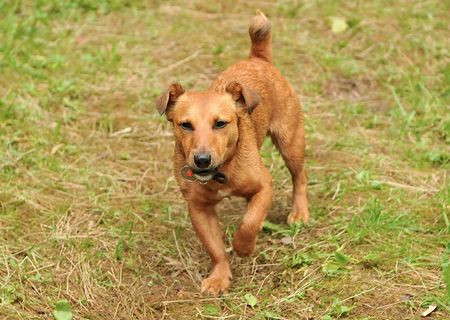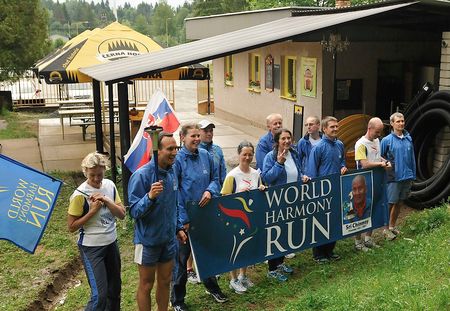 In nice surroundings of minigolf playground in Svidník we were recieved by a great group of local enthusiasts.
V príjemnom prostredí minigolfového ihriska vo Svidníku nás prijala výborná partia miestnych nadšencov.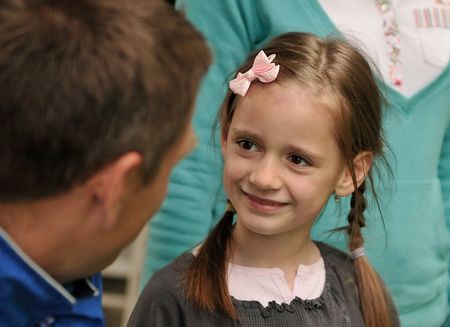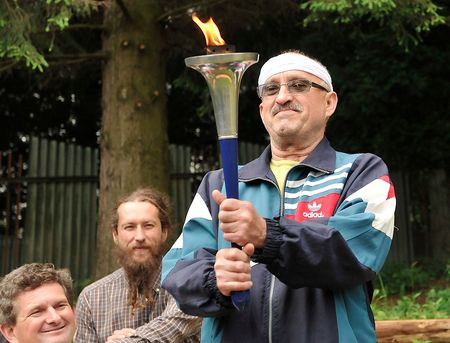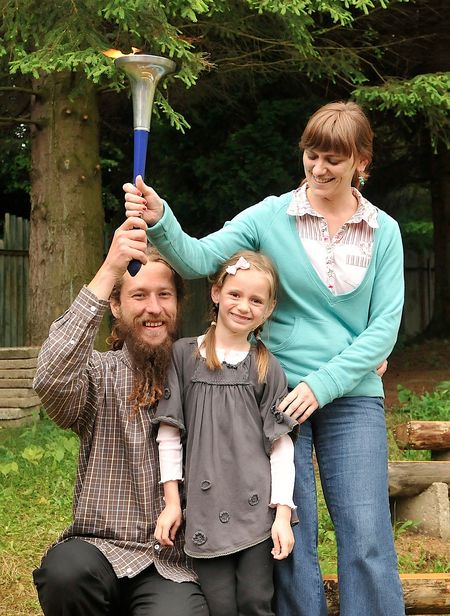 Terezka with mom and dad...
Terezka s tatinom a maminou...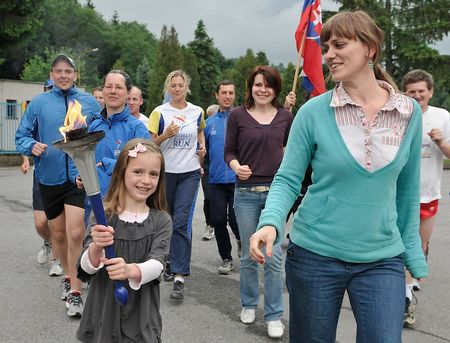 ...took the torch and accompanied us for the next journey.
...vzali pochodeň a vyprevadili nás na daľšiu cestu.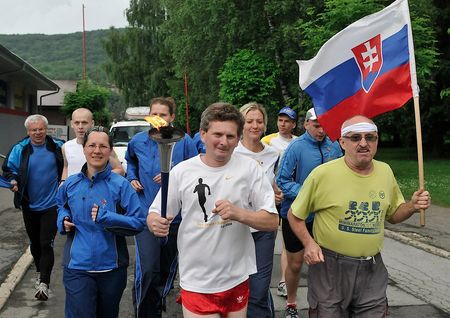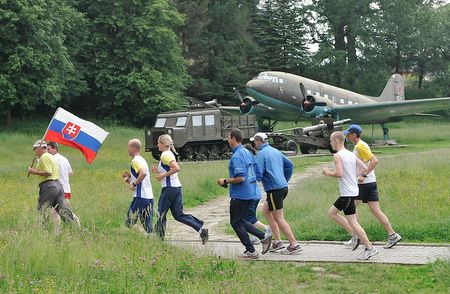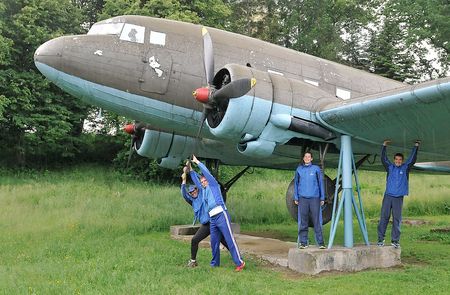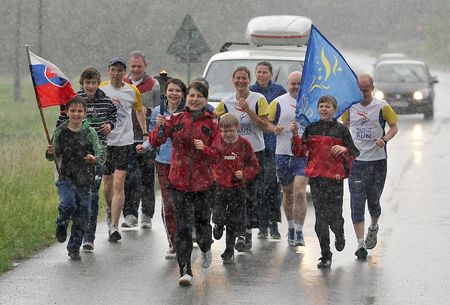 Local runners and our polish friends joined us before Krajné Čierno.
Pred Krajným Čiernom sa k miestnym bežcom pridali aj naši poľskí kamaráti.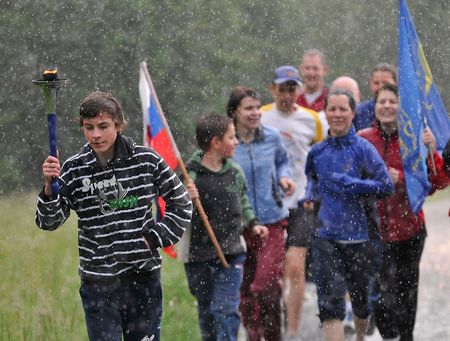 Not even a heavy rain prevented them to carry the torch at least for a while.
Ani hustý studený dážď im nezabránil aby si aspoň na chvíľu poniesli mierovú pochodeň.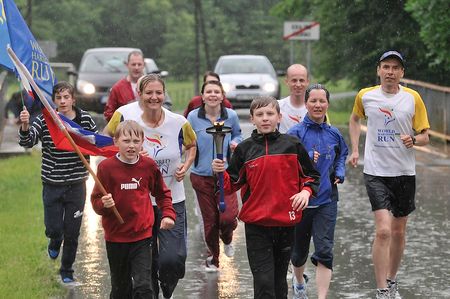 Some were running and getting soak...
Niektorí bežali a mokli...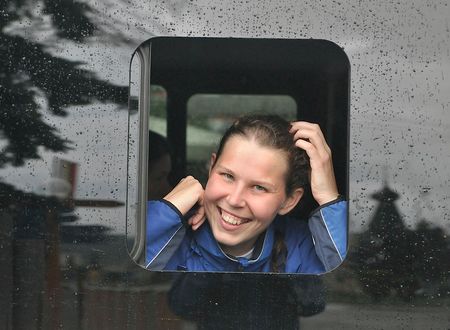 ...others cheered up dry and with a big smile.
...iní v suchu s úsmevom povzbudzovali.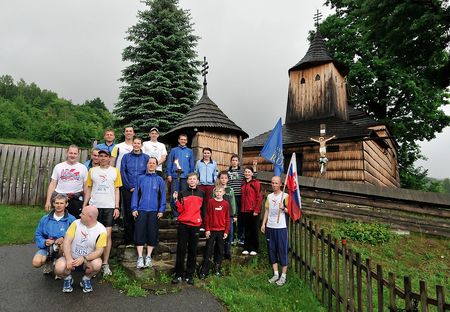 With a 75 inhabitants Krajné Čierno was the smallest village we visited on our journey.
So 75 obyvateľmi bolo Krajné Čierno najmenšia dedinka akú sme na svojej ceste navštívili.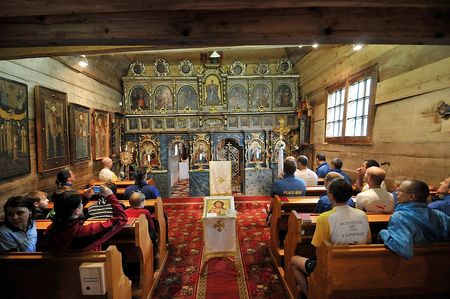 Wooden Greek-Catholic chapel in Krajné Čierno was built in the middle of 18th century without a single nail.
Grécko-katolícky drevený kostolík v Krajnom Čierne bol postavený v polovici 18. storočia bez použitia jediného klinca.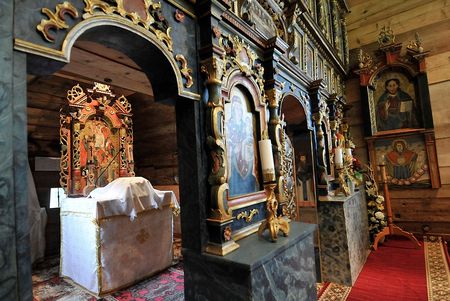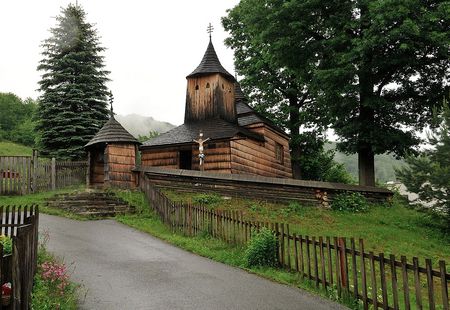 Beautiful from inside as well as outside.
Nádherný zvnútra aj zvonku.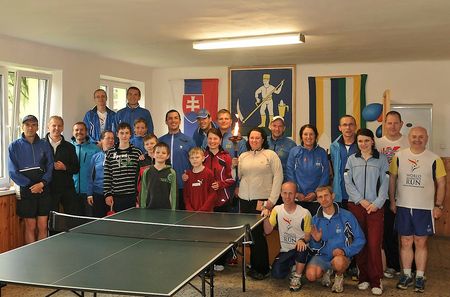 After refreshment we played a little bit of table tennis at the municipal office.
Na obecnom úrade sme si po malom občerstvení na chvíľku zahrali aj stolný tenis.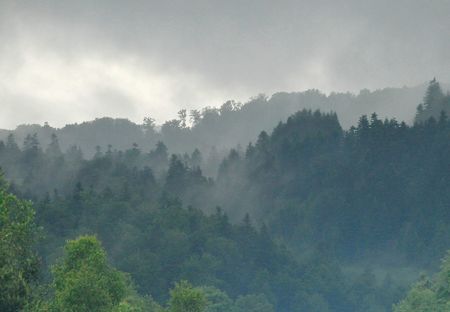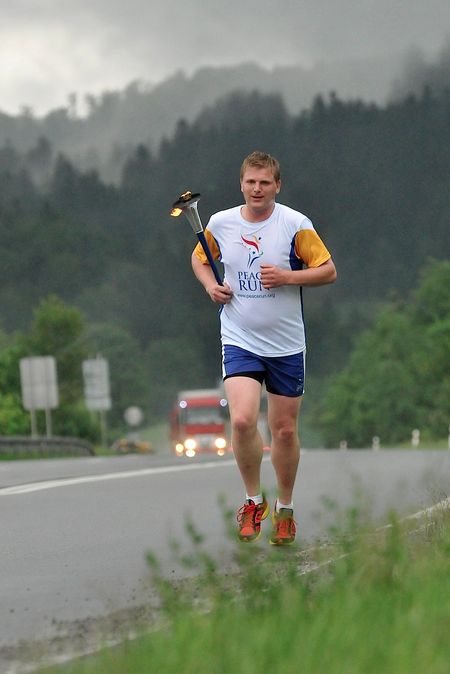 Last steps in Slovakia.
Posledné kroky Slovenskom.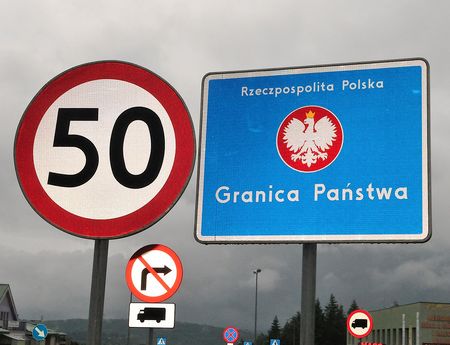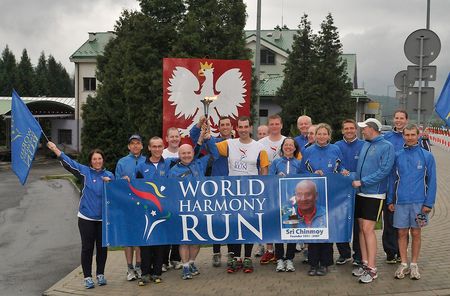 Good bye Slovakia, welcome in Poland.
Dovidenia Slovensko, vitajte v Poľsku.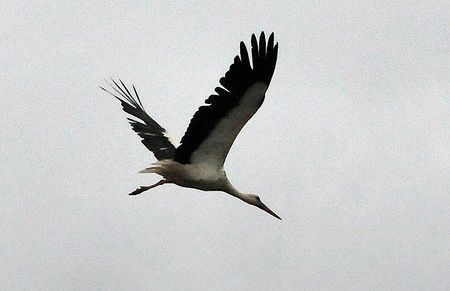 ---
Distance: 86 km
Team Members:
Apaguha Vesely (Czech Republic), Josef Sverma (Czech Republic), Jennifer Cluck (USA), Pranava Gigja (Iceland), Jadranka Grbic (Serbia), Sumahat Strohn (Germany), Irena Majerova (Czech Republic), Padyatra Komák (Slovakia), Marek Novotný (Slovakia), Kuladipa Babušík (Slovakia), Zdenko Michalec (Slovakia), Peter Hlač (Slovakia), Vladimír Kulíšek (Slovakia), Danica Černáková (Slovakia), Ananda-Lahari Zuščin (Slovakia), Vanshanatha Chernomorchenko (Ukraine), Oleksandr Kryvenko (Ukraine)
Harmonemail:
You can send a message to the runners or read the messages.
Gallery: See more images!