Bulgaria 22 May: Antimovo - Serbian border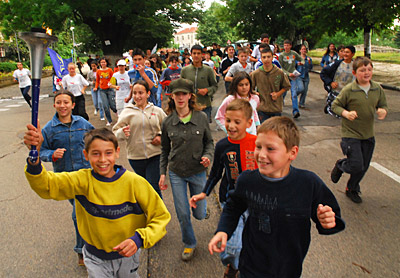 To have a fresh morning run, somebody would say is the best way to start the day. Greeted with fragrant bouquets of peonies and roses, we arrived in secondary school "Vasil Levski" in Kula town. When we come to the schools, the enthusiasm builds up and explodes at the final run with the torch.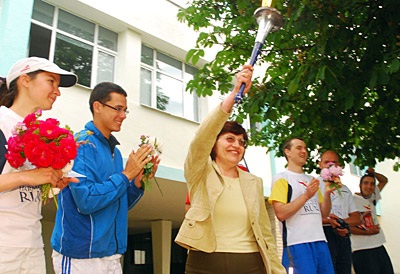 The principal holds the torch and expresses best wishes to the run.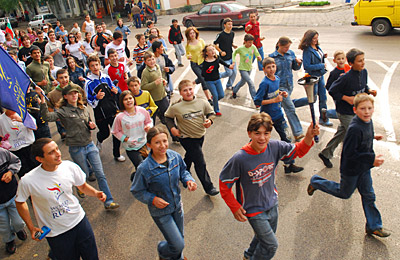 The whole school ran with the torch. Every step counts. Every smile counts. Every effort counts.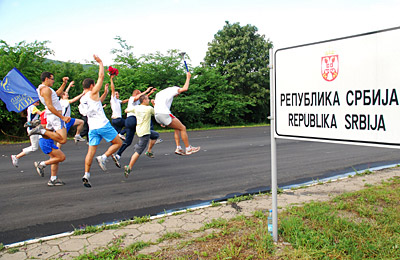 With a happy jump to Serbia, we thought.
Happily we hugged the Bulgarian coordinators on the Bulgarian border, said our farewells to the border police and lifted our eyes to the beckoning Serbian border... Hmmm just nice green hills in the distance but nobody on the other side. Here Baridhi had to coordinate on the phone with his Serbian college. Well, the truth was, that we have arrived one day earlier. Oops....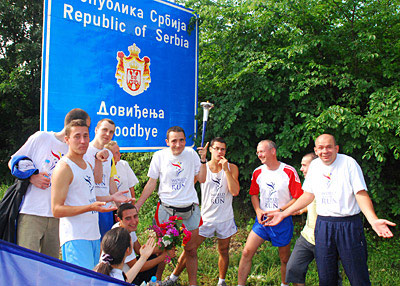 Baridhi?!! Have you ever heard of the torture halls in the Vidin fortress...
Nothing to moan about as this was not "The border". The official border between two countries, includes also the space between them and if you do not have anything important to do you can get stuck there for few hours like our Ukrainian runners because of visa problems.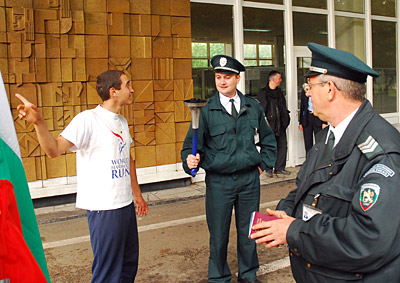 Peter tried to explain the situation.
You know the dot in a sentence of a prisoner, can change his fate forever. Our sentence in this case was that our two Ukrainian runners left Bulgaria, receiving the stamp on their passport, which took unfortunately then four hours to cancel the same stamp.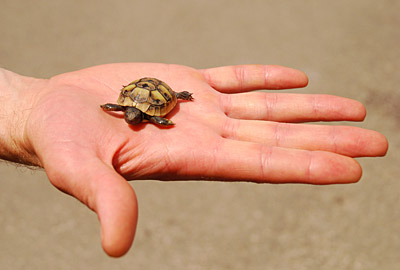 One good quality that even a little turtle has is patience.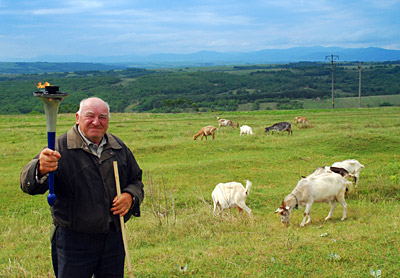 We had time to enjoy once more the rural landscape of Bulgaria and once more Antimovo - our sweet home.
An unexpected day off meant a day for cleaning, fixing tools and enjoying the nature and peace of this little village. In the evening we listened to the Mystery of the Bulgarian Voices and watched some plays.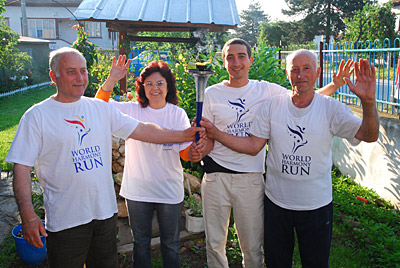 Goodbye once again, this time seriously and thank you for all your amazing care - Peter's mother, father and grandfather.
---
Team Members:
Ondrej Vesely (Czech Republic), Pierre Lantuas Monfouga (France), Valentine Bebik (Ukraine), Janos Derekas (Hungary), Jaromir Horejsi (Czech Republic), Nataliya Lehonkova (Ukraine), Rosta Vagner (Czech Republic), Mariya Latinova (Bulgaria)
Harmonemail:
You can send a message to the runners or read the messages.