Macedonia 20 May: Ohrid - Bitula
Our day started after a wonderful night in the Hotel Desaret, which is situated right on the shores of Lake Ohrid. We would like to thank the Manager, Mrs. Lence Petkovska for her kindness in providing us with hotel rooms, dinner and breakfast!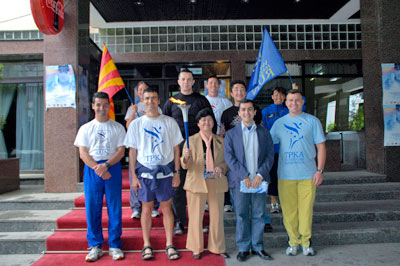 Before we sent off our first runner, we visited the monasteries of St. Kaneo and St. Plaosnik; both of them are very beautiful.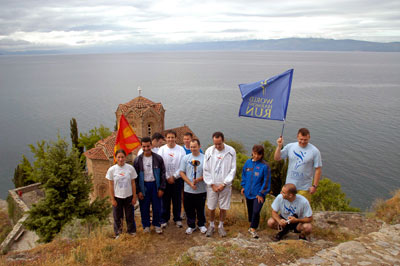 Around the monastery there are many sites where ancient artefacts from the times of Alexander the Great have been found.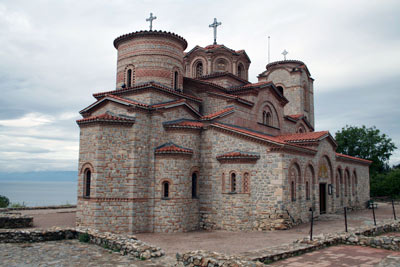 The weather seemed as if it was changing its mood every hour - meaning a little rain here, a little sunshine there - and some of us were lucky enough to also experience torrential downpours.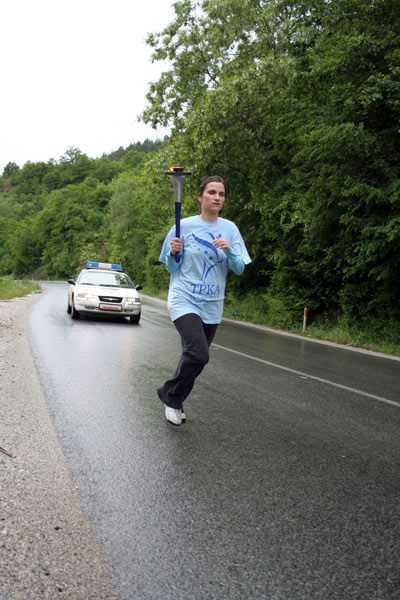 Compared to the almost 40 degrees Celsius we had in Montenegro, this is actually quite enjoyable; it is amusing to see how one's perception of temperature changes.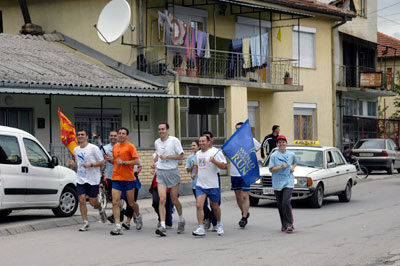 A few weeks ago in Slovenia, it was 15 to 20 degrees Celsius and it felt comfortably warm. Along the coast, it got really hot and now it is around 20 degrees again, but this time 20 degrees feels kind of cold. However, for the purpose of running, it is the best temperature you can possibly get.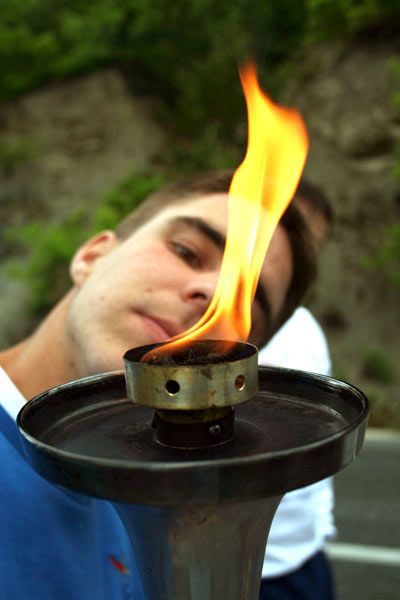 The first and only meeting today took place in Resin, where we were accompanied by local kids who ran with us to the city hall.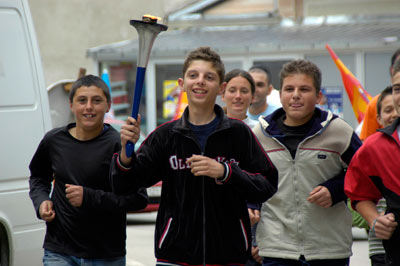 We were greeted warmly and since we were here last year it was a happy reunion. Together with runners and children, we ran to the city limits. We were offered gas vouchers for the local gas station :-); thank you very much!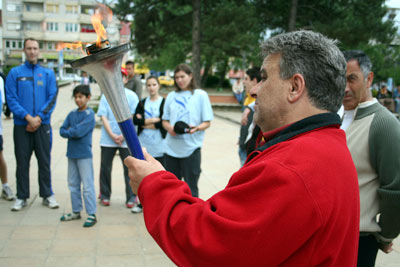 Since it was Sunday and no more meetings were scheduled, we had an more or less easy running afternoon. Whenever we stopped to wait for our runner, we played frisbee at the side of the road with the Macedonian boys.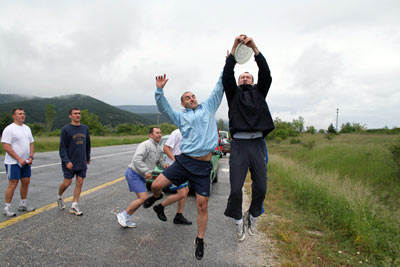 Before we checked into our hotel, we had dinner together, prepared for us by Ljupka and her family. The rain had stopped and the sun came out, so we decided to eat outdoors in the parking lot. Later on, some of us went to the Centre to get some sweets for dessert.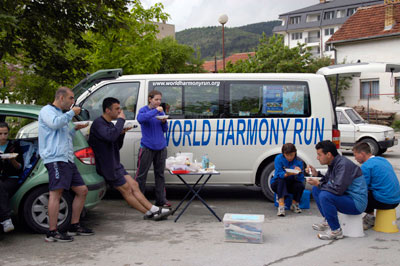 ---
Team Members:
Martin Leitner (Austria), Jana Chochlikova (Slovakia), Tatiana Chochlikova (Slovakia), Frank Foerster (Germany), Safet Belegovic (Montenegro)
Harmonemail:
You can send a message to the runners or read the messages.