Portugal 2 March: Lisbon
Opening of the European World Harmony Run 2006
Our European team of seven runners started today for its longest Run ever: 27.000 km through 48 European countries are waiting for us! Portugal greeted us with nice spring weather and cheerful spectators on our first leg of our 7-months journey...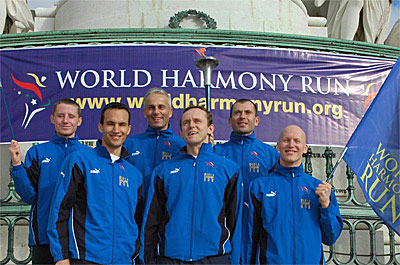 At 9:30 we met with our good friend and special guest, Marathon world champion Tegla Loroupe and a school class for a short opening Run around Lisbon's old city part, the Baixa!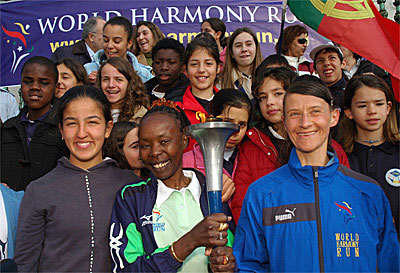 Tegla Loroupe holding the World Harmony Run Torch
We started at Praca do Comercio where also some famous Portugese athletes joined in: Alberto Chaico and Dionisio Castro! The police led us on a 2 km loop through Lisbon's historical district and the enthusiastic kids gave us a first touch of Portugal's traditional running spirit!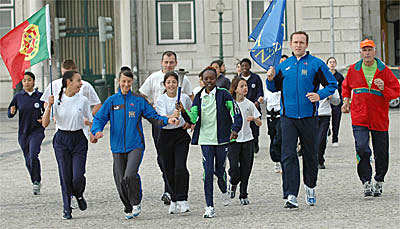 After the opening Run Tegla Loroupe led our international team to the first of two schools on our today's schedule. 250 kids welcomed us and after our team sang the World Harmony Run Song for them they joined us for a short run around the school yard! Kids are the same everywhere: they want to have fun and want to make friends! After an autograph-session with Tegla we went on...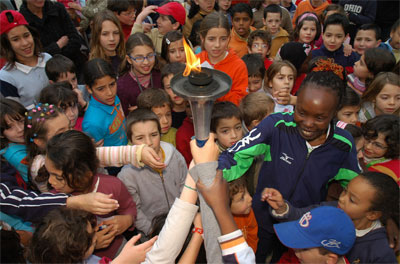 The second school with 150 kids welcomed us in the gym hall and after a short presentation by our team members they passed the flaming torch around and offered a wish for Harmony! A final run with the kids ended our first, but quite intense day!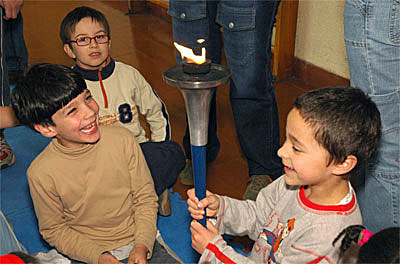 ---
Harmonemail:
You can send a message to the runners or read the messages.