Portugal 7 March: Lisbon – Setubal
The European run once again started in Lisbon. Yesterday rained all day and we were prepared for the worst. Fortunately we were pleasantly surprised when the sun appeared to bless the beginning of our journey. This year we chose the hill of Parque Eduardo VII as our starting point. From the hill we had this great view of the city.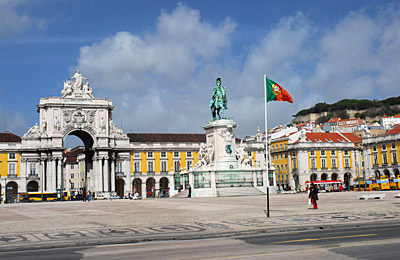 At the opening ceremony, we met with some Lisbon city representatives and children from the Escola Secundária D. Luisa Gusmao and E.B.I No. 1 de Lisboa, the oldest primary school in Portugal.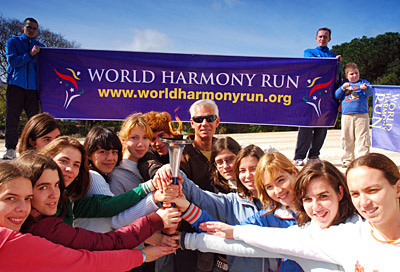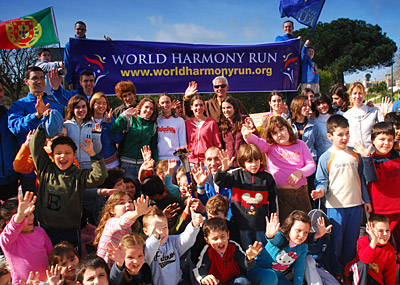 The torch was officially lit by the representatives of sport department of the city of Lisbon. They made the first steps of the European World Harmony Run 2007 together with runners and the children.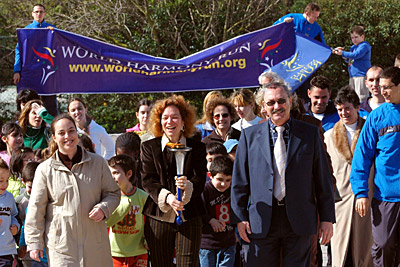 We ran through the city accompanied by the police escort.
In Lisbon we visited two more schools: E.B.1 No.8 Helena Vaz Silva and E.B.1 No. 12 Padre Abel Varzim.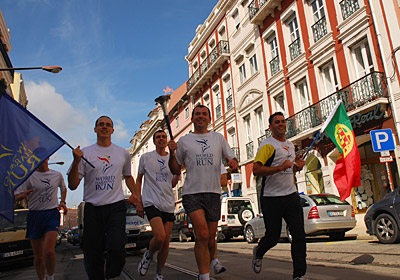 At the E.B.1 No.8 Helena Vaz Silva school, we assembled all the children in the gym. After we had sung the song, we were surprised when the children spontaneously sang a favourite traditional Portuguese song. It was very nice surprise!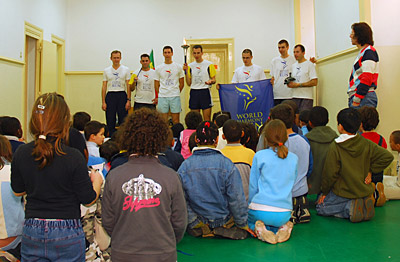 At the E.B.1 No. 12 Padre Abel Varzim school, we were surprised even more. All the members of our team got a hand-made medal from children! It was the first time in the history of the European run that the team has received such an honour. It was a great send off and kept us inspired to reach our next meeting point.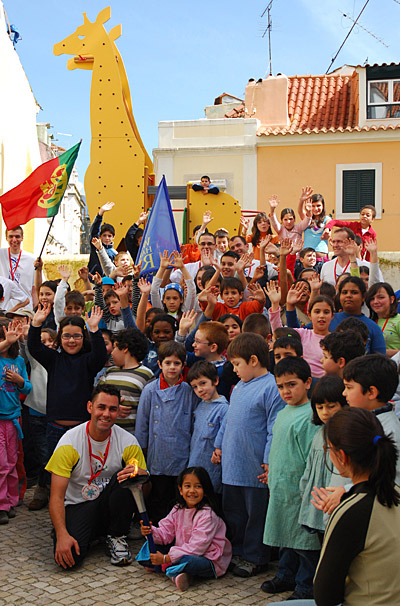 Having crossed the river Tejo by the Vasco de Gama Bridge, we visited the Colégio Minerva in Barreiro.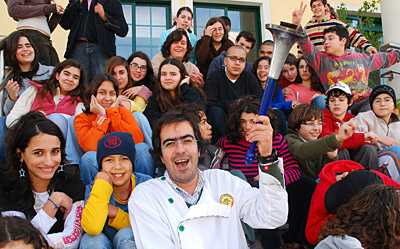 The entire school was waiting for us and cheered as we arrived through the school gates.
Once again we sang the official World Harmony Run Song . Afterwards, the school director and the runners run around the school with what seemed like over 200 students.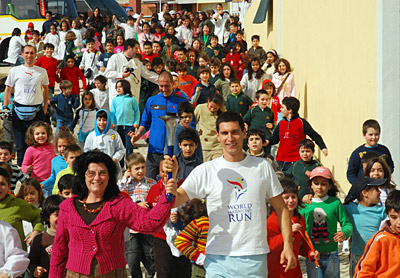 We even had one of the teachers, Renato Coutinho, accompany us until the main street.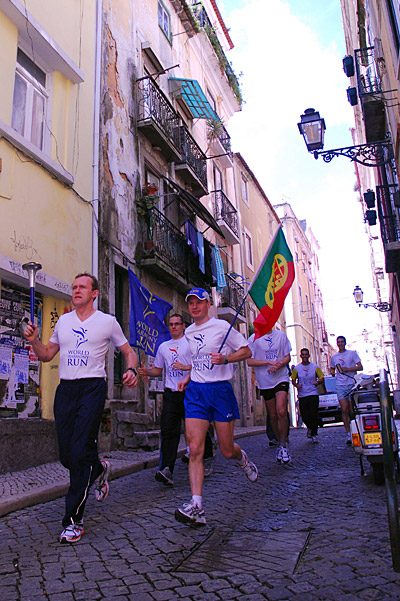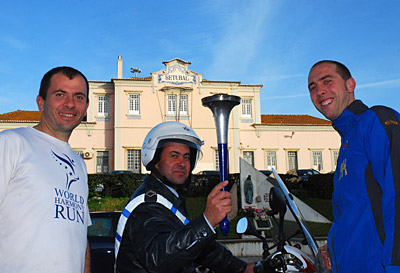 After the ceremony we ran as the sun was setting and finished in Setubal nestled on the Atlantic ocean. A great finish to a fantastic day.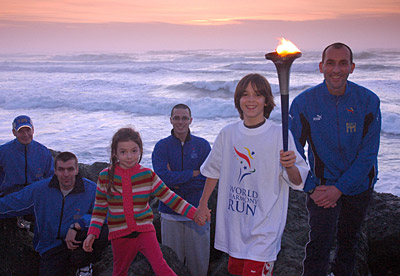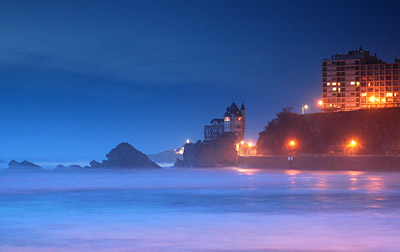 ---
Team Members:
Ondrej Vesely (Czech Republic), Nelson (Homagni) Baptista (Australia), Namitabha Arsic (Serbia), Marc Schrader (Germany), Miroslav Pospisek (Czech Republic), Zoltán Theobald (Hungary), Pierre Lantuas Monfouga (France), Enrico (Italy), Jose Martins (Portugal), Patrick de Sá Alves da Rocha Rodrigues (Portugal)
Harmonemail:
You can send a message to the runners or read the messages.