Portugal 8 March: Setubal - Odemira
This morning we had an early start from Setubal. We ran with a police escort to the ferry boat that would take us to Troia.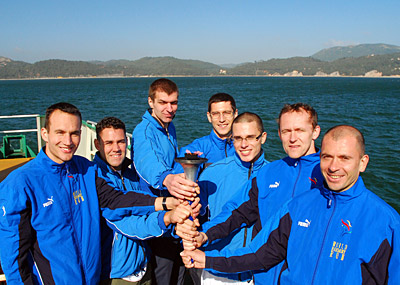 From there we headed towards Melides and stopped every 5km to wait for our runner under the shade of the cork and olive trees in the area.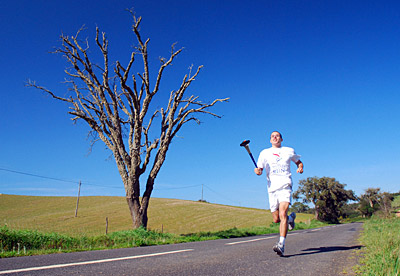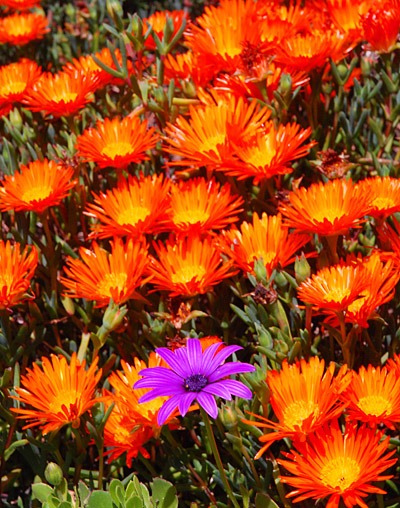 At Santiago do Cacém we met two sympathetic boys on a motorbike, who helped us to get out of the city in the right direction.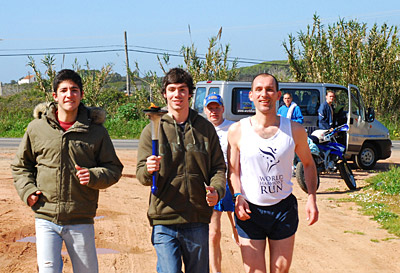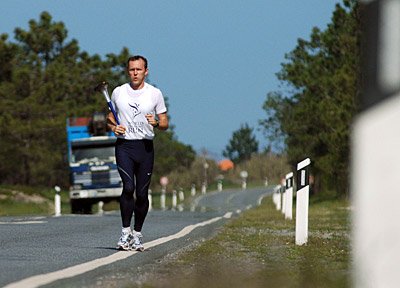 As we were nearing Sao Luis, a lady from the local home for the elderly, the Casa do Povo de S. Luis, asked us if we could stop by on the way to visit some its residents. It made a great change visiting these men and women who had experienced so much in their lives.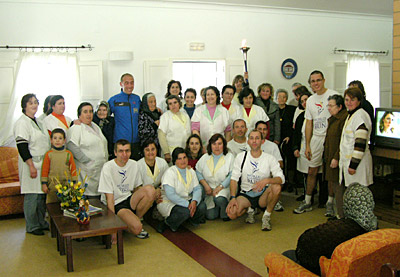 The highlight was discovering that one of the ladies, Celeste Baptista, was celebrating her 90th birthday. We even met the oldest resident, Luisa da Conceição, who was 97 years old. We were so grateful for the large quantity of Easter cake that they had packed for our long journey ahead.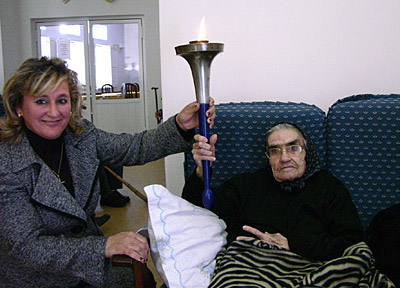 Our final destination was the town of Odemira. As we reached its outskirts, we were escorted by members of the City Hall.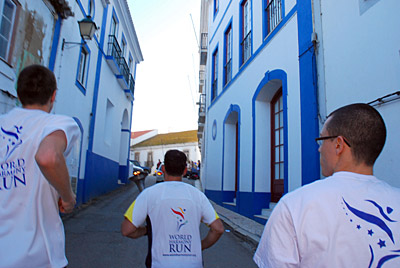 As we reached the town square we met the Mayor, Antonio Camilo and many of the town's people.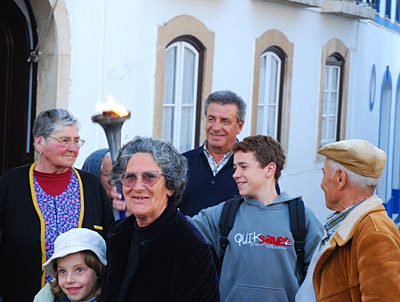 Amongst the beautiful old architecture of Odemira we passed the torch around and were given an official welcome to the city.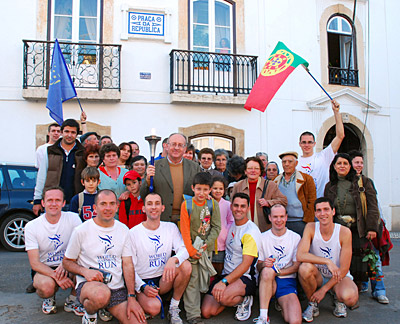 Our team would like to offer a special thank you to Mayor and the people of Odemira for supporting the World Harmony Run.
---
Team Members:
Ondrej Vesely (Czech Republic), Nelson (Homagni) Baptista (Australia), Namitabha Arsic (Serbia), Marc Schrader (Germany), Miroslav Pospisek (Czech Republic), Zoltán Theobald (Hungary), Pierre Lantuas Monfouga (France), Enrico (Italy), Jose Martins (Portugal), Patrick de Sá Alves da Rocha Rodrigues (Portugal)
Harmonemail:
You can send a message to the runners or read the messages.