Slovakia 4 June: Poprad - Ruzomberok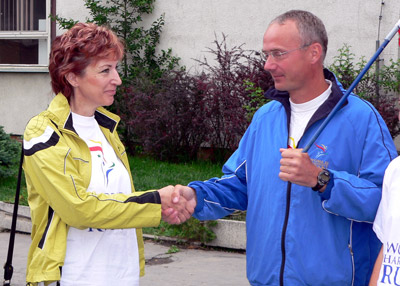 We started the day at two schools, one in Poprad, where we were also joined by sports representatives and the other in Dolny Smokovec.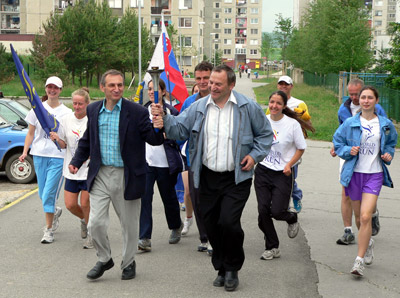 School directors always enjoy the symbolic run with us.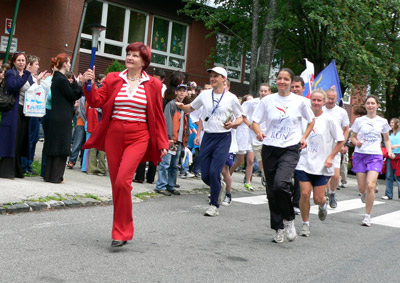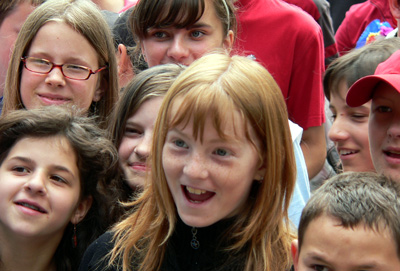 And the kids enjoy watching them running.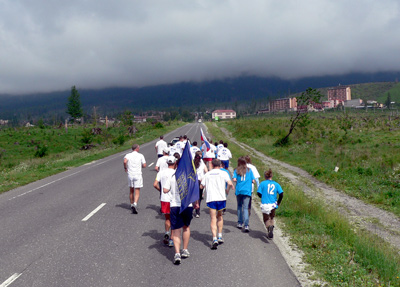 Step by step, meeting by meeting, we climbed the famous Tatry mountain chain.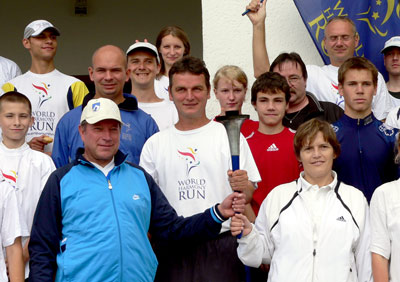 When we finally arrived at the ski station Stary Smokovec, it reminded us of Switzerland and we realised that the city is at an altitude of more than 1000 metres. Two famous skeleton sledding champions joined us to run, and the mayor even ran to the outskirts of the city with us.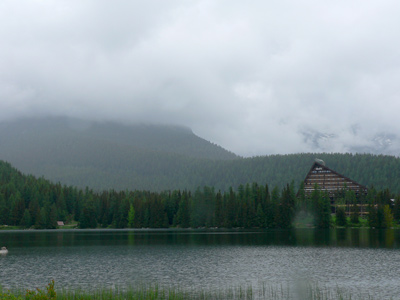 After a few kilometres through pine forest, we arrived at the famous ski station Strbske Pleso, frequent host of world championships.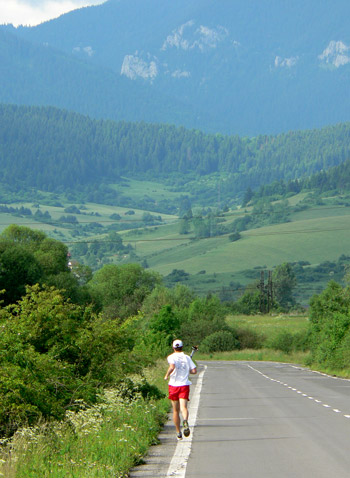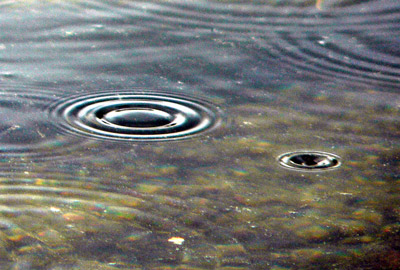 We took the time to enjoy the nice view.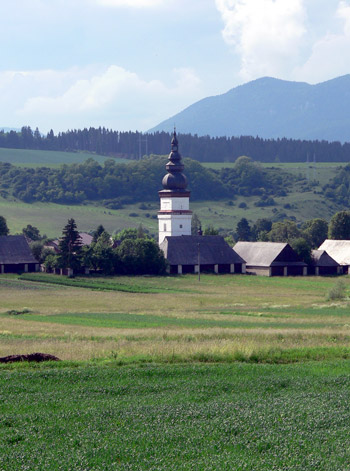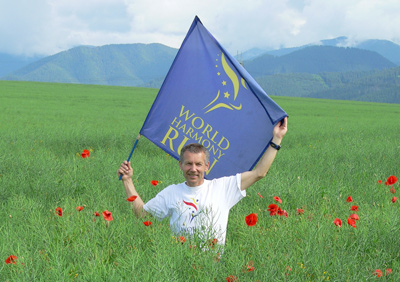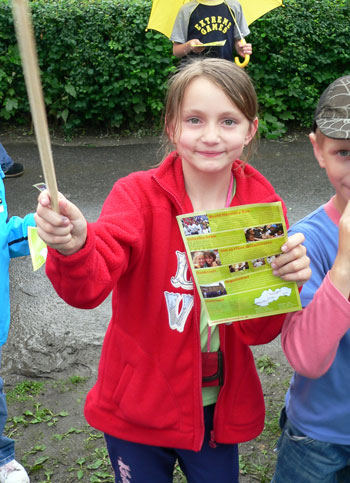 And as a group of kids was passing by there, we improvised a ceremony at the foot of these green mountains. But nobody dared to enjoy a swim in the lake that gives its name to the village.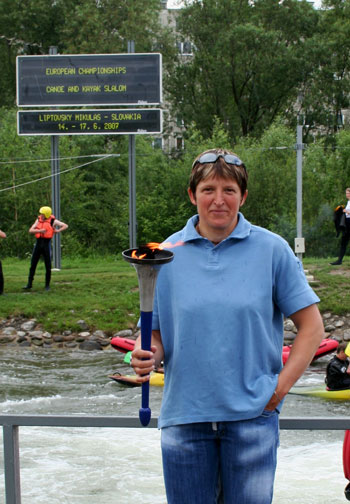 Meeting an Olympic champion is not an everyday affair, but at Liptovsky Mikulas, Elena Kaliska honoured us with a moment of her time. Elena won a gold medal at the 2004 Olympics (K1 Kayak Slalom Singles).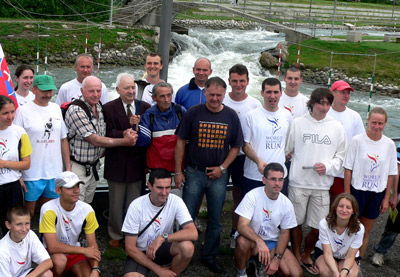 This water-sport mecca will also host the European championships in two weeks.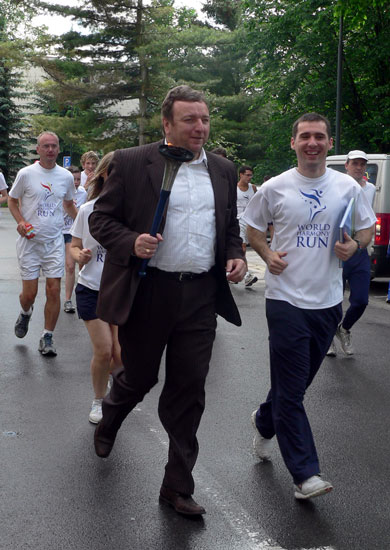 A few hundred metres from the river, we joined the mayor Mr. Yan Buhach. The television crew that followed us all the way through the city asked for an interview.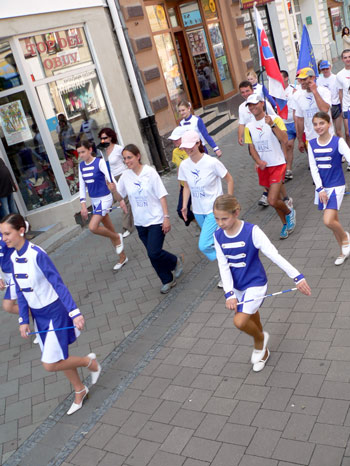 On arrival at the last city of the day, Ruzumberok, a group a majorettes literally escorted us, marching through the centre of the city to the house of culture, where the person in charge of youth and sport introduced us to the most famous features of the region.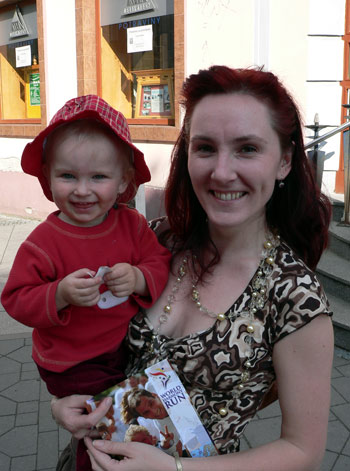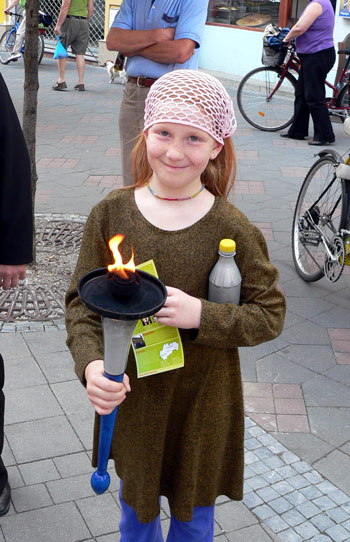 ---
Distance: 98km
Team Members:
Pedja Knezevic (Serbia), Rosta Vagner (Czech Republic), Pierre Lantuas Monfouga (France), Valentine Bebik (Ukraine), Jaromir Horejsi (Czech Republic), Nataliya Lehonkova (Ukraine), Maria Latinova (Bulgaria), Franz Hinteregger (Austria), Anita Borics (Hungary), Svetlana Gorshkova (Russia).
Harmonemail:
You can send a message to the runners or read the messages.