Slovakia 22 June: Brezno - Jelesava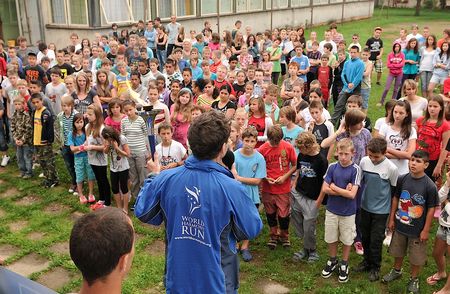 In the primary school Pionierska IV in Brezno we had a challenging task to kindle the flame of inspiration in the hearts of teenage students.
Na Základnej škole Pionierska IV v Brezne na nás čakala výzva roznietiť plameň inširácie v srdciach tínedžerov.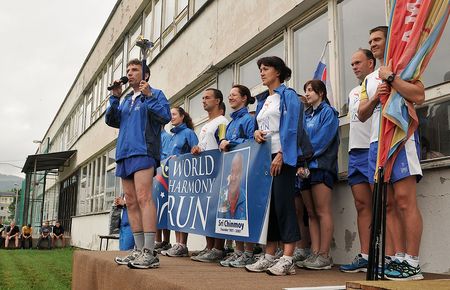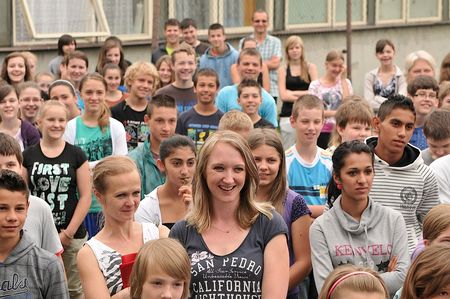 Looks like it worked.
Zdá sa, že sa nám to podarilo.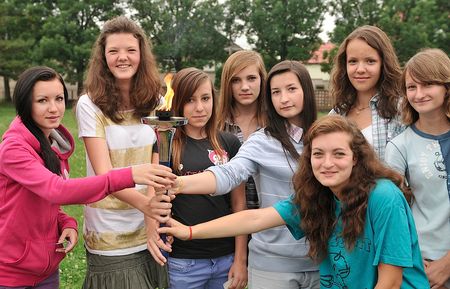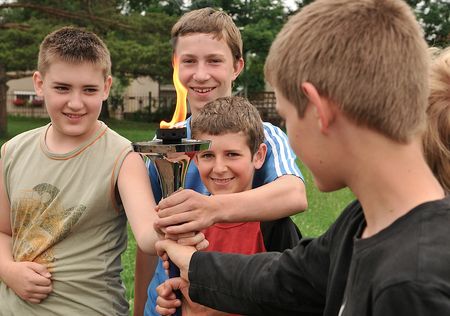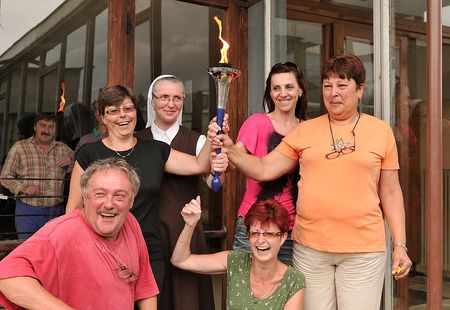 School stuff.
Zamestnanci školy.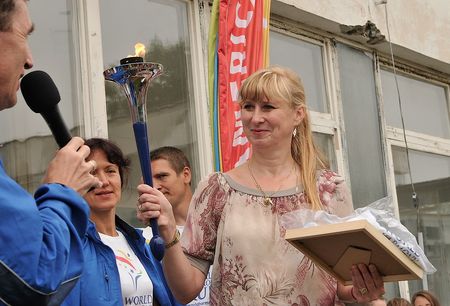 The headmistress PaeDr. Danka Jarabová was presented with our Certificate of Appreciation and our team T - shirt.
Pani riaditeľka školy PeaDr. Danka Jarabová od nás prijala ďakovný list a naše tímove tričko.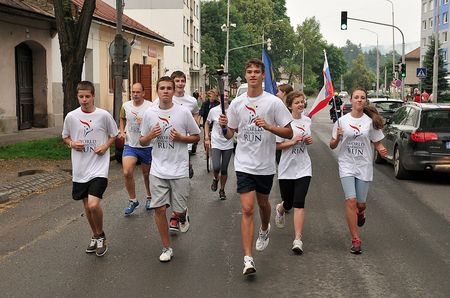 We were joined by a group of young local athletes as we were leaving Brezno.
Z Brezna s nami vybiehali mladí miestny atleti.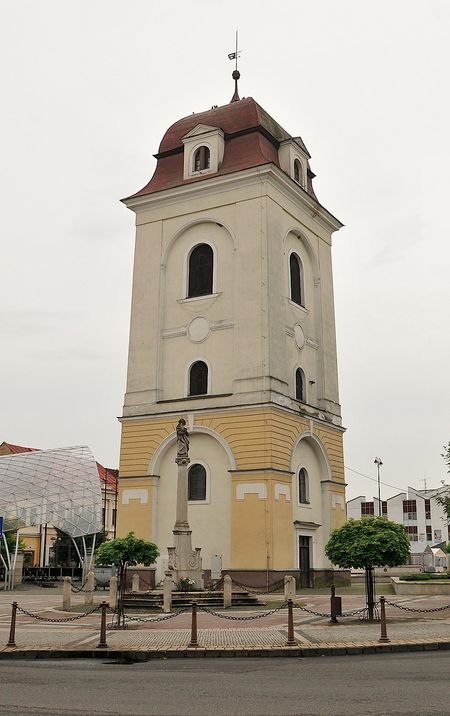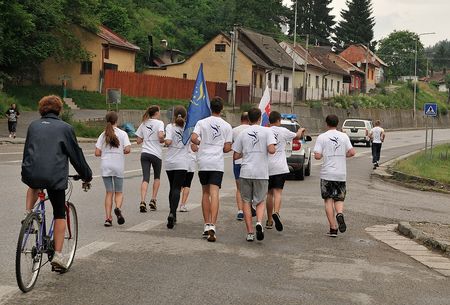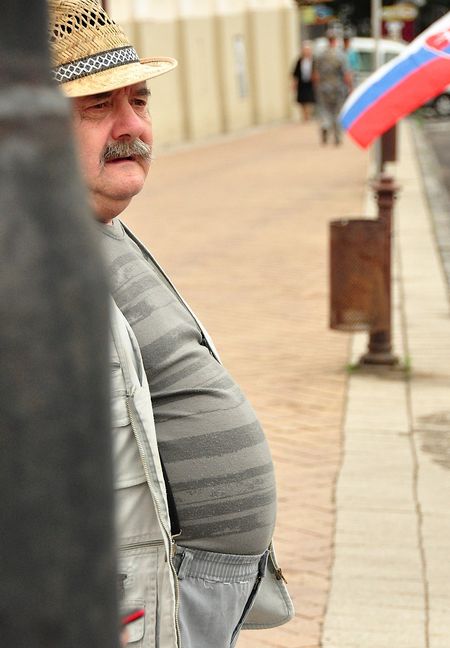 Local muchacho.....
Miestny mučačo....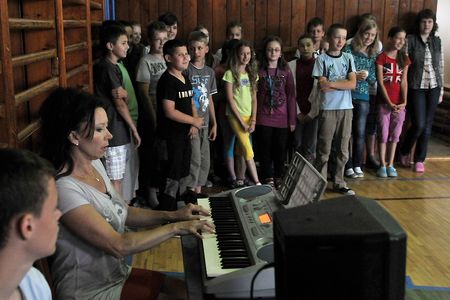 Pupils from primary school in Polomka surprised us with their sweet arrangement of the WHR song accompanied by their teacher on a synthesizer.
Klobúk dole za aranžmá hymny nášho behu, ktoré si pre nás pripravili žiaci zo Základnej školy v Polomke doprevádzané na syntetizátore ich pani učiteľkou.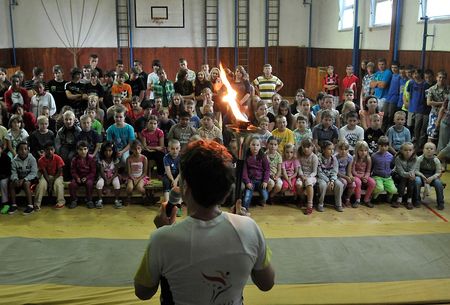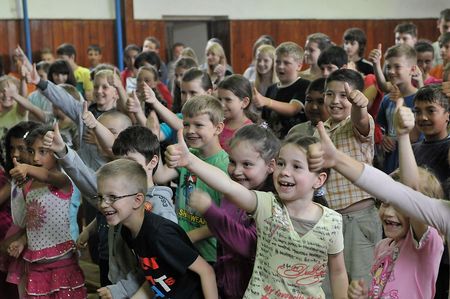 Kids were very lively...
Decká boli veľmi živé...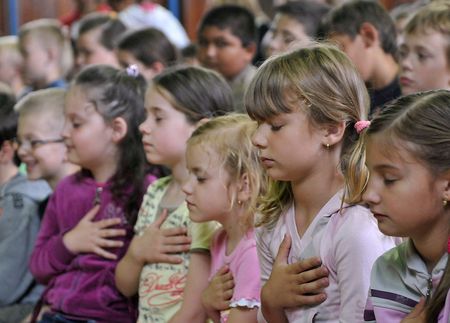 ...but they were ready to calm down...
...ale vedeli sa aj stíšiť...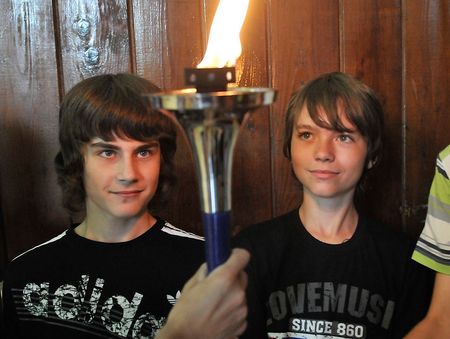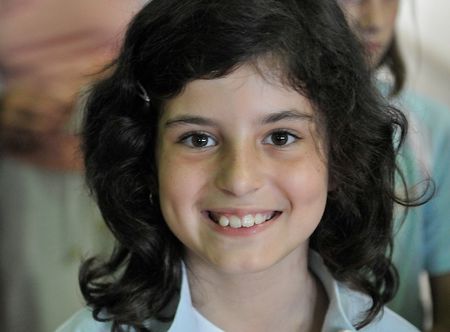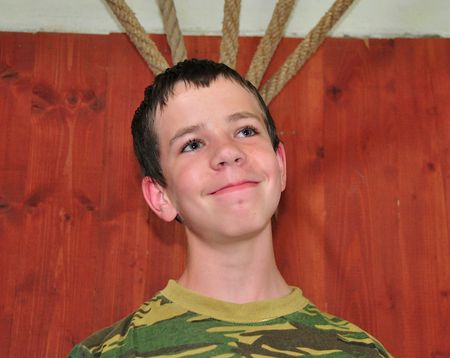 I was there too!
Aj ja som tam bol!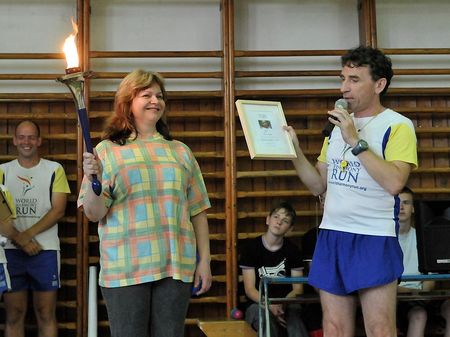 The deputy headmistress PaedDr. Zlatica Kánová was very happy and proud to receive a certificate of appreciation from us.
Zástupkyňa školy PaedDr. Zlatica Kánová bola veľmi šťastná a pyšná, keď preberala od nás ďakovný list.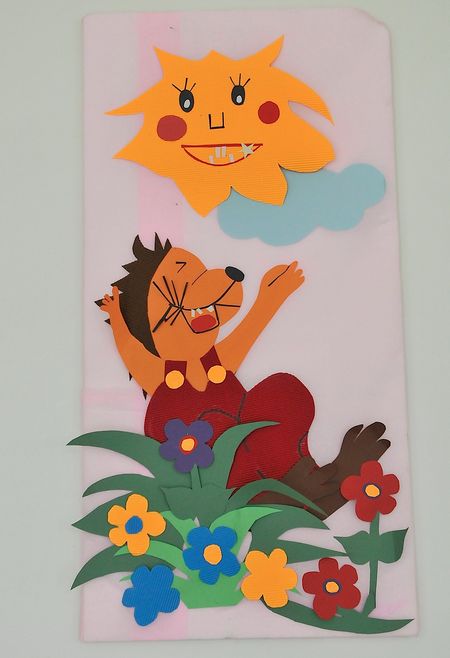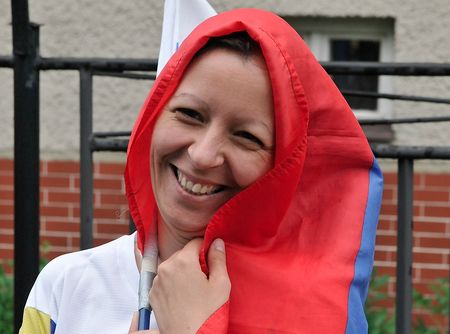 Comfortable slovak flag with friendly smile of our hungarian team member.
Pohodlná slovenská vlajka a priateľský úsmev maďarskej členky nášho tímu.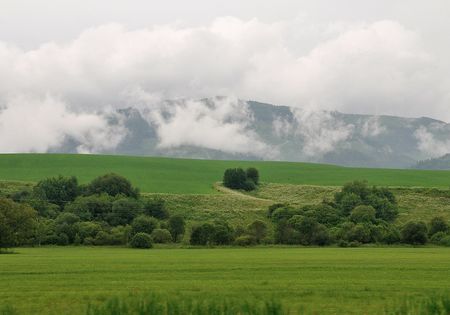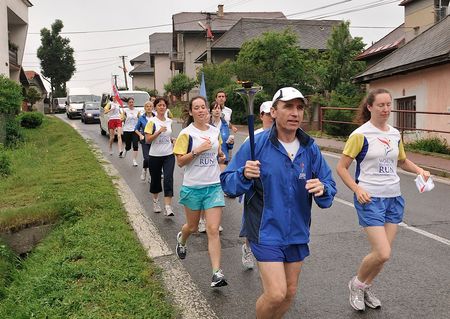 We are running through the village which beauty is also described in one of slovak folk songs.
Prebiehame obcou, o ktorej sa spieva aj v jednej ľudovej piesni: To ta Heľpa, to ta Heľpa, to je pekné mesto...
And people there are very nice, too...
Aj ľudia sú tam veľmi milí...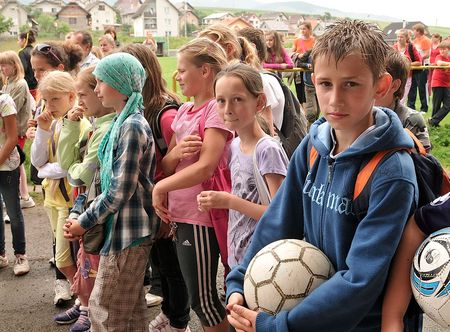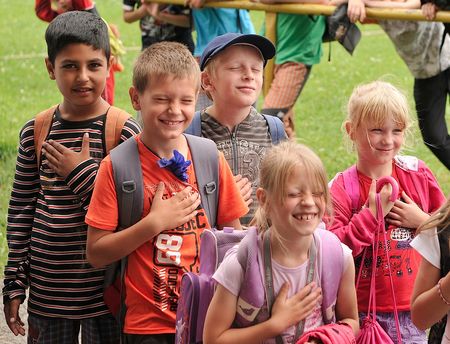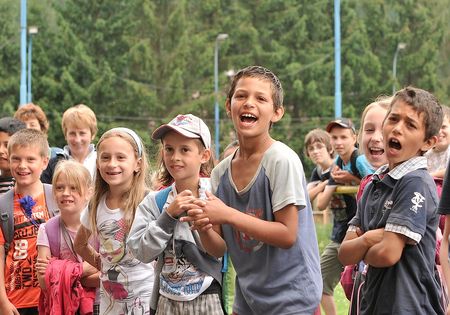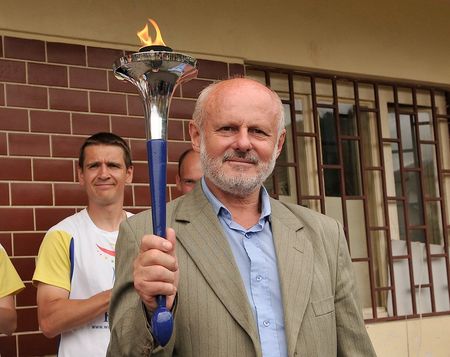 The mayor of Heľpa Mr. Jozef Fillo came to welcome us and he also put his wish for harmony into the torch.
Starosta obce Heľpa pán Jozef Fillo nás prišiel privítať a tiež vložil svoje prianie pre harmóniu do našej pochodne.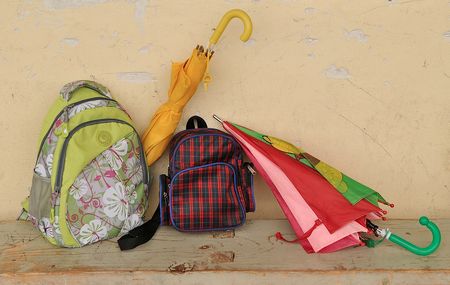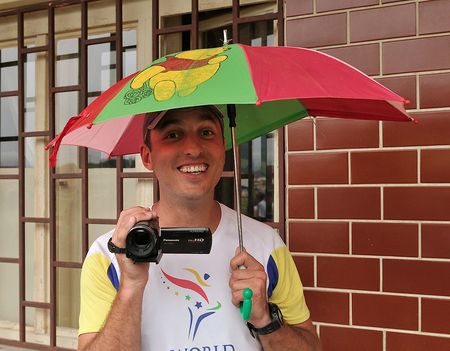 Mr. cameraman, this umbrella fits you very much, but don't forget to return it!
Pán kameraman, veľmi sa vám ten dáždnik hodí, ale nezabudnite ho vrátiť!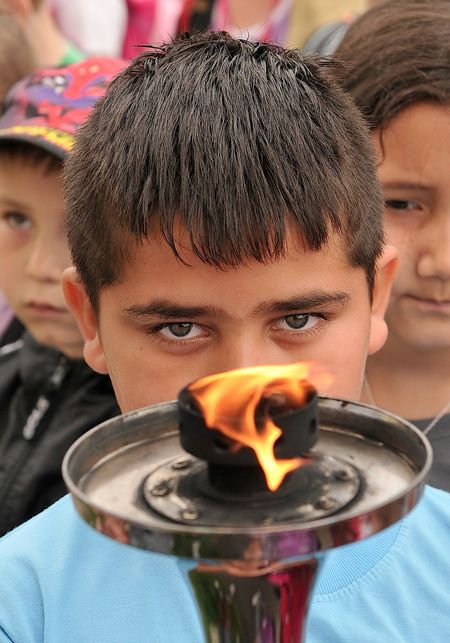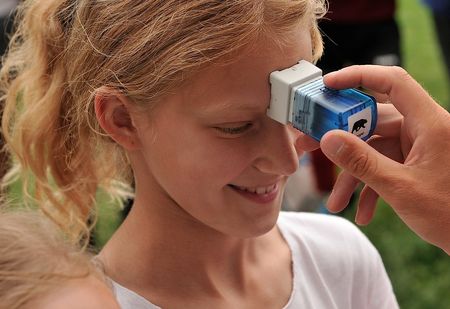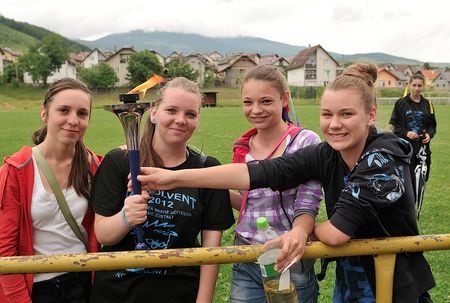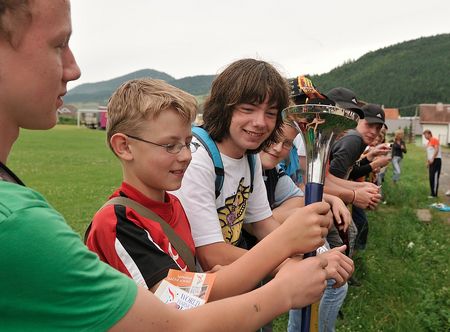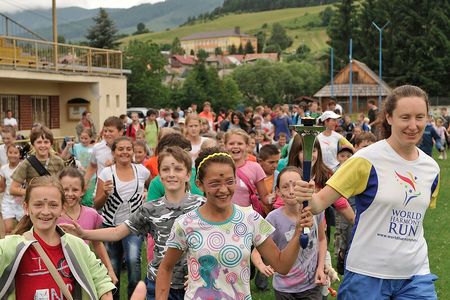 Our team got lost in the crowd of kids.
Medzi toľkými deťmi sa náš tím úplne stratil.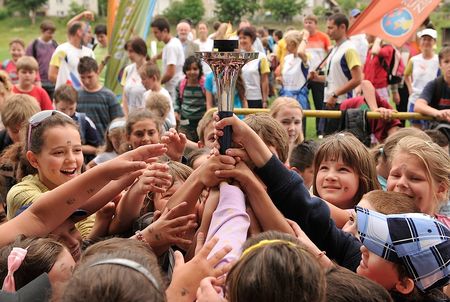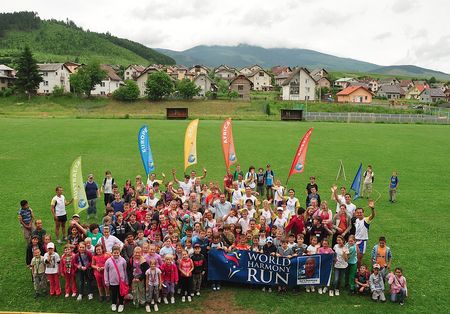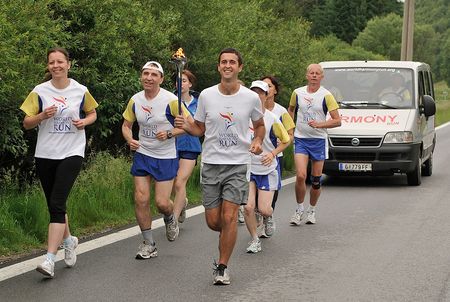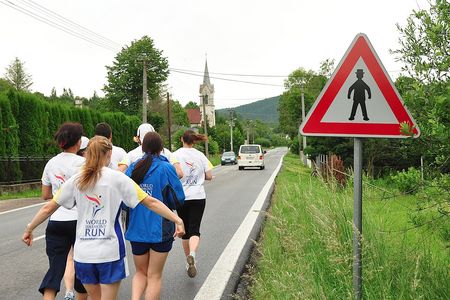 He is standing still and we are running ... to the village Vaľkovňa.
On stojí, my bežíme ... do obce Vaľkovňa.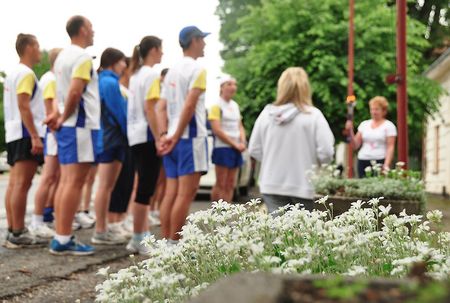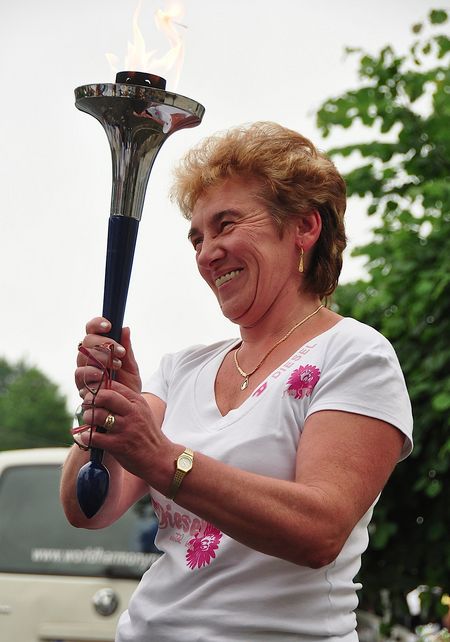 A deputy of the village Ing. IIngrid Košťiaková.
Zastupiteľka obce Ing. Ingrid Košťiaková.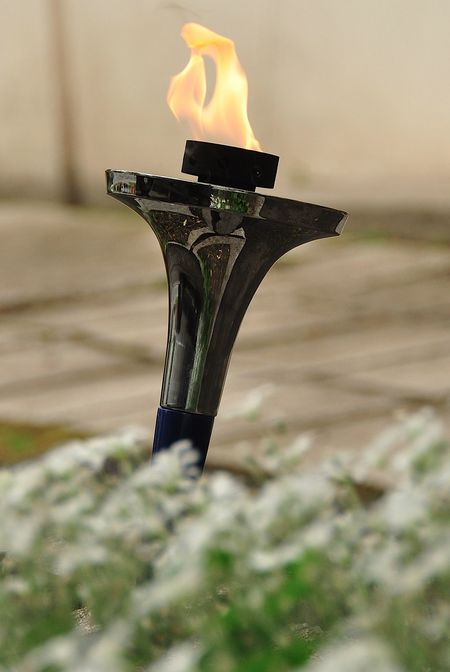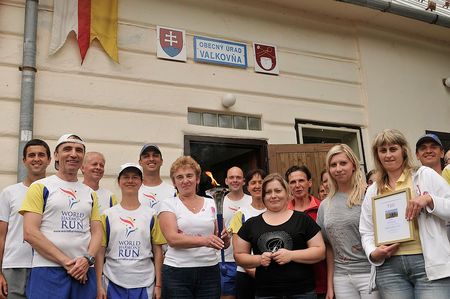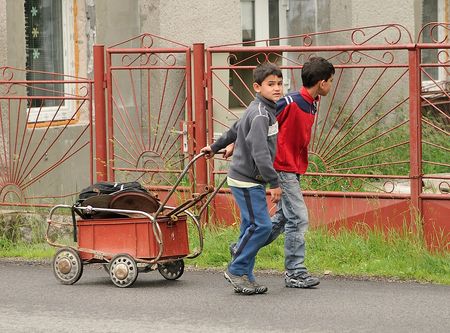 What you learn when you are young, you could find handy once you become old.
Čo sa v mladosti naučíš, v starobe akoby si nasiel.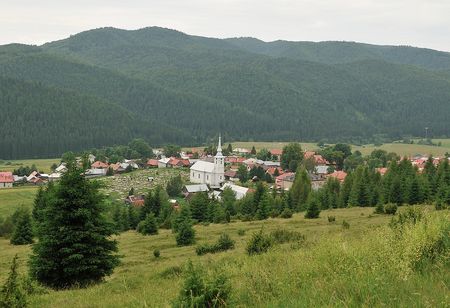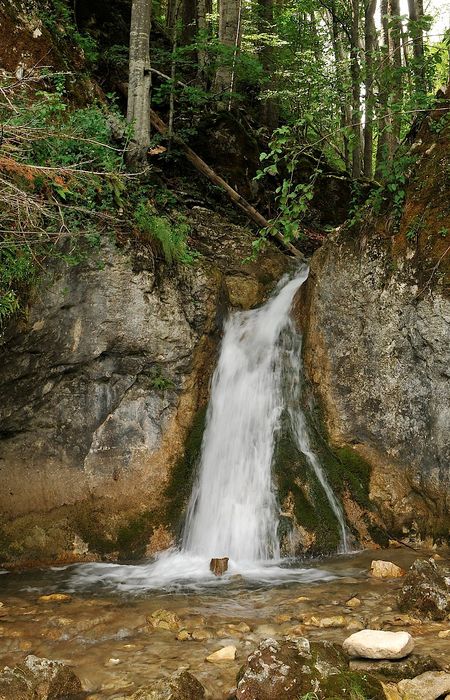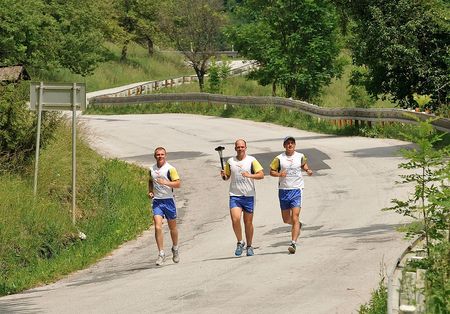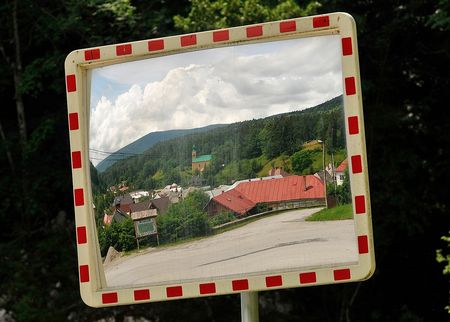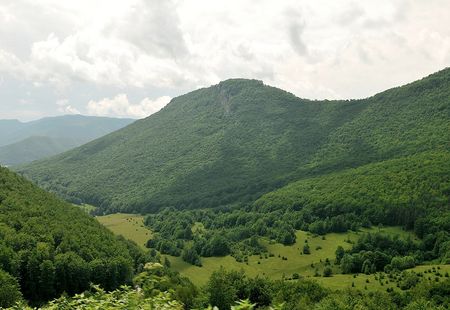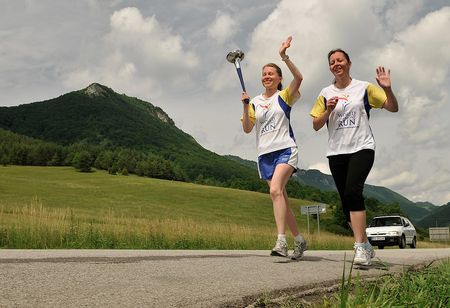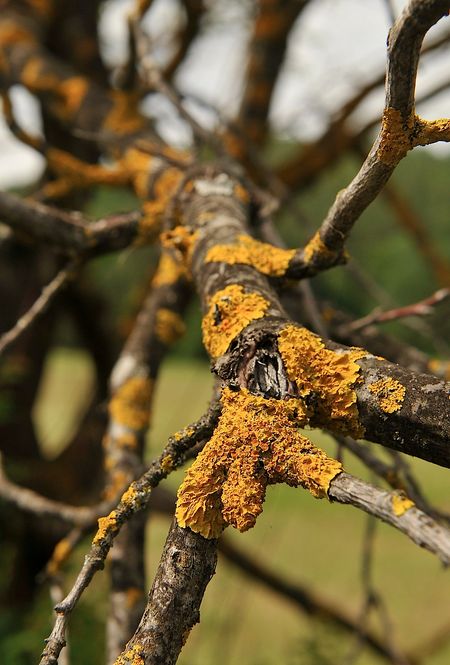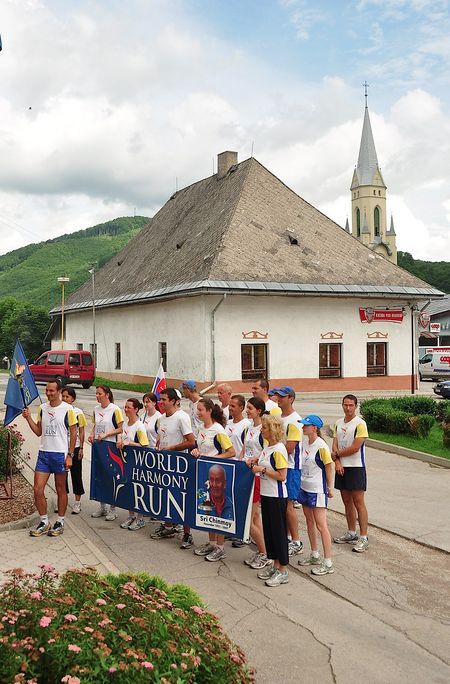 After one year we are again in Muráň, one of the most beatuful places in Slovakia.
A po roku opäť v Muráni, obklopenom jednou z najkrajších prírodných lokalít na Slovensku.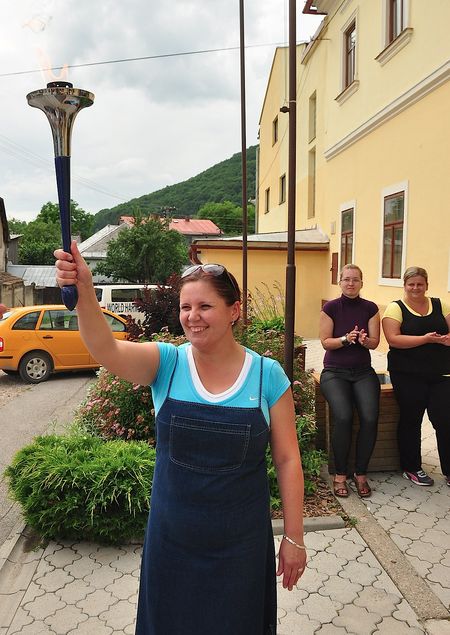 A deputy of the village Muráň Mgr. Jana Murková turned out to be not only a good host but also an excellent singer.
Poslankyňa obce Muráň Mgr. Jana Murková sa ukázala nie len ako dobrá hostiteľka, ale aj výborná speváčka.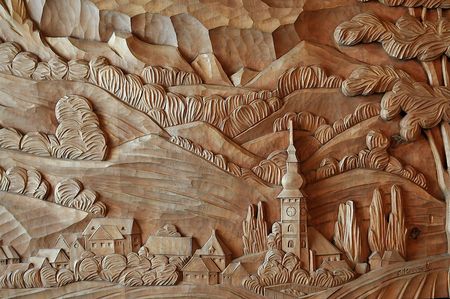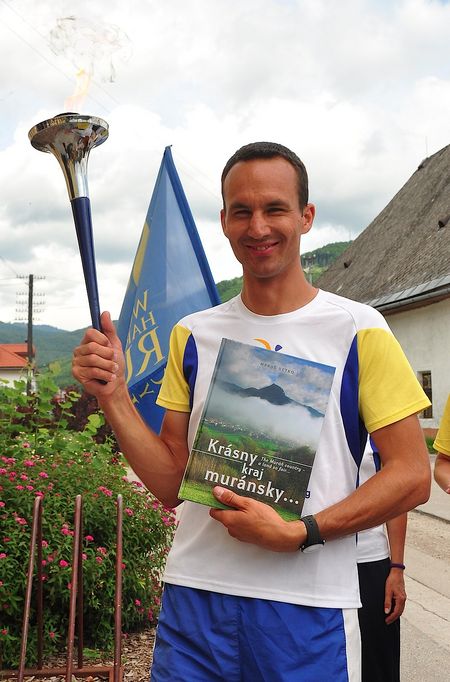 We were presented a beautiful book about Muráň Region, which won some prestigious award in Slovakia.
Dostali sme na pamiatku krásnu knihu o muránskom kraji, ktorá získala na Slovensku ocenenie.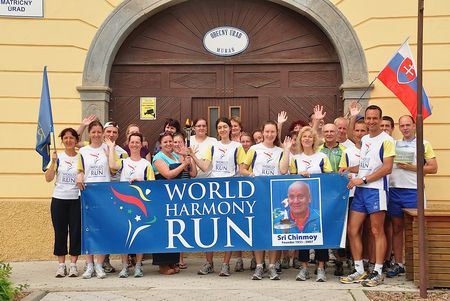 Young local sportsmen helped us to run to the town Revúca.
Do Revúcej nám pomohli dobehnúť miestni športovci.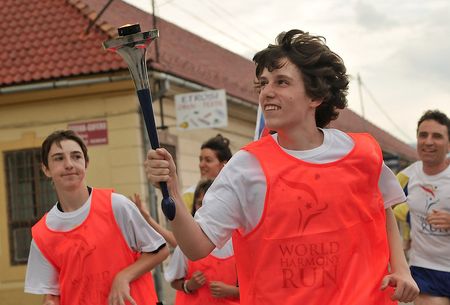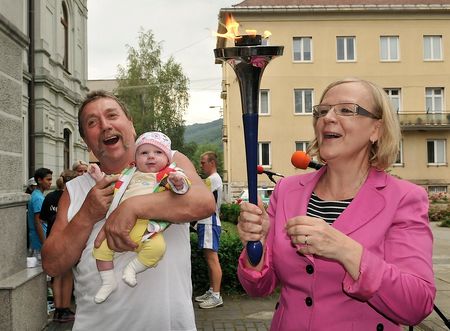 Mayor of Revúca MVDr. Eva Cireňová spoke the same language as us, the language of the heart, because she deeply understood the meaning of Harmony.
Primátorka mesta Revúca MVDr. Eva Cireňová k nám prehovorila rovnakou rečou ako my, rečou srdca, pretože poňala myslienku Harmónie skutočne do hĺbky.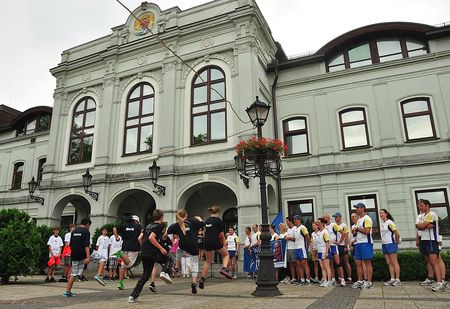 Breathtaking skills of street dance were performed by a local dancing group 'Beastly Crew' for our entertainment.
O úžasný program sa nám postarala tanečná skupina Beastly Crew, ktorá nám predviedla umenie street dance.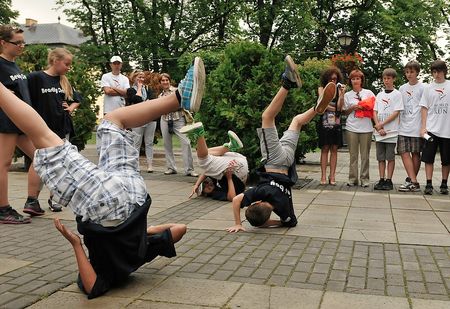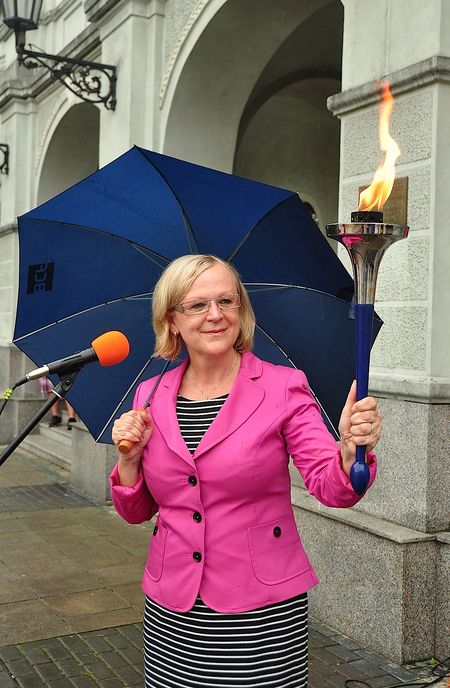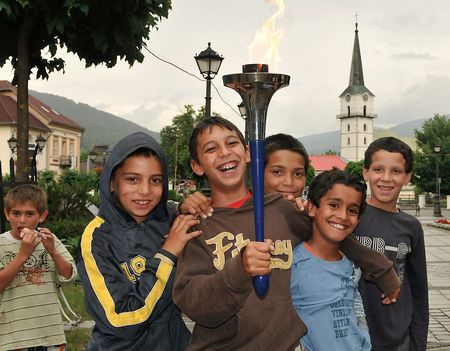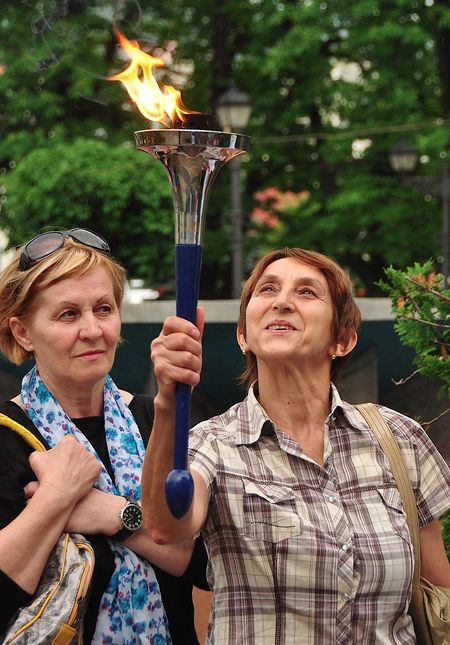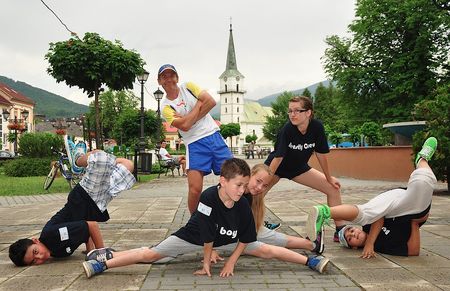 Some of us became big fans of our little dancers...
Niektorí z nás sa stali veľkými fanúšikmi malých tabečníkov...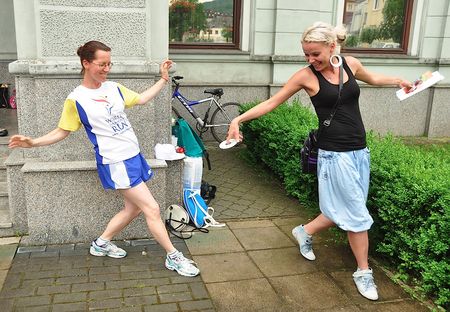 ...and some attended the first dancing lesson.
...a niektorí dostali prvú tanečnú lekciu.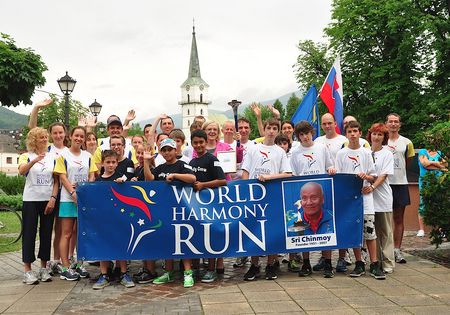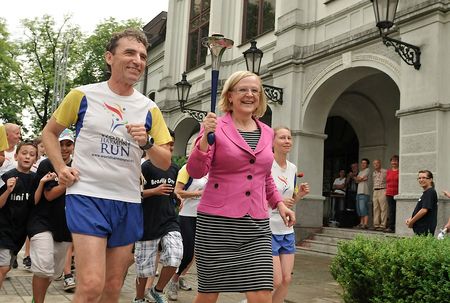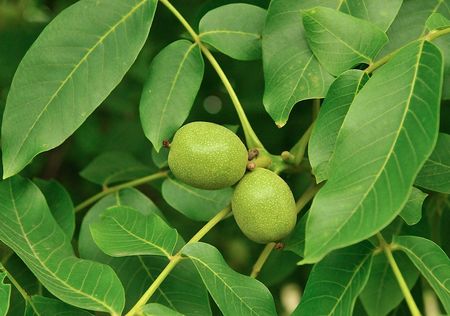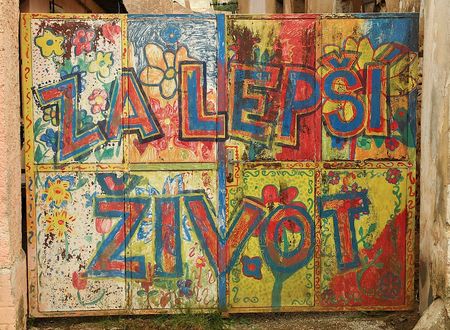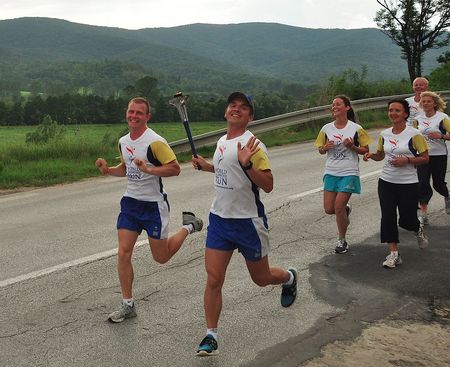 When blondies are running.
Ako behajú blondínky.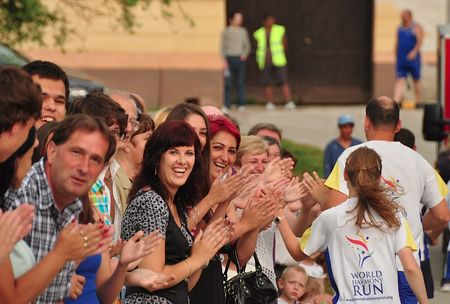 Our final destination for today was a town Jelšava, where there was a great celebration going on.
Našou poslednou zastávkou dnešného dňa bolo mesto Jelšava, kde sa práve konala veľká slávnosť.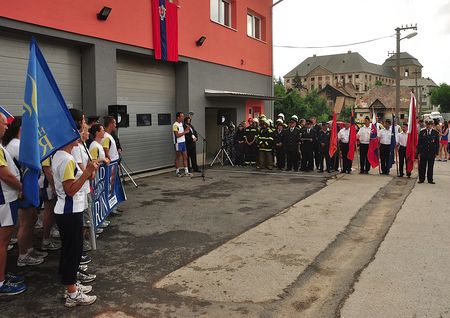 They were opening a new Firestation in the town and we were a part of the ceremony.
V meste sa otvárala vynovená Hasičská zbrojnica a my sme boli súčasťou ich programu.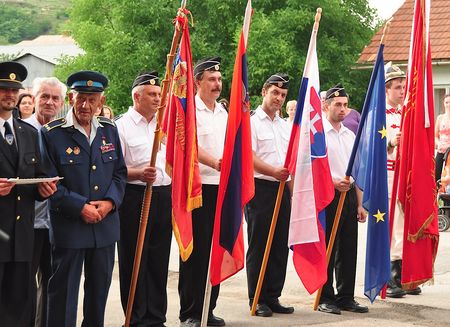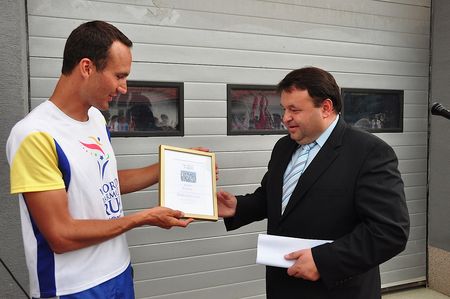 Mayor of the town MVDr. Milan Kolesár warmly received us and we presented him with our certificate of appreciation.
Starosta MVDr. Milan Kolesár nás srdečne prijal a my sme mu na oplátku odovzdali náš ďakovný list.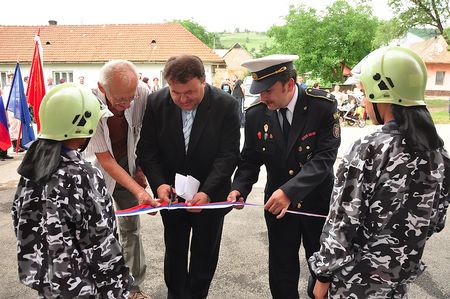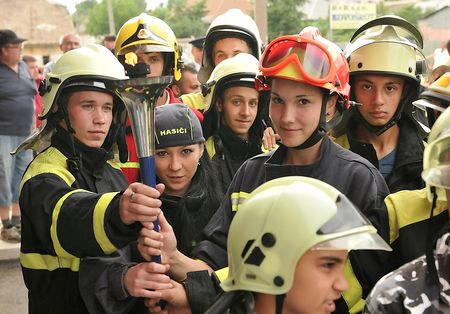 Experienced firemen appreciated our burning torch.
Tento náš plameň ocenili aj skúsení hasiči.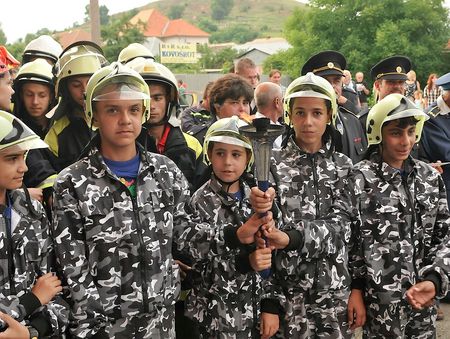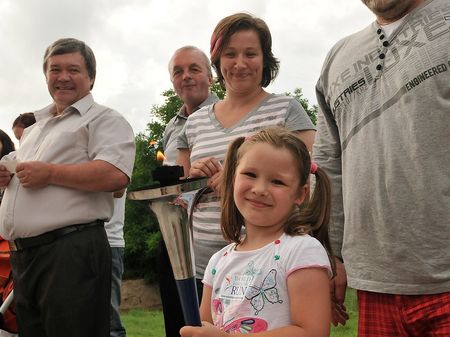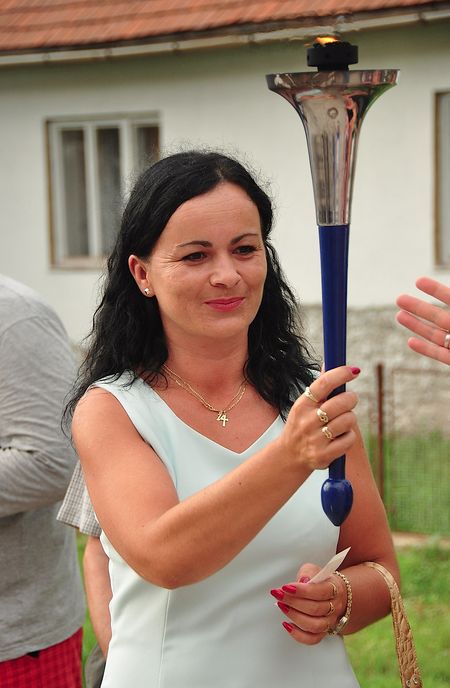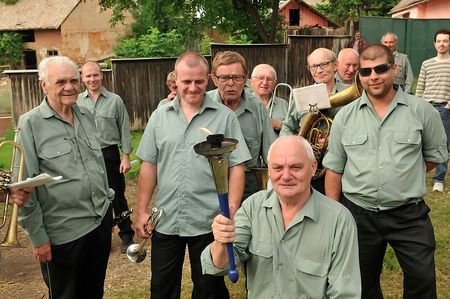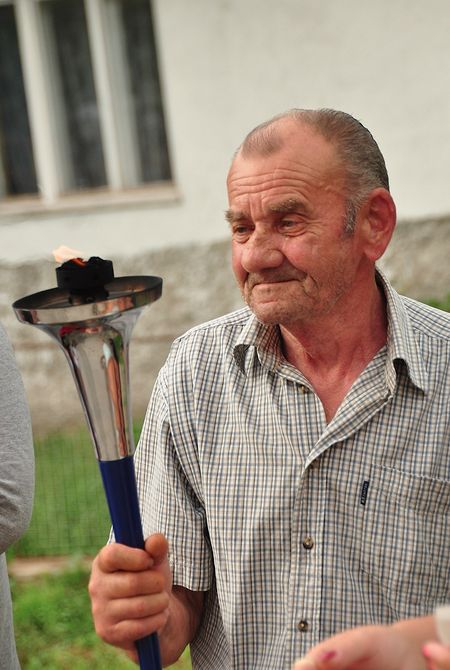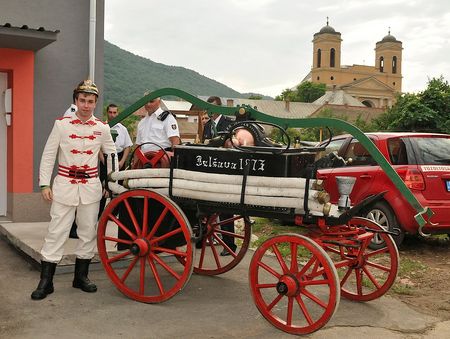 ---
Distance: 87 km
Team Members:
Apaguha Vesely (Czech Republic), Josef Sverma (Czech Republic), Sandro Zincarini (Italy), Mladen Vujaklija (Croatia), Sumahat Strohn (Germany), Vladimir Ilyasov (Russian Federation), Sergey Sidenko (Ukraine), Kristina (Hungary), Tereza (Czech Republic), Karolina (Czech Republic), Padyatra Komak (Slovak Republic), Marek Novotny (Slovak Republic), Vlado Kulisek (Slovak Republic), Danica Cernakova (Slovak Republic), Livka Hlacova (Slovak Republic), Peter Hlac (Slovak Republic), Devatulya Sulekova (Slovak Republic), Muniya Haskova (Czech Republic), Slovak local runners
Harmonemail:
You can send a message to the runners or read the messages.
Gallery: See more images!