Korea - 대한민국 30 April: Pusan - Eunmusa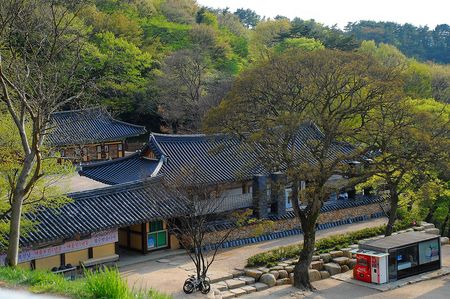 Wonderful to be here in the temple in the mountains. The air is clear, the water pure and sweet. Outside, there is a stone alcove set into the mountain and we all filled our water bottles at the taps running with pure mountain water. Delicious!
All along our journey, we were delighted to drink the pure water. It tasted so wonderful – a tribute to the respect for Mother Nature and the environment.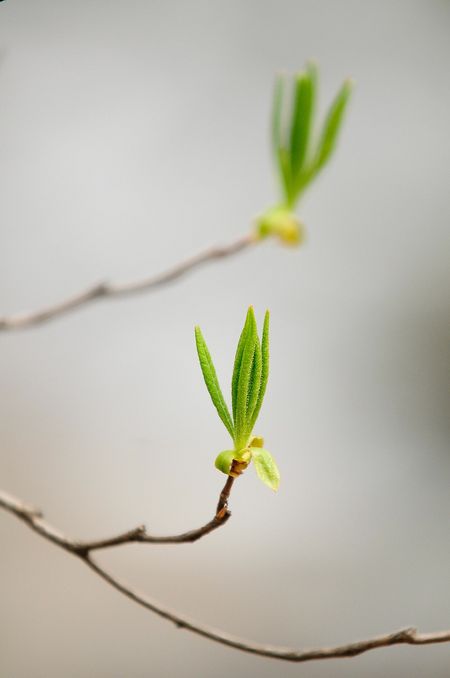 In the early morning hours, in the beautiful temple, we meditated with the Head monk, who had opened his heart and his temple home to us all.  Then, we had a wonderful Korean-style breakfast together, complete with a fragrant fruit tea.  Everything – the delicious food, the pure water, the sacred spaces – seems to be in harmony.
Food!  In a country where one standard greeting translates as "Have you had lunch?"  cooking is a high art.  Cooks normally use no butter, very little oil, yet the food is light, tasty and satisfying.  People pay attention not only to taste, but also to colour and design, so that all is in harmony with nature. We loved it!
As we were leaving, the Head monk gave us each a bracelet of sacred stones.  We all treasure this gift from the heart.  I put it on and have not taken it off. Such a meaningful gift! As Sri Chinmoy wrote, "The world of harmony is a oneness circle."  So, too, this circle of sacred stones reminds us of the vision of the one world we all treasure.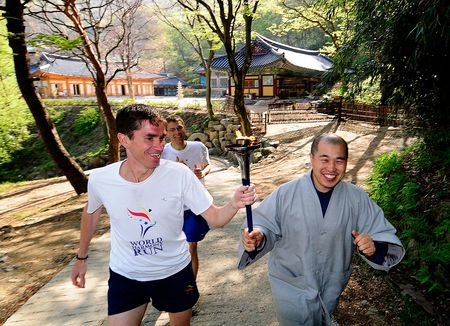 One of the monks at Unsusa Temple is an excellent runner. He leads us...
We said our fond farewells and headed for our first school visit – the Habuk school – where, like all the schools we visited during our journey, the children greeted us with great joy and enthusiasm.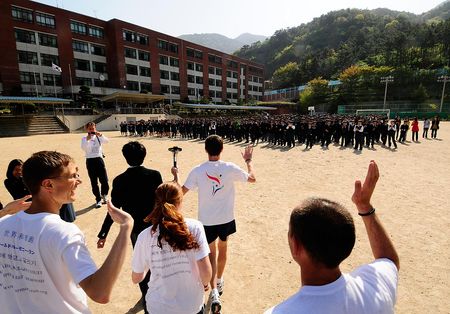 ...to our first school, were 600 uniformed children wait for us, in orderly rows.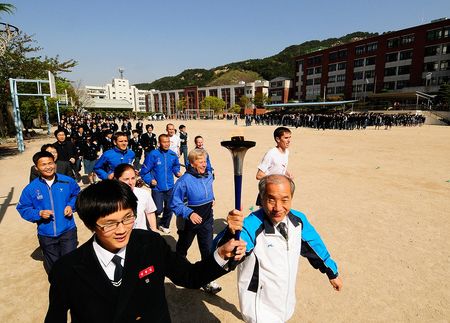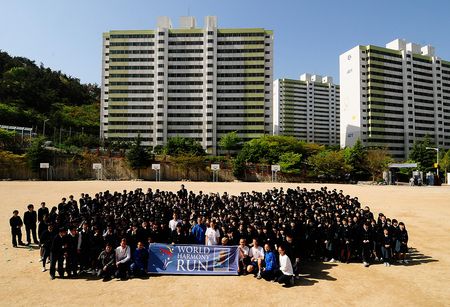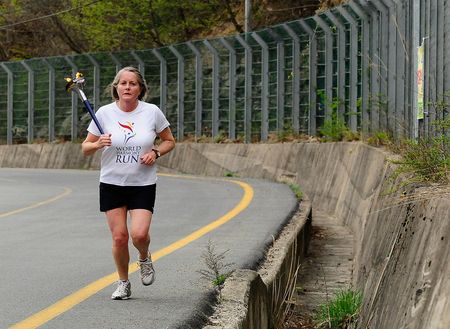 Local coordinator Uddyogini, leads the way...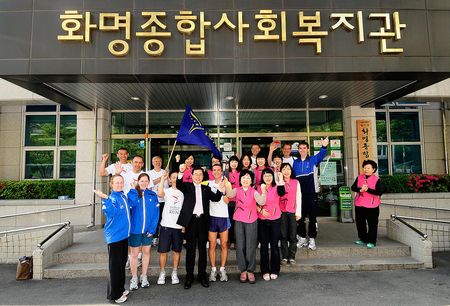 ...to a friendly welfare centre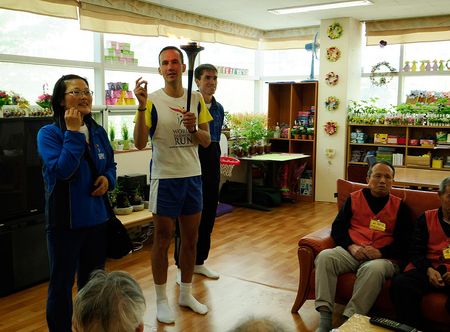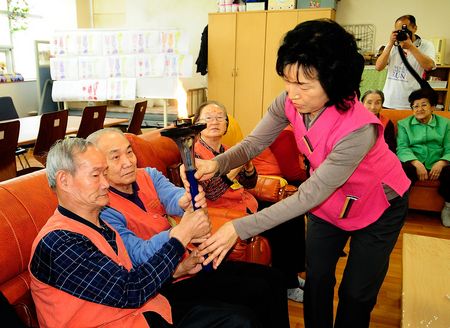 The residents were very open and kind.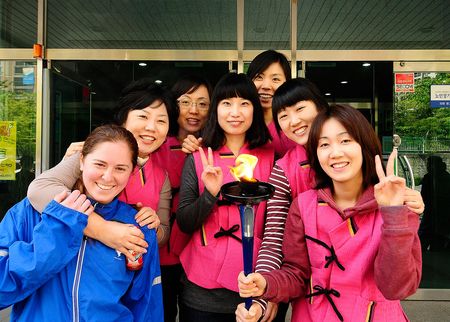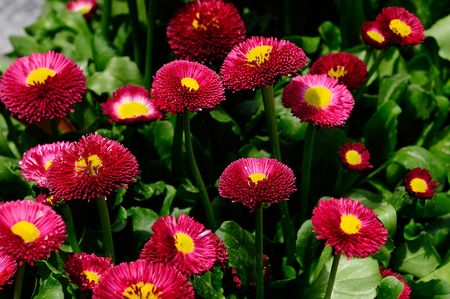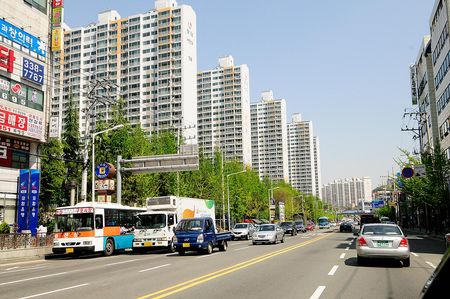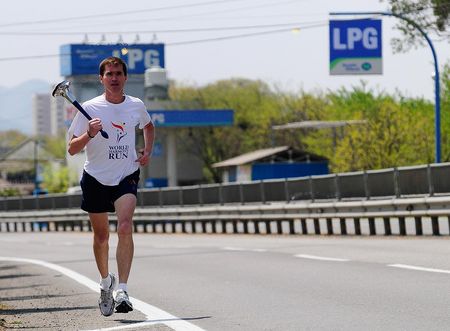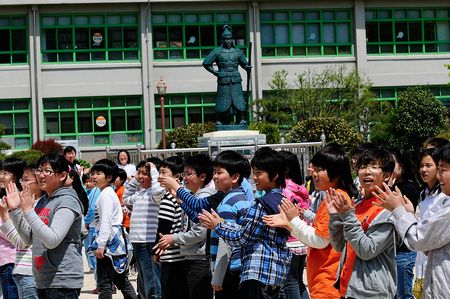 Our second school visit, Haruka Elementary.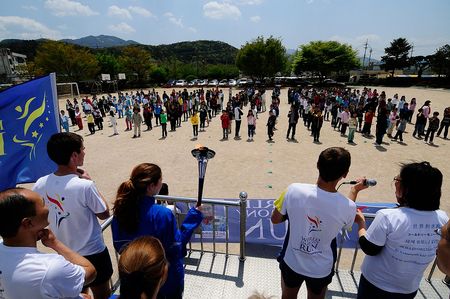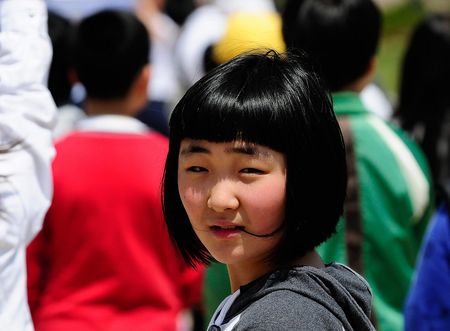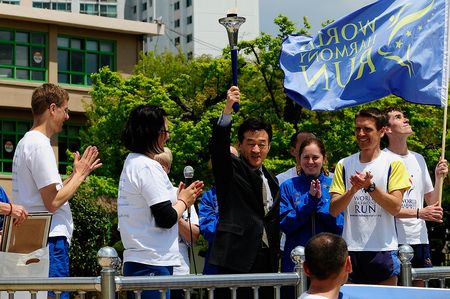 The principal holds the torch.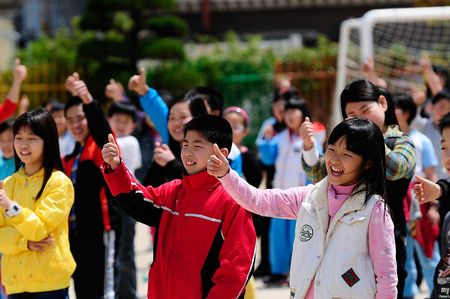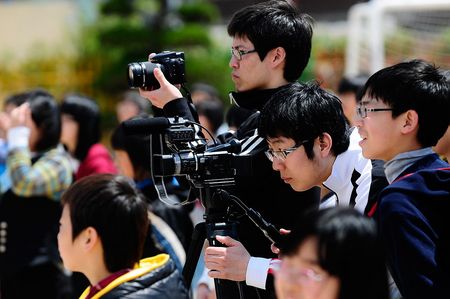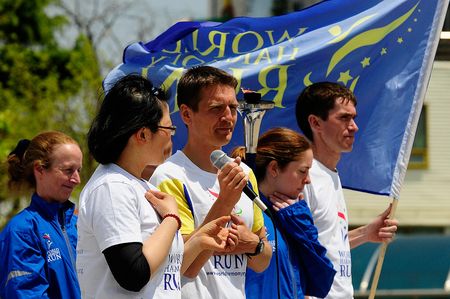 Where do we find Harmony?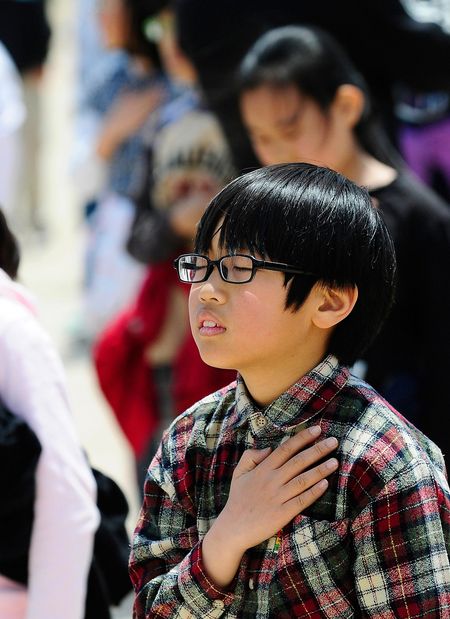 In the heart.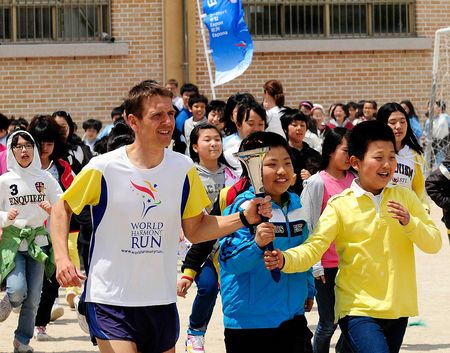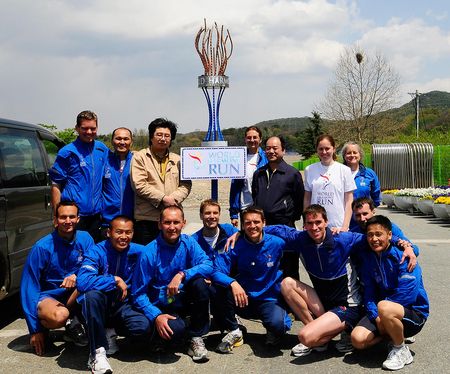 This magnificent sculpture was made and donated to the WHR by Mr. Park Dong Hoeng, Hemabhas good friend. He is extremely kind and generous - and a wonderful artist!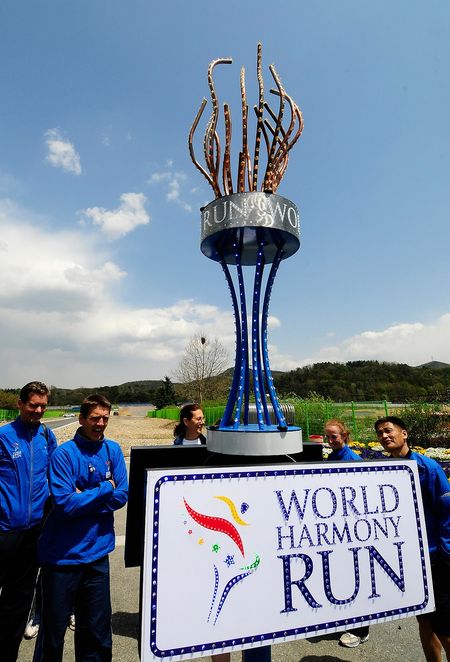 It looks fantastic!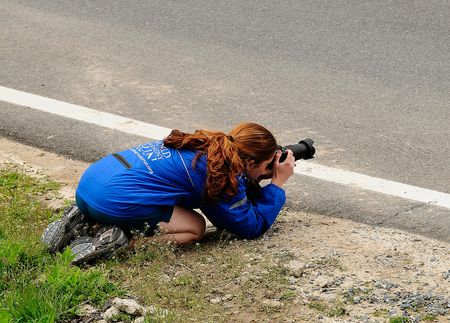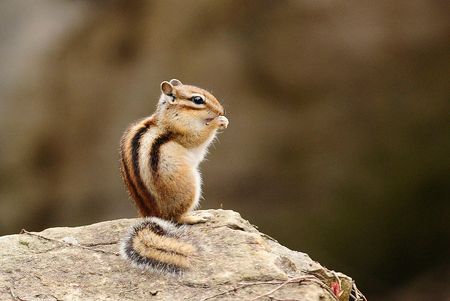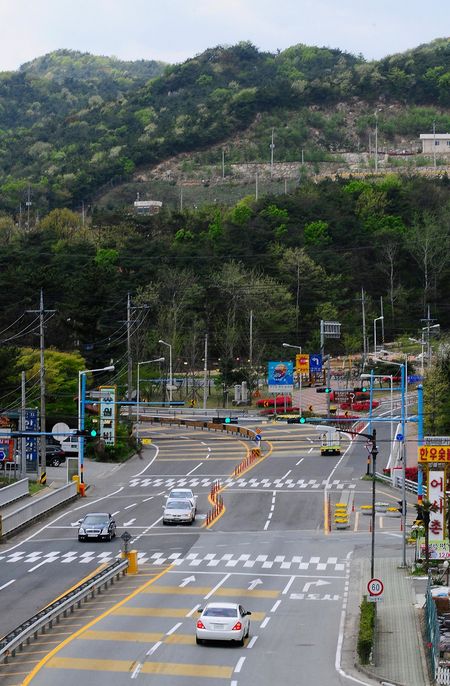 Many roads go in different directions. Which one to take...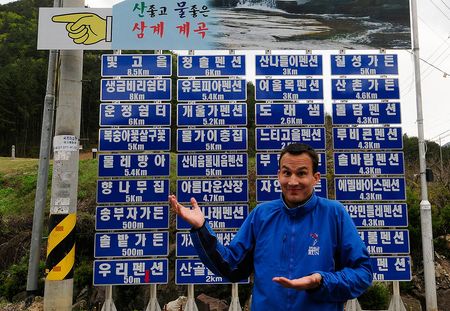 Hmm... although some of the signs are also in English, finding our way through the countryside did have its challenges. Luckily the people we met were often eager to help.....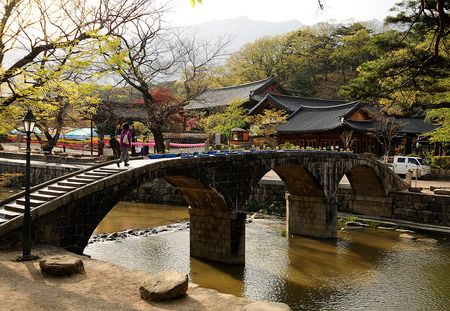 Our final destination for the day. We enter the grounds of the thousand-year old Tongdosa Temple.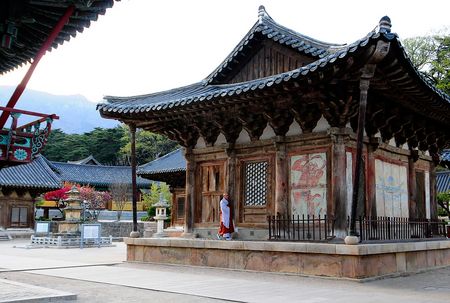 A haven of more than 100 Buddhist monks...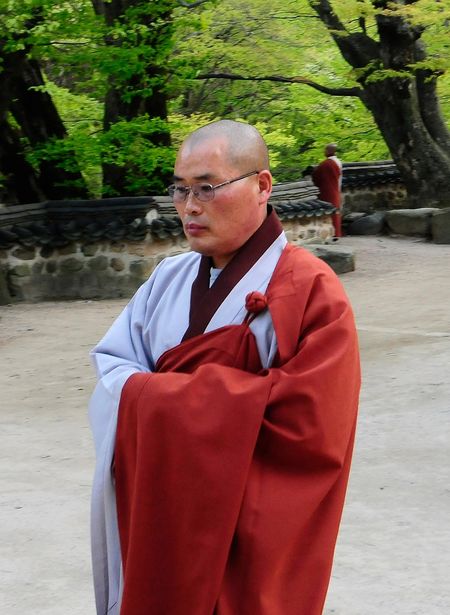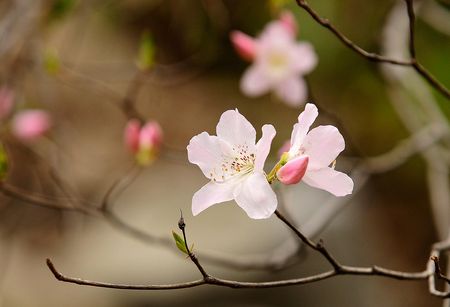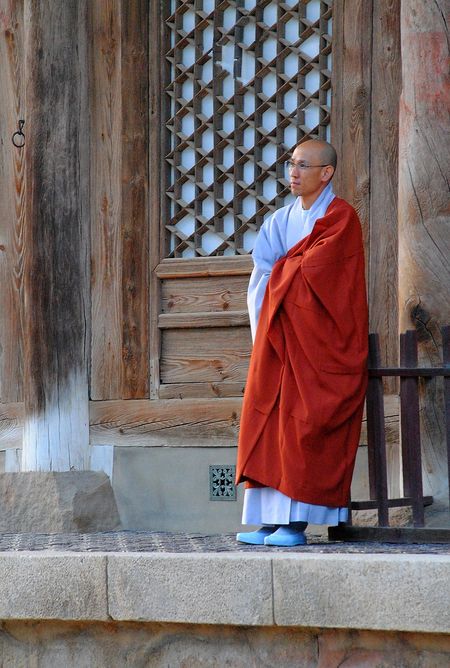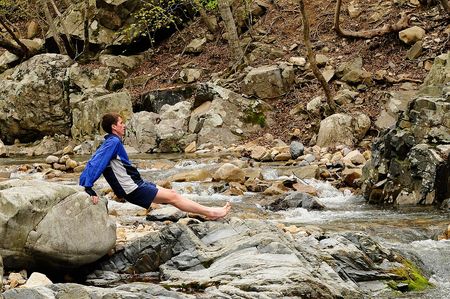 ...And nature's bounty.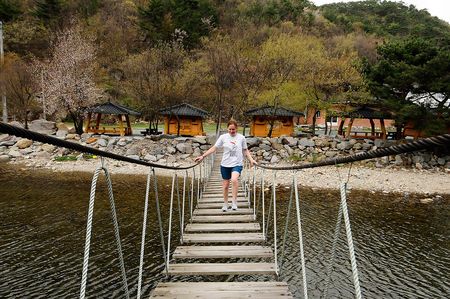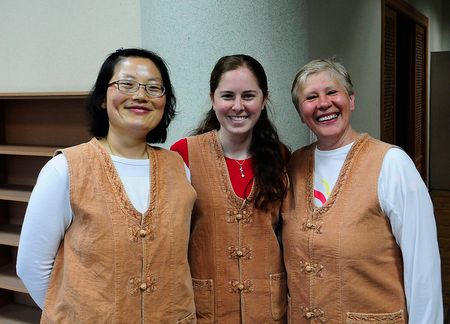 Hemabha had registered the team for a 'temple stay,' which meant that we were allowed to stay overnight in the temple guestrooms and, for this, we all received special temple outfits that we wore during our stay – very comfortable pants and top, and special shoes as well.  If we did not feel like a team yet, this certainly did the trick – suddenly we all looked exactly alike!  Fun!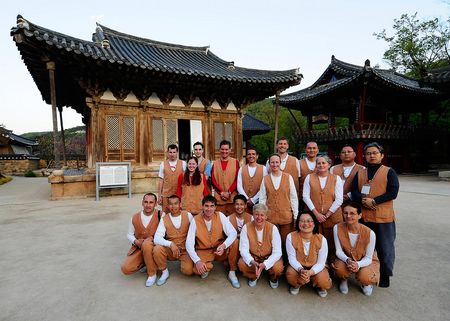 We all showered, changed into our temple outfits and had a tour of the temple.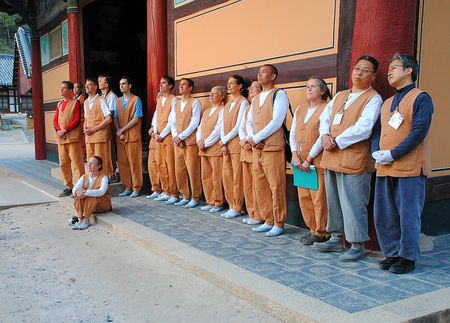 We get to hear a drumming performance by some monks...
We marveled at its historic beauty and had a chance to hear traditional drumming performed by several of the monks.  The drum is so huge!  The sound mesmerized us, there in the twilight hours. The peace of nature and of centuries of devotion filled us with awe and appreciation.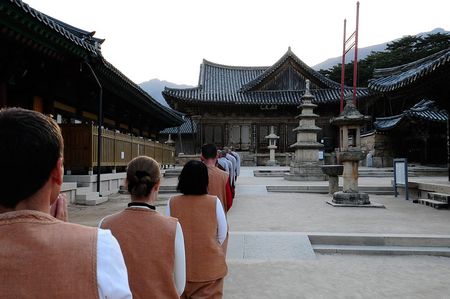 ...after which we are led in single file towards...
Then our guide showed us how to walk in an orderly, single file, into the dining room for a delicious dinner together.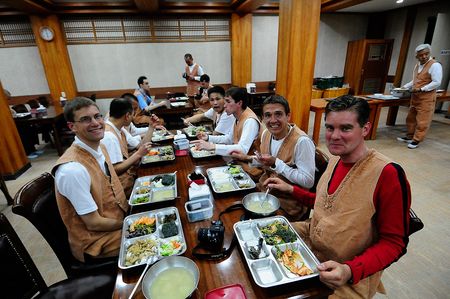 When taking the food we have to be silent, but are allowed to talk once having sat down.
Several members of the community, in charge of guiding us, sat with us.  I asked one, in my limited Korean, if he spoke English. He answered, in flawless English, "What did you say?"  It turns out his English is so excellent, he is the interpreter for the temple! Funny!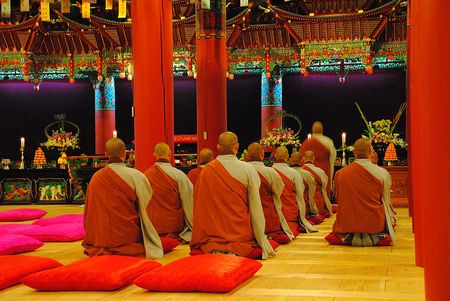 ...towards the temple, for a 1 hour meditation with some of the monks.
After dinner, we went upstairs into the temple for a talk on the essence of Buddhism.  We were the very first group of visitors to be taught by a Teaching monk.  He had gotten the task only three days before – to talk to temple visitors.   He spoke in Korean; and first the interpreter and then Hemabha translated for us.  But the Teaching monk's smile needed no translation!  His sweet, genuine smile radiated the beauty of the inner truth that he lived.  He spoke of the value of happiness, and happiness shone in and through his smile.  His smile taught us everything, and touched us all. Centuries of spiritual wisdom and aspiration glowed in his smile. He said he would always remember us and we, certainly will always remember 'the smiling monk.'  Days later, and perhaps years later, his smile will remain with us.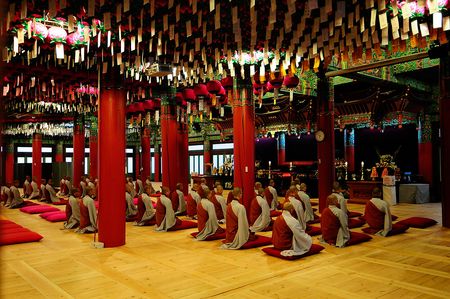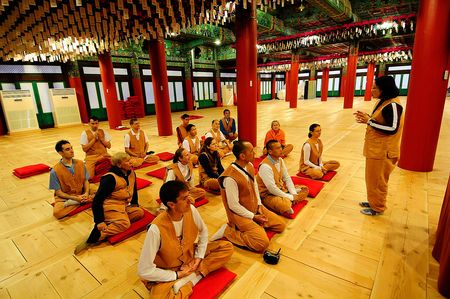 Hemabha fills us in on tomorrow's schedule tand he continuing program, which includes another 1 hour meditation at 3.30. followed by lantern making at 4.45. Quite a few of the team did the entire program.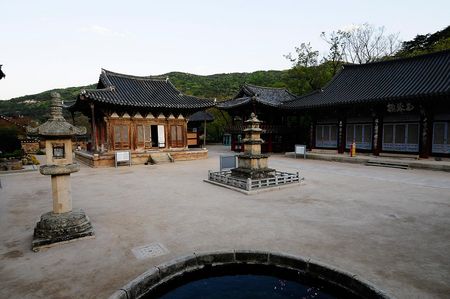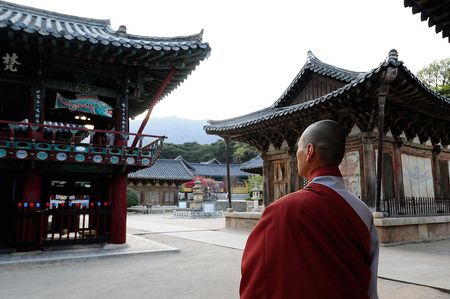 ---
Distance: 65 km
Team Members:
Alexandr Sasha Nikiforov (Russia), Akanda Norov (Mongolia), Apaguha Vesely (photo) (Czech Republic), Baltabek Nuzakhmetor (Kazakhstan), Bayanmunkh Batsukh (Mongolia), Deeldar Sedjav (photo) (Mongolia), Hemabha Jang (Korea), Jan Klaile (FInland), Josef Sverma (Czech Republic), Mridanga Spencer (video) (United Kingdom), Nilpushpi White (Canada), Padmasini Guillet (France), Pranlobha Kalagian (photo) (USA), Seth Feldman (Canada), Yura Taranik (photo) (Russia), Zinaida Tchopova (Russia)
Gallery: See more images!