Korea - 대한민국 5 May: Seoul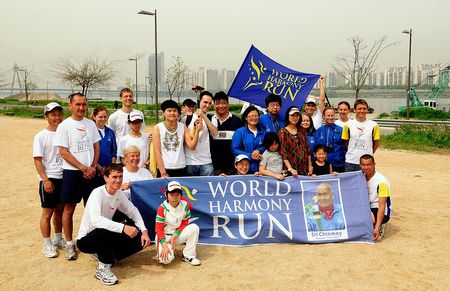 By the Hahn river we meet WHR team-member Seth, who is currently teaching English in a school in Seoul, his colleague and some of their students.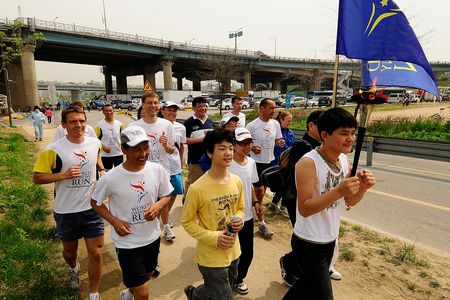 We run along the Hahn river for 5k.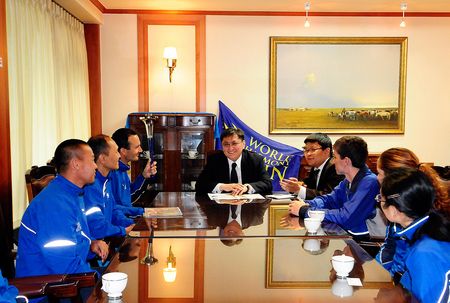 At the Mongolian Embassy in Seoul.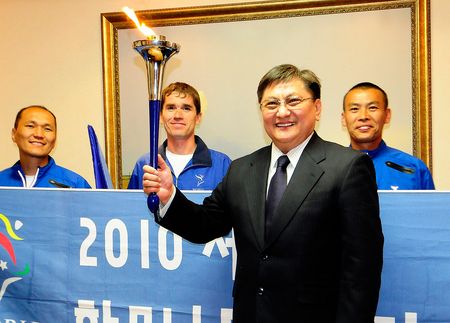 His excellency with the torch. He was extremely friendly and encouraging.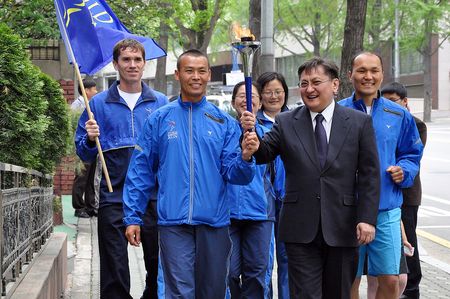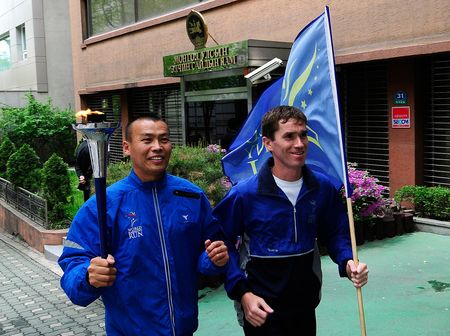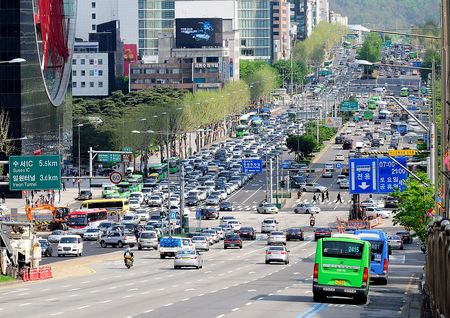 14 lanes of traffic. Seoul has more than 20 million inhabitants.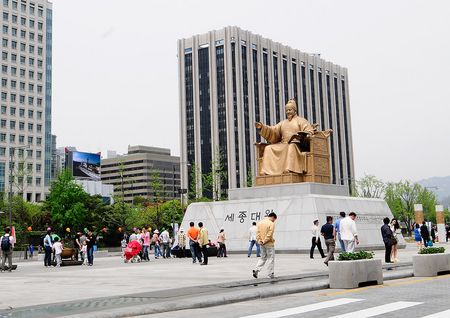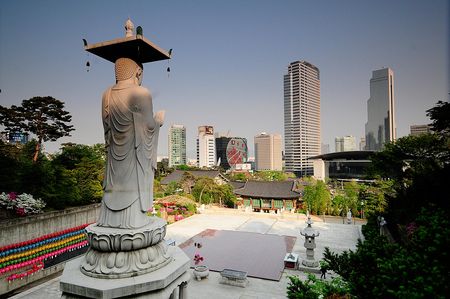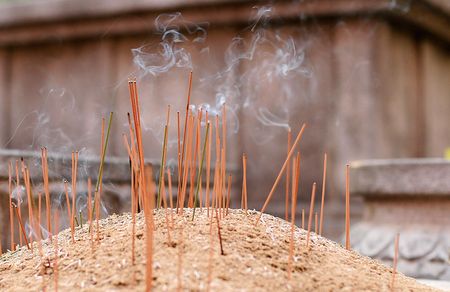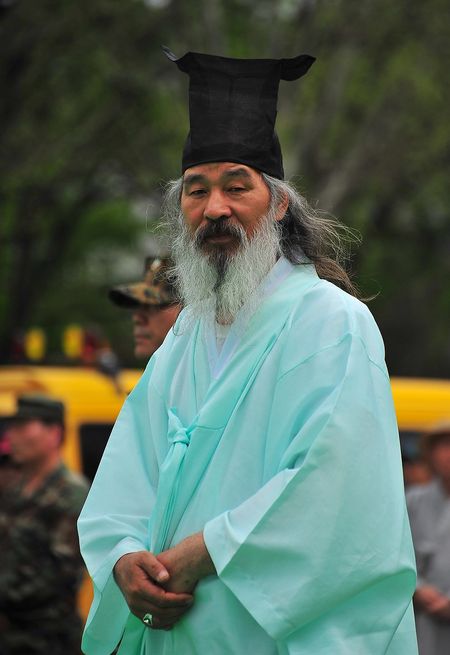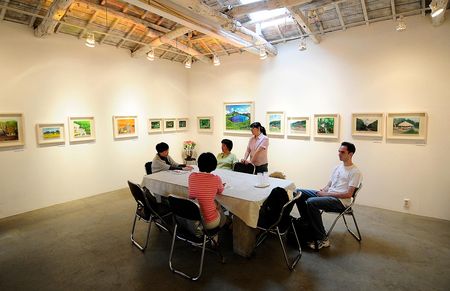 The Zein Xeno Art Gallery. We will visit this place again in the evening.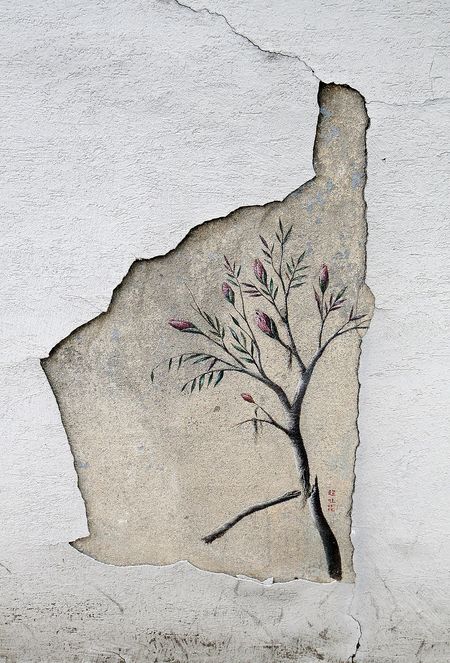 Art painted into the crack of a wall on the street.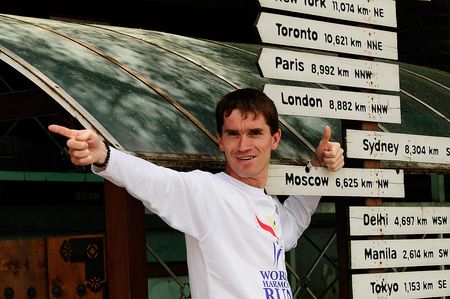 For Sasha the route will be more than 3 times longer to get to Moscow, the final destination for this year's run.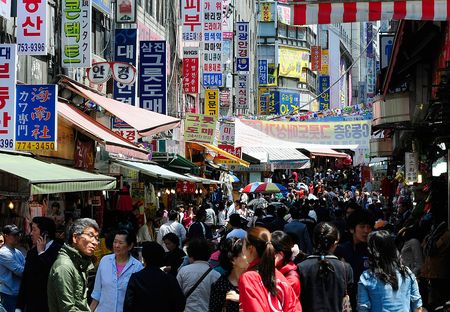 Extra busy streets on Children's Day.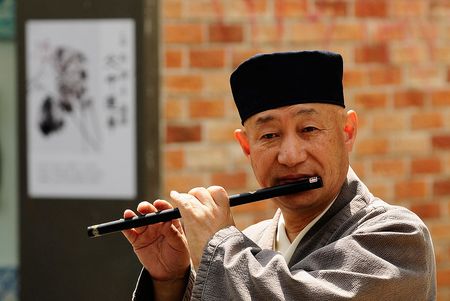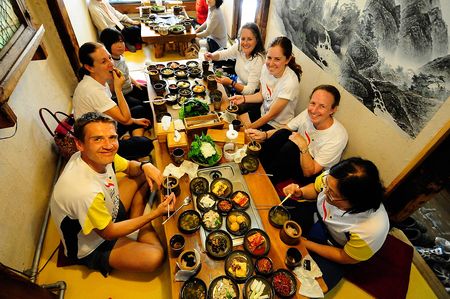 We had an absolutely delicious traditional Korean meal together.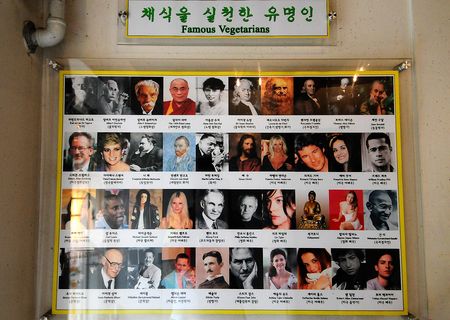 A plaque from a nearby vegetarian restaurant.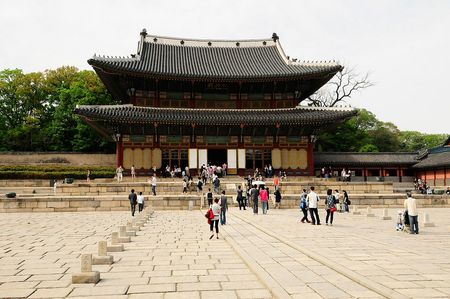 We visited the Changdeokgung Palace.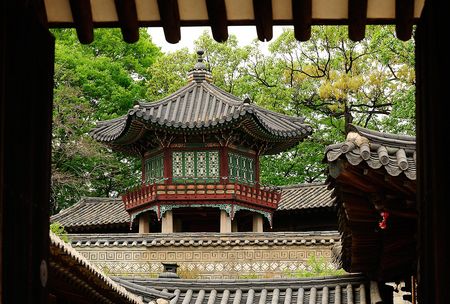 Amazing to see the craftsmanship and artistry of the architecture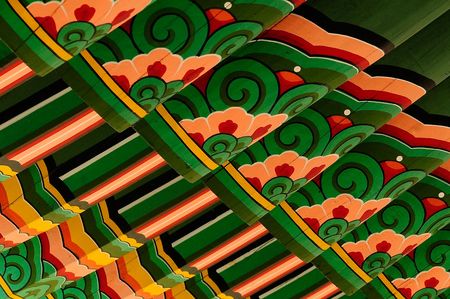 And the beauty of the decorative painting.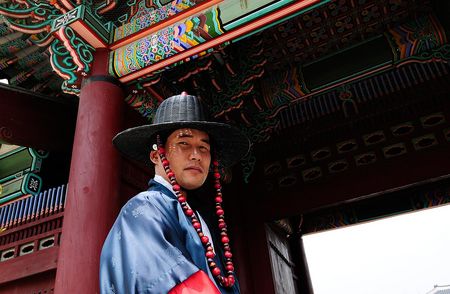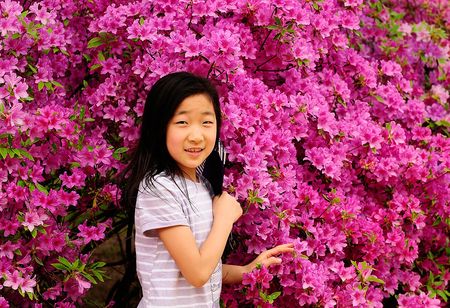 This time of year all around Korea you can see beautiful Azelias such as these and other enchanting flowers.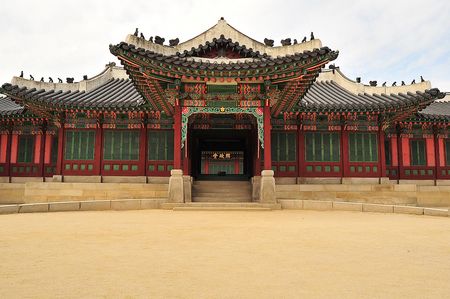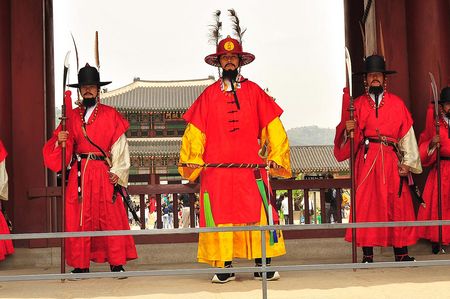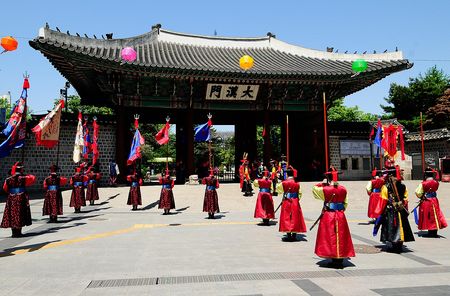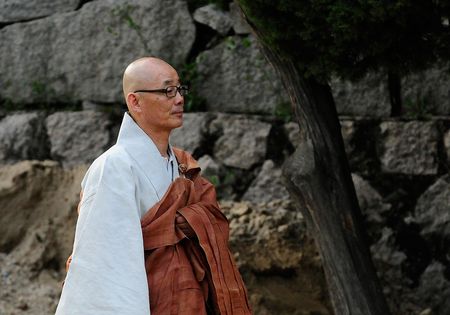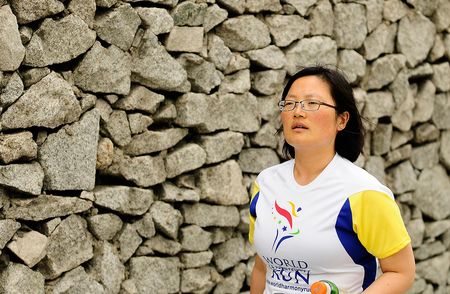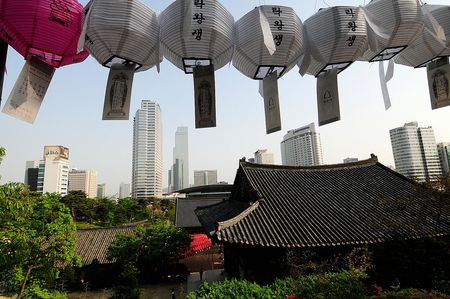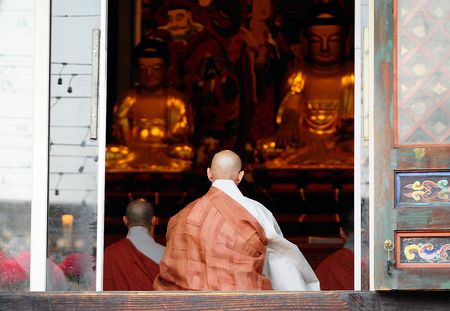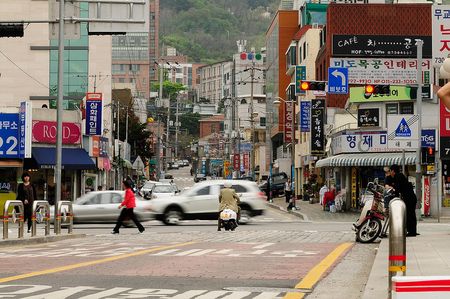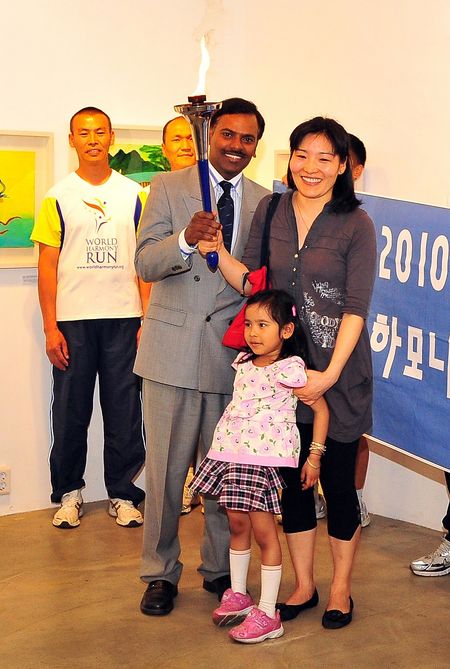 Our final ceremony takes place at the Zein Xeno Art Gallery where we meet several luminaries. Here are His Excellency, C. Rajasekhar, Minister of the Indian Embassy and his family. His Excellency gave a very encouraging speech.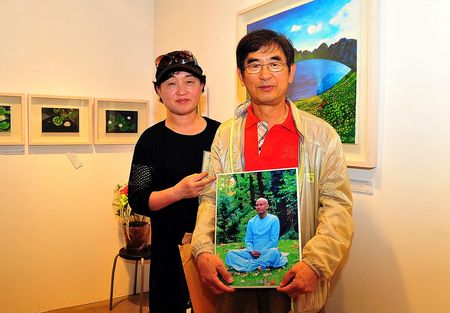 Here is Professor Kim Sang Huan, with his wife, Kim Sun Hee.  Professor Kim has translated several of Sri Chinmoy's books, including "Wings of Joy," into Korean, thus making the books accessible to the people of Korea--both in the country and abroad. We are profoundly grateful to the Professor and his family who, by so sincerely embracing the vision of Sri Chinmoy, have built a luminous bridge between our international family and the people of Korea.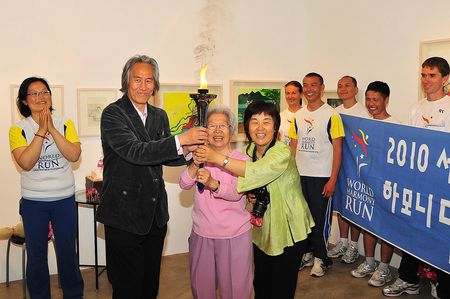 To the left is famous cartoonist Park Jae Dang, a wonderful and very funny person. He gave a very positive and funny speech and on ardent request by his friend even delighted us with a dance! In the center, dressed in pink, is the 85 year old artist, whose beautiful paintings are on exhibit. It is remarkable that she began painting wonly 5 years ago. True to her generous heart and life of service to others she donates all the proceeds from the sale of her paintings. Beside her dressed in green is the charming Akkassi (Lee Myung Ok), a web-based broadcaster who has a website devoted to cultural issues, called Radio 21.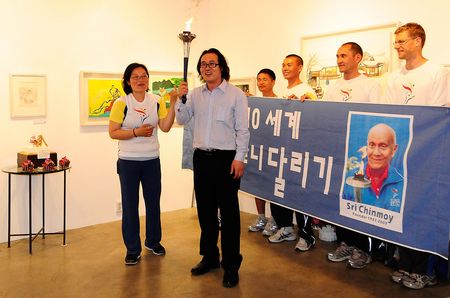 Here is the owner of the Zein Xeno Art Gallery.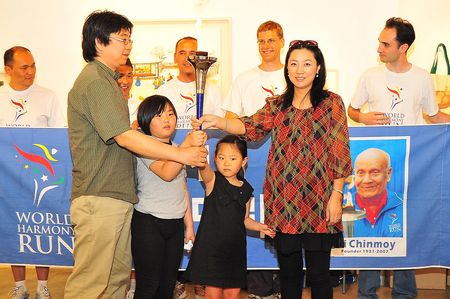 A very special family, without whom this year's Korean WHR could never have taken place at the scale that it did. They are Hemabha's school friends: Park Dong Hoeng, his wife Kim Sun Ju and their two absolutely adorable and charming girls – Chan-mi, aged 10 and Green, aged 6.
Park Dong Hoeng helped and supported Korean coordinators Hemabha, Padmasini and Uddyogini immensely during the entire process of creating this year's run and offered their house to them as accommodation. Mr Park is also the manager of the Zein Xeno Art Gallery.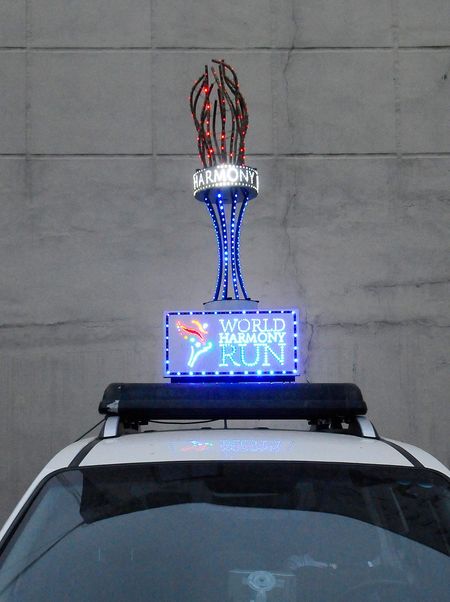 This amazing luminous WHR sculpture, the pride of our vans, was painstakingly created by Mr. Park Dong Hoeng and donated by him to the WHR. It attracted a lot of attention during the run.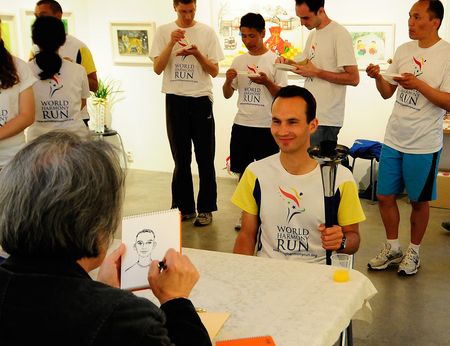 Park Jae Dang delights us by drawing caricatures of each team member and also of the wife of His Excellency, C. Rajasekhar and her friend.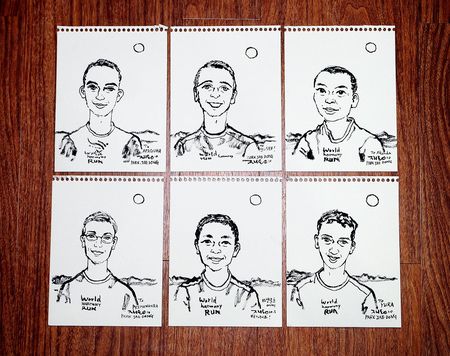 From top left: Apaguha, Josef, Akanda.
From bottom left: Jan, Bayanmunkh, Yura.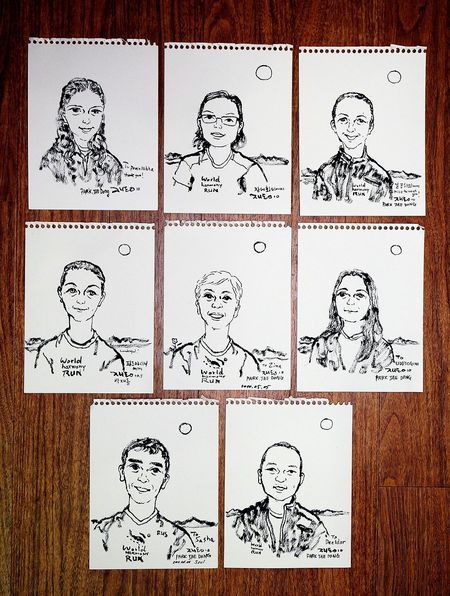 From top left: Pranlobha, Hemabha, Nilpushpi.
From centre left: Padmasini, Zina, Uddyogini.
From bottom left: Sasha, Deeldar.
His Excellency, C. Rajasekhar's wife's friend offers us a unique compliment – she says that among our team she sees only sincere smiles. That is good! Our sincere smiles mirror the sincerity and warmth of the people of Korea, who welcomed us with all their hearts. We shall be forever grateful.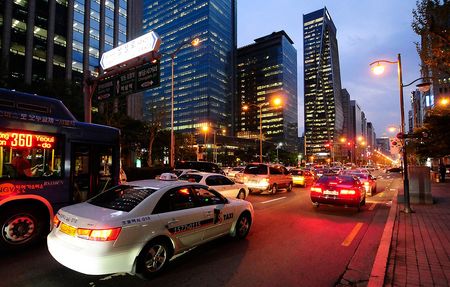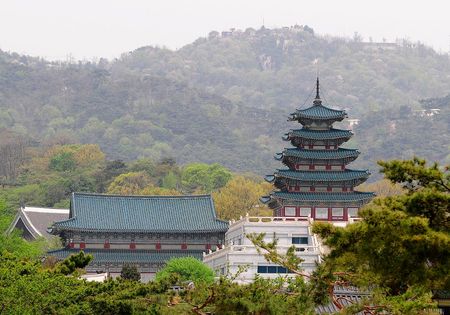 Remembering Korea
A poem by Nilpushpi White
Remembering Korea
As I wash the
Kitchen floor,
The pot of miso
Stands alone
Next to the sink.
My guests have gone
And alone am I.
Yet the fragrances, the flavours
Of Korea –
The sweet blossoms,
The delicate rice,
The smiles of
Monks and children –
These remain.
And, as I
Wash the white
Tile floor,
I wonder,
What tugs at my heart?
Is it me,
Remembering Korea,
Or rather Korea
Remembering me?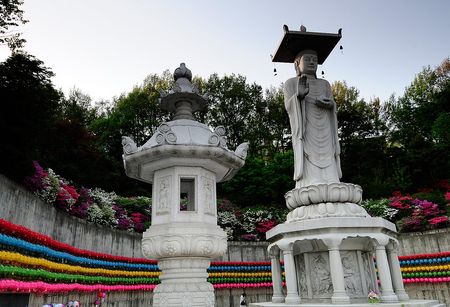 ---
Distance: 5 km
Team Members:
Alexandr Sasha Nikiforov (Russia), Akanda Norov (Mongolia), Apaguha Vesely (photo) (Czech Republic), Baltabek Nuzakhmetor (Kazakhstan), Bayanmunkh Batsukh (Mongolia), Deeldar Sedjav (photo) (Mongolia), Harashita Sunaoshi (Japan), Hemabha Jang (Korea), Jan Klaile (FInland), Josef Sverma (Czech Republic), Mridanga Spencer (video) (United Kingdom), Nilpushpi White (Canada), Padmasini Guillet (France), Pranlobha Kalagian (photo) (USA), Seth Feldman (Canada), Yura Taranik (photo) (Russia), Zinaida Tchopova (Russia)
Gallery: See more images!