Korea - 대한민국 3 May: Hogye Ish - Chungju
Morning: Waking up in Happy Family Motel, Hogye Ish.
I am in heaven!  This motel, a converted school, reminds me so much of my home in Canada, and has the feeling of a summer camp.  Below our rooms is a full kitchen where we make breakfast for the team and all eat at tables outdoors, just like a picnic! The family that runs this motel is wonderful – warm, and sweet. We are completely won over by their kindness and generosity of spirit. Delightful!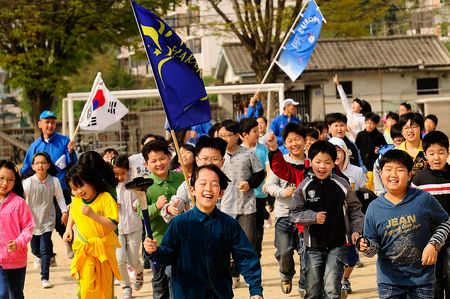 We start the morning by visiting Seohanam Elementary School.
We visit the Sechanam school at 8:30 am.  The children greet us with enthusiasm and joy. Our international team seems to be their newest toy!  There is such spirit in the children – natural, vibrant energy and eagerness to welcome the international team, mirroring, perhaps, the soul of the country welcoming us into its own heart.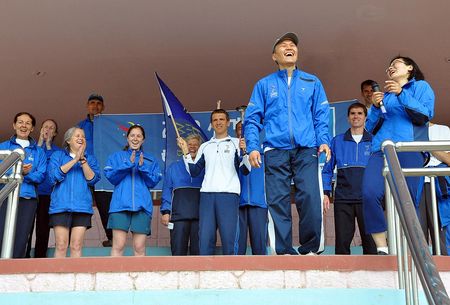 Deeldar spreads happinness in the guessing game.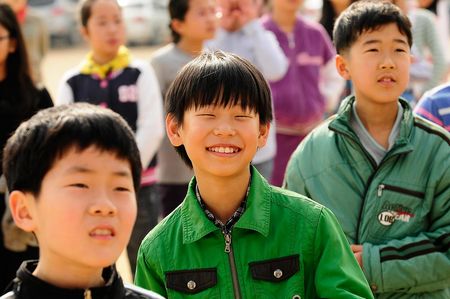 In this skit we help our injured friend. The children decide if it is an example of harmony or not.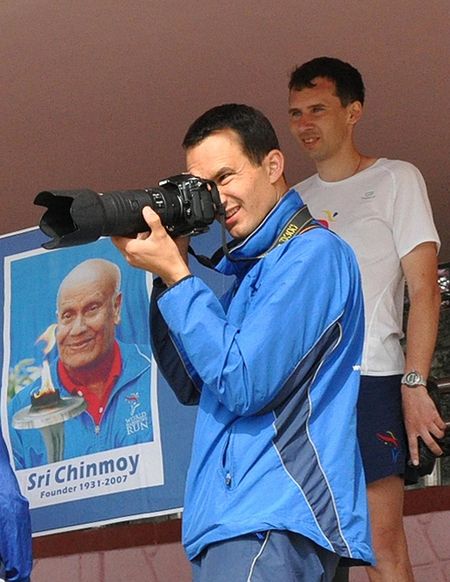 Apaguha is always ready with the camera.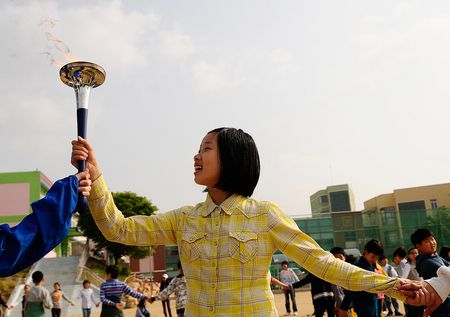 Passing the torch from hand to hand.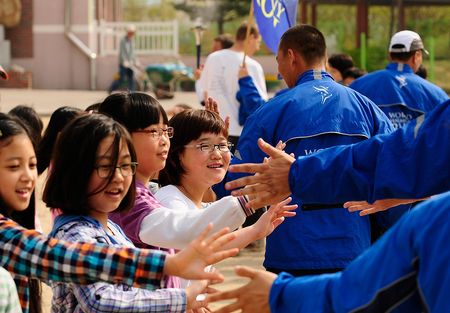 Goodbye Seohanam Elementary!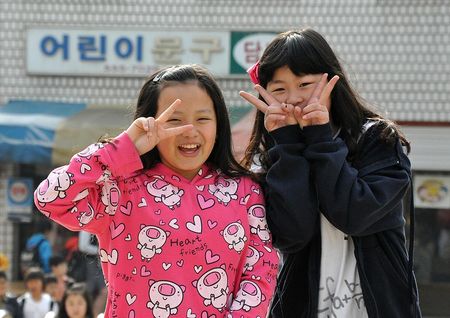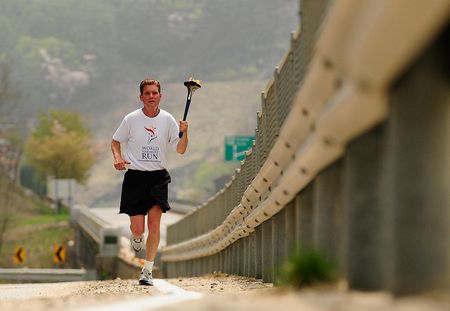 Mridanga leads the way.
Unexpected aspects nr.1:
- Rare to see foreigners in the rural areas – I met one woman from New Zealand here to teach English and saw an Indian lady when I visited one of the palaces. But, overall, few non-Koreans.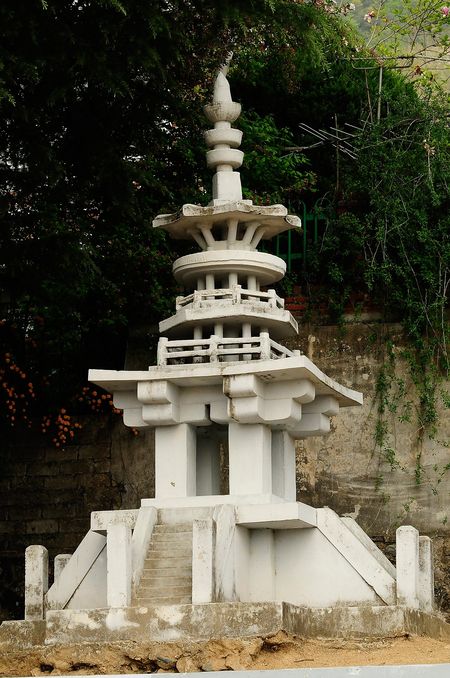 A roadside shrine.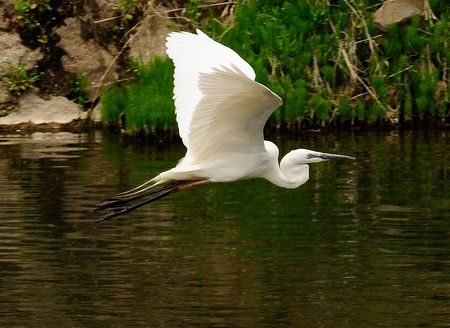 Today we ran through beautiful mountains and valleys, filled with flowering apple trees.  Nature seems very pure and untouched here; life seems tranquil.  
Unexpected aspect nr.2:
- Very little industrialization and no apparent pollution.  Instead, a lot of farming and cultivation of the soil, growing crops and, even in the villages, careful attention to recycling, with clearly marked containers for various types of waste.  I am impressed by the respect for the land and for nature.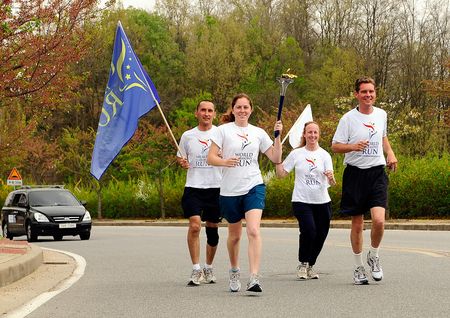 Baltabek, Pranlobha, Mridanga and I got a chance to run through Kongkuk University.  All along the way the students were waving and cheering, delighted.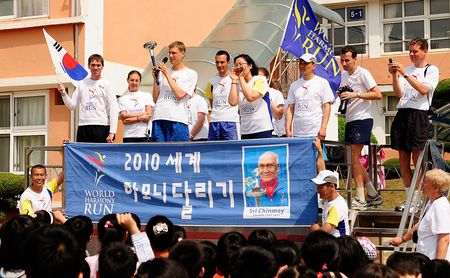 Dongseong Elementary School.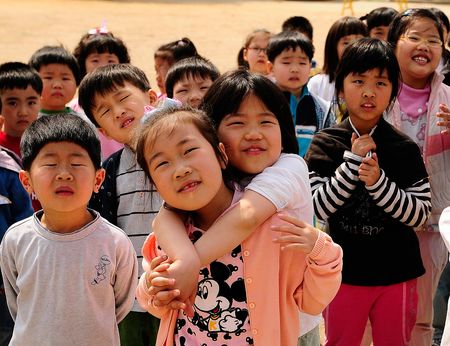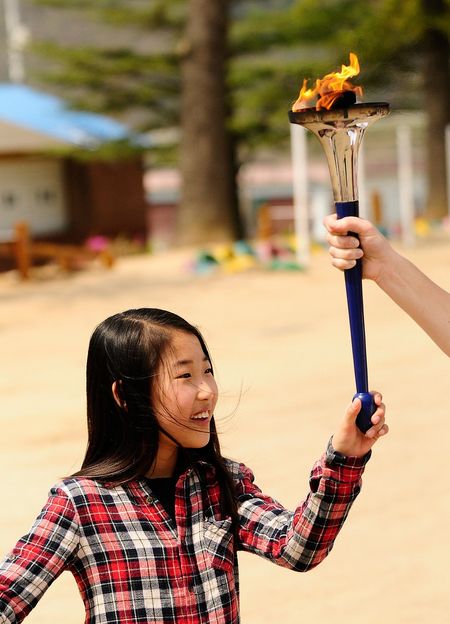 At the Dongseong school I speak with one of the teachers who not only knew my country, but had stayed in my hometown for a teacher training course.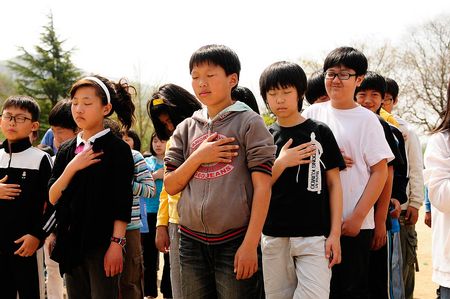 Harmony begins in the heart of each individual.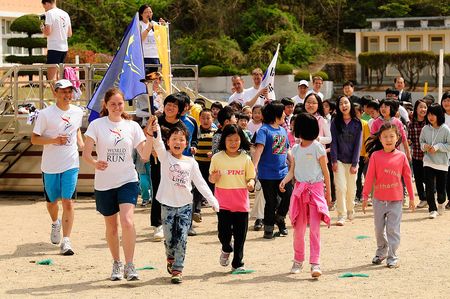 The children gave us a lot of joy.
Unexpected aspect nr. 3:
- A tribute to the educators: the children embraced us with delight.  Even though we were all so different from what they were used to, the children were so open, full of fun, eager to welcome their new friends.  This shows the open-hearted world view of the principals and teachers.  We are grateful to all the schools and their staff who welcomed us.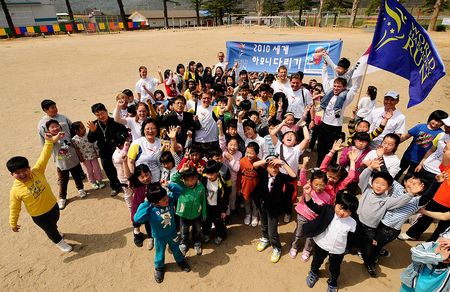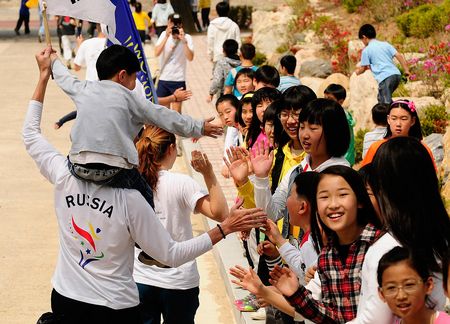 Farewell!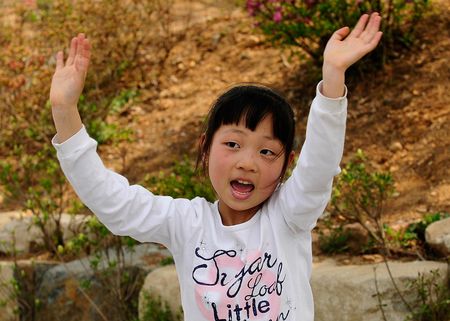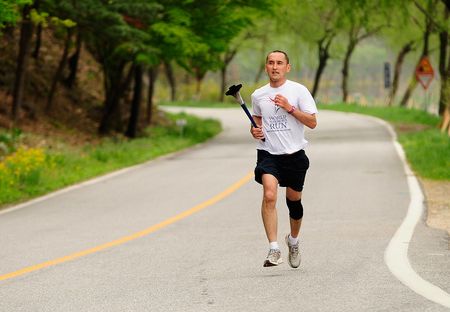 Baltabek covers the final kilometres to Chungju.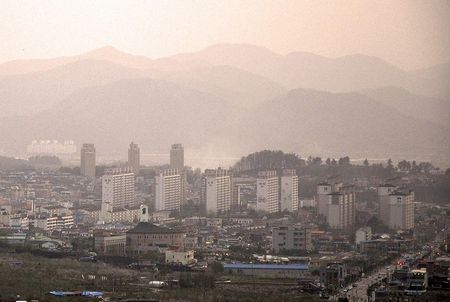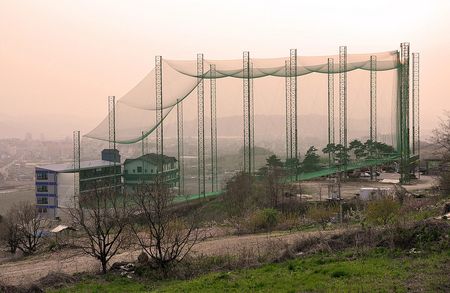 This structure is used for practising your golf swing.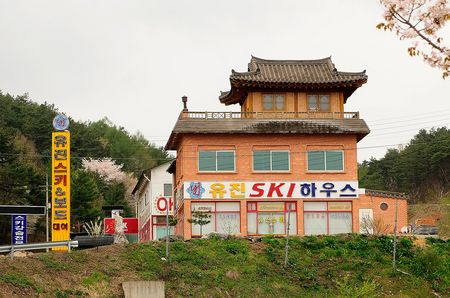 We have a traditional Korean hot pot dinner, with side-dishes.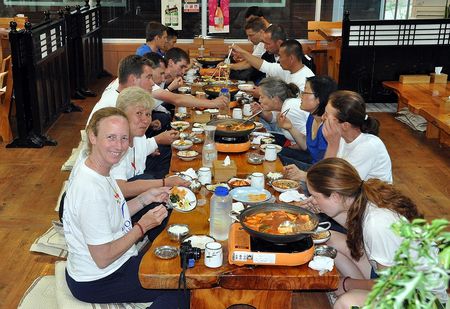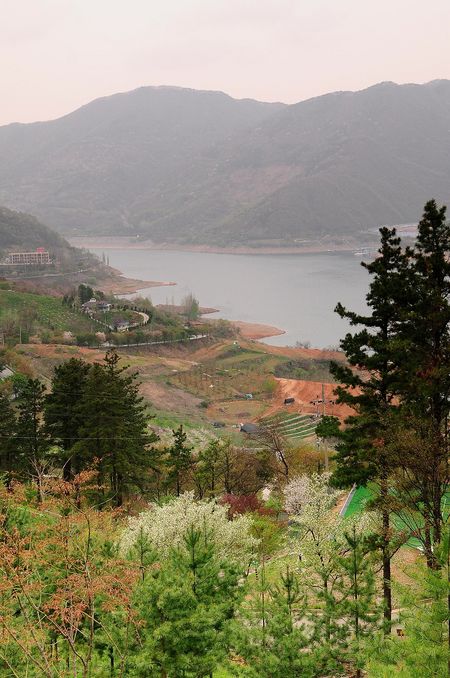 The view from our log cabin lodgings.
We arrive in a wonderful mountain resort.  Our wooden cabin is spacious, clean and delightful.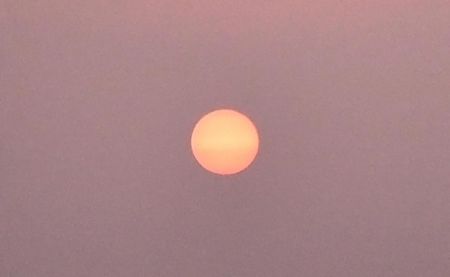 ---
Distance: 80 km
Team Members:
Alexandr Sasha Nikiforov (Russia), Akanda Norov (Mongolia), Apaguha Vesely (photo) (Czech Republic), Baltabek Nuzakhmetor (Kazakhstan), Bayanmunkh Batsukh (Mongolia), Deeldar Sedjav (photo) (Mongolia), Hemabha Jang (Korea), Jan Klaile (FInland), Josef Sverma (Czech Republic), Mridanga Spencer (video) (United Kingdom), Nilpushpi White (Canada), Padmasini Guillet (France), Pranlobha Kalagian (photo) (USA), Yura Taranik (photo) (Russia), Zinaida Tchopova (Russia)
Gallery: See more images!