Portugal 23 February: Figueira da Foz - Coimbra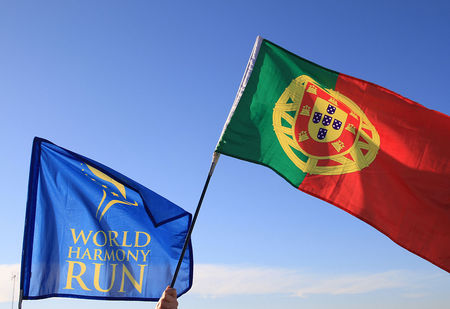 Welcome to the World Harmony Run 2012 in Europe!
Every two years an international team of runners carries a flaming torch throughout all the countries in Europe and connects hundreds of thousands of people from all walks of life.
2012 marks the 25th anniversary of the World Harmony Run / Peace Run. Therefore our team will cover 24.000 km in Europe - starting today in Figueira da Foz / Portugal and ending in Vienna / Austria on October 8th 2012.
Sejam bem vindos à Corrida Mundial da Harmonia 2012 na Europa!
Em cada dois anos uma equipa internacional de corredores carrega uma tocha flamejante através de todos os países da Europa e liga centenas de milhares de pessoas de todos os percursos de vida. 
2012 marca o 25º aniversário da Corrida Mundial da Harmonia / Corrida da Paz. Por isso a nossa equipa irá cobrir 24.000 km na Europa - começando hoje na Figueira da Foz / Portugal e terminando em Viena / Áustria a 8 de Outubro de 2012.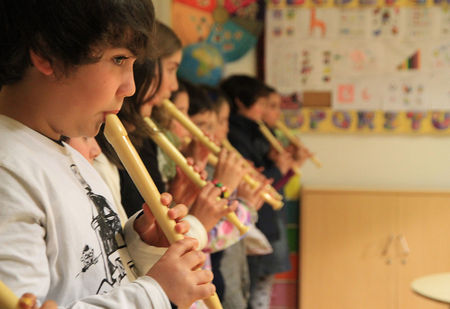 Our international team arrived in Figueira da Foz the night before the opening ceremony, enjoying a pre-meeting with kids from the "Jardim escola Joao de Deus 1" and dinner with the mayor of the city - which was probably the best start we could think of...
A nossa equipa internacional chegou à Figueira da Foz na noite anterior à cerimónia de abertura, disfrutando de um pré-encontro com crianças do Jardim Escola João de Deus 1 e de um jantar com o Presidente da Câmara da cidade - que foi provavelmente o melhor começo de que nos conseguimos lembrar...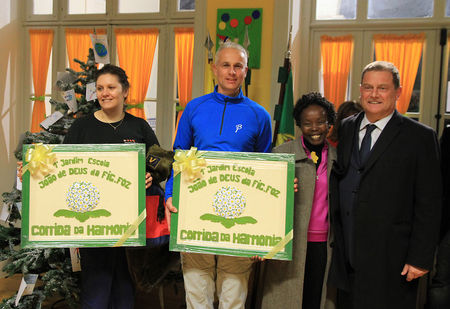 Thank you for the nice welcome and the great dinner, provided by the "João de Deus da Figueira da Foz" - school!
Obrigado pelas simpáticas boas vindas e pelo fantástico jantar, oferecido pela Escola João de Deus da Figueira da Foz!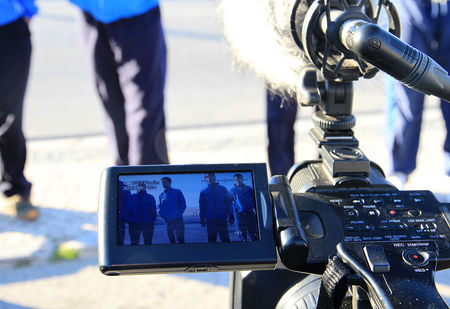 Thursday, 23rd - the opening ceremony!
Quinta-feira, dia 23 - a cerimónia de abertura!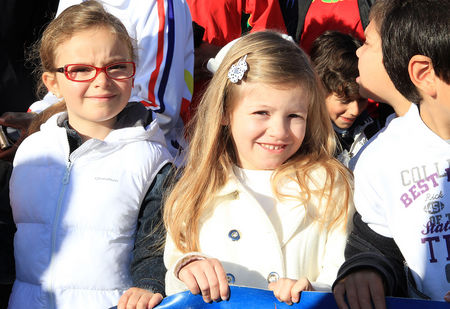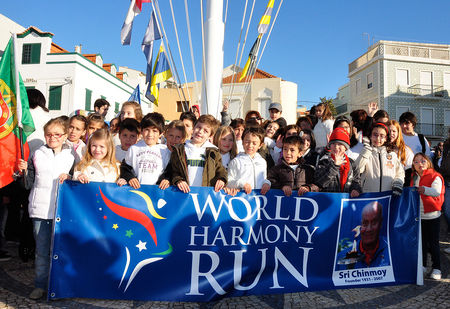 Hundreds of kids gathered on a small square near the coast and they were eagerly waiting to run with us!
Estavam reunidas centenas de crianças numa pequena praça junto à costa esperando ansiosamente correr conosco!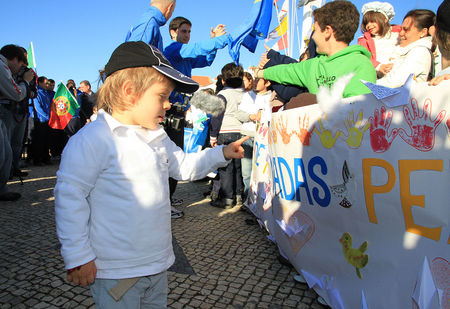 ...last inspection before the start...
...uma última inspecção antes do começo...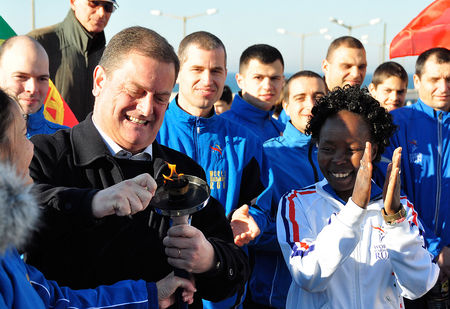 The mayor of Figueira da Foz, Dr. João Ataide, officially lit the Harmony Torch for its long journey through Europe...
O Presidente da Câmara da Figueira da Foz, Dr. João Ataide, acendeu oficialmente a Tocha da Harmonia para a sua longa jornada pela Europa...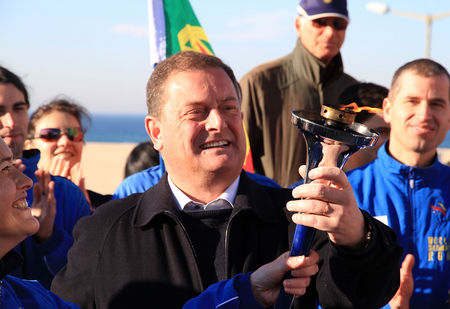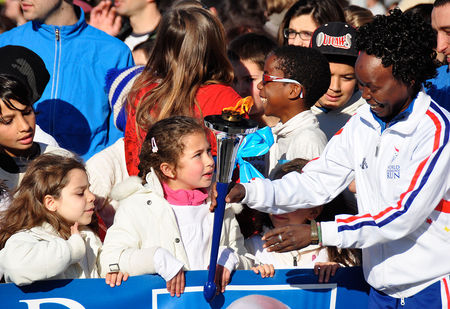 Tegla Loroupe, Kenian Marathon Champion and former World Record Holder, received the torch from the mayor and passed it on to the children...
A Tegla Loroupe, maratonista Queniana e detentora do anterior recorde mundial da distância, recebeu a Tocha do Sr. Presidente da Câmara e passou-a às crianças...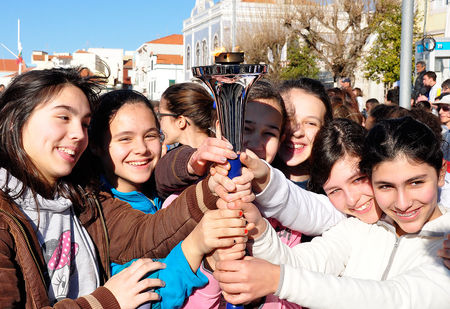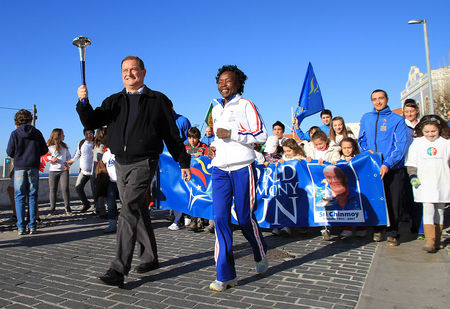 ...the first steps for Harmony into 2012!
...os primeiros passos para a Harmonia em 2012!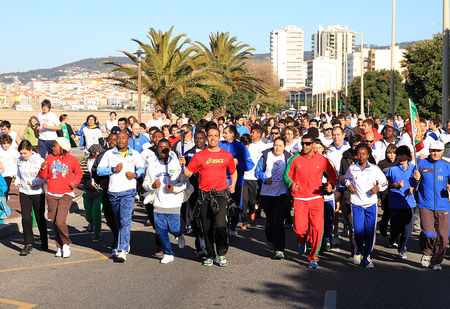 ..we enjoyed a most inspiring run along the coast line; a warm day with a blue sky provided the perfect setup to make this event a perfect one...
..disfrutamos de uma corrida muito inspiradora ao longo da costa; um dia quente com céu azul providenciou-nos o ambiente perfeito para tornar este evento num evento perfeito...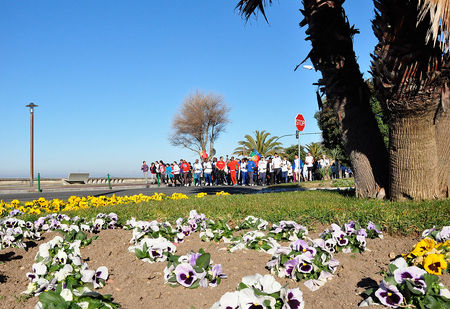 ..more kids joined in and we reached quite an impressive number of runners!
..juntaram-se mais crianças e atingimos um número impressionante de corredores!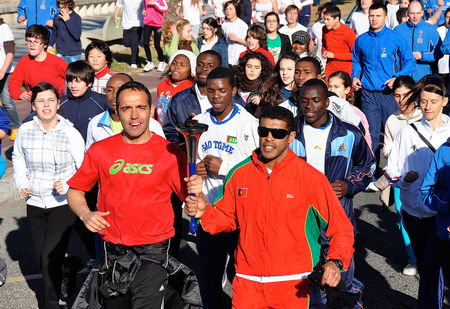 ...Jorge Pina, a former boxing champion and now a passionate Marathon runner as well as Francisco Mendes, Portuguese TV presenter, joined our team....
...Jorge Pina, um ex-campeão de boxe e agora um apaixonado corredor de maratonas, bem como Francisco Mendes, um conhecido apresentador de TV, juntaram-se à nossa equipa....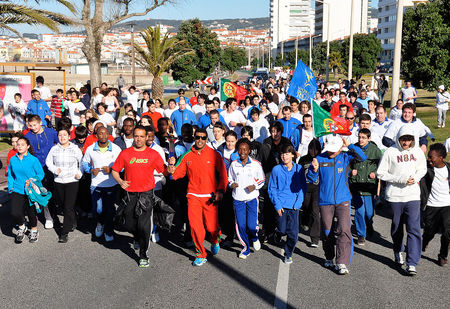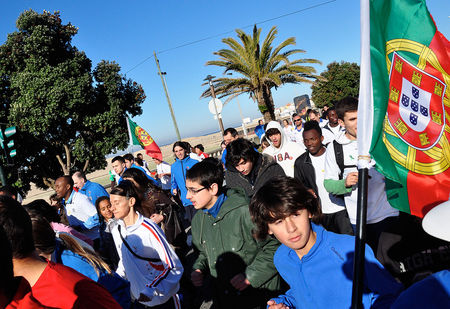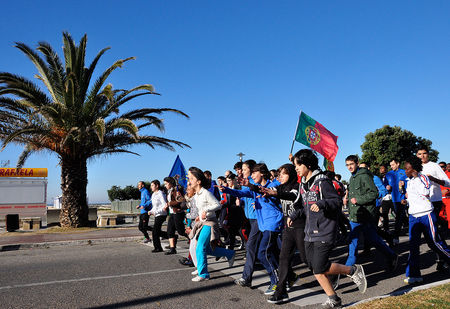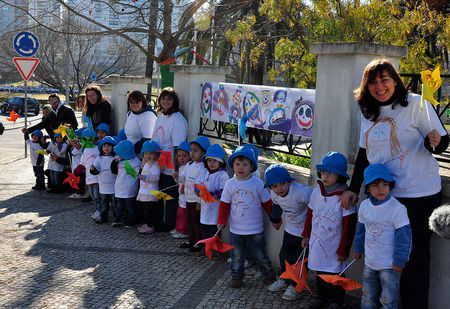 ...as we approached the "Centro de Artes e Espectáculos", more kids cheered us along the road...
...à medida que nos aproximávamos do Centro de Artes e Espectáculos (CAE), mais crianças nos saudavam ao longo da estrada...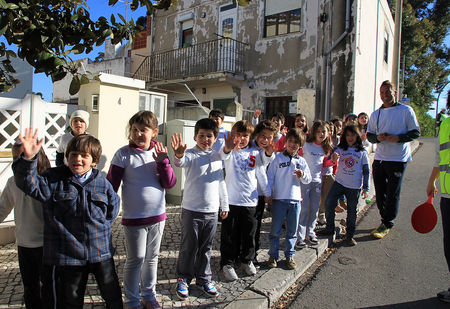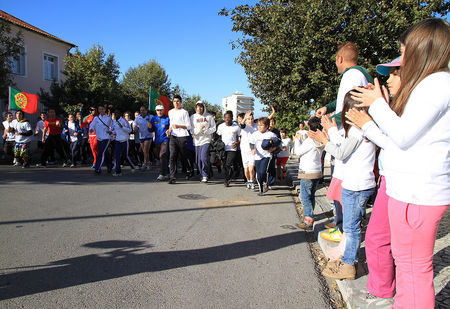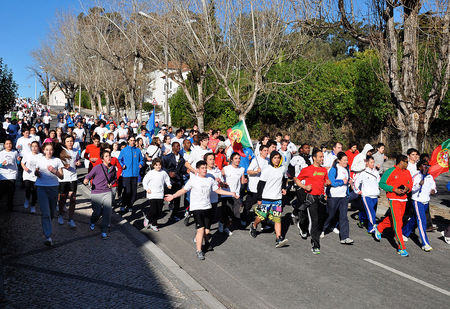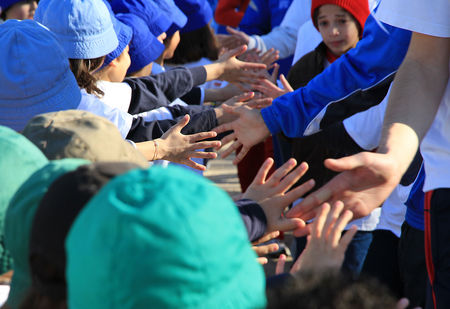 ...high-five in front of the Art Centre...
...os "dá-me cinco" em frente ao CAE...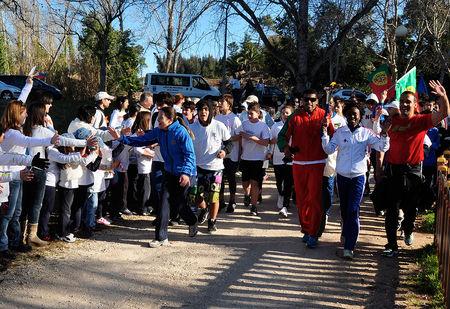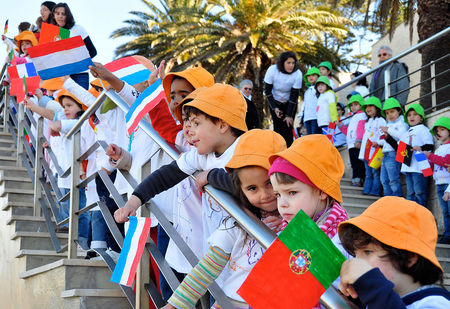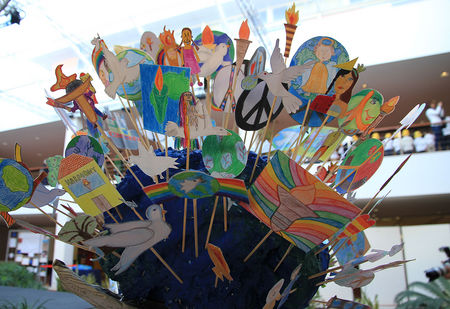 ...at the "Centro de Artes e Espectáculos" there was an exhibition of drawings and art about harmony and peace....
...no CAE havia uma exposição de desenhos e arte relacionada com harmonia e paz....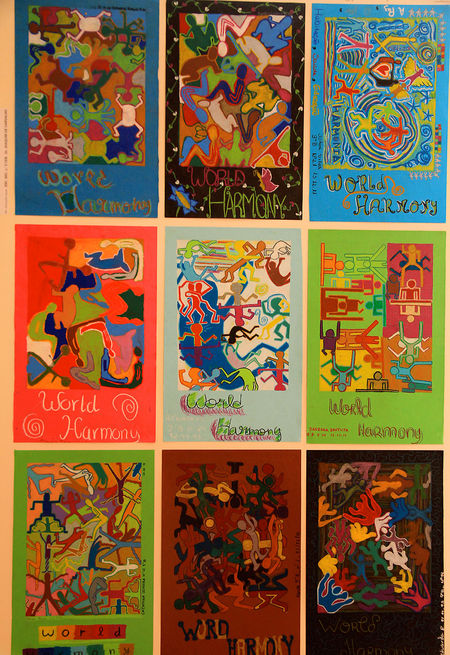 ...most beautiful creations of art!
...criações de arte muito bonitas!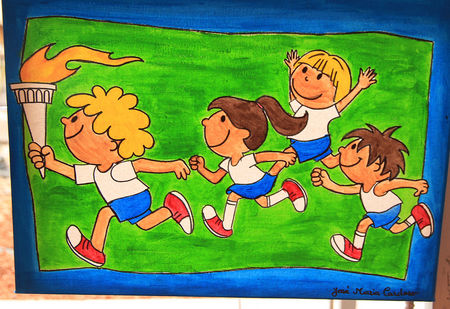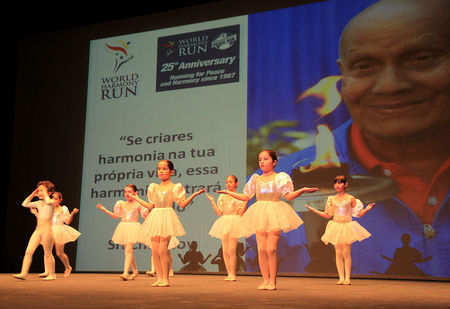 ...the stage was set and the performances started...
...o palco estava pronto e as performances começaram...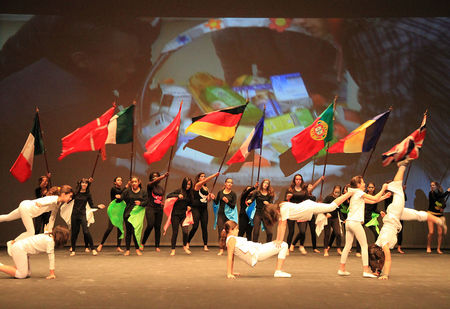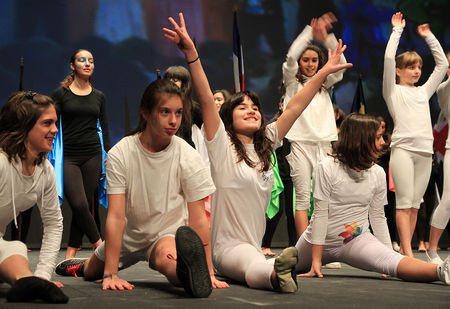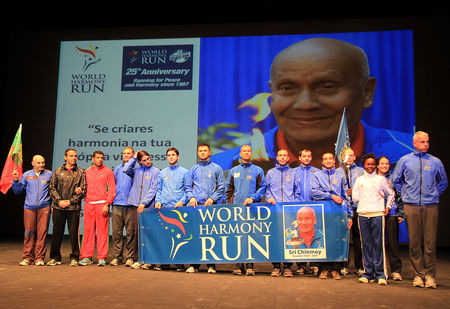 ...our team presented the World Harmony Run to the audience:
...a nossa equipa apresentou a Corrida Mundial da Harmonia à audiência: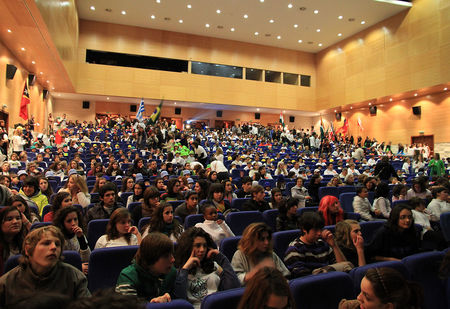 over 1000 kids and parents enjoyed the meeting!
mais de 1000 crianças e pais apreciaram o encontro!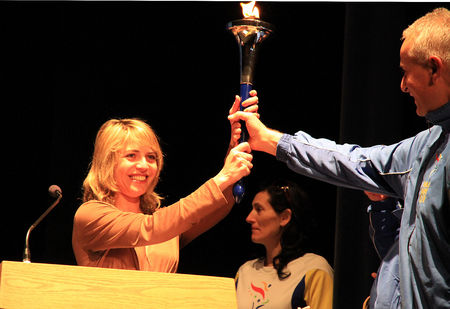 Sandra Felgueiras, who was a perfect master of ceremony, received the torch...
A Sandra Felgueiras, que conduziu a cerimónia de forma perfeita, recebeu a Tocha...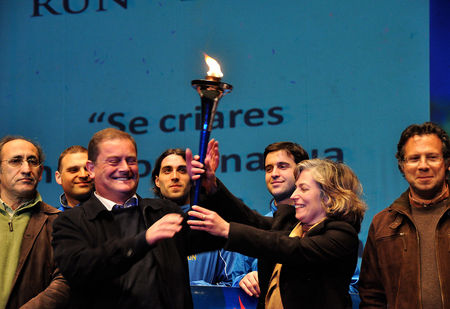 ..the mayor and other officials from Figueira da Foz passed the torch...
..o Presidente da Câmara e outras figuras da Figueira da Foz passaram a Tocha...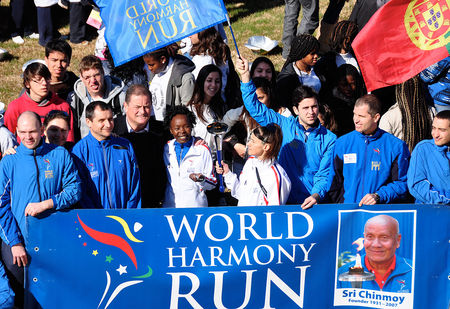 ...a final group picture! Thank you for the great start!
...uma fotografia de grupo final! Obrigado pelo grande começo!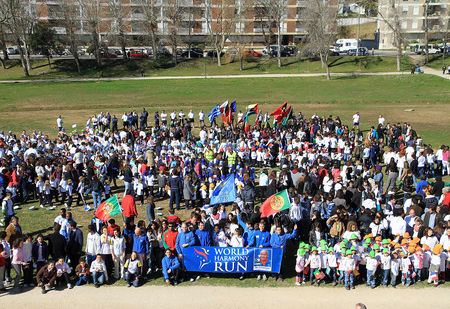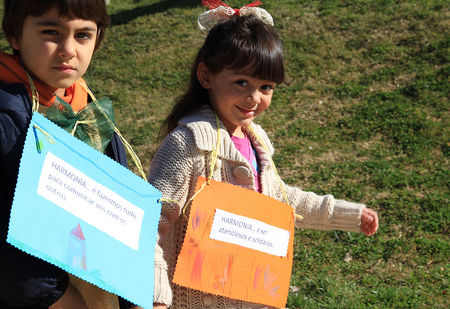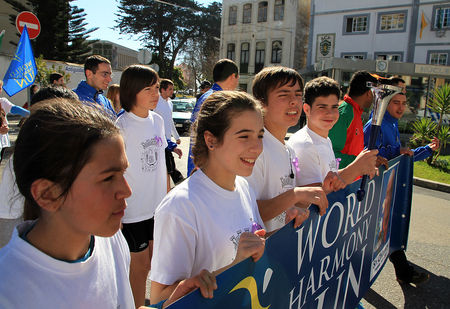 together we walked to the Praça Europa, where the program was to be continued...
caminhamos juntamente até à Praça Europa, onde o programa tinha continuação...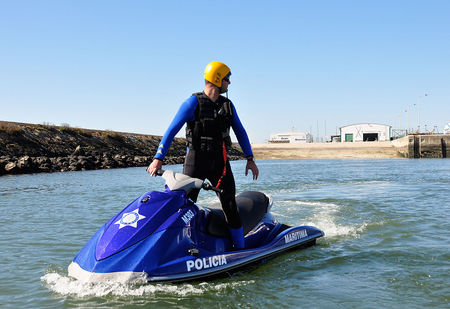 ...the torch was travelling by boat. Even there the police was carefully looking after us...
...a tocha viajou de barco. Até ali a polícia estava a olhar cuidadosamente por nós...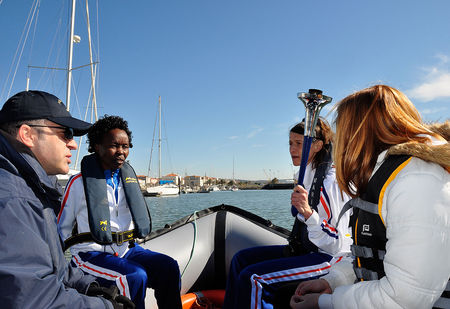 A small group of runners led by Tegla Loroupe enjoyed the boat ride to the last local meeting place...
Um pequeno grupo de corredores guiados pela Tegla Loroupe disfrutaram de uma viajem de barco até ao último local de encontro...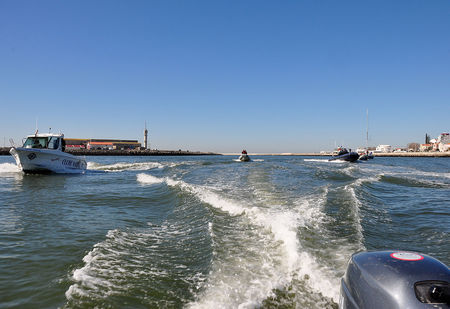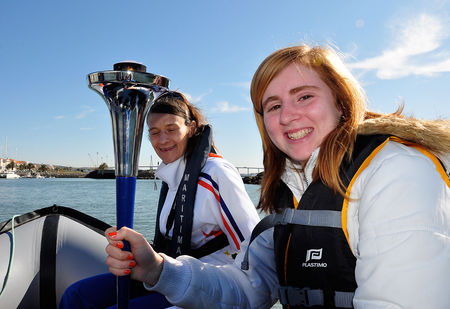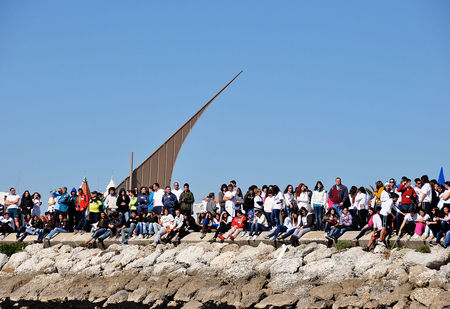 ...the spectators awaited the arrival of the torch...
...os espectadores aguardavam a chegada da Tocha...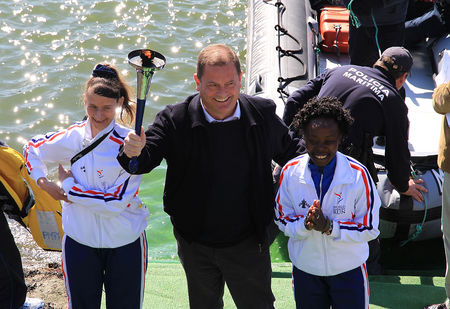 ..the mayor carried the torch to the inauguration place: Praça Europa...
..o Presidente da Câmara transportou a tocha até ao local de inauguração: Praça Europa...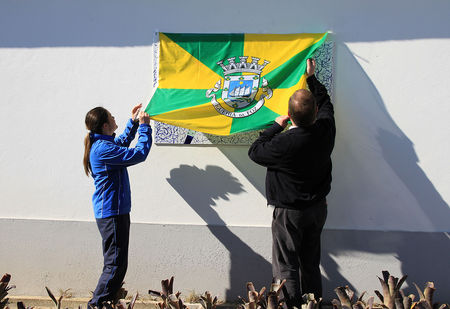 Figueira da Foz - a City of Peace and Harmony!
Figueira da Foz - uma Cidade de Paz e Harmonia!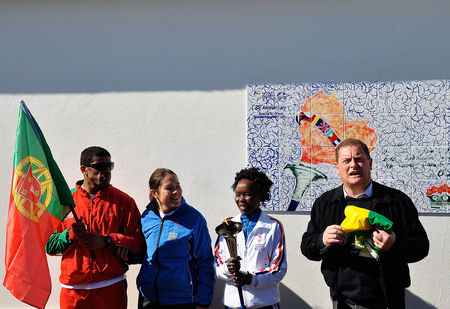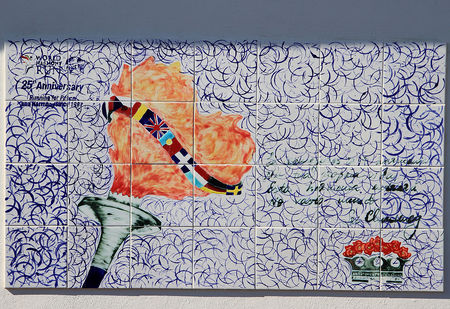 The inauguration plaque was made of handpainted tiles - an unique Portuguese traditional art!
A placa comemorativa foi construída com azulejos pintados à mão - uma arte tradicional Portuguesa única!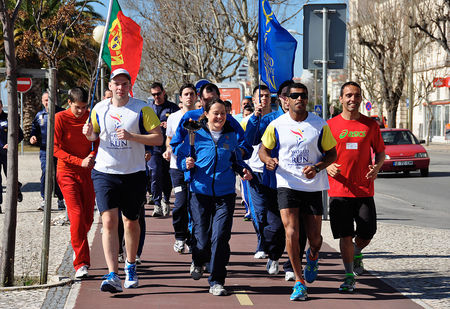 ...finally we left Figueira da Foz and headed towards Montemor-o-Velho...
...partimos então da Figueira da Foz em direcção a Montemor-o-Velho...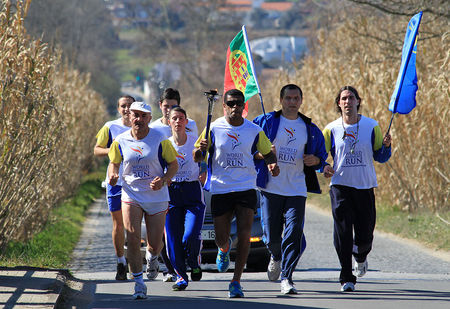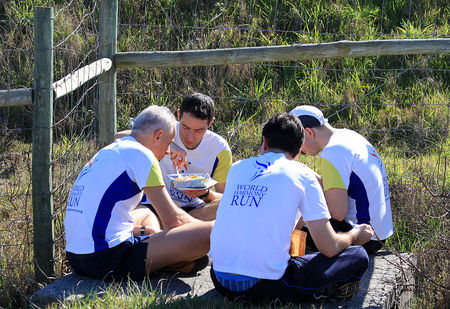 ...a picknick along the road...
...um piquenique ao longo estrada...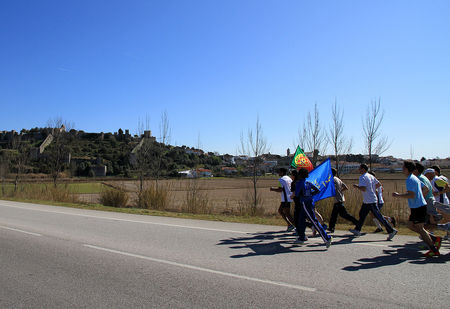 ...approaching Montemor...
...aproximando-nos de Montemor...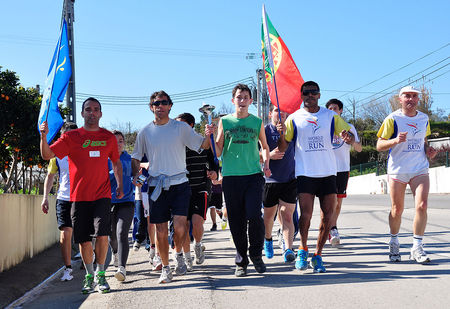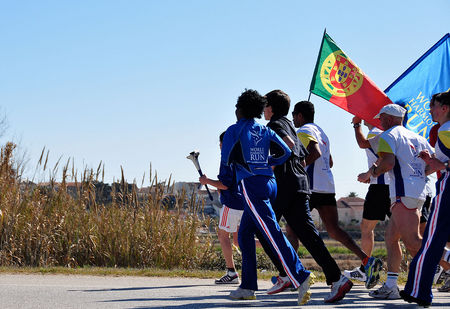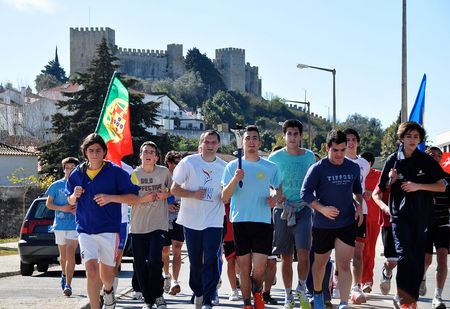 ...local runners awaited us and carried the torch into the community...
...corredores locais esperaram por nós e transportaram a Tocha até à comunidade...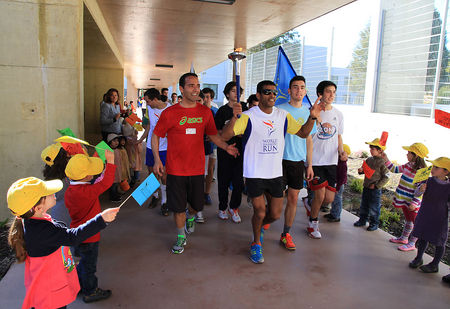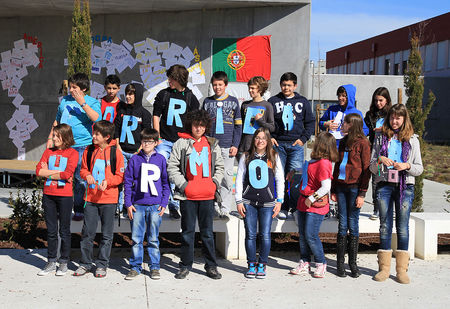 ...we reached the primary and secondary school of Montemor: the children were already lined up!
...chegámos à escola primária e secundária de Montemor-o-Velho: as crianças já estavam alinhadas!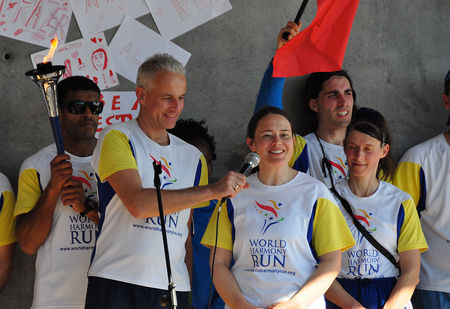 ...our traditional country-guessing game...
...o nosso jogo tradicional de adivinhar as nacionalidades...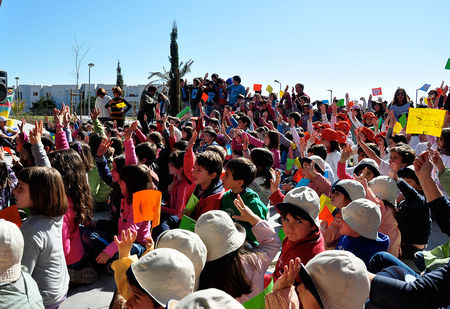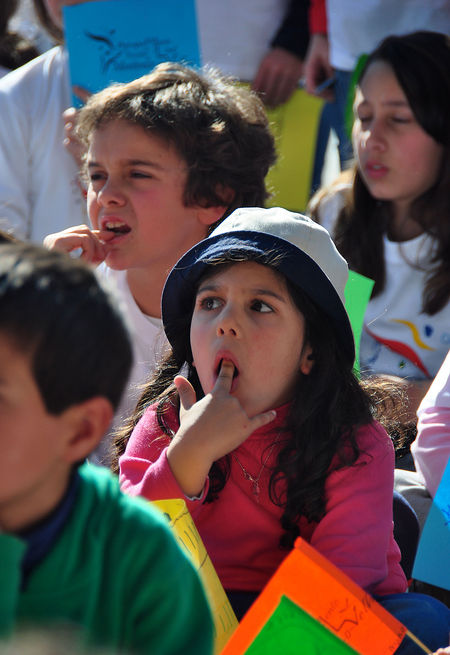 ...where are they coming from?
...de onde é que eles vêm?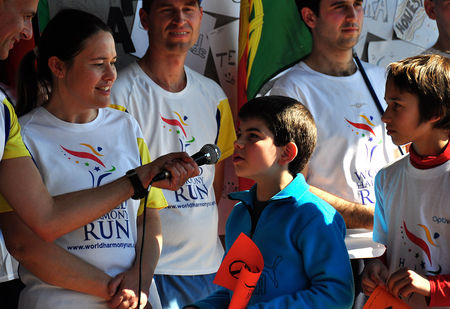 ...the kids had great ideas how to make the world a better place...
...as crianças tinham boas ideias de como tornar o mundo num lugar melhor...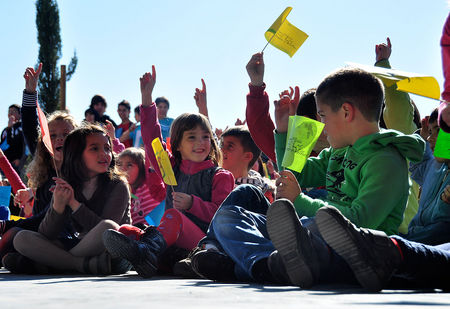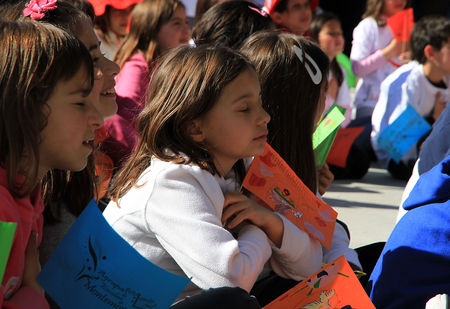 ...you can feel happiness in your heart....
...podes sentir a felicidade no teu coração...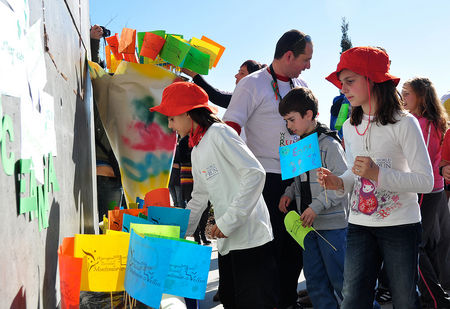 ..the kids collected wishes for harmony written on little flags...
..as crianças reuniram desejos de harmonia inscritos em pequenas bandeiras...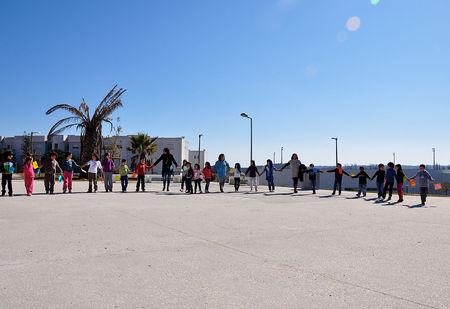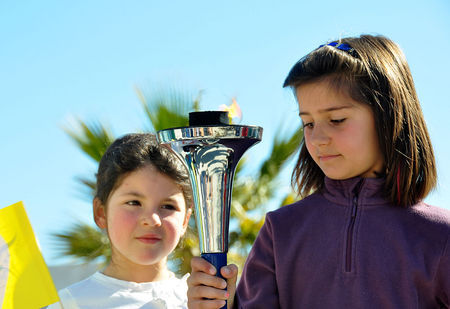 ..the kids formed a circle and we passed the torch around...
..as crianças formaram um círculo e nós passamos a Tocha por elas...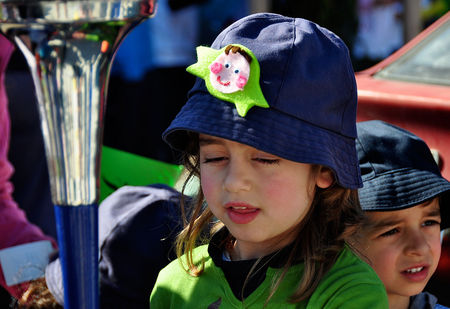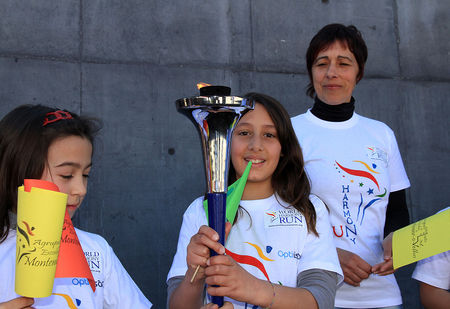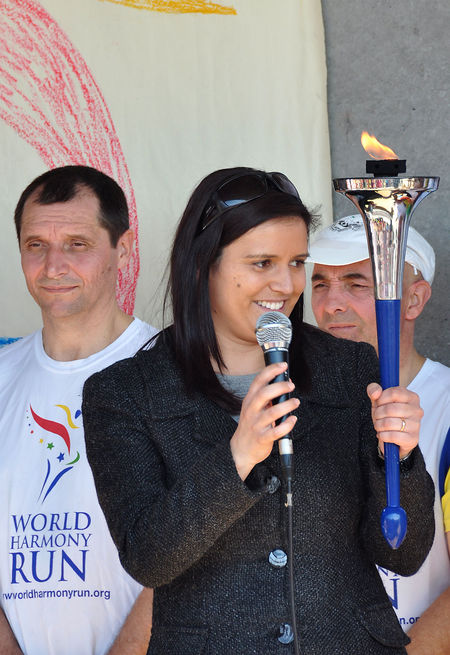 Thank you Montemor!
Obrigado Montemor!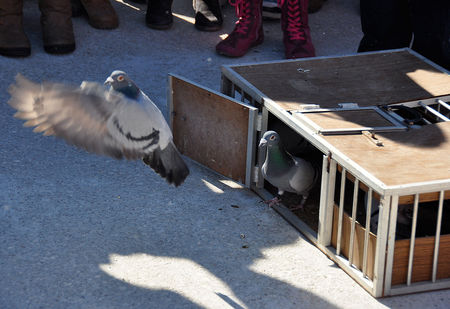 ...the last highlight of the meeting: Peace - Doves...
...o último destaque do encontro: Pombas da Paz...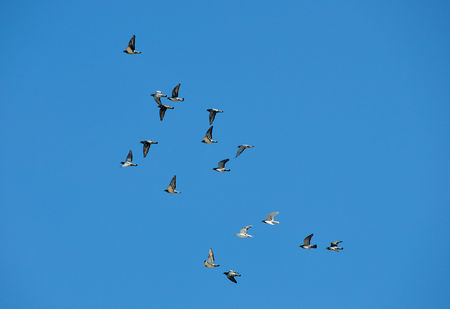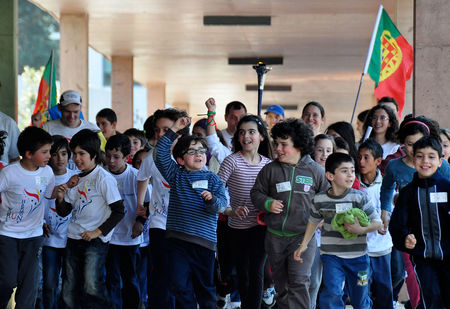 ...and all the kids guided us out of the school...
...e todas as crianças nos guiaram até à saída da escola...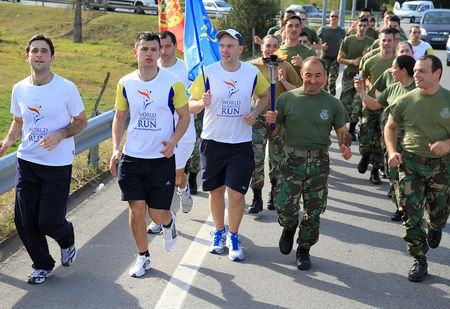 ...as we approached Coimbra, soldiers from the "Brigada de Intervenção do Exército de Coimbra" were joining us all the way into the city...
...à medida que nos aproximámos de Coimbra, soldados da Brigada de Intervanção do Exército de Coimbra juntaram-se a nós no percurso pela Cidade..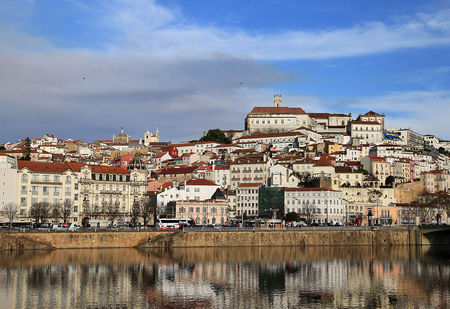 Coimbra - an old traditonal city with the 4th-oldest University in the world.
Coimbra - uma velha cidade de tradições com a 4ª Universidade mais antiga do mundo.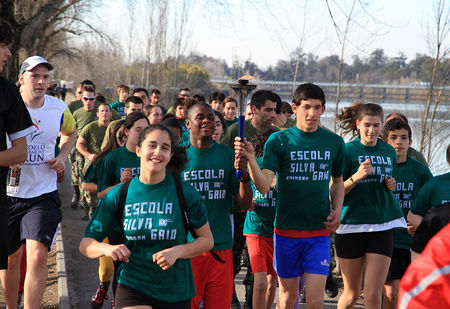 Children of the "Escola Silva Gaio - Coimbra" took over and together we reached the old part of the city...
As crianças da Escola Silva Gaio tomaram conta da Tocha e nós chegamos à parte antiga da cidade...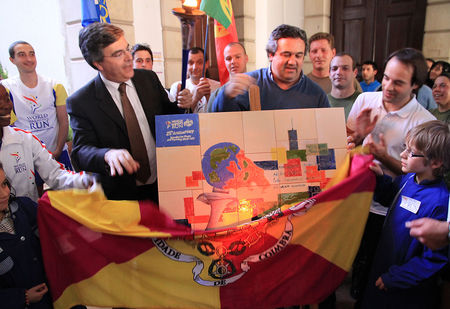 At the city Hall the Mayor of Coimbra, André Sardet, a famous singer and a children's choir welcomed us. The kids gave a stunning performance of the World harmony Run song. Another most beautiful plaque made of tiles was revealed!
Na Câmara Municipal de Coimbra o Presidente, André Sardet (um músico famoso) e um coro de crianças deram-nos as boas vindas. As crianças tiveram uma performance deslumbrante do Hino da Corrida Mundial da Harmonia. Foi revelada outra placa comemorativa muito bonita feita de azulejos!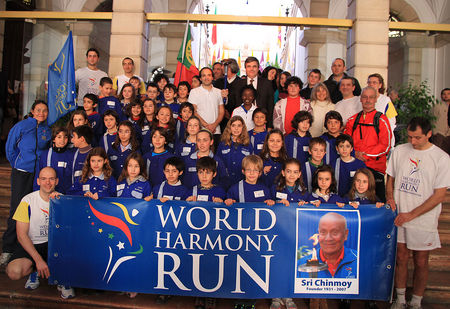 A group picture ended this most dynamic, inspiring day. Thank you Portugal for the great start into the World Harmony Run 2012!
Uma fotografia de grupo terminou este dia tão dinâmico e inspirador. Obrigado Portugal pelo formidável arranque da Corrida Mundial da Harmonia 2012!
---
Português - Em direcção a 2022 e a um Mundo-Unicidade. Portuguese subtitles on Video Message from Davidson Hepburn, President of the General Conference of UNESCO (2009 - 2011): "Acredito que todos os cidadãos a nível global olham ansiosamente para a próxima década - 2022 e além - como um período de grande progresso e notável mudança. - É imperativo que trabalhemos em conjunto para construir um verdadeiro Mundo-Unicidade. - De entre as recentes iniciativas que se esforçam para alcançar esse objectivo, a Corrida Mundial da Harmonia é uma das actividades mais notáveis e de maior alcance. - Foi criada por Sri Chinmoy em 1987 e mesmo após a sua morte em 2007, continua a crescer, fazendo progredir os importantes ideais da UNESCO e de toda a comunidade das Nações Unidas. - Pessoalmente, gostaria de enaltecer algumas actividades especificas que a Corrida Mundial da Harmonia tem realizado ou inspirado. - É a minha esperança que estas actividades possam ser expandidas e enriquecidas na década vindoura. 1. Visitas a Locais de Património Mundial 2. Actuações Musicais: 3. Criação ou Exibição de Arte e Poesia: 4. Valorização da Diversidade: 5. Fomentar a Aceitação Inter-Religiosa: 6. Homenagem a Modelos Pessoais: 7. Descobrir Novas Possibilidades: 8. Finalmente, Nunca Desistir!. Message: "Queridos amigos, Envio-vos os meus calorosos cumprimentos ao nos aproximarmos do 25º Aniversário da Corrida Mundial da Harmonia e das actividades relacionadas com uma cultura de paz. .... More = http://www.worldharmonyrun.org/25/portuguese
Video Message from Dr. Davidson Hepburn, President (2009 - 2011) of the General Conference of the United Nations Educational, Scientific and Cultural Organization (UNESCO) for 25th Anniversary of the World Harmony Run and a vision for the decade: "Toward a Oneness-World".
Full Text of the 25th annversary message and link to 25 language informal Translations: http://www.worldharmonyrun.org/25
or Click on language button for separate youtube videos wth sub titles in varous languages
See also: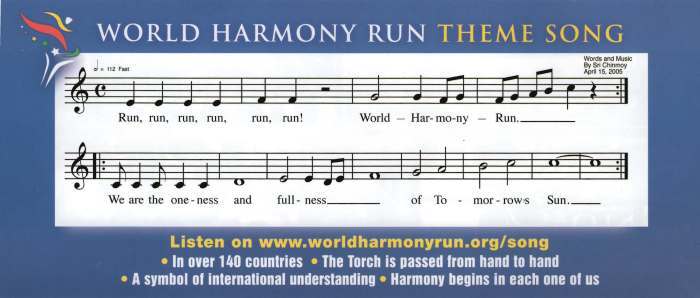 Portuguese - Canção-Tema da
Corrida da Harmonia Mundial

Corra, corra, corra, corra, corra!
Corrida da Harmonia Mundial.
Somos a unicidade e
A plenitude do Sol do Amanhã.
- Tradução
Portuguese language score download pdf

---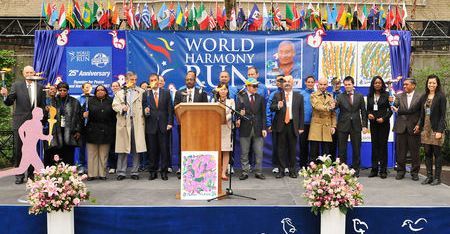 See start of the International 25th Anniversary Celebration across from the United Nations at Dag Hammarskjold Plaza in New York.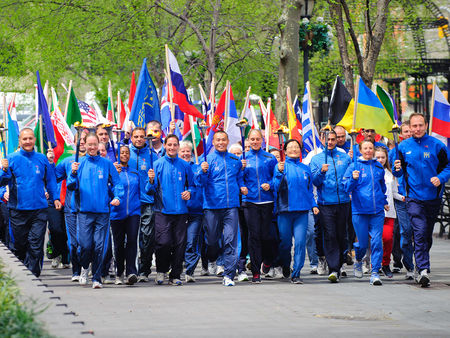 On 27th April 2012. in many cities around the world, special events marked the WHR 25th Anniversary
View some early highlights. The United Nations had proclaimed 1986 the International Year of Peace, and Sri Chinmoy wanted to offer a heartfelt and sincere expression of peace on a global scale. The opening ceremony, broadcast live on NBC-TV's The Today Show.. On April 27, 1987, five minutes of global television time was dedicated for the inaugural Sri Chinmoy Oneness-Home Peace Run with strong support from Archbishop Desmond Tutu, the UN Secretary-General, celebrities Carl Lewis, Clarence Clemons and Narada Michael Walden, and thousands...Also includes Clips from Philippines; Sahara Desert, Morocco; Botswana; Scotland, Nepal, Russia, Sri Lanka, Switzerland, Ukraine, Japan, Malaysia, Mexico, Ethiopia, Dominican Republic, Ireland, Great Britain, Colombia, Bahamas, Hungary, Spain, Mongolia, Czech Republic, Portugal, USA
---
Distance: 52 km
Team Members:
Tegla Loroupe (Kenya), Dipavajan Renner (Austria), Sandro Zincarini (Italy), Andre Carvalho Ribeiro (Portugal), Narmada Heer (Switzerland), Kaspars Zakis (Latvia), Mladen Vujaklija (Croatia), Smarana Puntigam (Austria), Petar Mihaylov (Bulgaria), Dragan Nikolic (Serbia), Sumahat Strohn (Germany), Mananyu Siffert (Austria), Stefan Karanovic (Bosnia i Hercegovina), Rui Paulino (Portugal)
Harmonemail:
You can send a message to the runners or read the messages.
Gallery: See more images!