Portugal 24 February: Coimbra - Viseu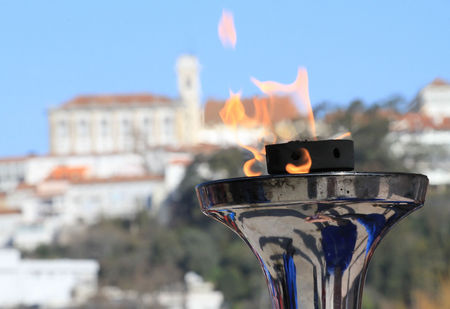 Good morning Coimbra! Our second day in Portugal and another beautiful day!
Bom dia Coimbra! O nosso segundo dia em Portugal e outro dia maravilhoso!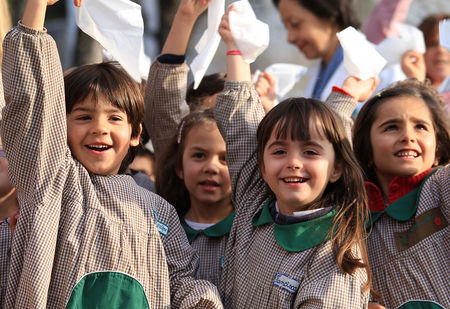 We started at the "Jardim Escola João de Deus 1" - school!
Começamos no Jardim Escola João de Deus 1!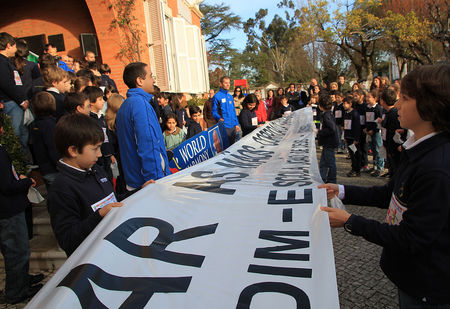 The kids prepaired a huge banner....
As crianças prepararam uma faixa gigante...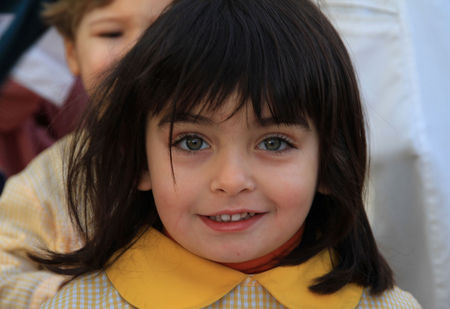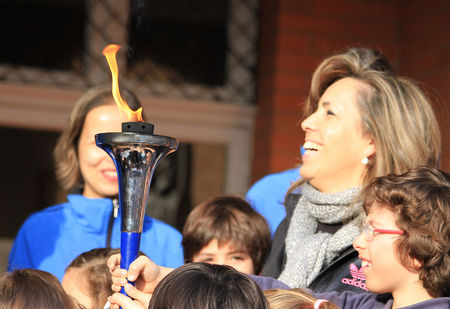 ...we felt most welcome!
...sentimo-nos super bem recebidos!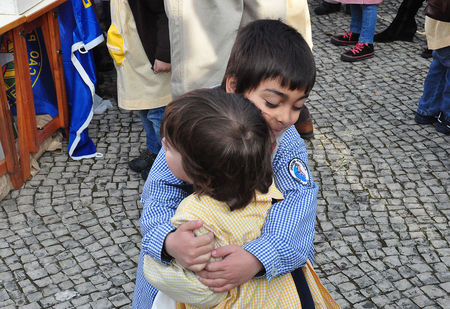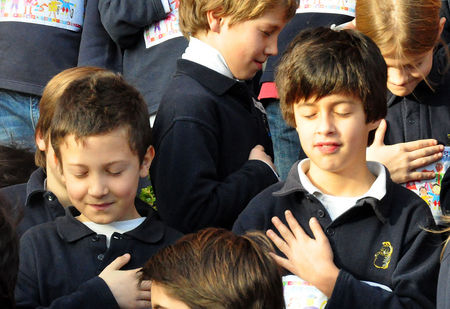 ...feel your heart...
...sintam o vosso coração...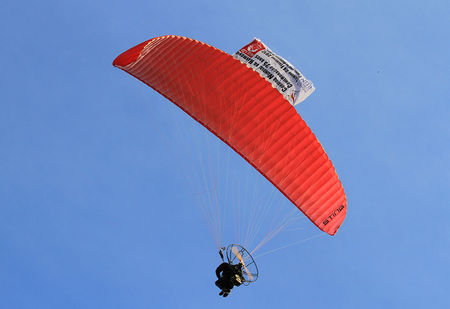 ...the advertisement was announcing the 25th anniversary of the World Harmony Run - Peace Run!
...o anúncio era relativo ao 25º aniversário da Corrida Mundial da Harmonia - Corrida da Paz!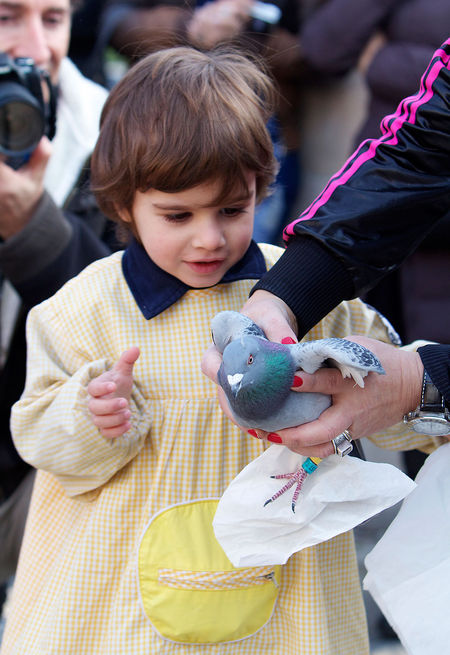 ...a dove for peace...
...uma pomba da paz...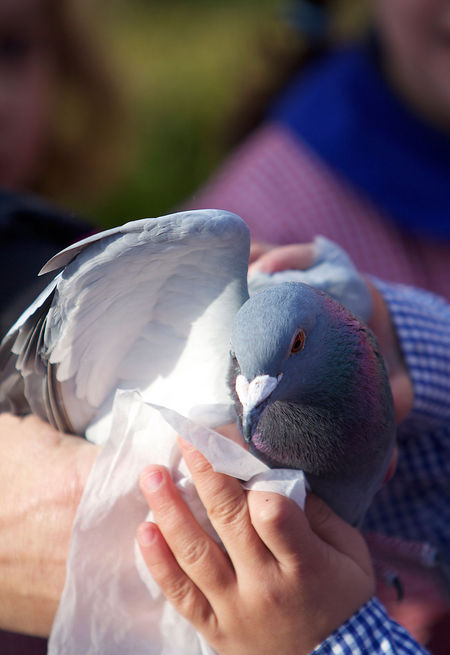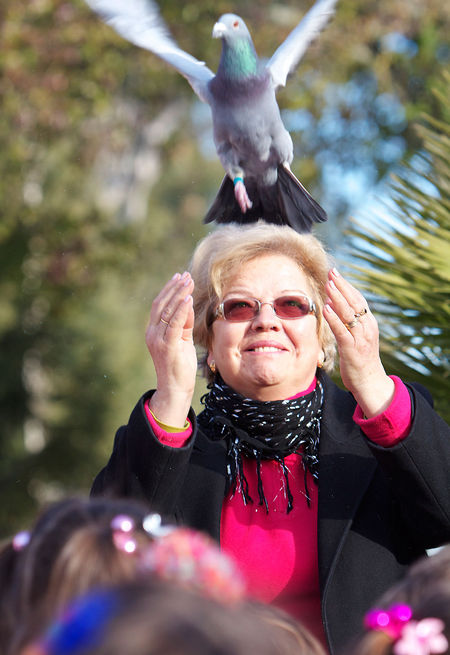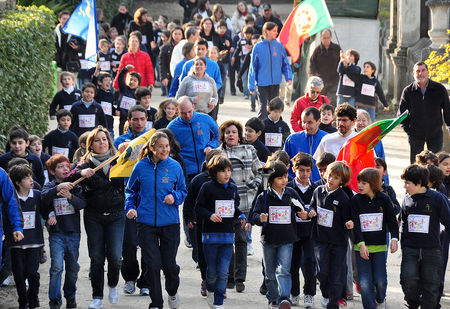 ..the kids joined us on a Run through the Botanical Garden all the way down to the riverside...
..as crianças juntaram-se a nós numa Corrida através do Jardim Botânico e até à margem do rio...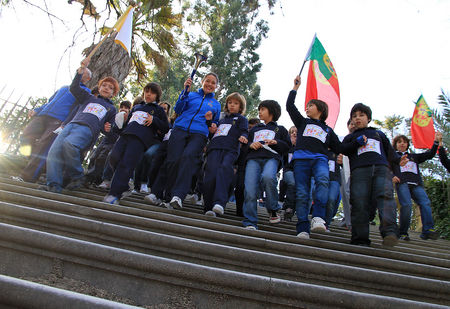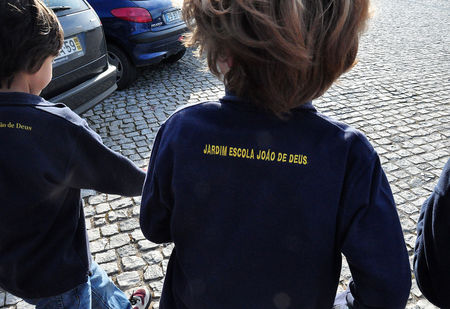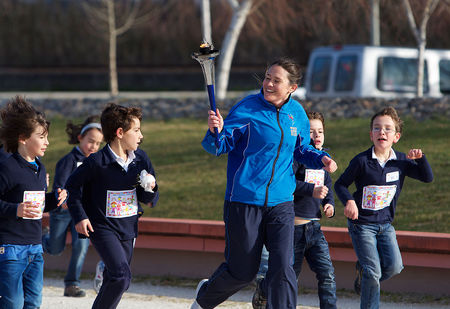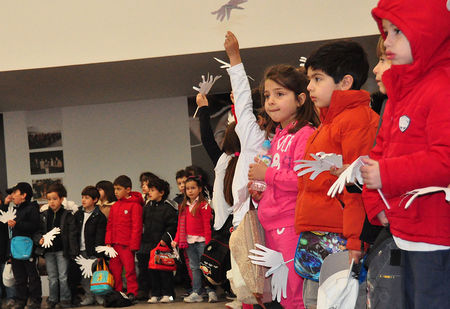 At the "Pavilhão de Portugal" the next meeting took place: more kids joined as well as a group of elder runners!
O próximo encontro teve lugar no Pavilhão de Portugal: mais crianças se juntaram bem como um grupo de corredores mais séniores!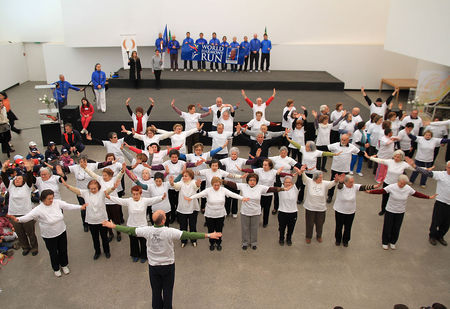 ...from Tai Chi...
...desde Tai Chi...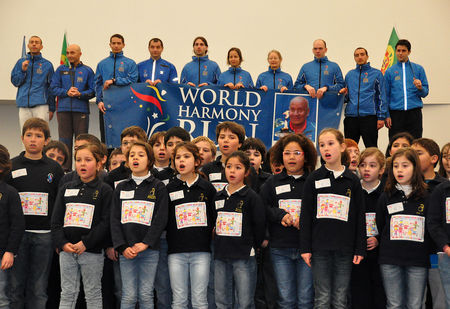 ..all the way to singing. Inspiring performances!
..até ao canto. Performances inspiradoras!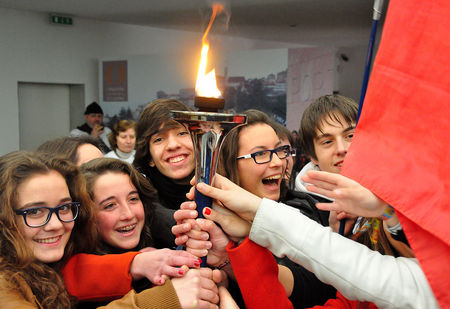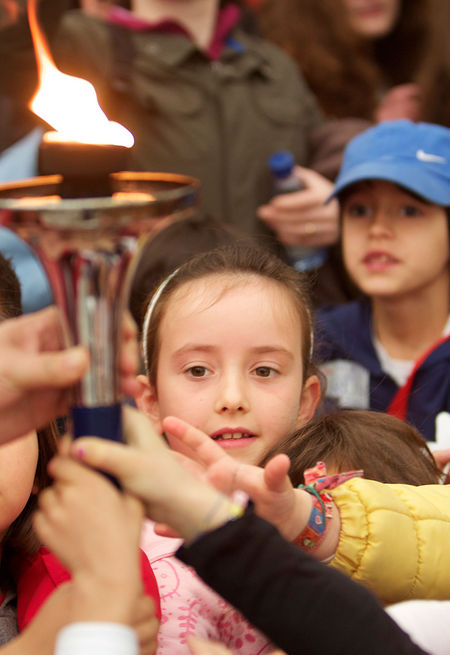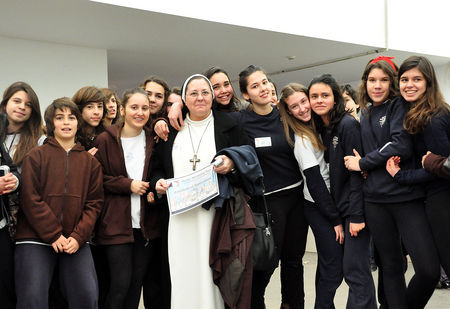 ..the kids from the "Colégio São José"...
..as crianças do Colégio São José...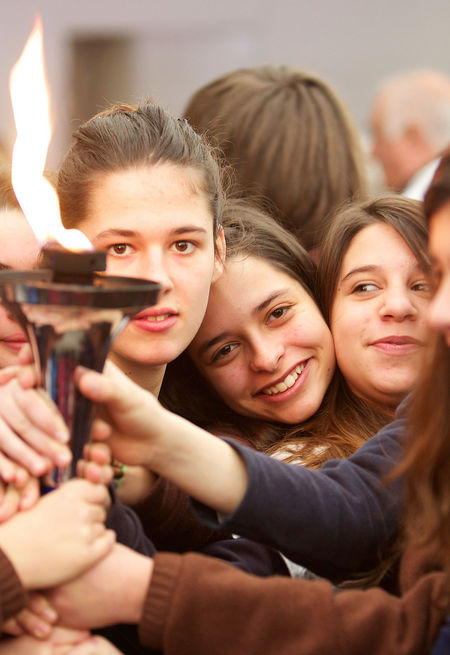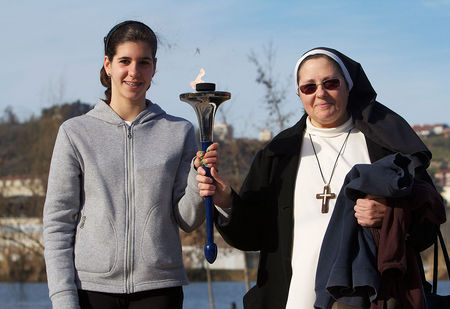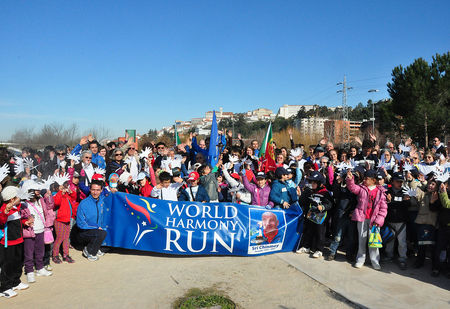 ...a last group picture in Coimbra...
...uma última fotografia de grupo em Coimbra...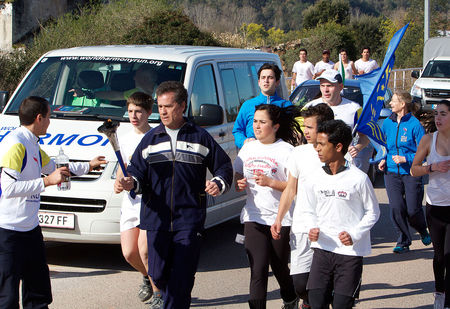 ...and off we went! The kids were leading us out of the city with a good pace...
...e novamente partimos! As crianças guiaram-nos até à saída da Cidade a um bom ritmo...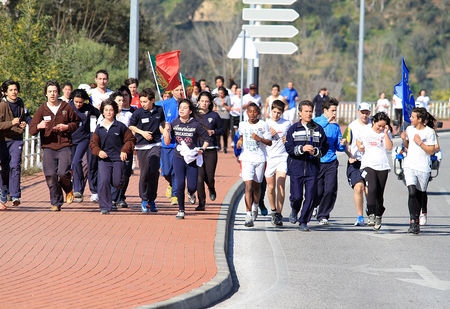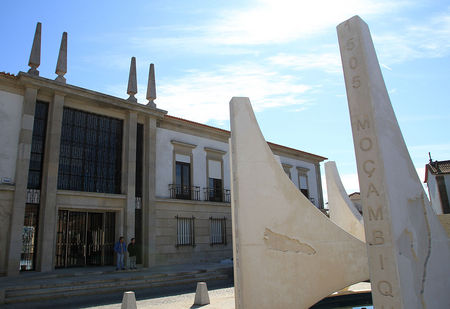 Soon we reached Santa Comba Dão. From modern architecture...
Rapidamente chegámos a Santa Comba Dão. Desde arquitectura moderna...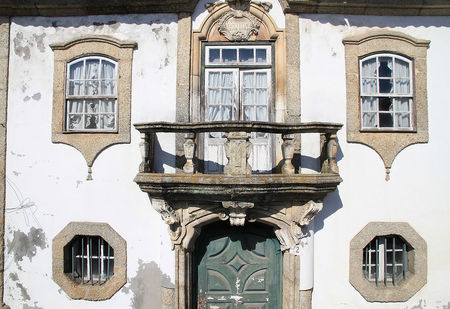 ...to the old - everything was there!
...até ao estilo antigo - tudo estava presente!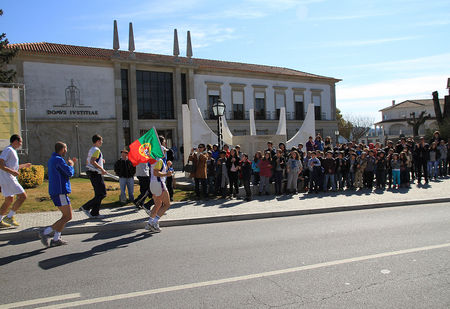 We ran into an inspiring meeting...
Corremos até um encontro inspirador...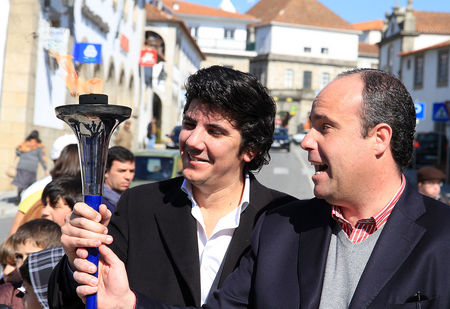 The mayor received us...
O Presidente da Câmara recebeu-nos...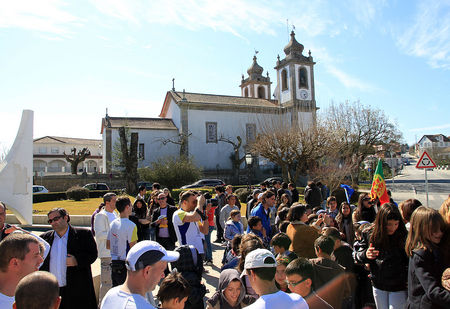 ...as well as lots of kids!
...bem como muitas crianças!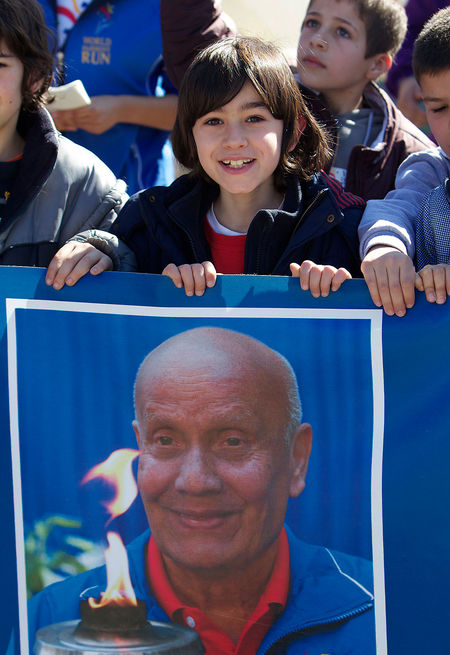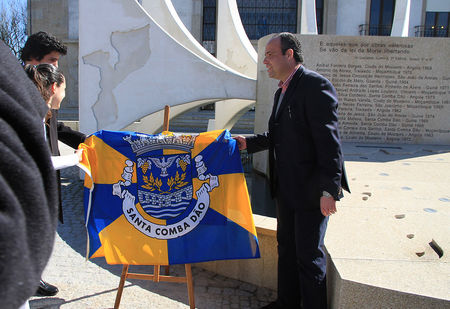 Santa Comba Dão was inaugurated as a city of Peace and Harmony!
Santa Comba Dão foi inaugurada como uma cidade de Paz e Harmonia!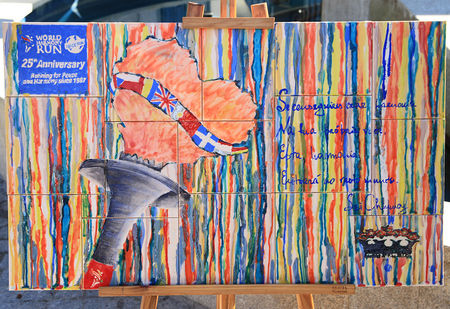 Again we admired the traditional Portuguese art of tile-painting!
Mais uma vez admirámos a arte tradicional Portuguesa de pintar azulejos!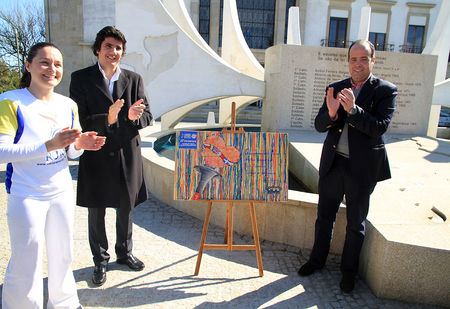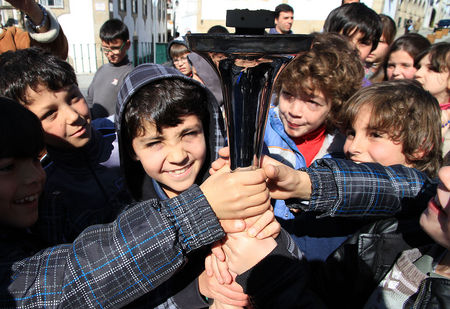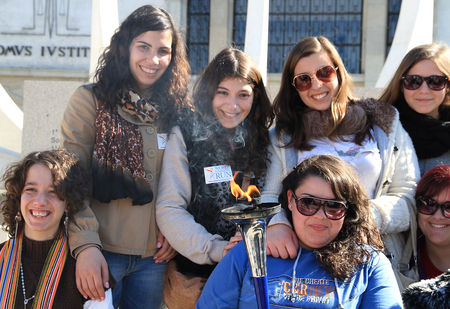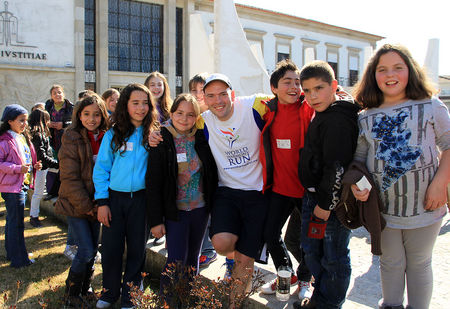 ...new friends...
...novos amigos...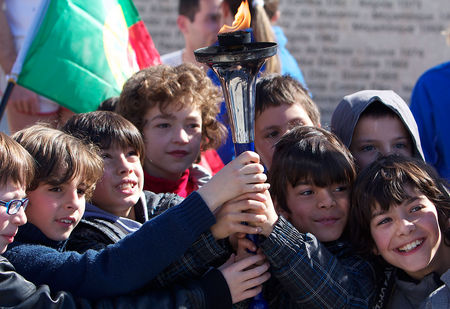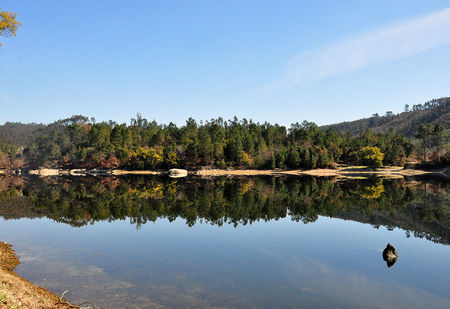 Right after Santa Comba Dão the stunning nature of Portugal caught our eyes!
Logo a seguir a Santa Comba Dão a deslumbrante natureza de Portugal capturou o nosso olhar!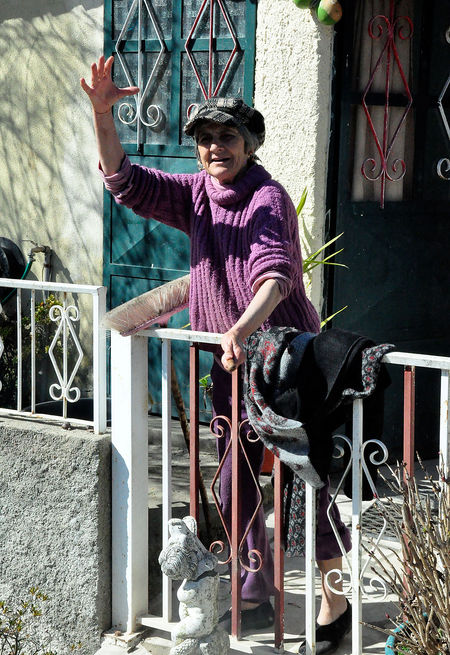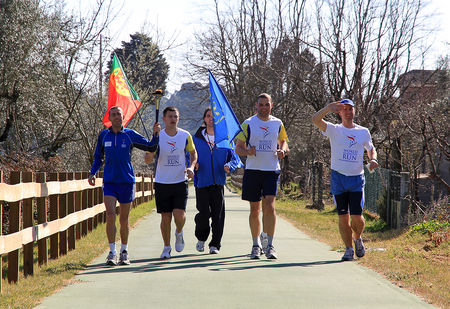 We went on the probably most perfect route you can imagine: a former railway line, now without the trails and prepaired as a cycling road - the ecopista!
It connects Santa Comba Dão with Viseu, our final destination of the day.
49 km of running in the nature on a continuous track without any cars - thats running heaven!
Fomos na rota provavelmente mais perfeita que se possa imaginar: um antigo caminho de ferro, agora sem os carris e transformado numa estrada para bicicletas - a Ecopista!
Ela liga Santa Comba Dão a Viseu, o nosso destino final do dia.
49 km de corrida no meio da natureza num trajecto contínuo sem qualquer automóvel - isto é o paraíso da corrida!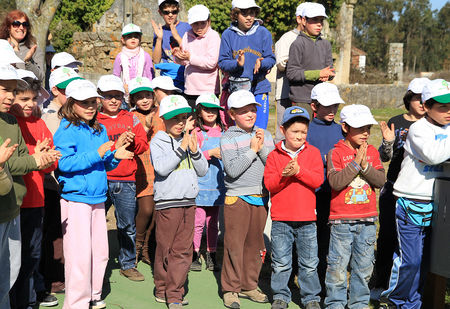 Nevertheless we met kids all the way - every few km a new group of young enthusiastic runners was welcoming us...
Mesmo assim, encontrámo-nos com crianças ao longo de todo o percurso - a cada poucos kms um novo grupo de novos e entusiastas corredores davam-nos as boas vindas...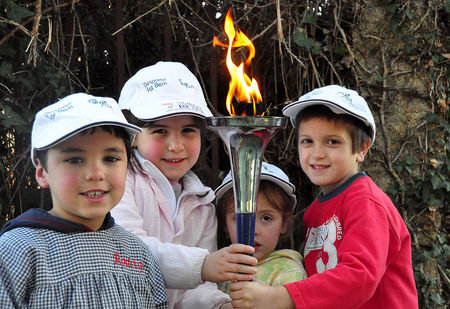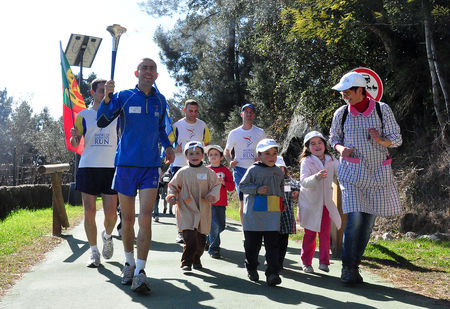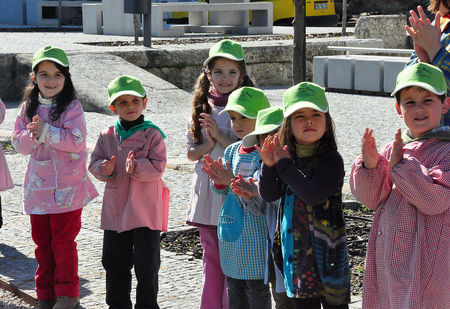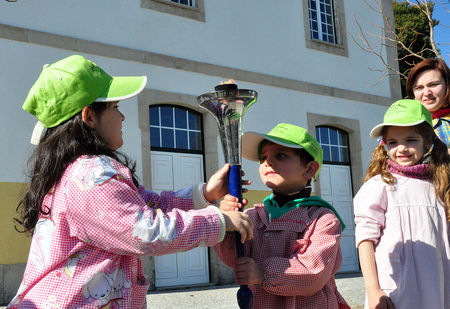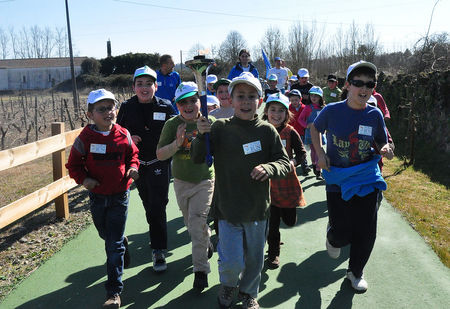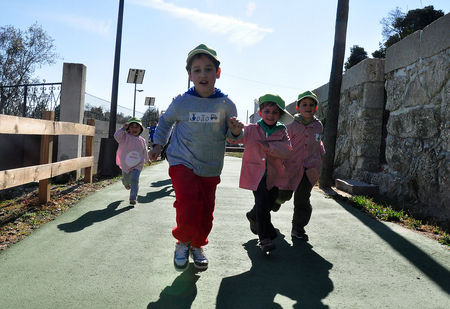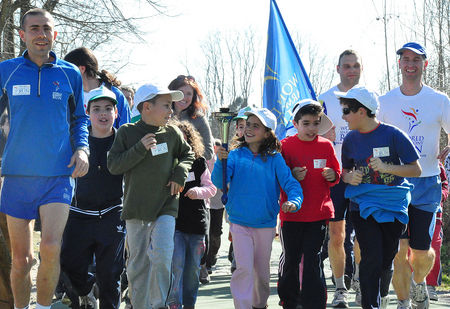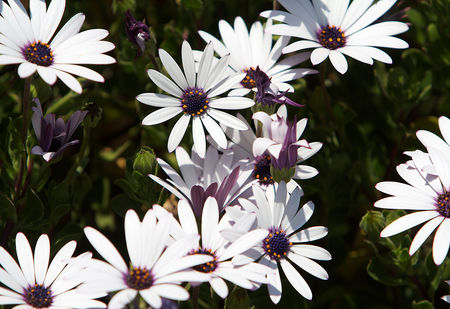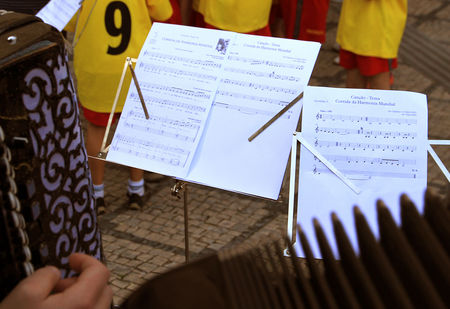 Late afternoon we arrived in Viseu. At the city hall we were greeted by the deputy mayor of Viseu, a band from the Music Conservatory, children from the "Escola Secundária Alves Martins" and a group of young athletes from the "Agrupamento de Escolas de Marzovelos"!
Chegamos a Viseu ao fim da tarde. Na Câmara Municipal de Viseu fomos saudados pelo Vice-Presidente, uma banda de alunos e professores do Conservatório de Música Regional, crianças da Escola Secundária Alves Martins e um grupo de jovens atletas do Agrupamento de Escolas de Marzovelos!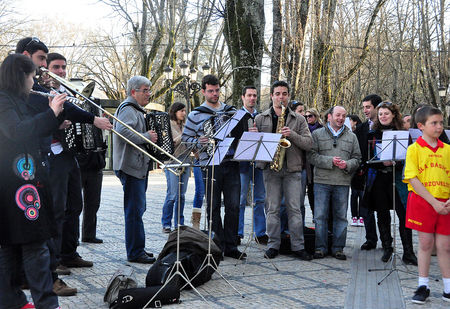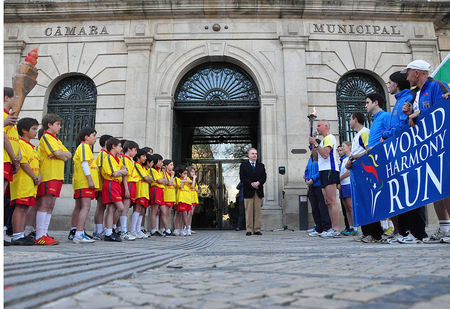 ..we delivered the wishes for peace and harmony to the city....
..oferecemos os nossos desejos de paz e harmonia à cidade....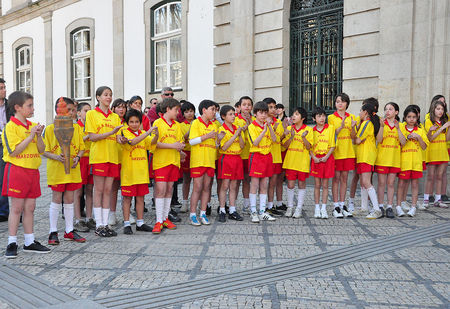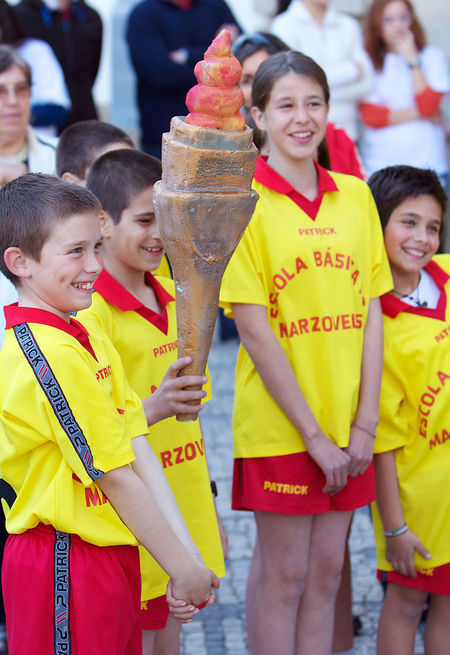 What a torch! A great new prototype...
Que tocha! Um magnífico novo protótipo...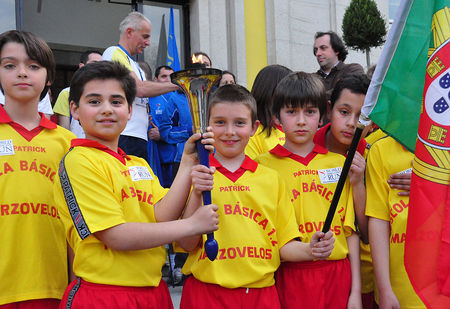 ...well, thats the real one!
...bem, esta é a verdadeira!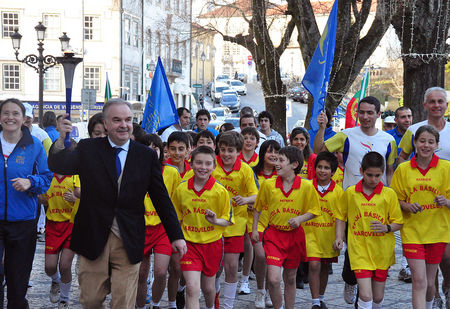 The deputy mayor joined us for a few steps and then we went to three schools:
O Vice-Presidente juntou-se a nós nalguns passos e depois visitámos três escolas:
Escola Secundária Alves Martins
Agrupamento de Escolas de Marzovelos (Escola Básica João de Barros)
Agrupamento de Escolas Grão Vasco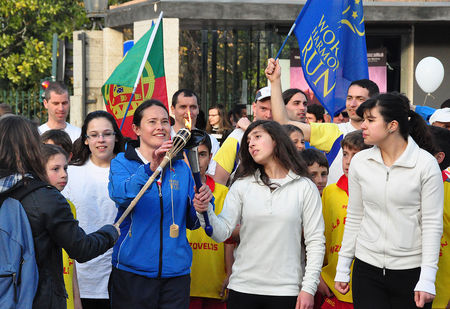 Everywhere we met old friends of the World Harmony Run. We lit torches...
Em todo o lado que encontramos velhos amigos da Corrida Mundial da Harmonia, acendemos tochas...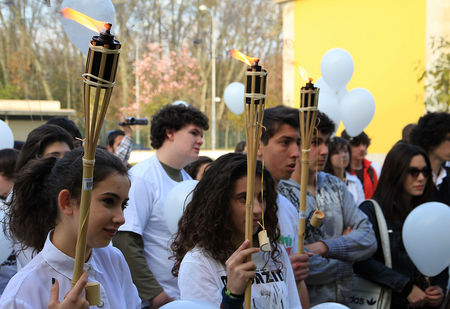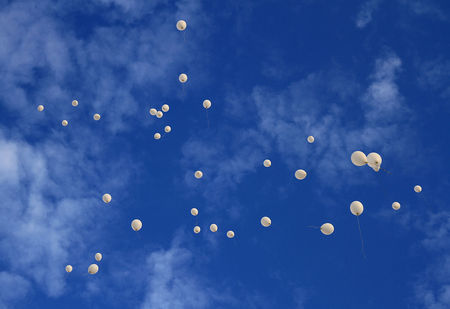 ...and let balloons fly! (this ones had peace aphorisms written!)
...e libertamos balões! (estes estavam escritos com aforismos da paz!)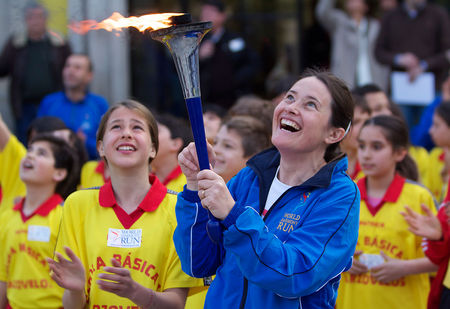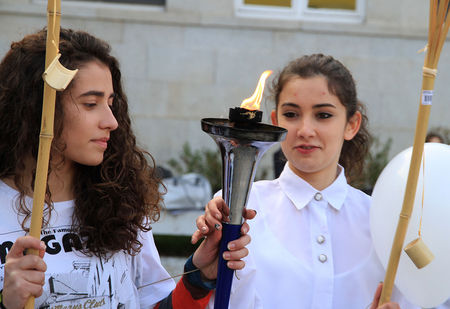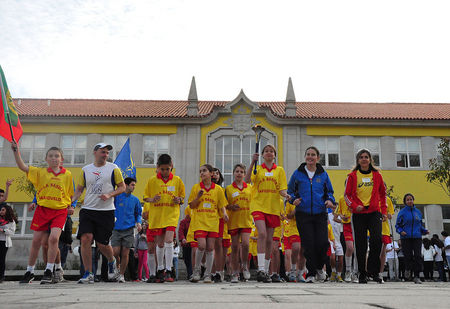 ...straight to the next school...
...em direcção à próxima escola...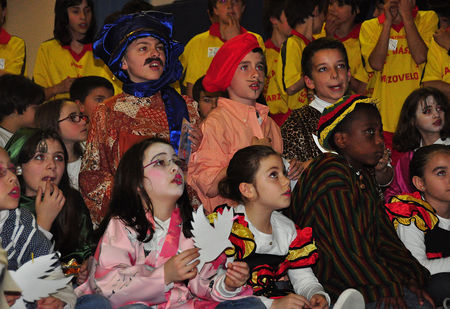 ...carneval was not over in Viseu. The kids were wearing very nice costumes and gave us a real international welcome!
...o carnaval ainda não tinha terminado em Viseu. As crianças usavam fatos muito bonitos e deram-nos as verdadeiras boas vindas internacionais!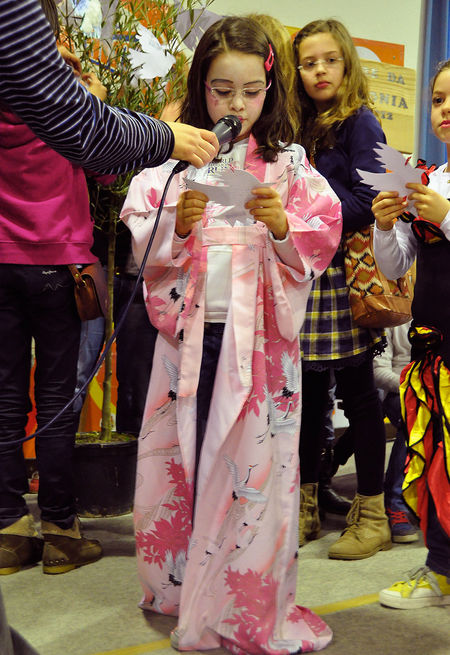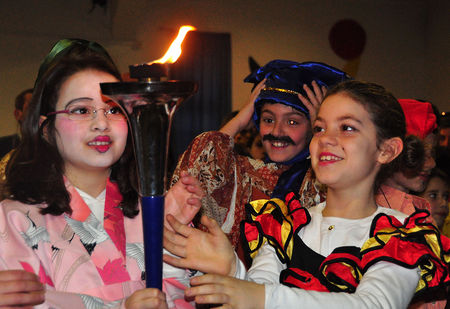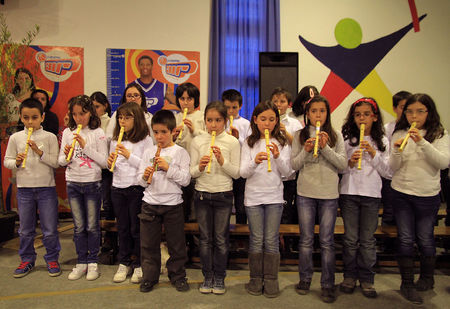 ...a music performance...
...uma performance musical...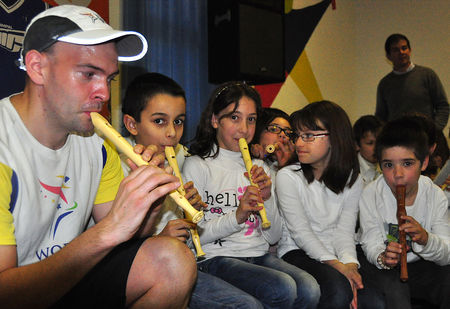 ..and a new member...
..e um novo membro...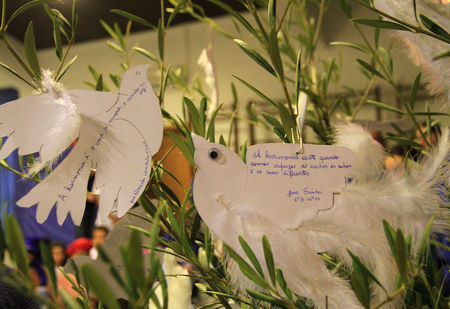 ...the kids decorated an olive tree with little peace birds with poems written on them...
...as crianças decoraram a oliveira com pequenos pombos da paz escritos com poemas...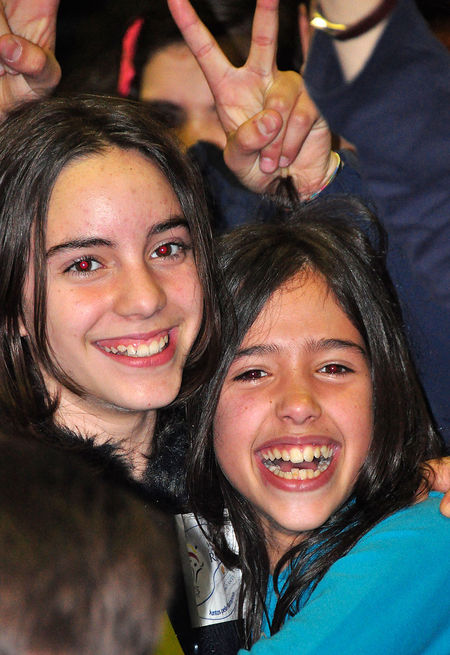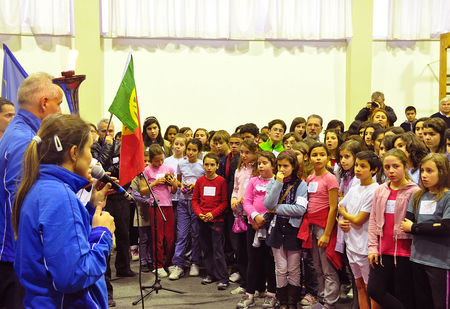 Despite the time of the day all the kids stayed with us.
Apesar da hora tardia todas as crianças ficaram conosco.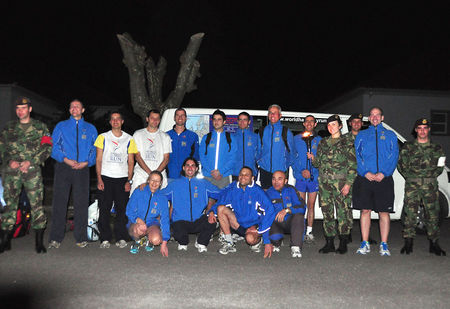 We ended the day in the military base of the 14. Infantry Regiment.
We were treatet with a perfect meal and great hospitality. Some of our runners even wanted to join the Portuguese army!
Thanks to everybody for this perfect day!
Terminámos o dia na base militar do Regimento de Infantaria Nº14.
Fomos tratados com uma refeição perfeita e excelente hospitalidade. Alguns dos nossos corredores queriam alistar-se no Exército Português!
Obrigado a todos por este dia perfeito!
---
Português - Em direcção a 2022 e a um Mundo-Unicidade. Portuguese subtitles on Video Message from Davidson Hepburn, President of the General Conference of UNESCO (2009 - 2011): "Acredito que todos os cidadãos a nível global olham ansiosamente para a próxima década - 2022 e além - como um período de grande progresso e notável mudança. - É imperativo que trabalhemos em conjunto para construir um verdadeiro Mundo-Unicidade. - De entre as recentes iniciativas que se esforçam para alcançar esse objectivo, a Corrida Mundial da Harmonia é uma das actividades mais notáveis e de maior alcance. - Foi criada por Sri Chinmoy em 1987 e mesmo após a sua morte em 2007, continua a crescer, fazendo progredir os importantes ideais da UNESCO e de toda a comunidade das Nações Unidas. - Pessoalmente, gostaria de enaltecer algumas actividades especificas que a Corrida Mundial da Harmonia tem realizado ou inspirado. - É a minha esperança que estas actividades possam ser expandidas e enriquecidas na década vindoura. 1. Visitas a Locais de Património Mundial 2. Actuações Musicais: 3. Criação ou Exibição de Arte e Poesia: 4. Valorização da Diversidade: 5. Fomentar a Aceitação Inter-Religiosa: 6. Homenagem a Modelos Pessoais: 7. Descobrir Novas Possibilidades: 8. Finalmente, Nunca Desistir!. Message: "Queridos amigos, Envio-vos os meus calorosos cumprimentos ao nos aproximarmos do 25º Aniversário da Corrida Mundial da Harmonia e das actividades relacionadas com uma cultura de paz. .... More = http://www.worldharmonyrun.org/25/portuguese
Video Message from Dr. Davidson Hepburn, President (2009 - 2011) of the General Conference of the United Nations Educational, Scientific and Cultural Organization (UNESCO) for 25th Anniversary of the World Harmony Run and a vision for the decade: "Toward a Oneness-World".
Full Text of the 25th annversary message and link to 25 language informal Translations: http://www.worldharmonyrun.org/25
or Click on language button for separate youtube videos wth sub titles in varous languages
See also: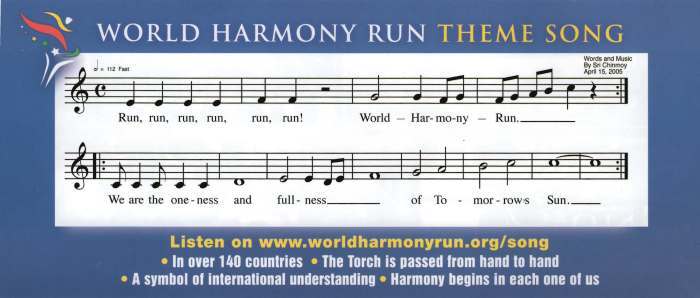 Portuguese - Canção-Tema da
Corrida da Harmonia Mundial

Corra, corra, corra, corra, corra!
Corrida da Harmonia Mundial.
Somos a unicidade e
A plenitude do Sol do Amanhã.
- Tradução
Portuguese language score download pdf

---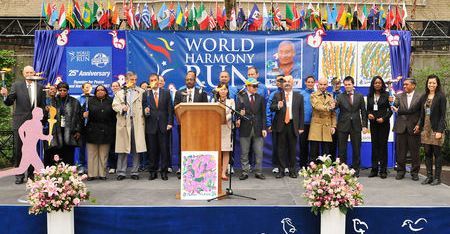 See start of the International 25th Anniversary Celebration across from the United Nations at Dag Hammarskjold Plaza in New York.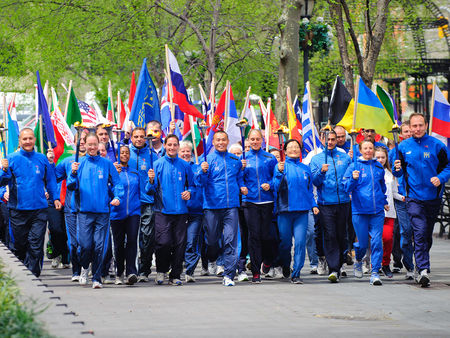 On 27th April 2012. in many cities around the world, special events marked the WHR 25th Anniversary
View some early highlights. The United Nations had proclaimed 1986 the International Year of Peace, and Sri Chinmoy wanted to offer a heartfelt and sincere expression of peace on a global scale. The opening ceremony, broadcast live on NBC-TV's The Today Show.. On April 27, 1987, five minutes of global television time was dedicated for the inaugural Sri Chinmoy Oneness-Home Peace Run with strong support from Archbishop Desmond Tutu, the UN Secretary-General, celebrities Carl Lewis, Clarence Clemons and Narada Michael Walden, and thousands...Also includes Clips from Philippines; Sahara Desert, Morocco; Botswana; Scotland, Nepal, Russia, Sri Lanka, Switzerland, Ukraine, Japan, Malaysia, Mexico, Ethiopia, Dominican Republic, Ireland, Great Britain, Colombia, Bahamas, Hungary, Spain, Mongolia, Czech Republic, Portugal, USA
---
Distance: 77 km
Team Members:
Dipavajan Renner (Austria), Sandro Zincarini (Italy), Andre Carvalho Ribeiro (Portugal), Kaspars Zakis (Latvia), Mladen Vujaklija (Croatia), Smarana Puntigam (Austria), Petar Mihaylov (Bulgaria), Dragan Nikolic (Serbia), Sumahat Strohn (Germany), Mananyu Siffert (Austria), Stefan Karanovic (Bosnia i Hercegovina), Rui Paulino (Portugal), Surasa Mairer (Austria), Portuguese runners (Portugal)
Harmonemail:
You can send a message to the runners or read the messages.
Gallery: See more images!