Portugal 26 February: Pinhel - Vilar Formoso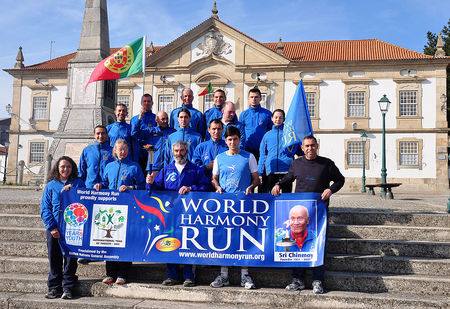 In the morning we started in Pinhel.
De manhã começámos em Pinhel.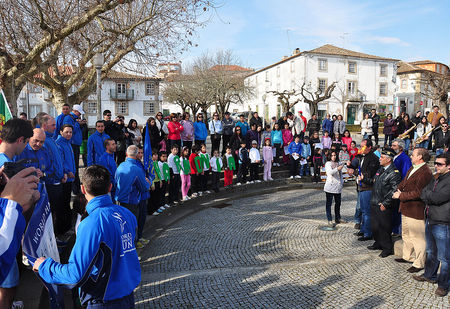 We went straight into a big gathering on the main square.
Fomos direitos a um grande encontro na praça principal.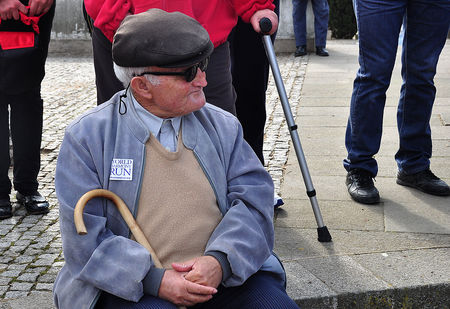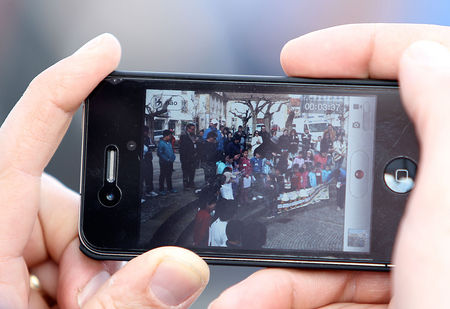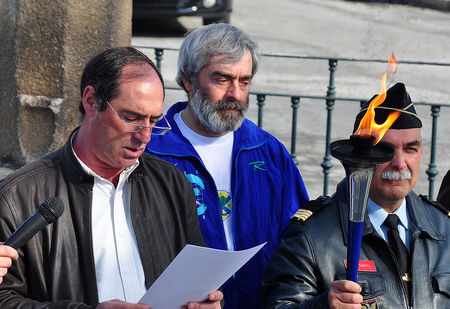 ...the mayor received us with kind words...
...O Presidente da Câmara recebeu-nos com palavras simpáticas...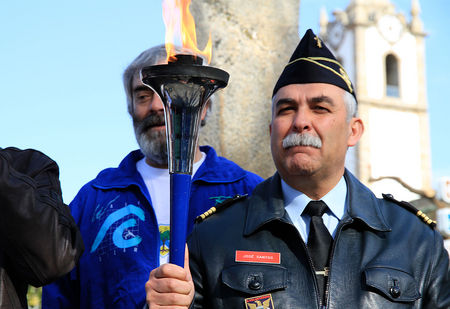 ...as we have visited Pinhel last year, we met many old friends....
...como visitámos Pinhel no ano anterior, reencontrámos velhos amigos....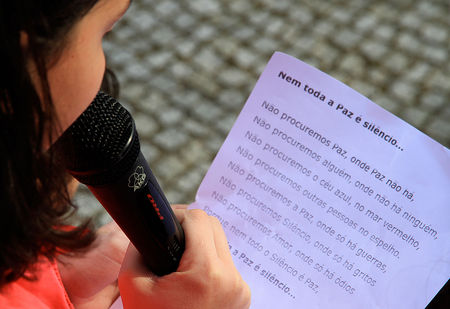 The kids recited inspiring poems...
As crianças recitaram poemas inspiradores...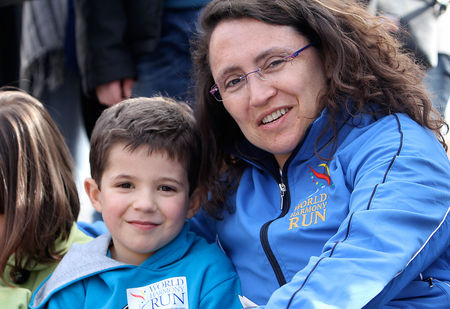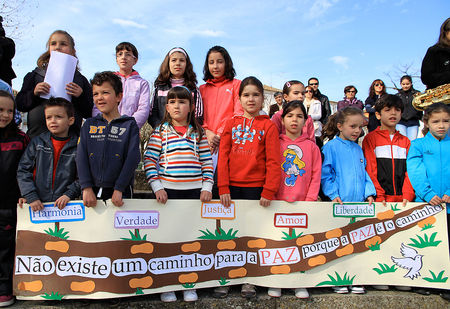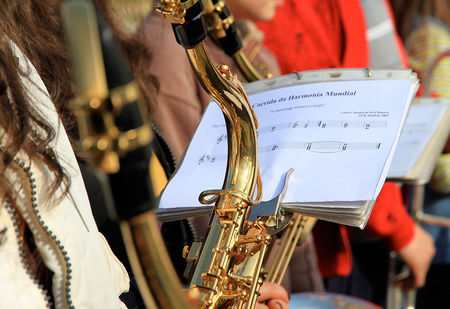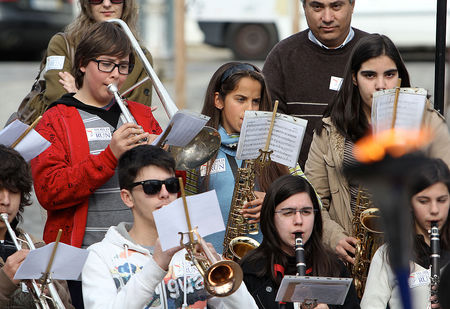 ...nice music...
...boa música...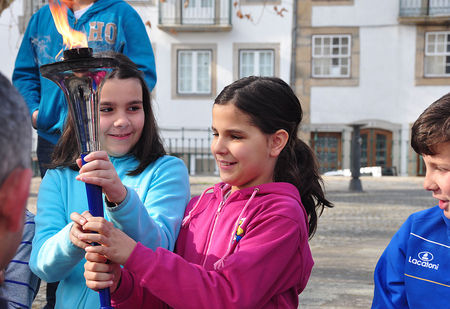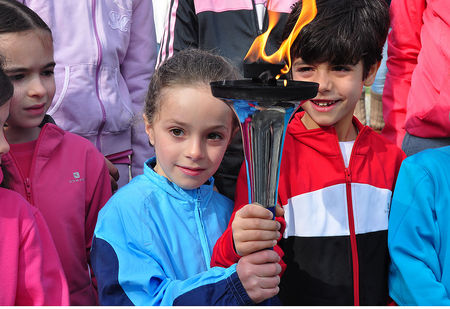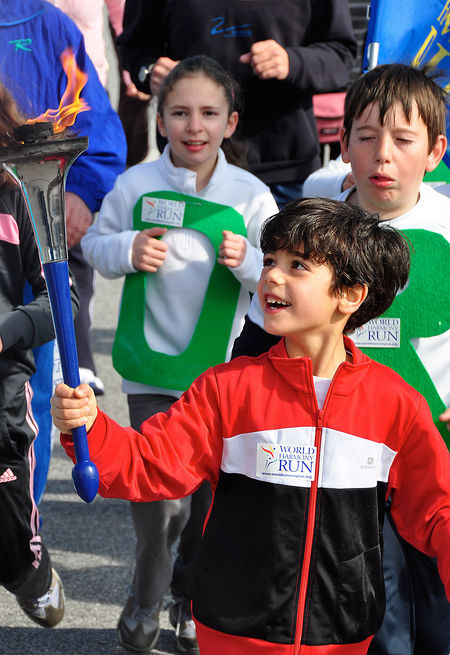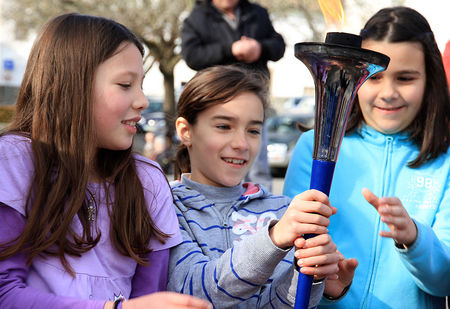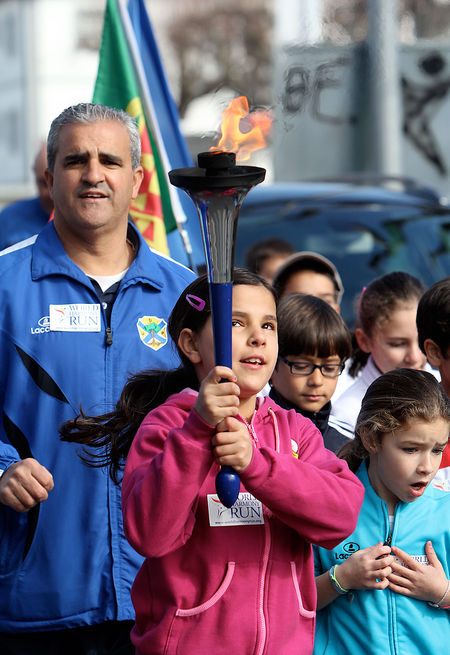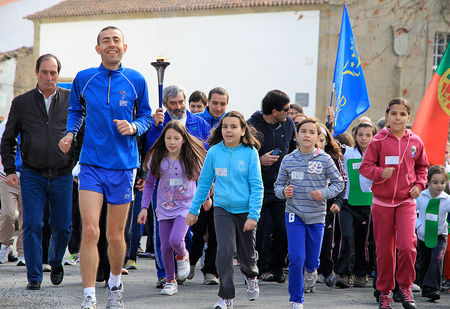 All of us went on a Run through Pinhel: kids as well as the adults..
Fomos todos juntos numa Corrida por Pinhel: crianças e adultos..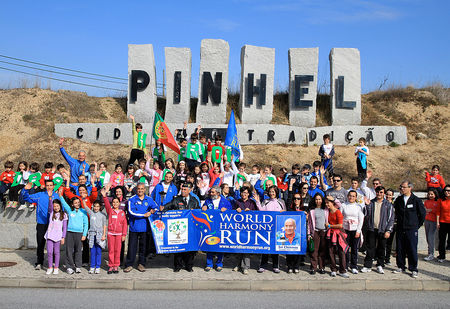 ...a last group picture at the city entrance...
Thank you Pinhel for the great enthusiasm!
...uma última fotografia de grupo à entrada da cidade...
Obrigado Pinhel pelo grande entusiasmo!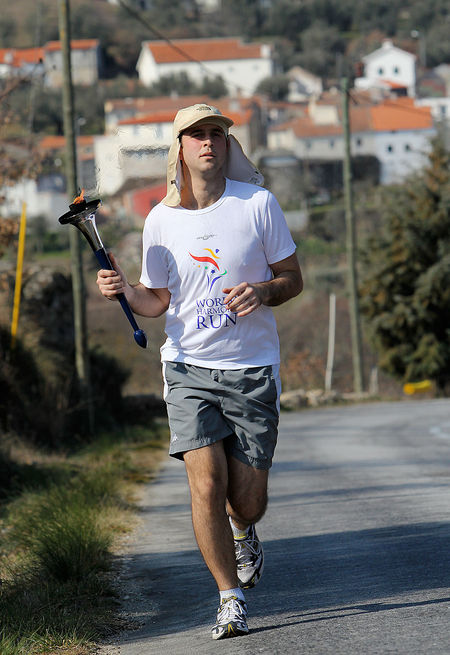 It turned in a quite Sunday-afternoon run. We enjoyed ourselves running in the most beautiful backyard of Portugal: a blue sky made it a perfect afternoon...
Foi uma bela tarde de Domingo passada a correr. Adorámos correr no mais bonito cenário de Portugal: um céu azul numa tarde perfeita...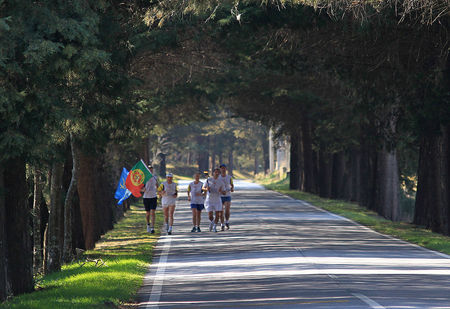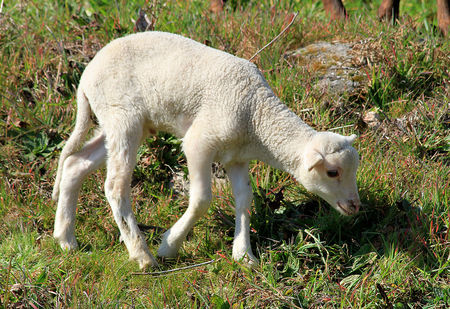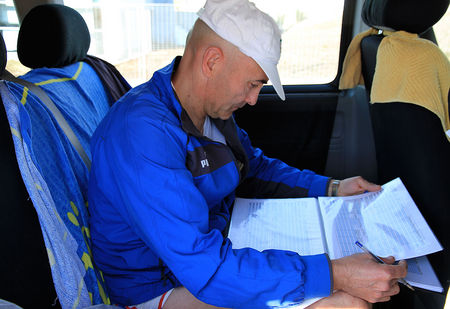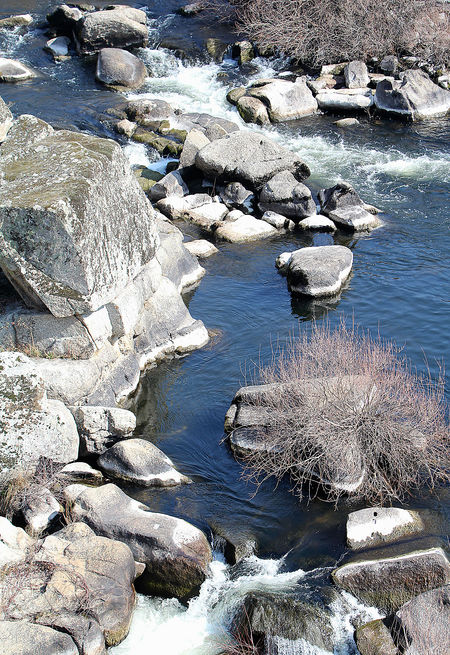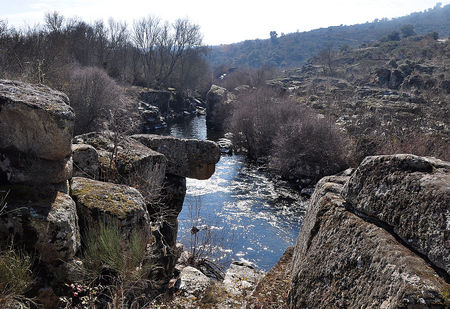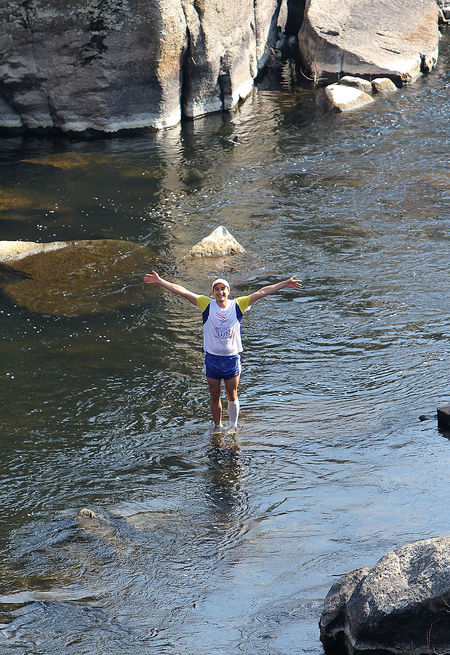 ...a swimming session in ice-cold water...
...uma sessão de natação em água fria como o gelo...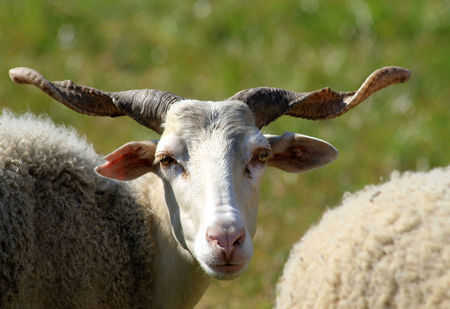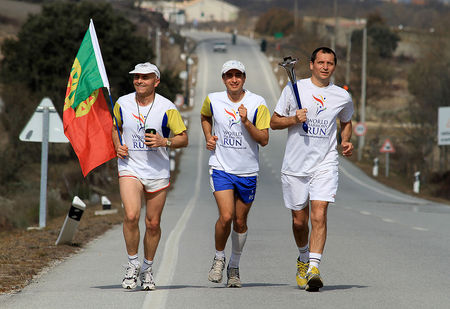 4 hours later we reached Almeida.
4 horas mais tarde alcançámos Almeida.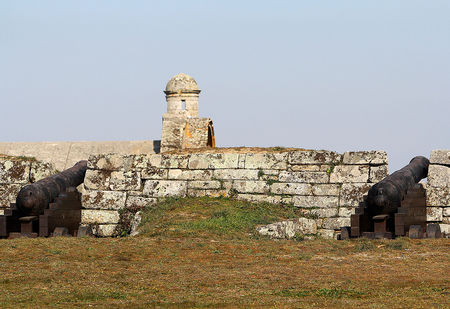 Almeida is famous for its old fortress, built during Napoleon times. It must have been a really invincible fortess, as even today it looks rerally impressive: located on the top of a hill it overlooks the whole region...
Almeida é famosa pela sua antiga fortaleza, construída durante a época de Napoleão. Devia ter sido um forte invencível, pois ainda hoje é bastante impressionante: localizada no topo de uma colina e com vista sobre toda a região...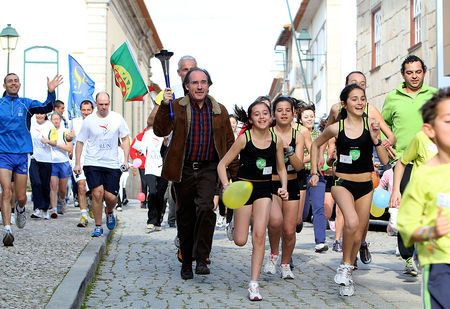 The kids welcomed us at the entrance of the fortress and together we went into the old part of the city, located in the fortress...
As crianças receberam-nos à entrada da fortaleza e fomos juntos até à parte antiga da cidade, situada na fortaleza...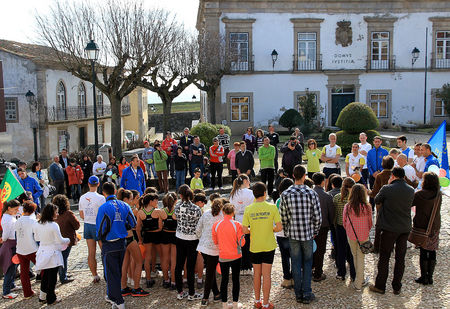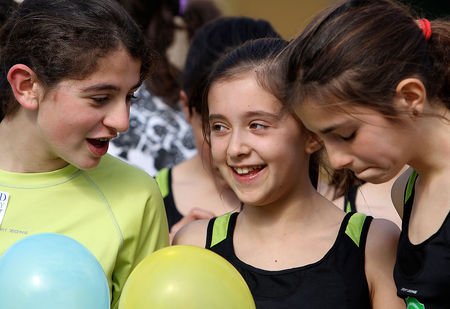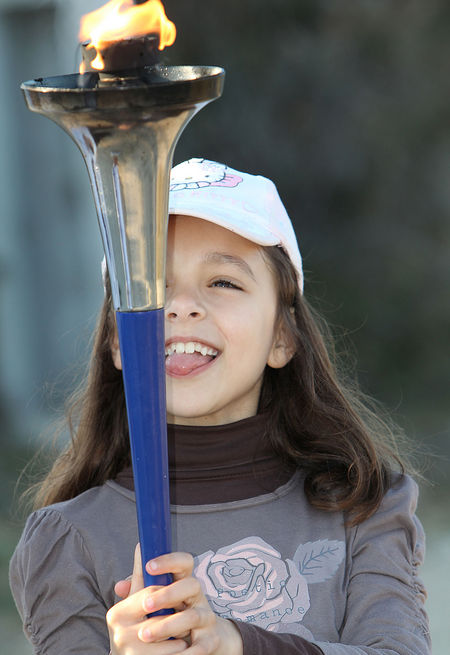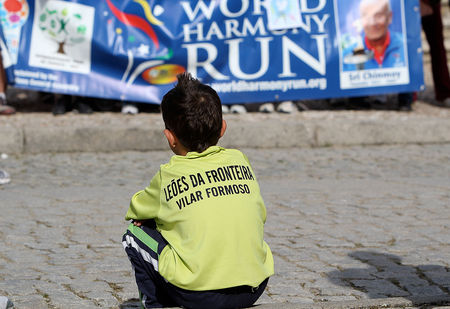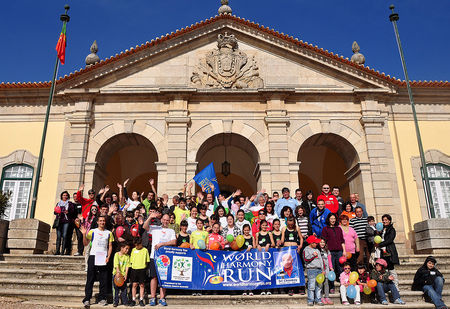 We were welcomed at the city hall: we had lots of fun with the kids...
Fomos receidos na Câmara Municipal: divertímo-nos imenso com os miúdos...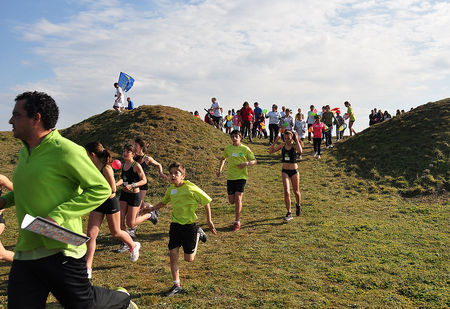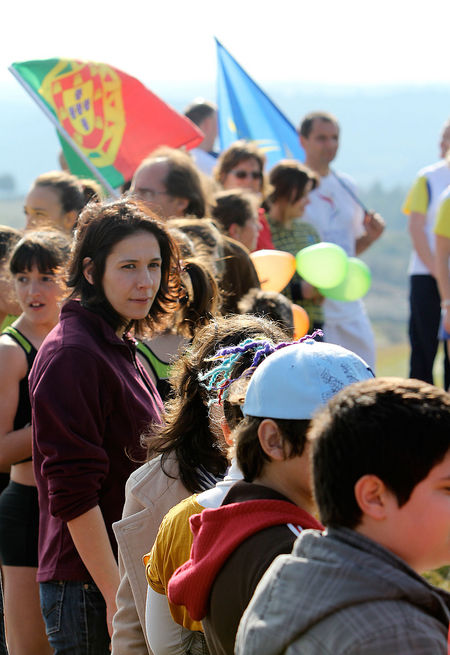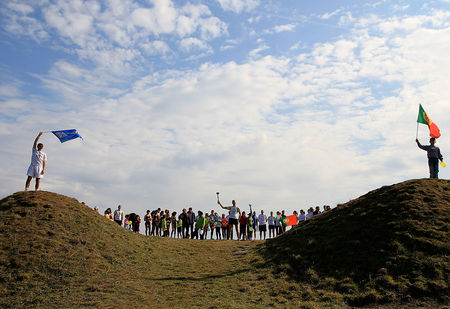 ...after a group picture we went together on a short symbolic run which ended on the city walls!
Almeida also hosted us for the night with a great accommodation and a good dinner. Thanks for the support!
...após uma fotografia de grupo fomos juntos numa curta corrida simbólica que terminou nas muralhas da cidade!
Ameida também nos acolheu durante a noite com excelentes acomodações e um grande jantar. Obrigado pelo apoio!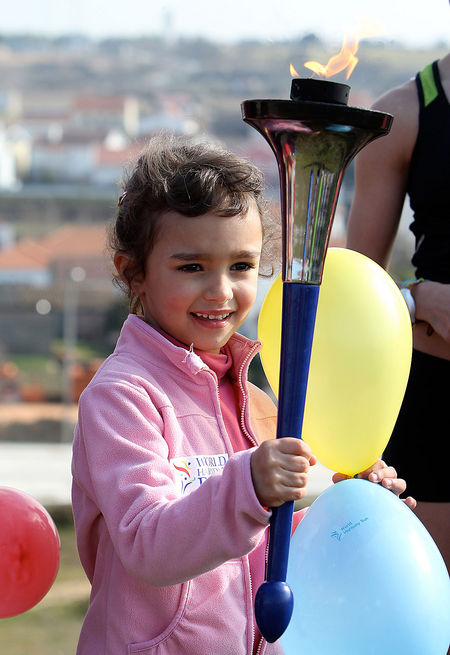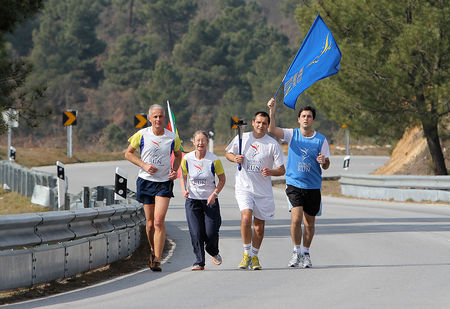 Our last stretch for the day brough us to Vilar Formoso. We finished at the entrance of the city and went back to one of our runners home village: Pereiro.
O último troço do dia levou-nos até Vilar Formoso. Terminámos à entrada da cidade e voltámos até à casa de um dos corredores: Pereiro.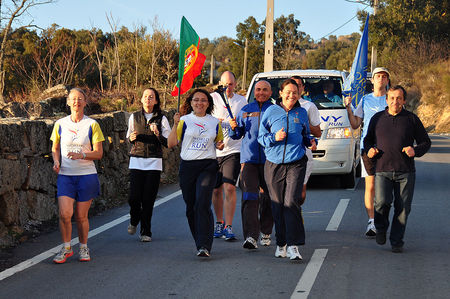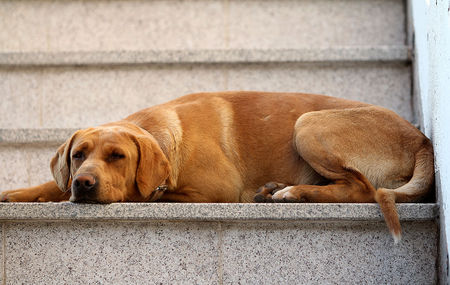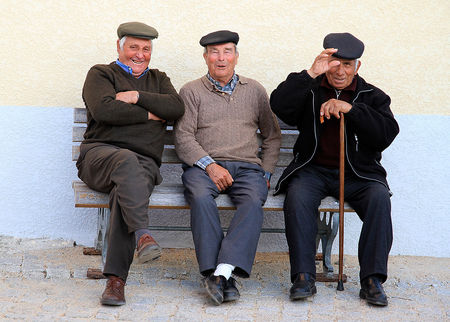 ...new friends...
...novos amigos...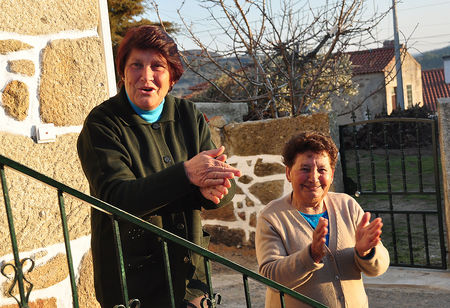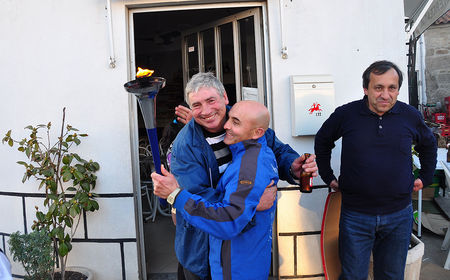 This typical Portuguese village was overwelming us with hospitality: we had to eat like kings (still with a dinner to come!)
Esta típica aldeia Portuguesa tratou-nos com uma hospitalidade avassaladora: tivemos que comer como reis (e ainda com o jantar por vir!)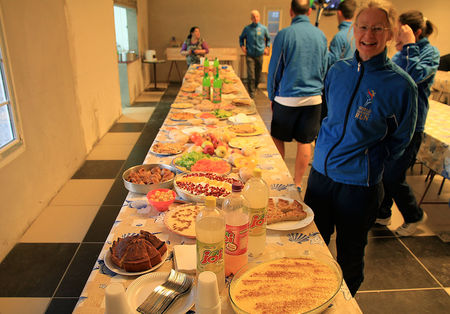 ...all the people brought home-made food! Regional specialities and much more!
...todas as pessoas trouxeram comida caseira! Especialidades regionais e muito mais!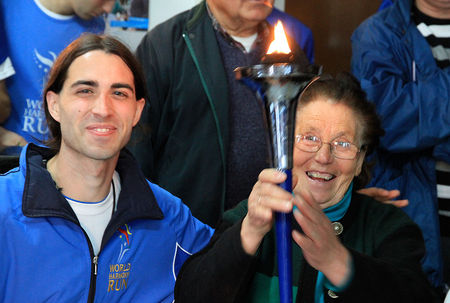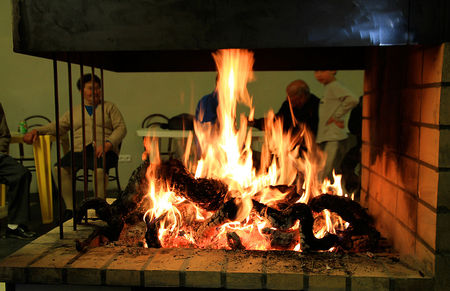 ...an open fire to warm up from the road..
...uma lareira para nos aquecer do frio da estrada..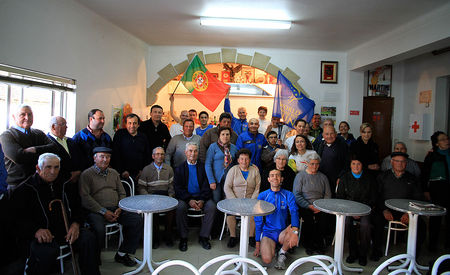 Thanks for the friendship!
Obrigado pela amizade!
---
Português - Em direcção a 2022 e a um Mundo-Unicidade. Portuguese subtitles on Video Message from Davidson Hepburn, President of the General Conference of UNESCO (2009 - 2011): "Acredito que todos os cidadãos a nível global olham ansiosamente para a próxima década - 2022 e além - como um período de grande progresso e notável mudança. - É imperativo que trabalhemos em conjunto para construir um verdadeiro Mundo-Unicidade. - De entre as recentes iniciativas que se esforçam para alcançar esse objectivo, a Corrida Mundial da Harmonia é uma das actividades mais notáveis e de maior alcance. - Foi criada por Sri Chinmoy em 1987 e mesmo após a sua morte em 2007, continua a crescer, fazendo progredir os importantes ideais da UNESCO e de toda a comunidade das Nações Unidas. - Pessoalmente, gostaria de enaltecer algumas actividades especificas que a Corrida Mundial da Harmonia tem realizado ou inspirado. - É a minha esperança que estas actividades possam ser expandidas e enriquecidas na década vindoura. 1. Visitas a Locais de Património Mundial 2. Actuações Musicais: 3. Criação ou Exibição de Arte e Poesia: 4. Valorização da Diversidade: 5. Fomentar a Aceitação Inter-Religiosa: 6. Homenagem a Modelos Pessoais: 7. Descobrir Novas Possibilidades: 8. Finalmente, Nunca Desistir!. Message: "Queridos amigos, Envio-vos os meus calorosos cumprimentos ao nos aproximarmos do 25º Aniversário da Corrida Mundial da Harmonia e das actividades relacionadas com uma cultura de paz. .... More = http://www.worldharmonyrun.org/25/portuguese
Video Message from Dr. Davidson Hepburn, President (2009 - 2011) of the General Conference of the United Nations Educational, Scientific and Cultural Organization (UNESCO) for 25th Anniversary of the World Harmony Run and a vision for the decade: "Toward a Oneness-World".
Full Text of the 25th annversary message and link to 25 language informal Translations: http://www.worldharmonyrun.org/25
or Click on language button for separate youtube videos wth sub titles in varous languages
See also: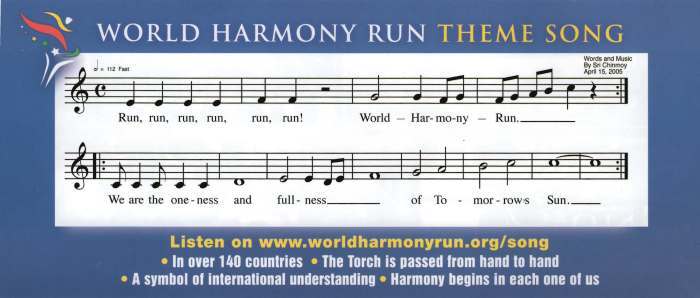 Portuguese   -   Canção-Tema da
Corrida da Harmonia Mundial

Corra, corra, corra, corra, corra!
Corrida da Harmonia Mundial.
Somos a unicidade e
A plenitude do Sol do Amanhã.
- Tradução
Portuguese language score download pdf

---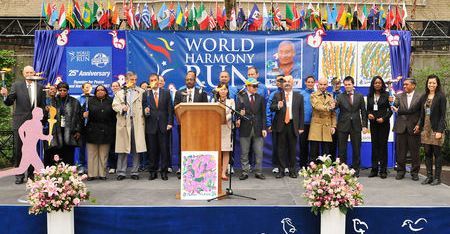 See start of the International 25th Anniversary Celebration across from the United Nations at Dag Hammarskjold Plaza in New York.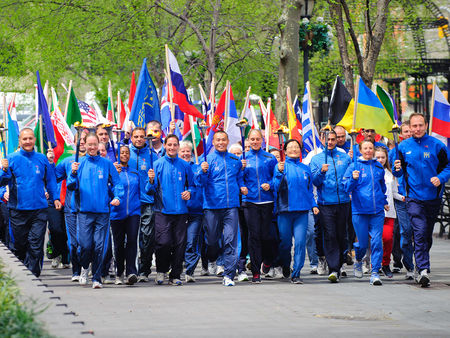 On 27th April 2012. in many cities around the world, special events marked the WHR 25th Anniversary
View some early highlights. The United Nations had proclaimed 1986 the International Year of Peace, and Sri Chinmoy wanted to offer a heartfelt and sincere expression of peace on a global scale. The opening ceremony, broadcast live on NBC-TV's The Today Show.. On April 27, 1987, five minutes of global television time was dedicated for the inaugural Sri Chinmoy Oneness-Home Peace Run with strong support from Archbishop Desmond Tutu, the UN Secretary-General, celebrities Carl Lewis, Clarence Clemons and Narada Michael Walden, and thousands...Also includes Clips from Philippines; Sahara Desert, Morocco; Botswana; Scotland, Nepal, Russia, Sri Lanka, Switzerland, Ukraine, Japan, Malaysia, Mexico, Ethiopia, Dominican Republic, Ireland, Great Britain, Colombia, Bahamas, Hungary, Spain, Mongolia, Czech Republic, Portugal, USA
---
Distance: 47 km
Team Members:
Dipavajan Renner (Austria), Sandro Zincarini (Italy), Andre Carvalho Ribeiro (Portugal), Kaspars Zakis (Latvia), Mladen Vujaklija (Croatia), Smarana Puntigam (Austria), Petar Mihaylov (Bulgaria), Dragan Nikolic (Serbia), Sumahat Strohn (Germany), Mananyu Siffert (Austria), Stefan Karanovic (Bosnia i Hercegovina), Rui Paulino (Portugal), Surasa Mairer (Austria), Barbara Pfennich (Austria), Portugal runners
Harmonemail:
You can send a message to the runners or read the messages.
Gallery: See more images!