Sweden 11 May: Örebro - Uppsala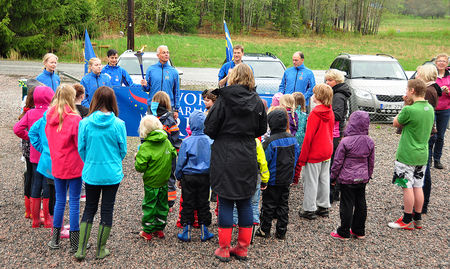 Our first visit of the day was to a quaint and charming school in the countryside of Hidingsta, Fridhems skola...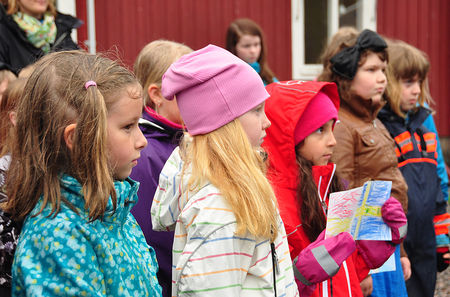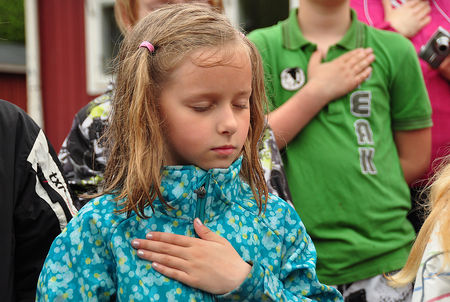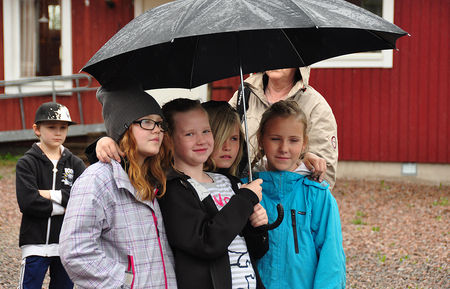 The rain was also very happy to show up at the ceremony...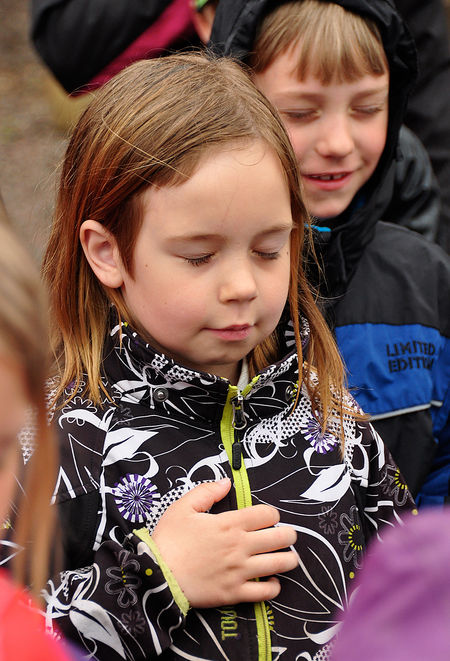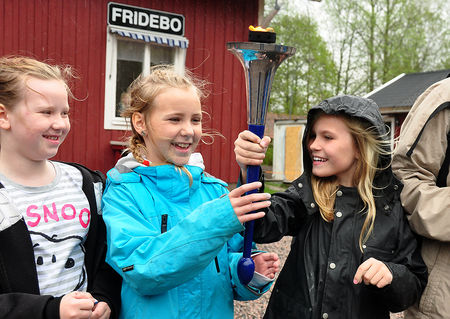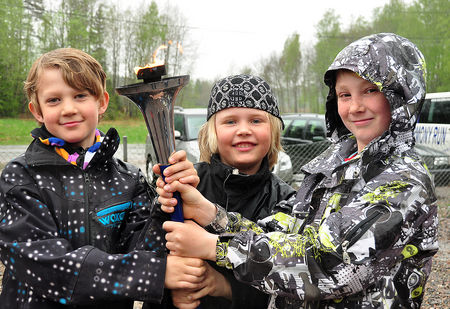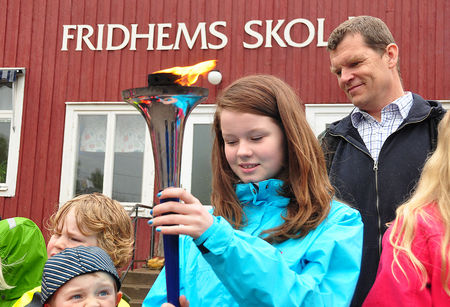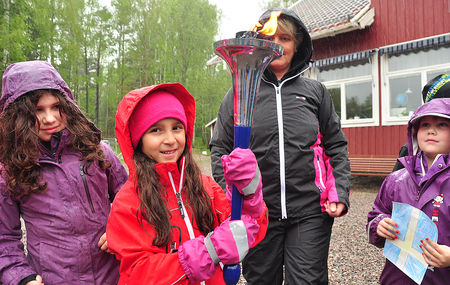 After the passing of the torch, we moved inside to shelter ourselves from the increasing rain, which continued to show its presence by pleasant rapid pattering on the windows...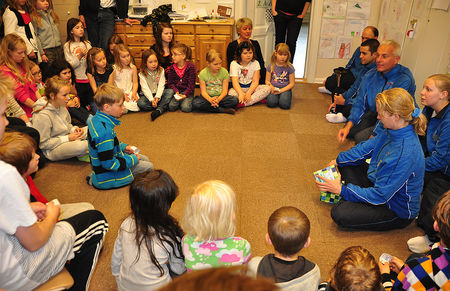 The school had a very sweet, loving and safe atmosphere...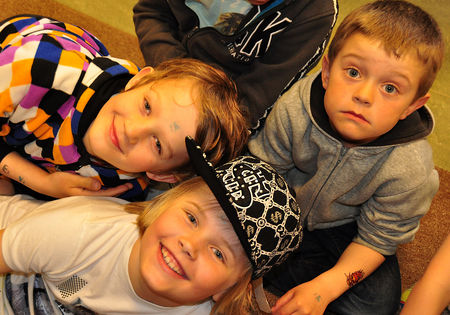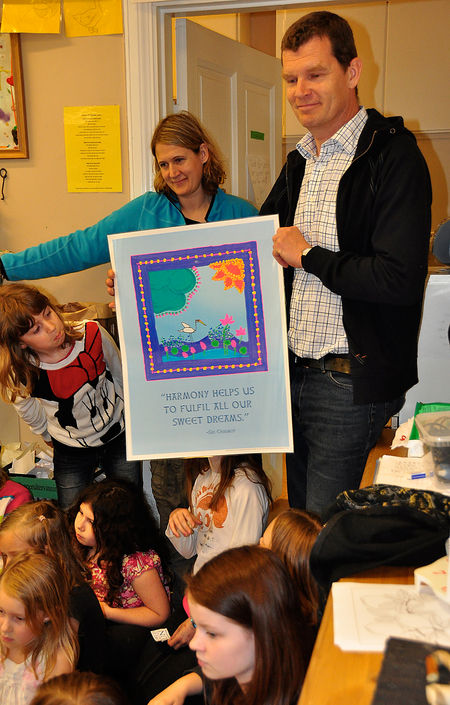 The principle and the teachers so encouraging, and their loving care for the children was palpable...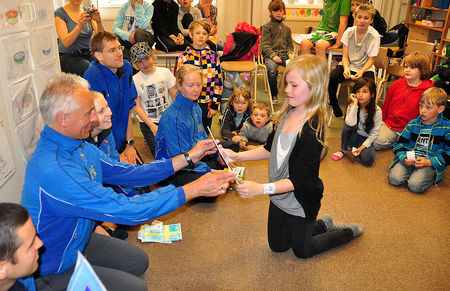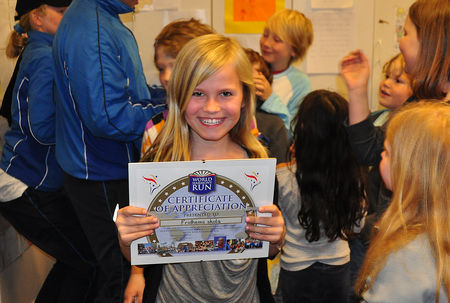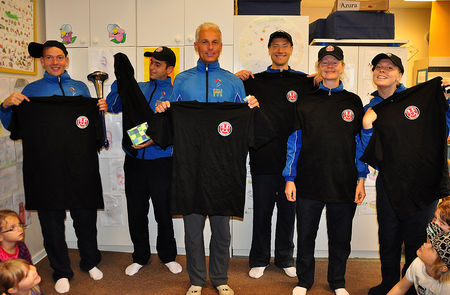 We were grateful to receive t-shirts and caps with the school logo...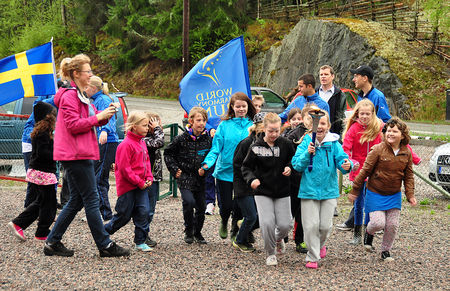 The rain abating somewhat we moved outside for some running...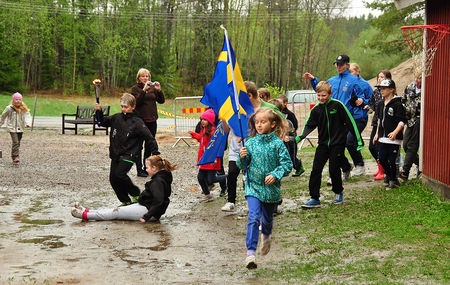 It was a little slippery, but everybody was all right in the end, although some a bit muddy...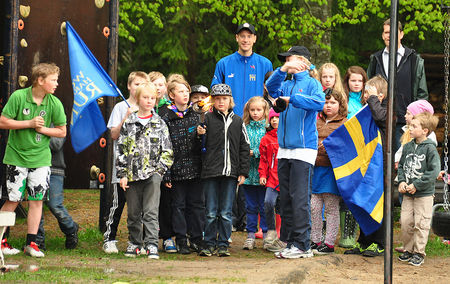 Our spirits were high and our hearts warm as we said goodbye...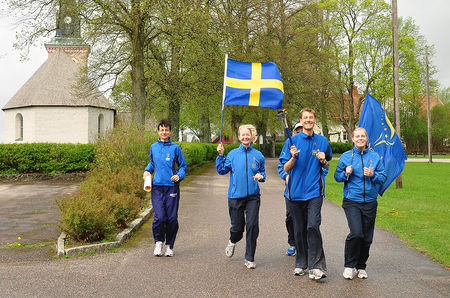 Joyfully jogging to Askers skola in Asker...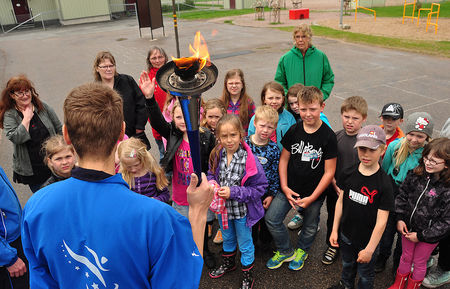 The children were very sweet...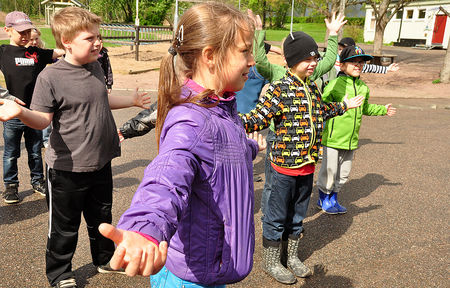 Embracing the world...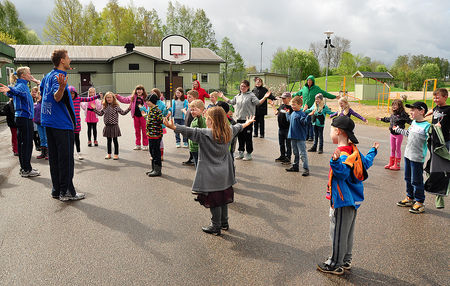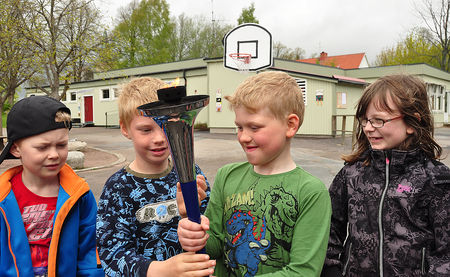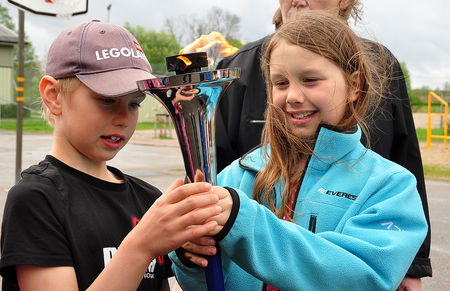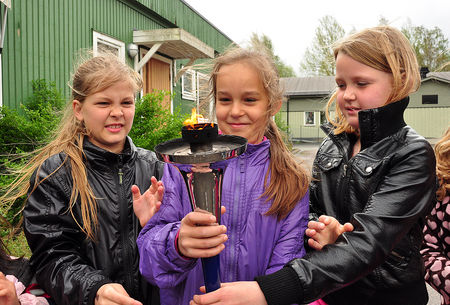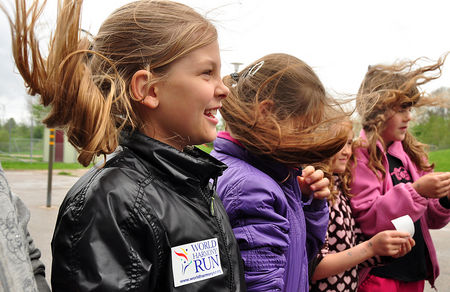 The wind presented us with some amazing hairstyles...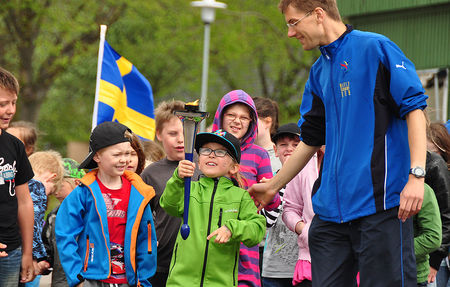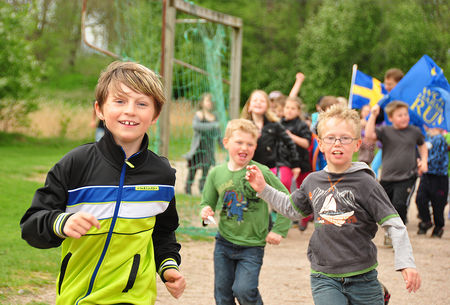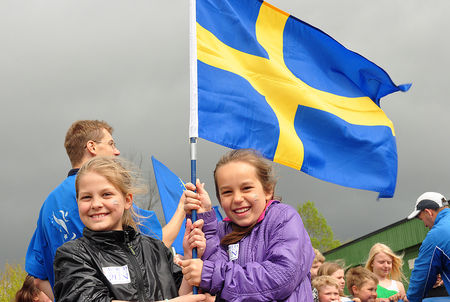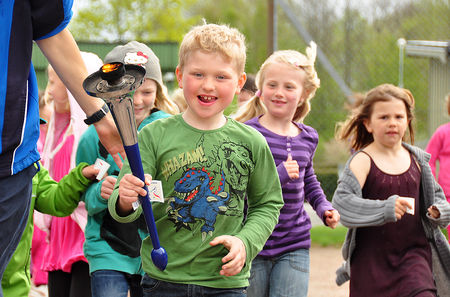 Thank you for welcoming us so joyfully to your school!
We had a scenic route, embedded in nature's warm and serene splendour...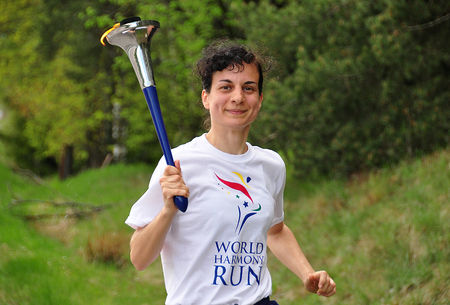 Eta from Hungary covering the distance...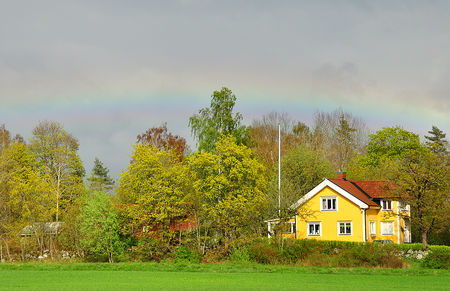 This is the view Pratul from Austria was graced with as he covered 47 km today, in honour of his 47th birthday, coming up on Sunday. A rainbow smiles in sky for him and all of us at the triumph of completing 186 km.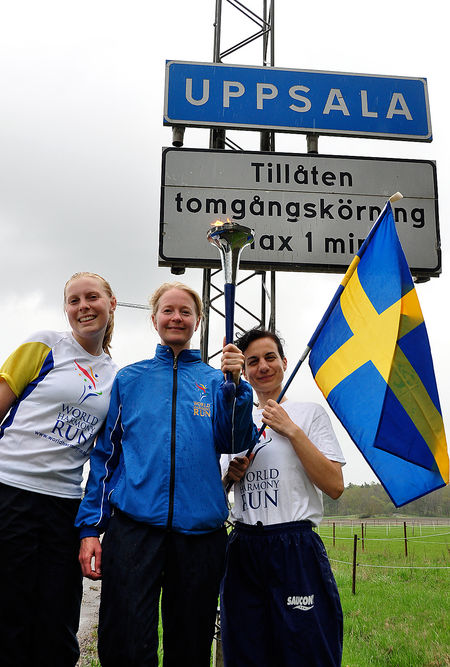 Now Kamaniya, our coordinator for the route from the border of Norway to the county of Örebro, can sigh with relief and smile, with a successful run behind her that gave joy to all! She was really grateful to have the support of Benedicte from Norway, who among other things translated at the ceremonies, and of Eta from Hungary. A good team! Now the team will enjoy two days of rest in Uppsala.
Video Message from Dr. Davidson Hepburn, President (2009 - 2011) of the General Conference of the United Nations Educational, Scientific and Cultural Organization (UNESCO) for 25th Anniversary of the World Harmony Run and a vision for the decade: "Toward a Oneness-World".
Full Text of the 25th annversary message and link to 25 language informal Translations: http://www.worldharmonyrun.org/25
or Click on language button for separate youtube videos wth sub titles in varous languages
See also: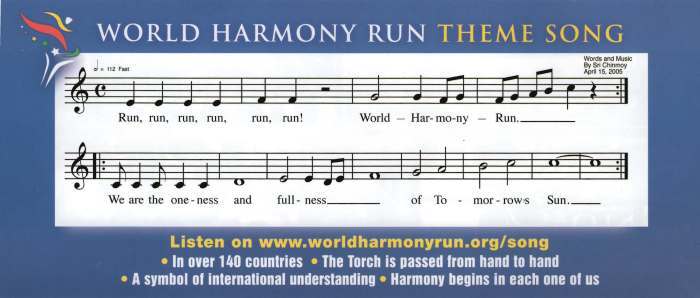 ---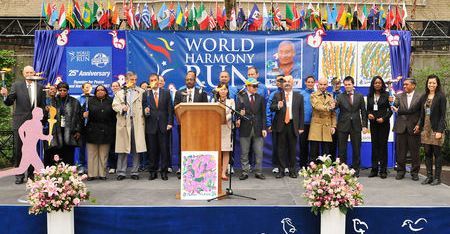 See start of the International 25th Anniversary Celebration across from the United Nations at Dag Hammarskjold Plaza in New York.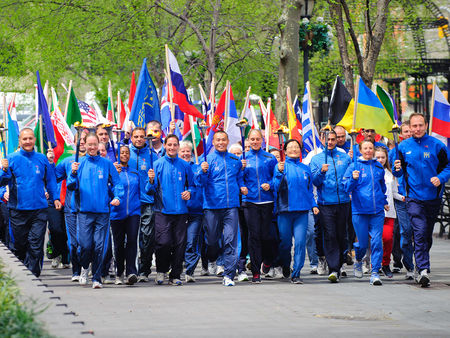 On 27th April 2012. in many cities around the world, special events marked the WHR 25th Anniversary
---
Distance: 186 km
Team Members:
Dipavajan Renner (Austria), Sandro Zincarini (Italy), Sumahat Strohn (Germany), Mladen Vujaklija (Croatia), Vladimir Ilyasov (Russian Federation), Lucas Szeles (Germany), Eta Banhegyi (Hungary), Edi Brodtrager (Austria), Pratul Halper (Austria), Premananda Klaile (Finland), Kamaniya Palmer (Sweden), Benedicte Bjoralt (Norway)
Harmonemail:
You can send a message to the runners or read the messages.
Gallery: See more images!