Ireland 21 March: Galway - Athlone
The day began with a whirlwind tour of Galway schools. The pupils in Educate Together National School had been preparing some beautiful artwork and poetry on the theme of friendship and harmony.
Here is one poem, by 10 year old Philip Walsh: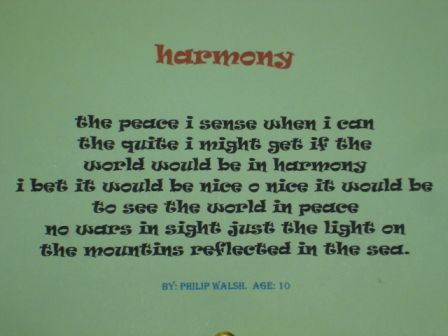 The children had loads of questions for us about the Run when we arrived. One particularly good one was: "Did you ever accidentally set anything on fire with the Torch?", upon which our speaker Dipavajan had to confess to a minor incident in a field in South Italy…
After a lovely speech by the teacher we were ushered to the playing area where the younger children were waiting to join us in a 'Mini-Run' around the playground.
Next stop was St Nicholas National School where the 80-strong school music band was waiting to give us a rousing reception.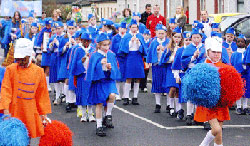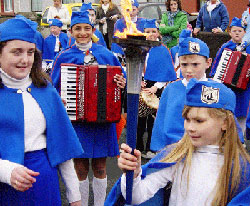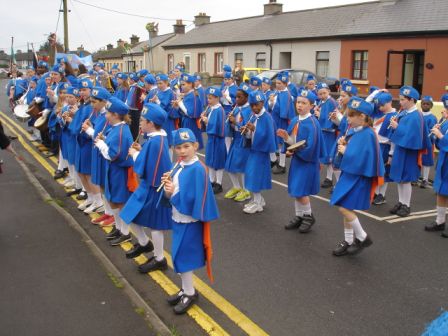 The Mayor of Galway, Cllr Catherine Connolly, was in attendance, and had some lovely things to say about the Run.
At the same school we also met up with two outstanding running brothers, Paul and Richard Donovan. Paul won an indoor 300m indoor World silver medal, and represented Ireland in the Olympics. Richard holds the world record for 100 miles on a treadmill, in addition to organising the annual North Pole marathon, and being the first runner to complete marathons around the North and South Poles.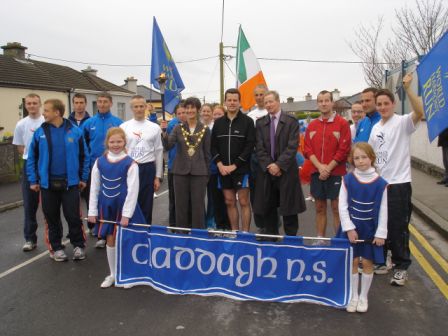 They generously stayed around afterwards to answer the barrage of questions we had in store for them before accompanying us through the streets of Galway on our way to Rosedale School for special needs children. We brought the Torch around on a tour of the classrooms, and it was a joy to watch the expressions on some of the children's faces as they beheld this beacon of friendship.
---
Distance: 122km
Harmonemail:
You can send a message to the runners or read the messages.