Ireland 23 March: Dublin - Drogheda
The day started with a deafening roar of welcome as we entered our first school - St Brigids in Killester. The assembly hall was packed with children of all ages. The children had prepared harmony doves and a lovely welcoming sign. Minister of State Ivor Callely was there and he cheerfully entered into the spirit of the Run, changing into shorts and Harmony Run T-Shirt and leading the Harmony Run Team and children on a lap of the school grounds.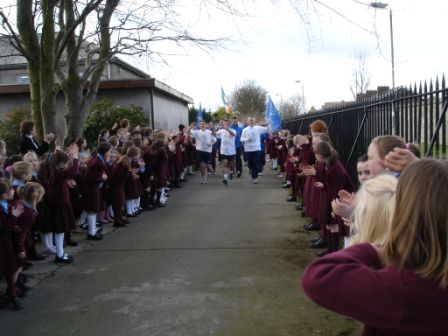 A short run away was our next school, St Brendans in Artane, where we came across the liveliest bunch of children encountered so far on the Run! They kept us on our toes with all kinds of insightful questions. Senator Cyprian Brady, on behalf of the Taoiseach, presented the Torch to the school after which we all went outside so the Torch could be passed around to everybody. The children had a great welcome for local hero Tony Mangan, world record holder for the longest distance covered in 48 hours on a treadmill - he is holding the Torch in this picture, with Senator Brady on the left and the principal of Artane N.S on the right.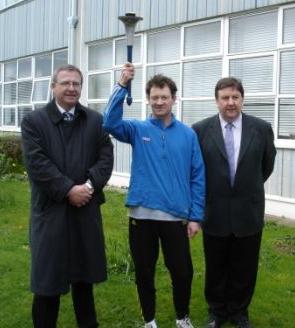 The run then swept into the City Centre with the help of a Garda escort - the lunchtime crowds gave us an extremely enthusiastic welcome as we ran down O'Connell Street and past Trinity College, stopping by Government offices to pay a courtesy call to the Minister for Sport, John O Donoghue.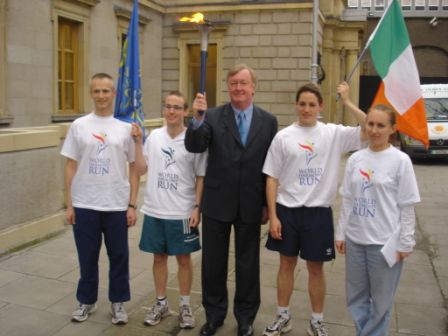 A quick bite of lunch and then it was time to go to the Mansion House to meet the Lord Mayor of Dublin, Michael Conaghan. We had a lovely chat about the Run with him - he seemed very interested in and inspired by what we had to say and he gave us great encouragement for the road ahead.
An advance team had been sent running to make up some ground whilst we were visiting - we caught up with them just a few miles outside Drogheda. We recieved another Garda escort into City Hall to meet with the Mayor of Drogheda, Cllr. Gerald Nash, the 810th Mayor of Drogheda and the youngest person ever to hold that post. Drogheda Town Council have always been strong supporters of the Harmony Run and this time was no different - the runners could look forward to a lovely meal and accomodation tonight. The Mayor had a great welcome for us and made sure we were being looked after, even driving in the Harmony Run van with us to show us the way to our accommodation.
---
Harmonemail:
You can send a message to the runners or read the messages.