Ireland 22 March: Athlone - Dublin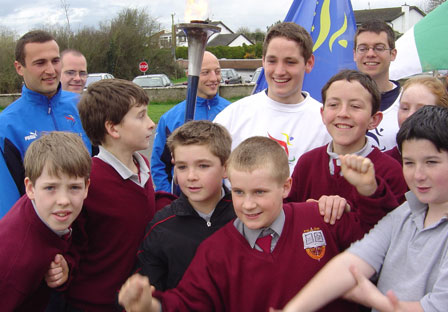 The beginning of the day saw us in Coosan National School, where the children heard the international team say something in their own languages and then tried to guess where they were from - they thought our Croatian runner Roko was from China, but when Colm stepped forward to say 'Dia daoibh, conas ata sibh' all hands immediately shot up! We then went outside where the children eagerly raced around the torch and passed it on from one to another.
Meanwhile we had sent Pavel from the Ukraine on a solo 30 kilometer run to make up some ground - a passing motorist saw him running in the rain and rang the Gerry Ryan show on 2FM in an attempt to find out what was going on... he was joined by other callers who had sighted this mysterious torch on the run in Clare and Galway. Our Irish coordinator, Ambarish, finally sated their curiosity by calling in and explaining what the Run was all about.
We then found ourselves in All Saints National School in the middle of Mullingar, where the children had all sorts of wonderful questions to ask us. Cllr Pat Whelan, representing Westmeath County Council, said some very nice things about the Run before beginning the passing of the Torch to all the children.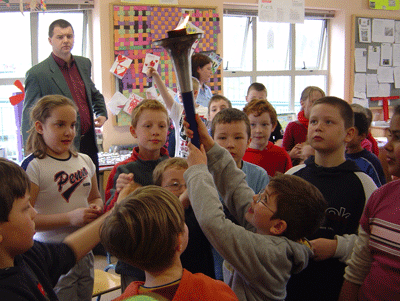 The school then invited us over to the adjacent church, where in the same spirit of friendship and giving as the Run is founded on, they had prepared a Lenten lunch.
We made our way to Dublin via the scenic back roads, through the beautiful villages of Killucan, Rathmolyon, and Summerhill. On our way, we tuned the radio dial to Newstalk 106 to hear Irish team member Paula give a splendid account of the Run and its inspiring message.
Our day ended on a high note when we paid a visit to Catherina McKiernan, winner of four silver World Cross-Country medals, and the fastest female first-time marathoner ever. She has recently retired from the international scene but she's obviously still keeping active - we spotted a pair of running shoes perched inside her front door, all ready for the next run.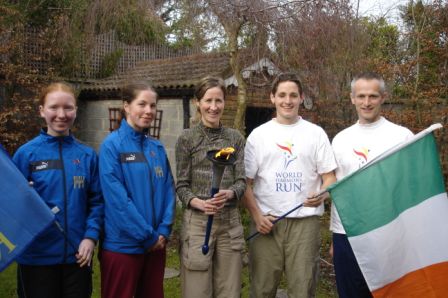 ---
Distance: 130km
Harmonemail:
You can send a message to the runners or read the messages.