Spain 27 February: Vilar Formoso - Salamanca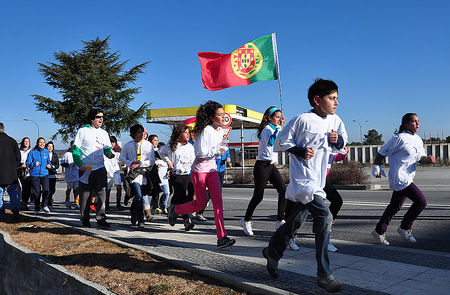 We started the day in Vilar Formoso, accompanied by kids from the "Agrupamento de Escolas de Almeida"...
Hemos empezado el dia en Vilar Formoso acompañados por niños del 'Agrupamento de Escolas de Almeida'...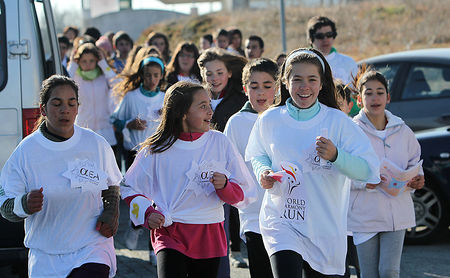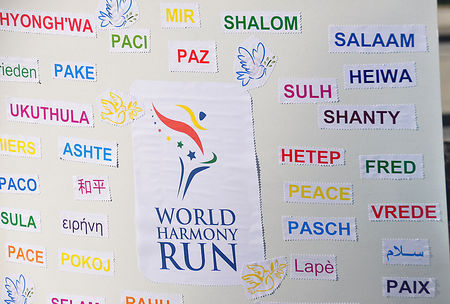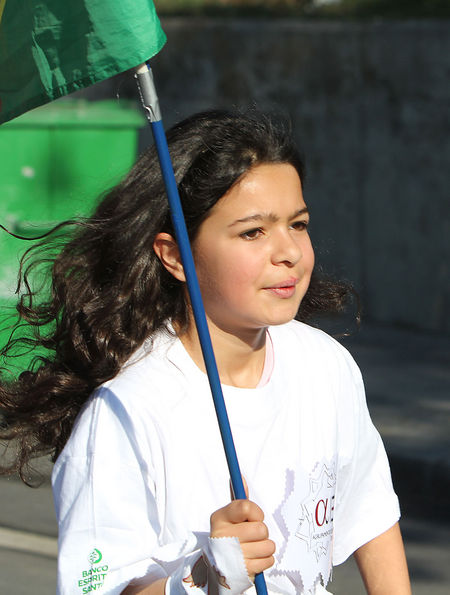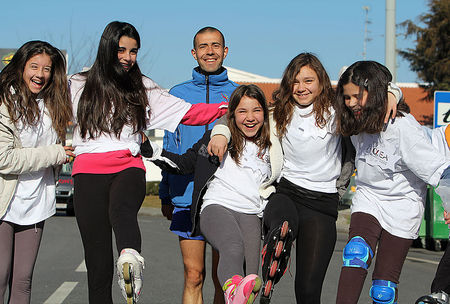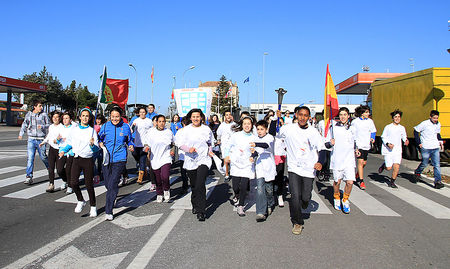 .....together we ran to the border with Spain ...
… corriendo juntos hasta la frontera con España …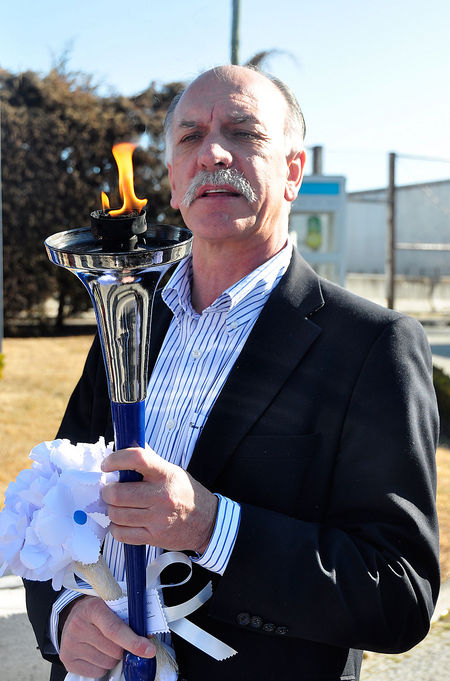 ...the mayor of Almeida, a good friend of the World Harmony Run, wished us Good Bye for our journey further through Spain and Europe...
...el Alcaide de Almeida, un buen amigo de World Harmony Run, nos ha deseado todo lo mejor en nuestro viaje por España y Europa...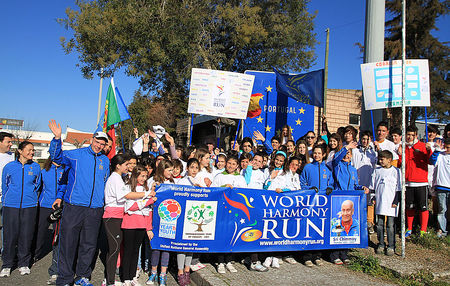 Thank you Portugal for the amazing hospitality and the great time we spent!
¡Muchas gracias Portugal por la hospitalidad y los momentos tan maravillosos que hemos pasado¡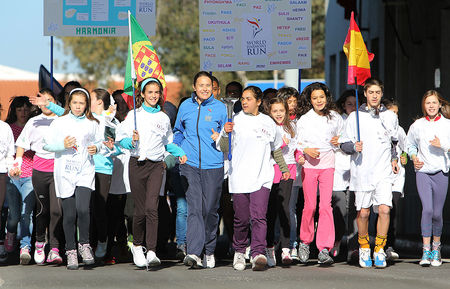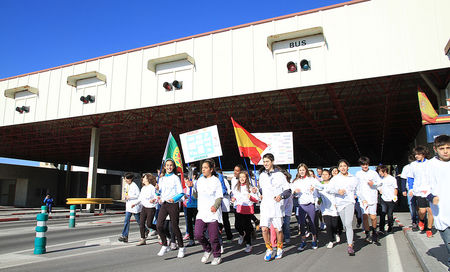 Welcome in Spain!
¡Bienvenida en España¡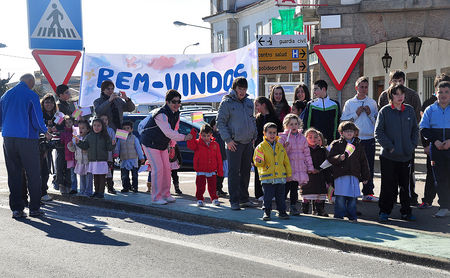 ...a group of small children welcomed us at the border...
... un grupo de pequeños nos ha dado la bienvenida en la frontera...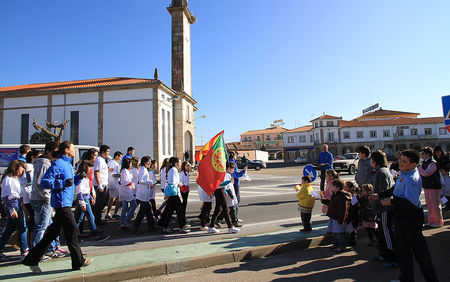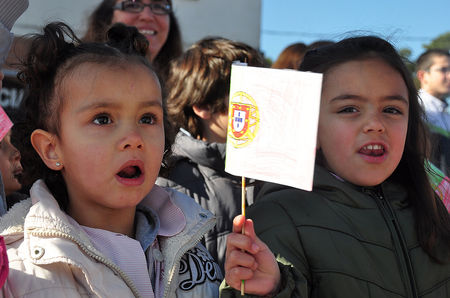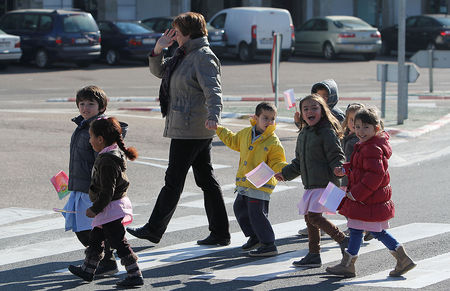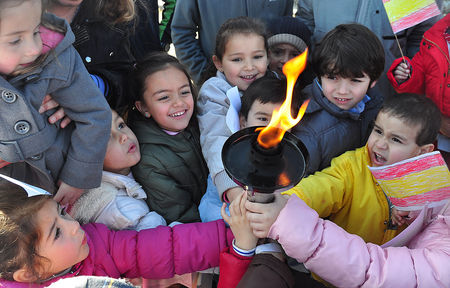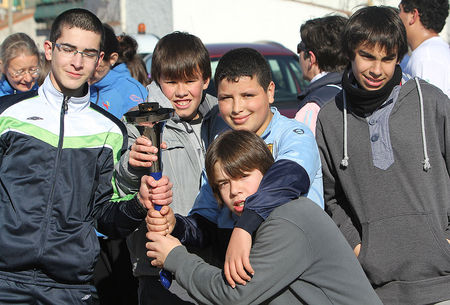 ...the older kids took the torch and we all ran together - the Portuguese kids, Spanish kids and our int. team - to the first school in Spain: Colegio Campo de Arganan in Fuentes de Onoro...
...los mayores tomaron la antorcha y corrimos juntos - los corredores de Portugal, de España y el equipo internacional - hasta el primer colegio en España, Colegio Campo de Agrañan en Fuentes de Oñoro...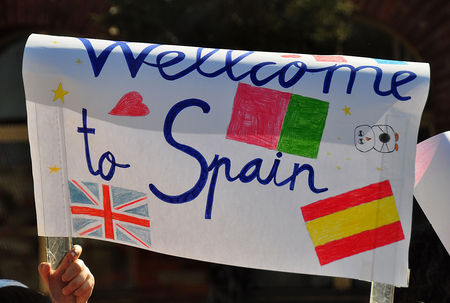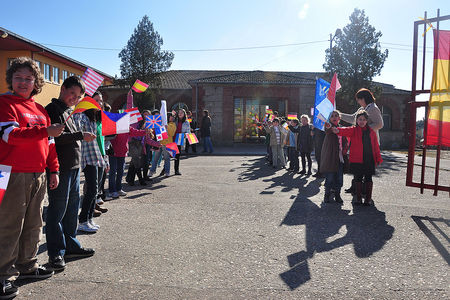 ¡Bienvenidos a España!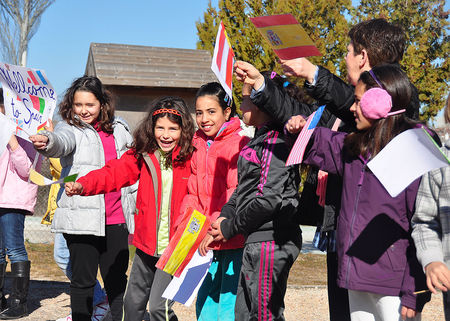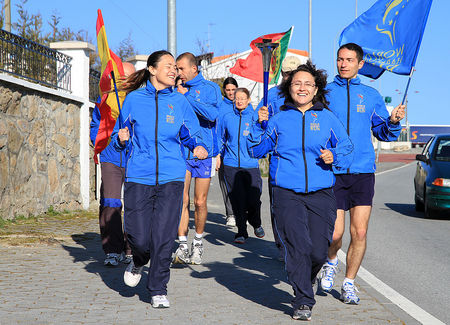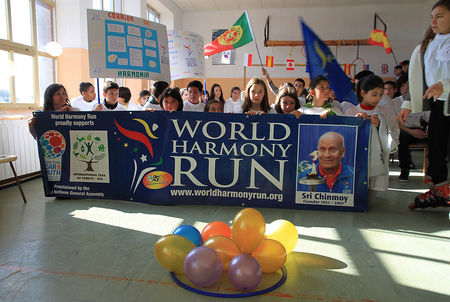 ...the Portuguese guests...
...los visitantes de Portugal...
...and the Spanish performers..
...y los actores de España...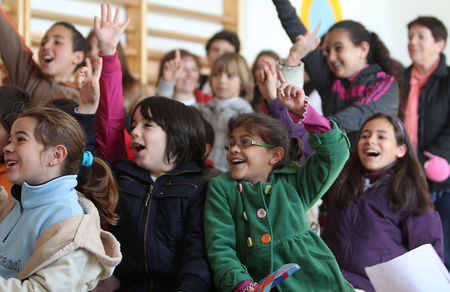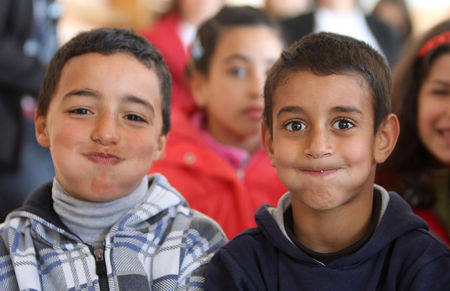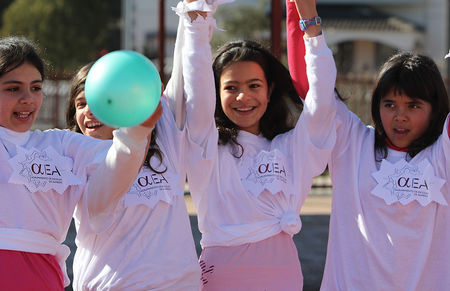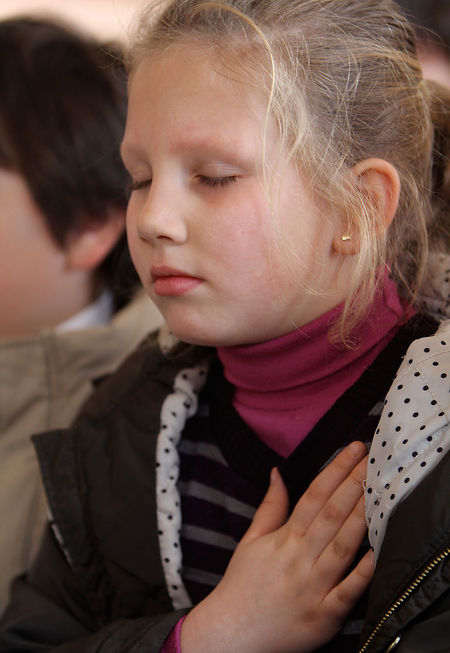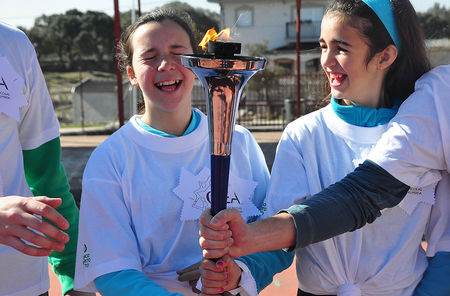 ...after the presentation of the World Harmony Run and some performances we took all the kids out on the schoolyard.
...tras la presentacion de World Harmony run y algunos actos hemos salido con los chicos al patio...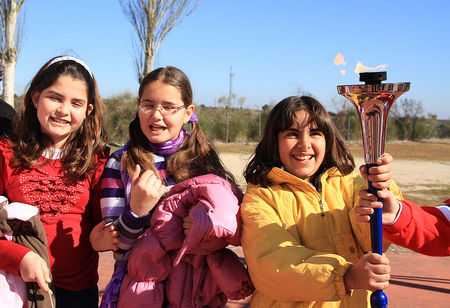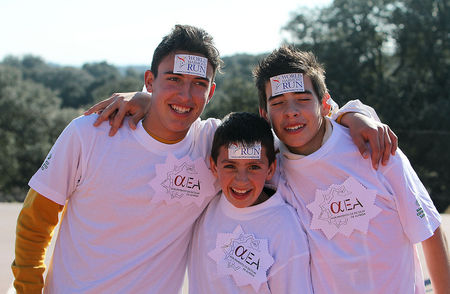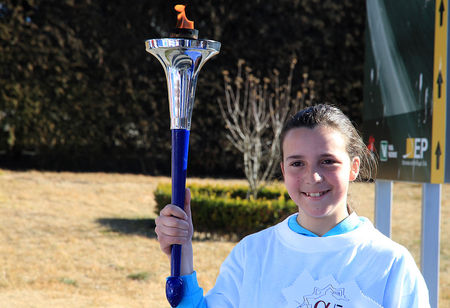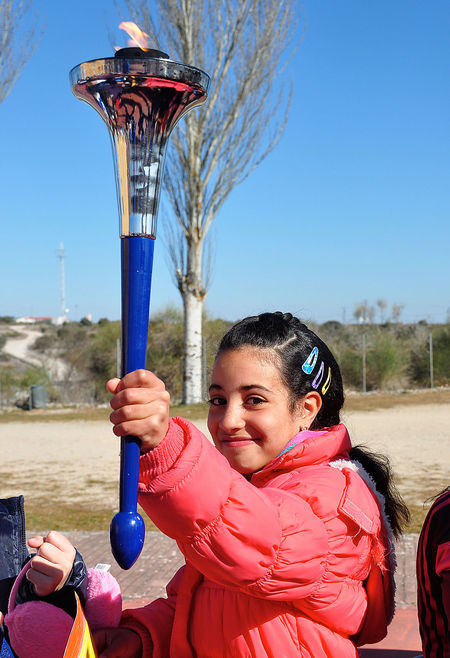 ...we passed the torch and...
...hemos pasado la antorcha y...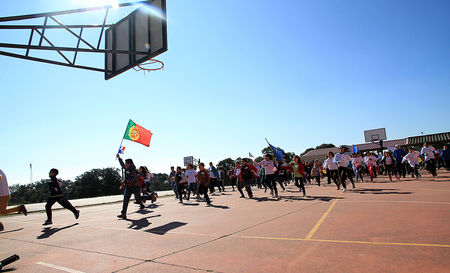 Ran!
¡hemos corrido!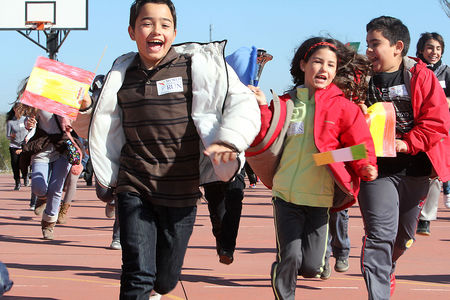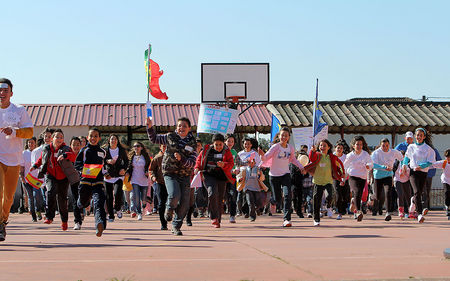 ...a real stampede!
...¡una auténtica estampida¡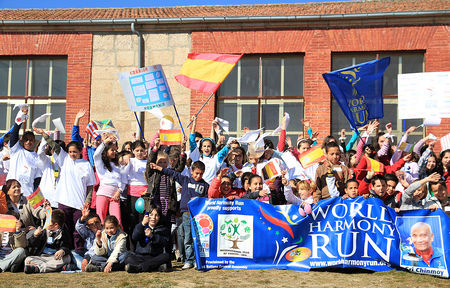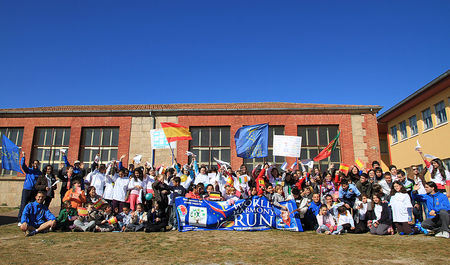 ...and a group picture. Thank you Spain for the warm welcome!
... y una foto de grupo. ¡Gracias España por la cálida bienvenida¡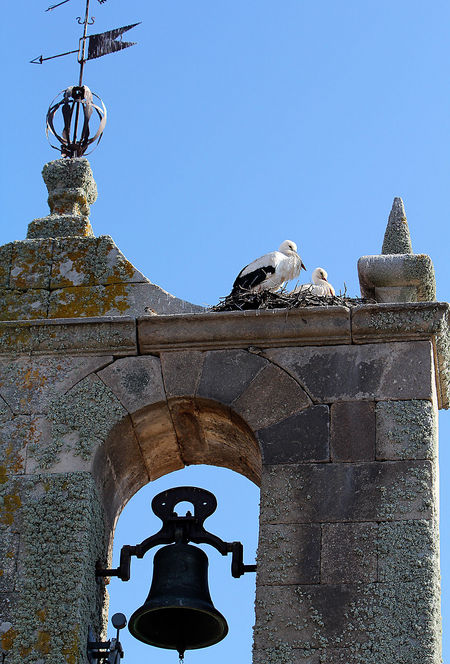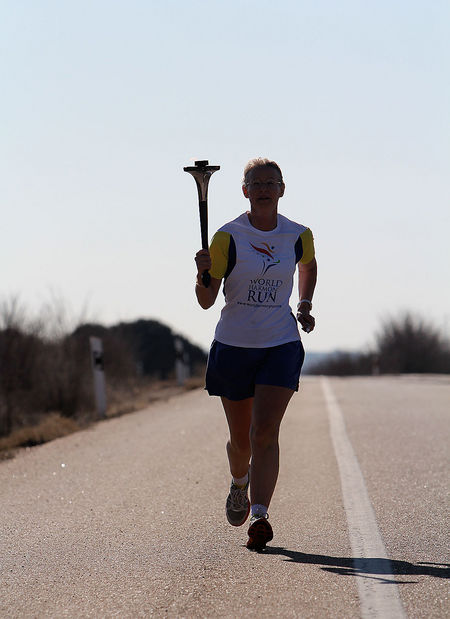 Surasa enjoyed her training…
Surasa disfruto a su entrenamiento…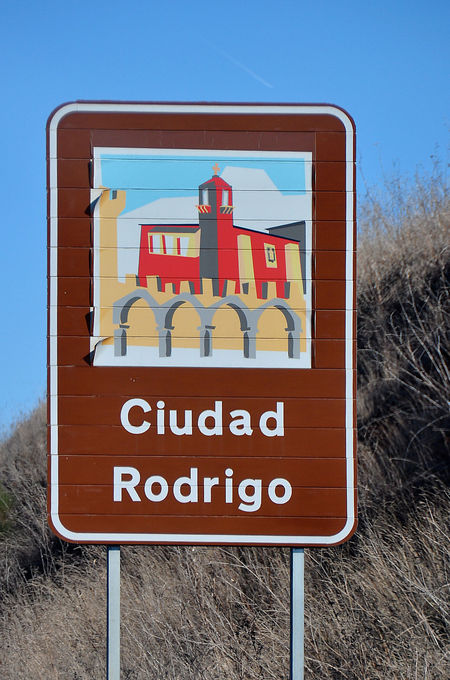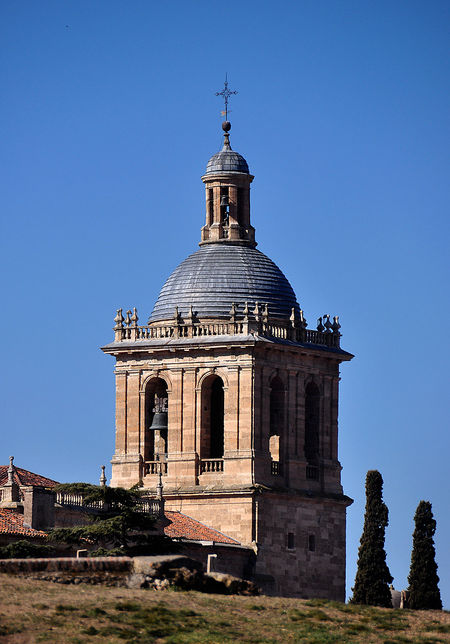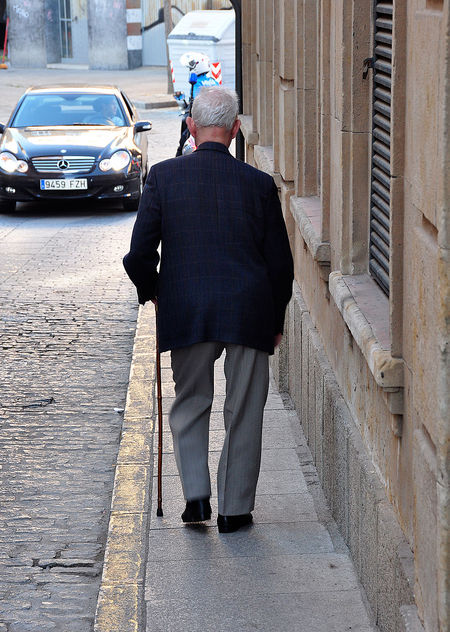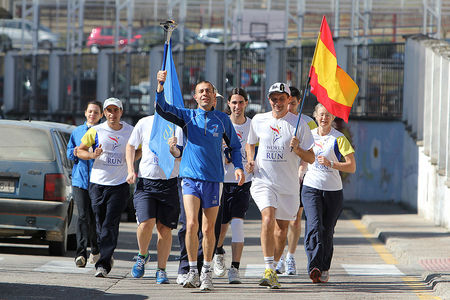 …we reached Ciudad Rodrigo…
…hemos llegado a Ciudad Rodrigo…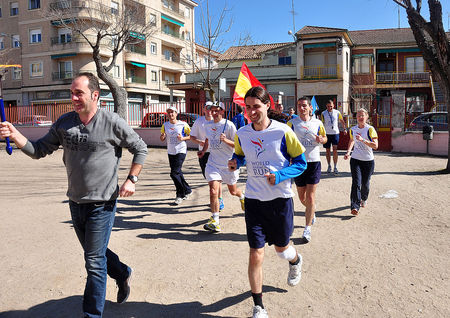 …one teacher of the Colegio San Francisco met us and carried the torch into the school grounds…
…un profesor de Colegio San Francisco nos esperaba y tomo el relevo hasta el patio del colegio…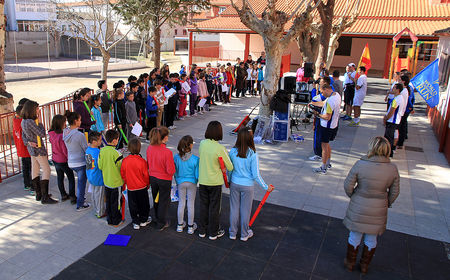 …the kids were waiting already…
…los estudiantes estaban preparados…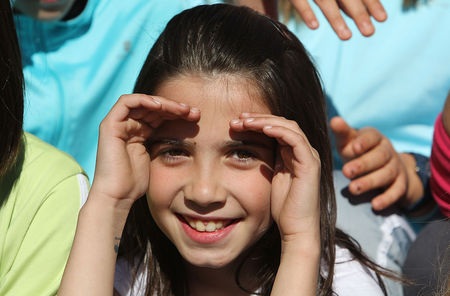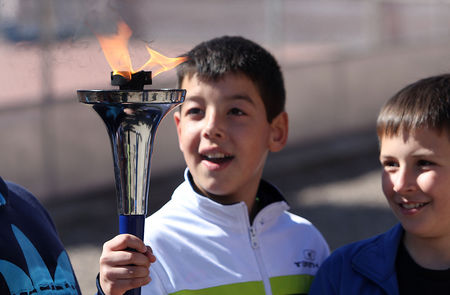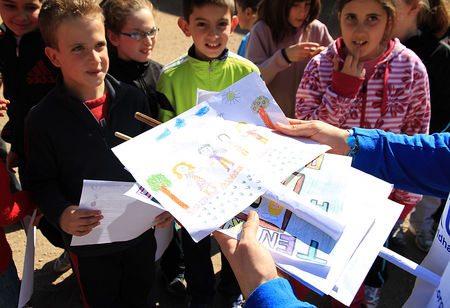 ..we collected beautiful drawings from the children. Some of these drawings will definitely make it to the exhibition at the final cermony in Vienna...
… y nos ofrecieron sus dibujos bellisimos. Seguro que algunos van a clasificarse para la exposicion de la ceremonia final de World Harmony Run en Viena.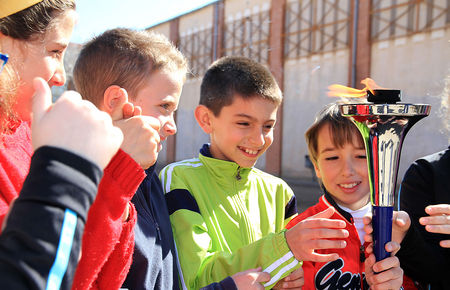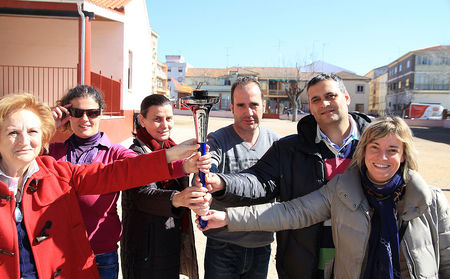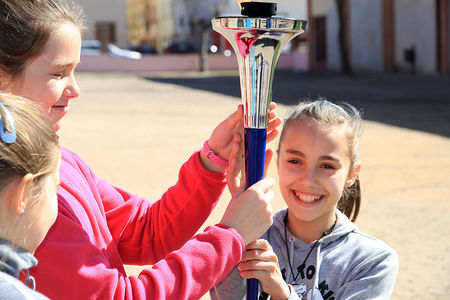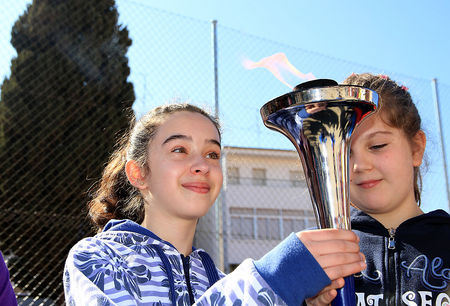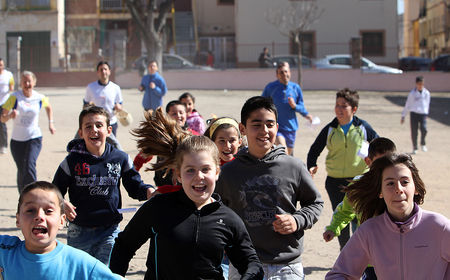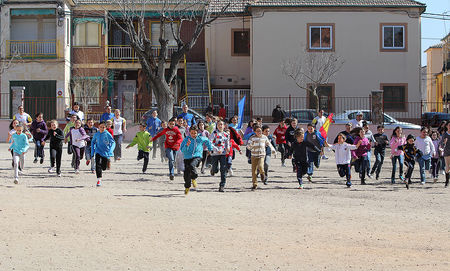 ...a dust clowd was rising as the kids stormed over the school yard, but this couldn't dampen their spirits...
...una nube de polvo se levanto cunado los niños se echaron a correr en el patio pero eso no pudo disminuir su entusiasmo...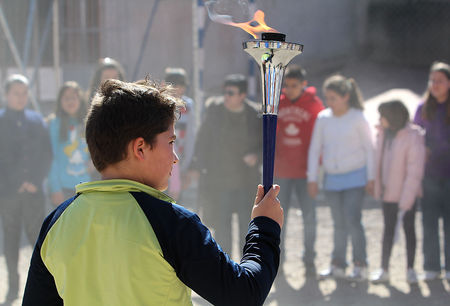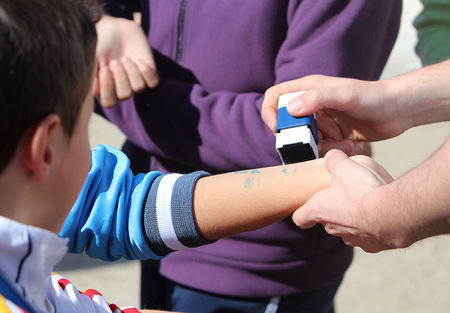 …the stamps are back!
¡…los sellos han vuelto!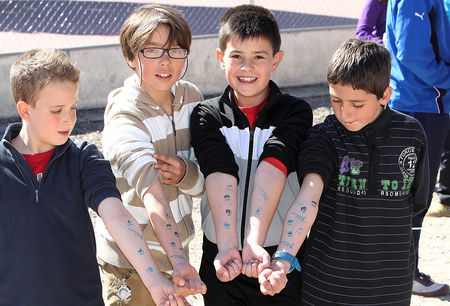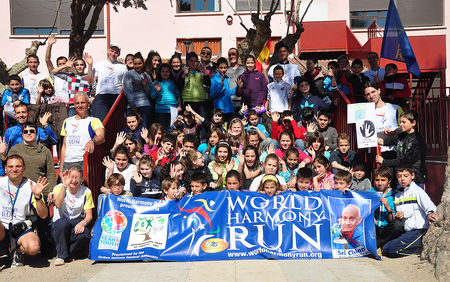 Thank you Ciudad Rodrigo!
¡Muchas gracias Ciudad Rodrigo¡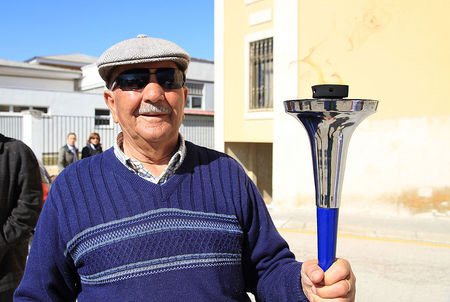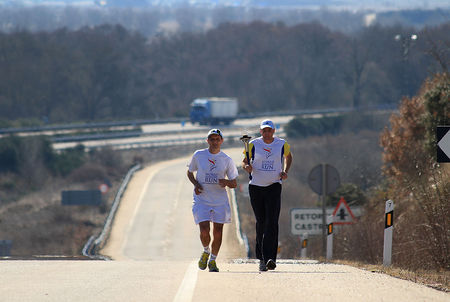 …long km's to Salamanca…
… largos kilómetros hasta Salamanca…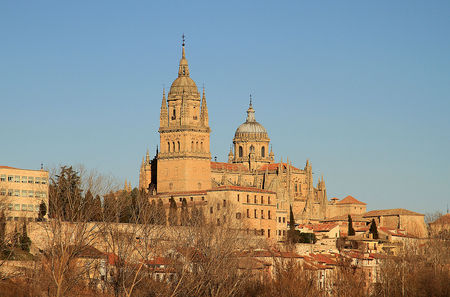 Salamanca - a real pearl of Spanish architecture!
Salamanca, ¡una verdadera perla de arquitectura española¡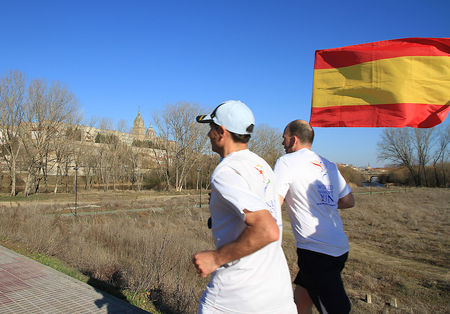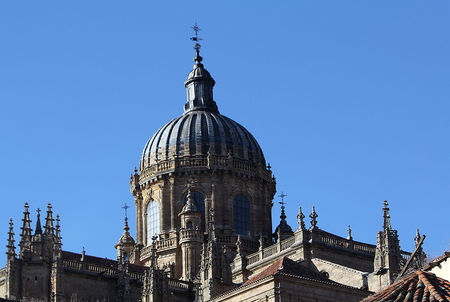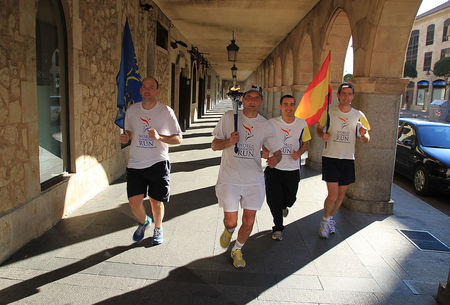 ...we enjoyed a run through the old part of the city...
...disfrutamos corriendo en el casco antiguo de la ciudad...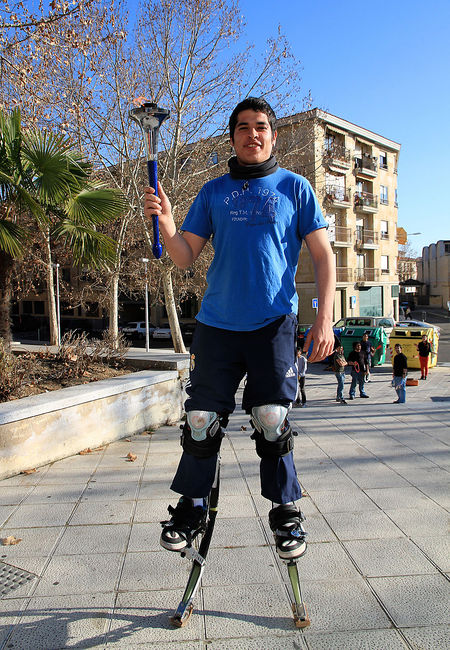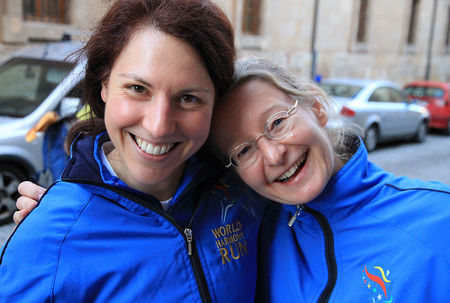 …friends…
…amigas…
…as we reached our final meeting place of the day: the Albergue Juvenil Salamanca…
… y llegamos al último encuentro de nuestra etapa: el Albuergue Juvenil Salamanca…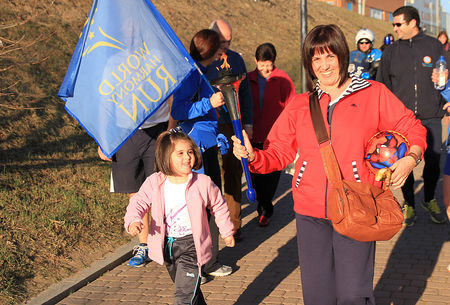 ...we went for a short run through the city; the police kindly escorted us!
...hicimos una breve carrera por la ciudad. La policia nos escoltó.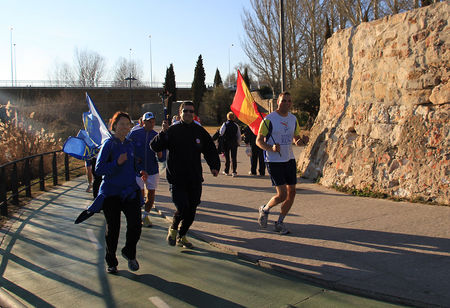 …Manuel was running with us…
…Manuel vino a correr con nosotros…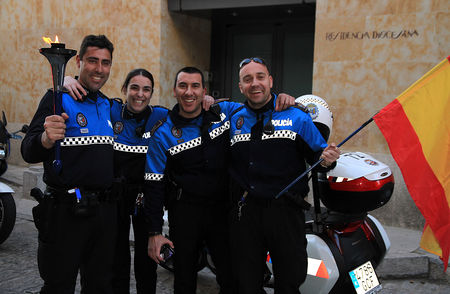 Thanks a lot!
¡Muchas gracias¡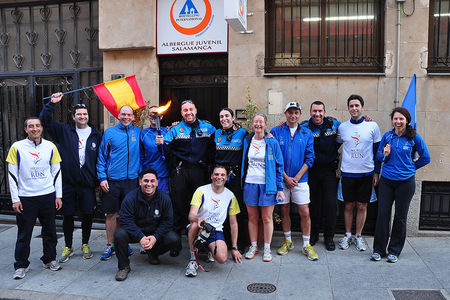 ...a great running day came to an end. Thank you Spain for the nice experience!
...un dia maravilloso. ¡Muchas gracias España por todas las agradables experiencias¡
---
Spanish / Español
Vídeo-Mensaje de
Davidson Hepburn, Presidente (2009-2011) de la Conferencia General de la UNESCO - 25° Aniversario de la Carrera de Armonía Mundial: Hacia el 2022 en un Mundo de Unidad.
Hay que trabajar juntos para construir un verdadero Mundo de Unidad. Entre las iniciativas recientes que con esfuerzo alcanzan esta meta, la Carrera de Armonía Mundial es una de las más notables y de largo alcance. Fue lanzada por Sri Chinmoy en 1987 y aún después de su fallecimiento en 2007, continúa creciendo, fomentando los importantes ideales de la UNESCO y de toda la comunidad en las Naciones Unidas. Por mi parte, me gustaría destacar algunas actividades específicas que ya realizó la Carrera de Armonía Mundial o inspiradas por ella. Tengo la esperanza de que estas actividades puedan ampliarse y enriquecerse aún más en la próxima década. 1. Visita a Patrimonios de la Humanidad 2. Interpretación Musical 3. Crear o Exhibir Arte y Poesía: 4. Valor de la Diversidad: 5. Apoyar la Aceptación Interreligiosa: 6. Honrar Ejemplos de Vida 7. Descubrir Nuevas Posibilidades: 8. Finalmente, ¡Nunca Te Des Por Vencido! Mensaje: "Estimados Amigos: Les ofrezco mis cálidos saludos ya cerca del 25° Aniversario de la Carrera de Armonía Mundial, y actividades relacionadas con una cultura de paz. Creo que todos los ciudadanos a nivel global esperan con ganas la próxima década -2022 y mucho más adelante- como una época de gran progreso y de cambio sorprendente.
Video Message from Dr. Davidson Hepburn, President (2009 - 2011) of the General Conference of the United Nations Educational, Scientific and Cultural Organization (UNESCO) for 25th Anniversary of the World Harmony Run and a vision for the decade: "Toward a Oneness-World".
Full Text of the 25th annversary message and link to 25 language informal Translations: http://www.worldharmonyrun.org/25
or Click on language button for separate youtube videos wth sub titles in varous languages
See also: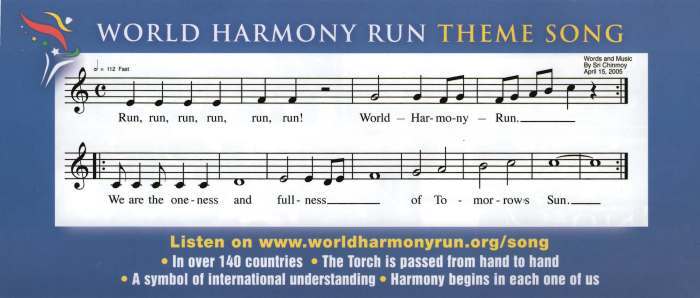 Spanish
Letra de la canción
Run, run, run, run, run, run!
World-Harmony-Run.
We are the oneness and
fullness of Tomorrow's Sun.
¡Corre, corre, corre, corre, corre!
Carrera por la armonía mundial.
Somos la unidad y la plenitud
del sol de mañana.
- Sri Chinmoy

---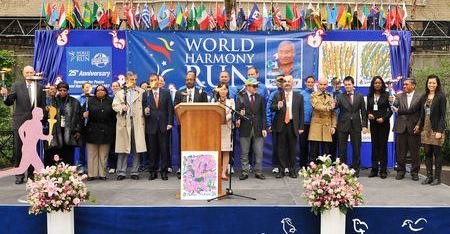 See start of the International 25th Anniversary Celebration across from the United Nations at Dag Hammarskjold Plaza in New York.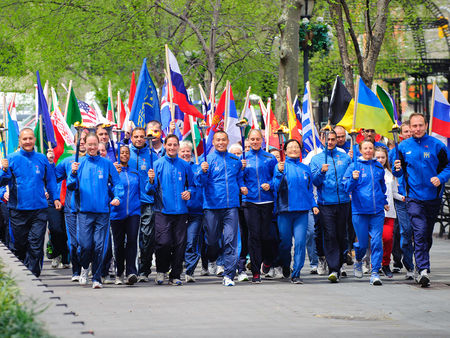 On 27th April 2012. in many cities around the world, special events marked the WHR 25th Anniversary
View some early highlights. The United Nations had proclaimed 1986 the International Year of Peace, and Sri Chinmoy wanted to offer a heartfelt and sincere expression of peace on a global scale. The opening ceremony, broadcast live on NBC-TV's The Today Show.. On April 27, 1987, five minutes of global television time was dedicated for the inaugural Sri Chinmoy Oneness-Home Peace Run with strong support from Archbishop Desmond Tutu, the UN Secretary-General, celebrities Carl Lewis, Clarence Clemons and Narada Michael Walden, and thousands...Also includes Clips from Philippines; Sahara Desert, Morocco; Botswana; Scotland, Nepal, Russia, Sri Lanka, Switzerland, Ukraine, Japan, Malaysia, Mexico, Ethiopia, Dominican Republic, Ireland, Great Britain, Colombia, Bahamas, Hungary, Spain, Mongolia, Czech Republic, Portugal, USA
---
Distance: 130 km
Team Members:
Dipavajan Renner (Austria), Sandro Zincarini (Italy), Andre Carvalho Ribeiro (Portugal), Sumahat Strohn (Germany), Mladen Vujaklija (Croatia), Kaspars Zakis (Latvia), Smarana Puntigam (Austria), Petar Mihaylov (Bulgaria), Dragan Nikolic (Serbia), Stefan Karanovic (Bosnia i Hercegovina), Barbara Pfennich (Austria), Mananyu Siffert (Austria), Rui Paulino (Portugal), Surasa Mairer (Austria), Albena Margaritova (Germany), Vladimir Ilyasov (Russian Federation)
Harmonemail:
You can send a message to the runners or read the messages.
Gallery: See more images!