Spain 28 February: Salamanca - Valladolid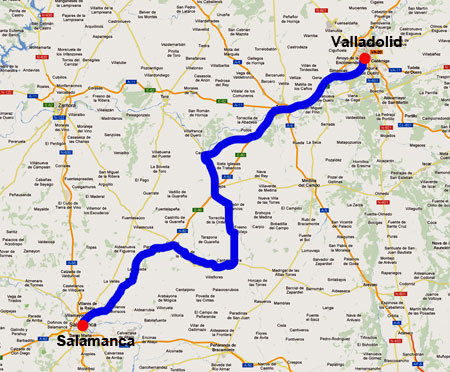 ¡Un dia en los colegios de España¡ Hoy hemos visitado 6 colegios y corrido 140km. ¡Un día perfecto de World Harmony Run!
School-day in Spain! Today we visited 6 schools and ran 140 km. A perfect World Harmony Run day!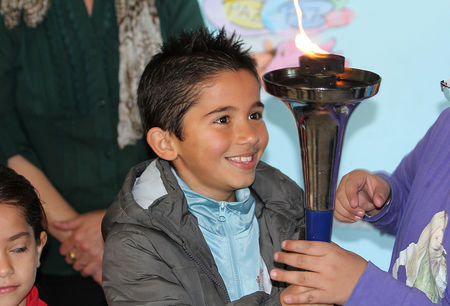 El primer colegio ha sido "Alfonso X el Sabio" en Salamanca…
Our first school was the "Colegio Alfonso X el Sabio" in Salamanca…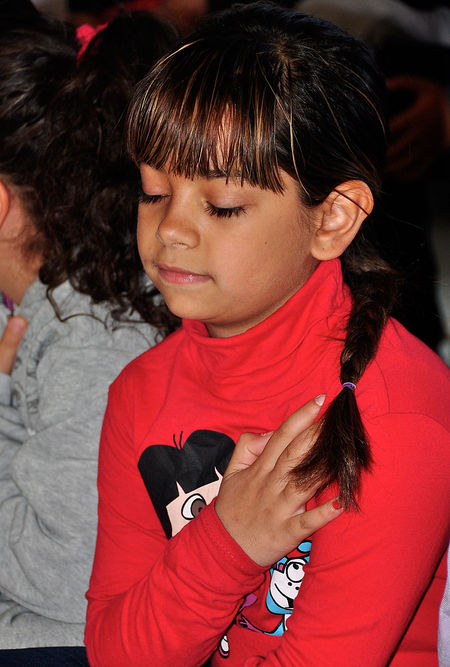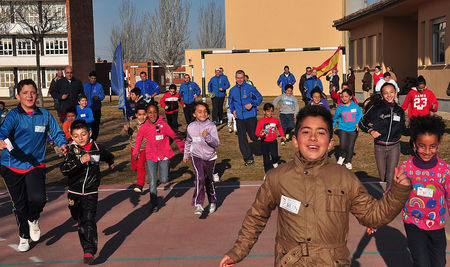 Un inicio dinamico para la fría mañana.
…a dynamic start for the chilly morning…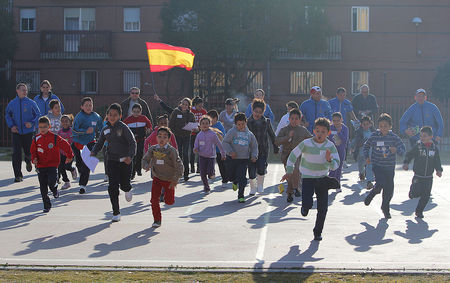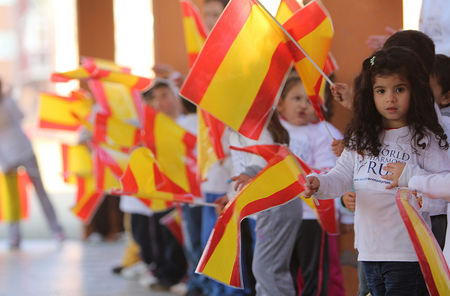 A continuación hemos corrido hasta el "Colegio Juan de Enzina". ¡Los chicos nos han ofrecido una recepción espectacular!
...right next door the "Colegio Juan de Enzina" was next! The kids gave us a spectacular reception!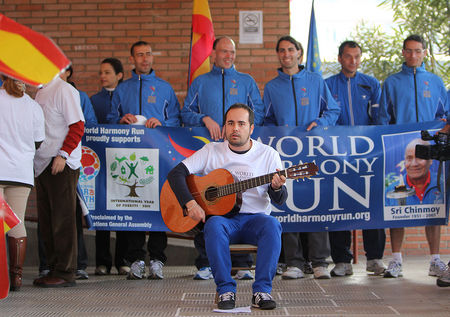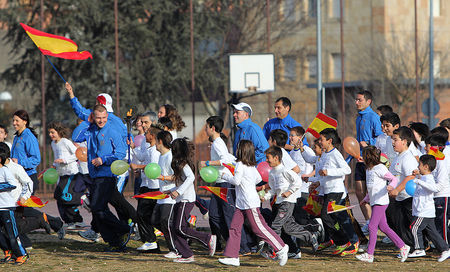 ...incluso antes de que presentasemos la Carrera de Armonía Mundial, todos los estudiantes nos han llevado a correr una vuelta por el patio...
...even before we could present the World Harmony Run, the whole school took us once around the school grounds...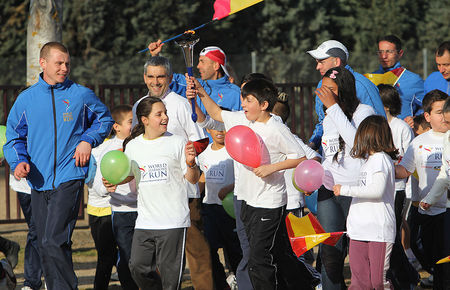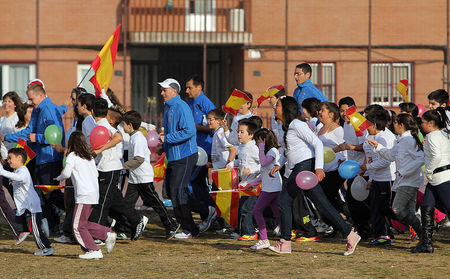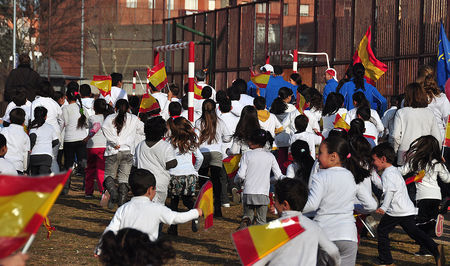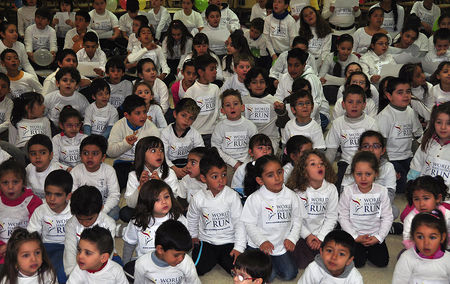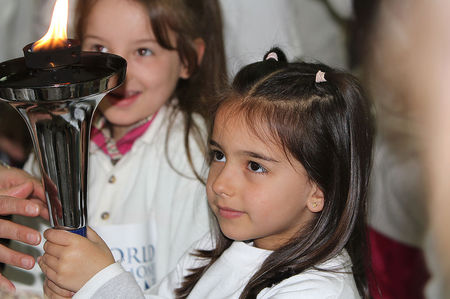 … tras estos dos encuentros hemos iniciado nuestro carrera hacia Valladolid…
…after the two meetings we started our day's journey towards Valladolid…

…por carreteras largas y vacías.
…long empty roads…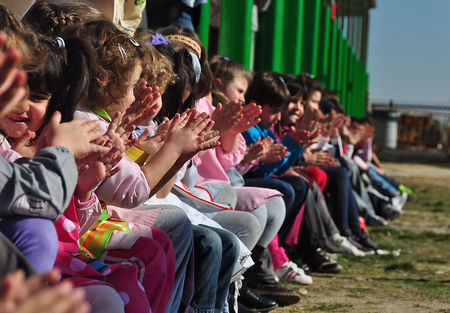 …pronto llegamos a Castellanos de Moriscos y llevamos la Antorcha hasta el colegio "C.R.A. Castellanos de Moriscos"…
…soon we reached the "Colegio Castellanos de Moriscos" in Castellanos…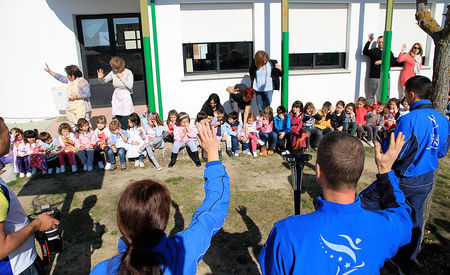 …Los pequeños nos han recibieron reunidos en el patio y nos divertimos mucho.
…the kids were gathered on the schoolyard and we had lots of fun!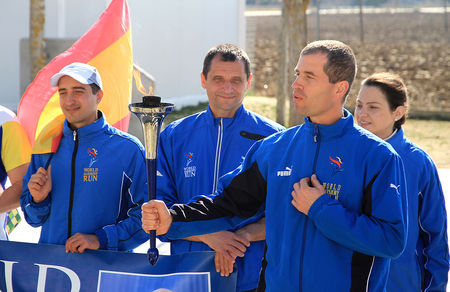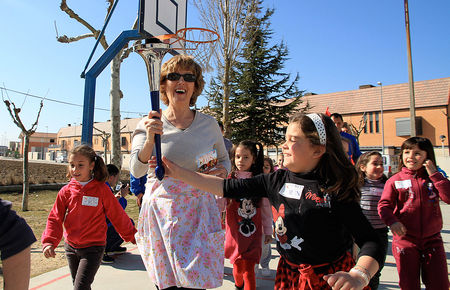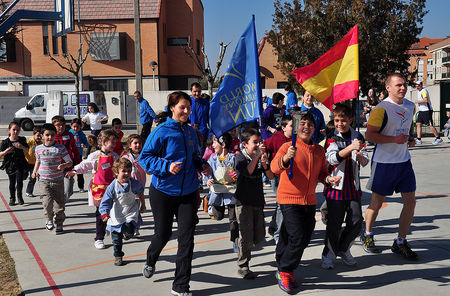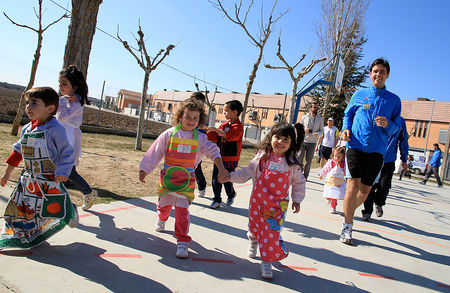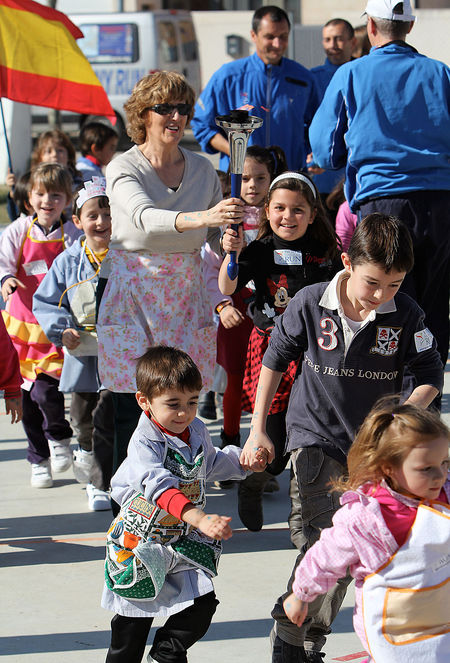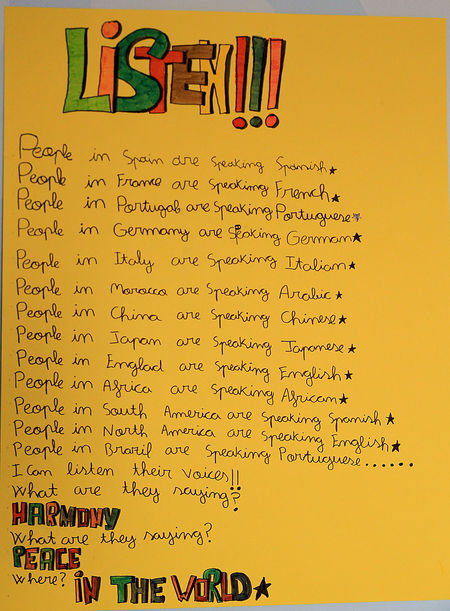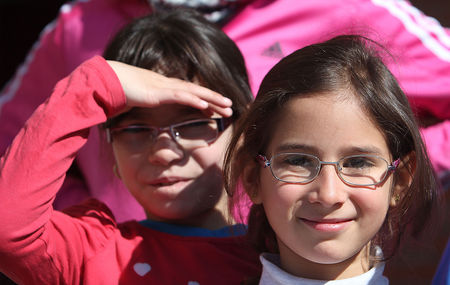 …hemos seguido corriendo hasta el "C.R.A. Armuña" en Pedrosillo el Ralo…
…our journey continued: next was the "Colegio C.R.A. Armuna" in Pedrosillo el Ralo…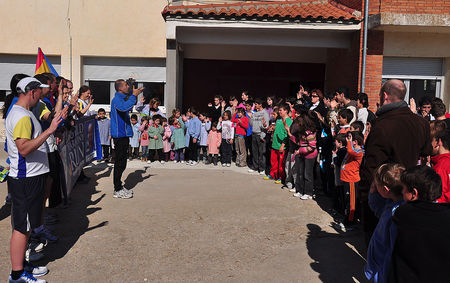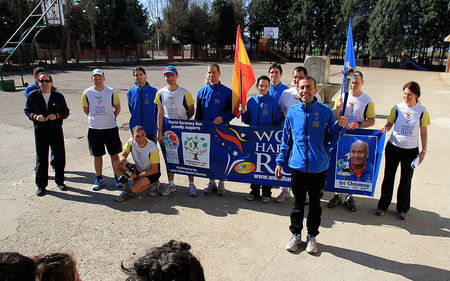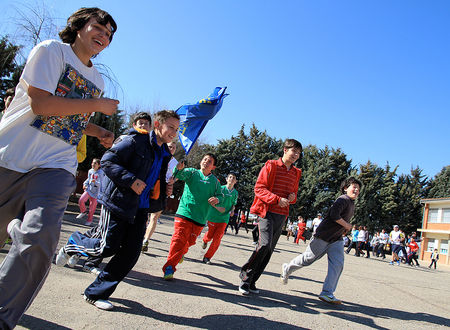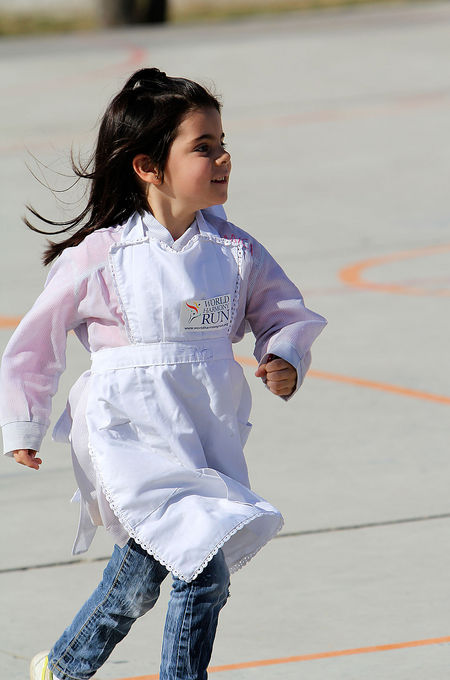 …¡qué buen estilo!…        …good running style…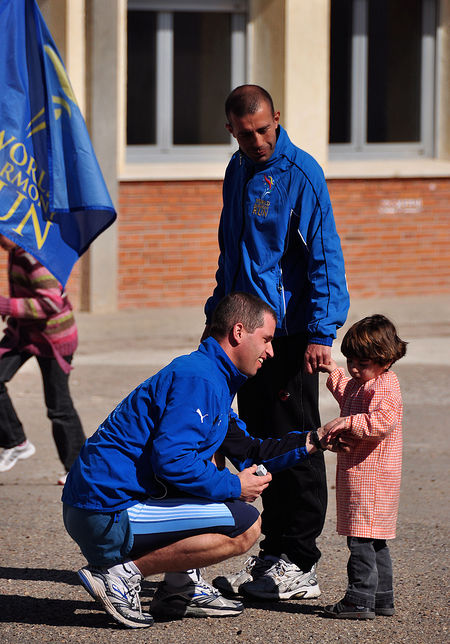 …¿un sello?…                      …do you want a stamp?…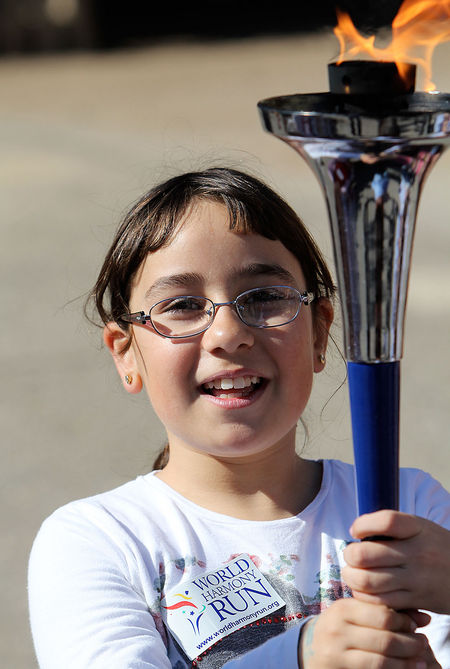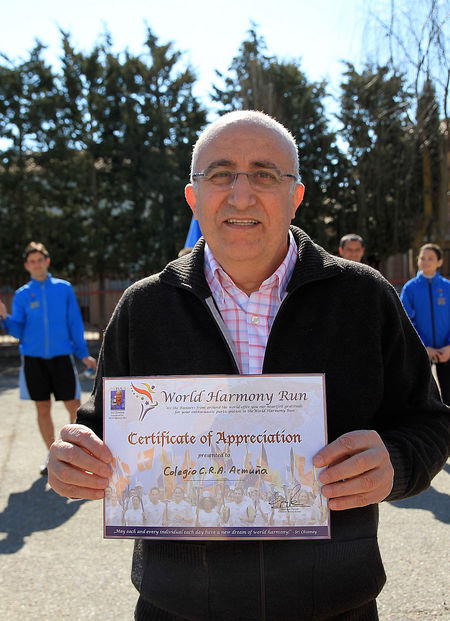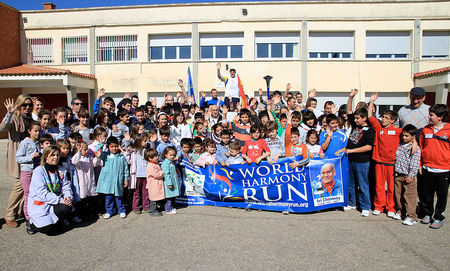 Una foto con todos los participantes…
…a final group picture and on we went…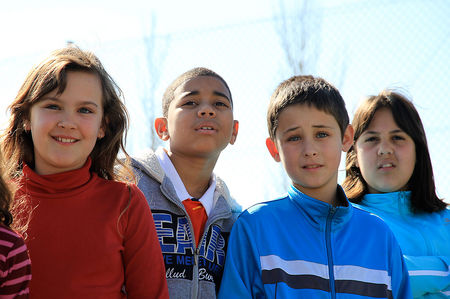 …y seguimos adelante hasta Cantalapiedra, donde el "C.R.A. Campopetri" nos ha dado una gran bienvenida…
...all the way to Cantalapiedra. The "C.R.A. Campopetri" gave us a great welcome...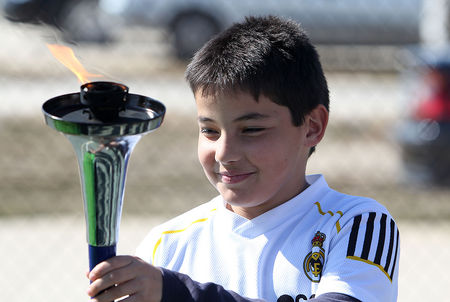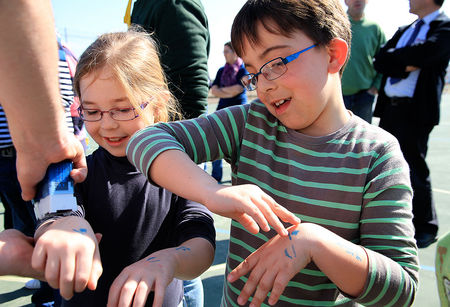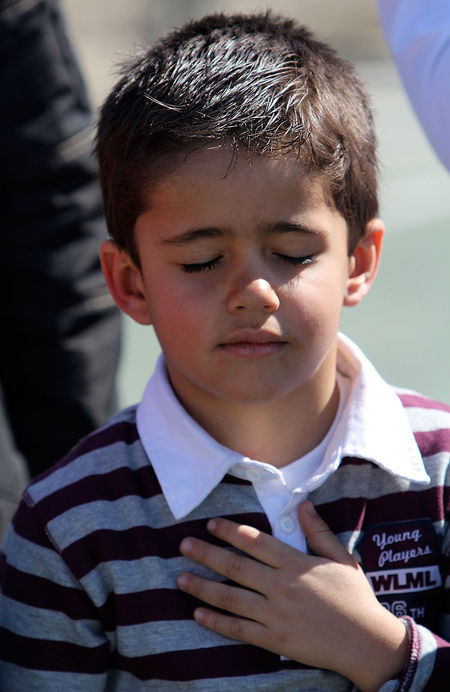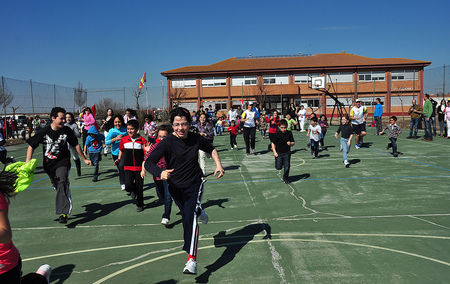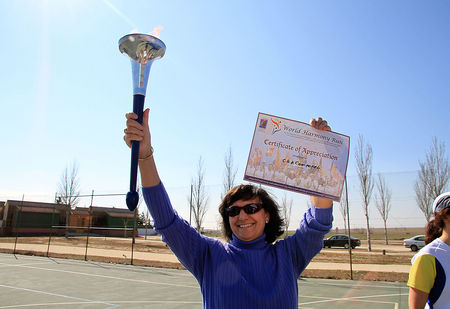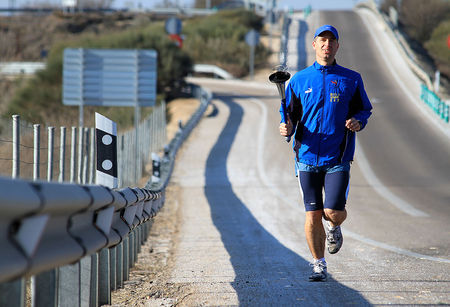 …Smarana aprovecha su último día de carrera …por ahora…
…Smarana on his last day on the Run…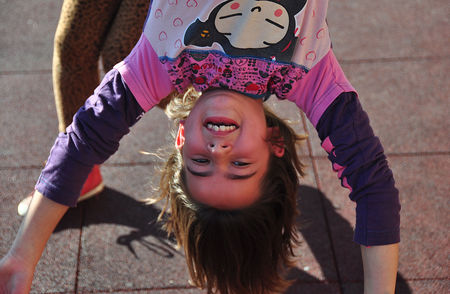 … En Castronuño hemos tenido el ultimo encuentro del día en el "C.R.A. Florida de Duero"…
...our final school of the day: "C.R.A Florida de Duero" in Castronuño...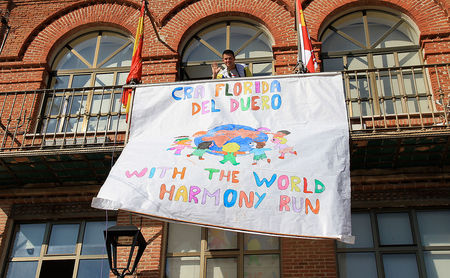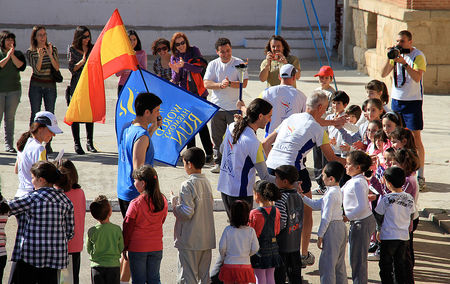 …¡choca esos cinco!…               …High Five…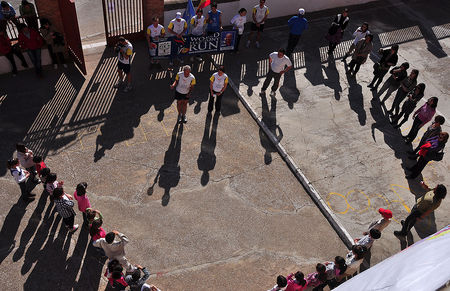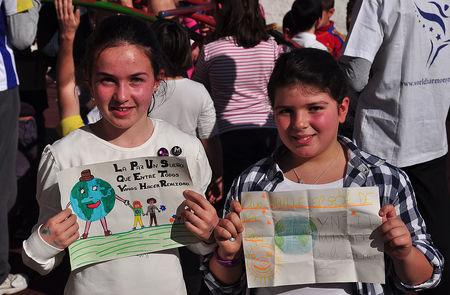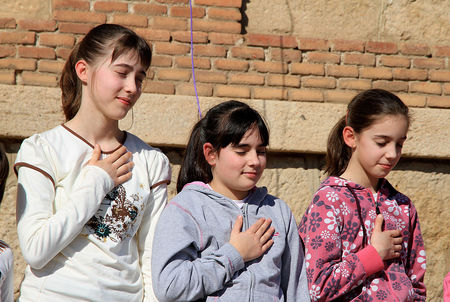 … nuestro corazón desea la armonía y la paz…
...peace can be found in the heart....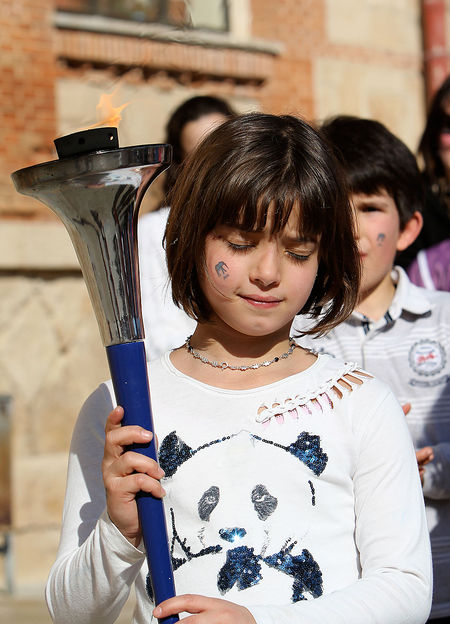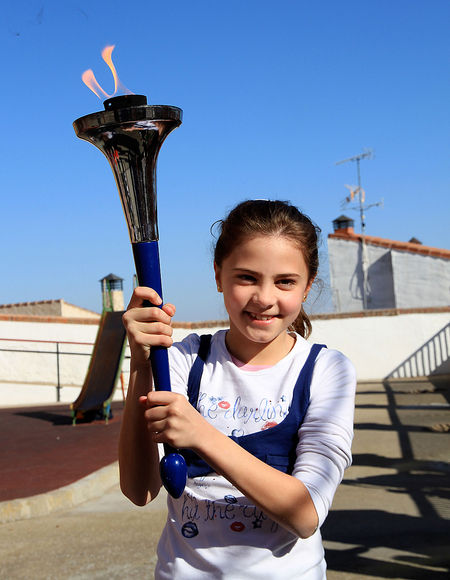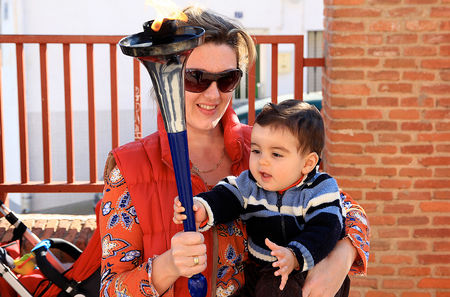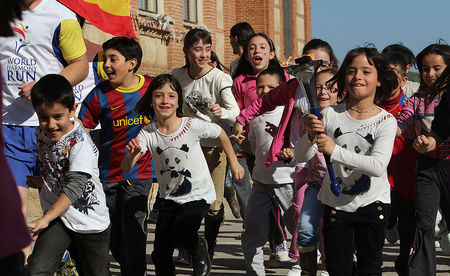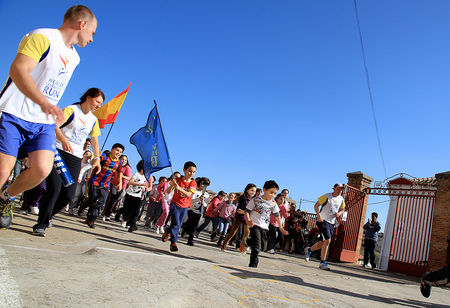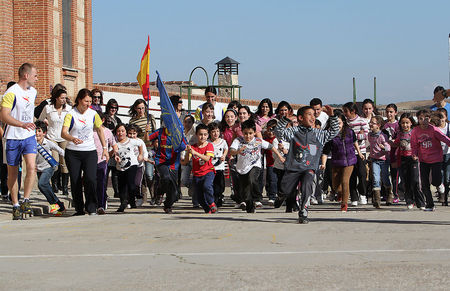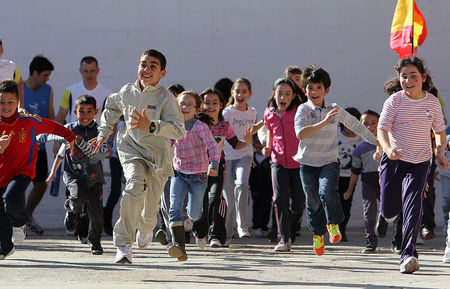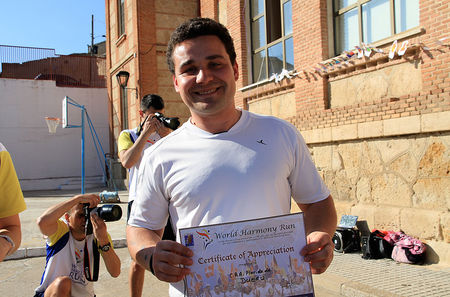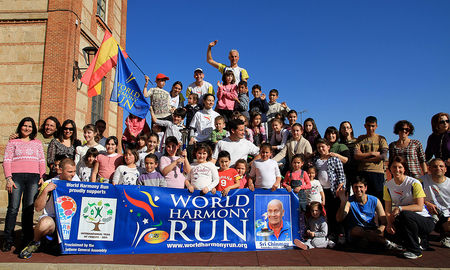 ¡Nuestra sincera gratitud a todos los colegios por este día inolvidable en España¡
Thanks to all the schools for this unforgettable day in Spain!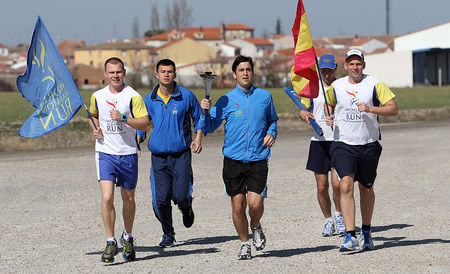 … finalmente llegamos a Valladolid, el final de nuestra etapa…
…last not least: we reached Valladolid...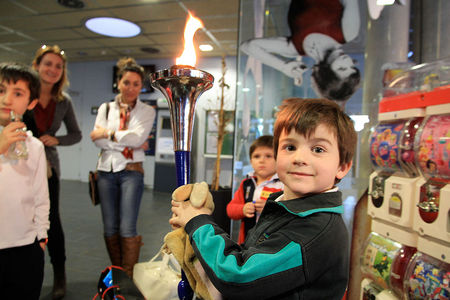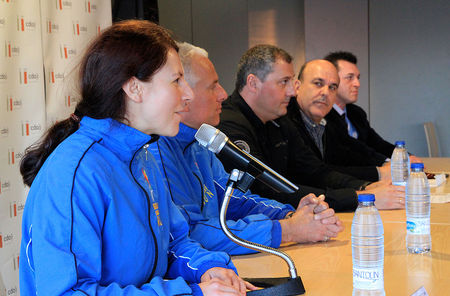 …en el Centro de Deportes y Ocio Covaresa Siglo XXI tuvimos una rueda de prensa …
…a final press conference in the Centro de Deportes y Ocio Covaresa Siglo XXI…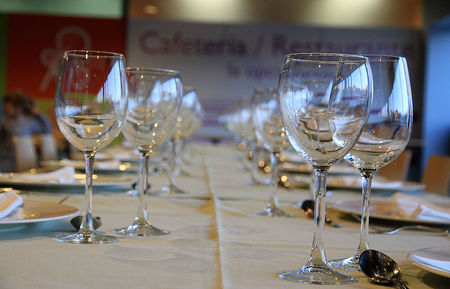 ¡Muchisimas gracias al C.D.O. por la buenísima cena¡
…a big Thank You to our hosts for the great dinner!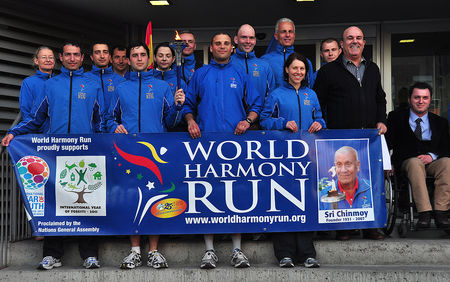 ---
Spanish / Español
Vídeo-Mensaje de
Davidson Hepburn, Presidente (2009-2011) de la Conferencia General de la UNESCO - 25° Aniversario de la Carrera de Armonía Mundial: Hacia el 2022 en un Mundo de Unidad.
Hay que trabajar juntos para construir un verdadero Mundo de Unidad. Entre las iniciativas recientes que con esfuerzo alcanzan esta meta, la Carrera de Armonía Mundial es una de las más notables y de largo alcance. Fue lanzada por Sri Chinmoy en 1987 y aún después de su fallecimiento en 2007, continúa creciendo, fomentando los importantes ideales de la UNESCO y de toda la comunidad en las Naciones Unidas. Por mi parte, me gustaría destacar algunas actividades específicas que ya realizó la Carrera de Armonía Mundial o inspiradas por ella. Tengo la esperanza de que estas actividades puedan ampliarse y enriquecerse aún más en la próxima década. 1. Visita a Patrimonios de la Humanidad 2. Interpretación Musical 3. Crear o Exhibir Arte y Poesía: 4. Valor de la Diversidad: 5. Apoyar la Aceptación Interreligiosa: 6. Honrar Ejemplos de Vida 7. Descubrir Nuevas Posibilidades: 8. Finalmente, ¡Nunca Te Des Por Vencido! Mensaje: "Estimados Amigos: Les ofrezco mis cálidos saludos ya cerca del 25° Aniversario de la Carrera de Armonía Mundial, y actividades relacionadas con una cultura de paz. Creo que todos los ciudadanos a nivel global esperan con ganas la próxima década -2022 y mucho más adelante- como una época de gran progreso y de cambio sorprendente.
Video Message from Dr. Davidson Hepburn, President (2009 - 2011) of the General Conference of the United Nations Educational, Scientific and Cultural Organization (UNESCO) for 25th Anniversary of the World Harmony Run and a vision for the decade: "Toward a Oneness-World".
Full Text of the 25th annversary message and link to 25 language informal Translations: http://www.worldharmonyrun.org/25
or Click on language button for separate youtube videos wth sub titles in varous languages
See also: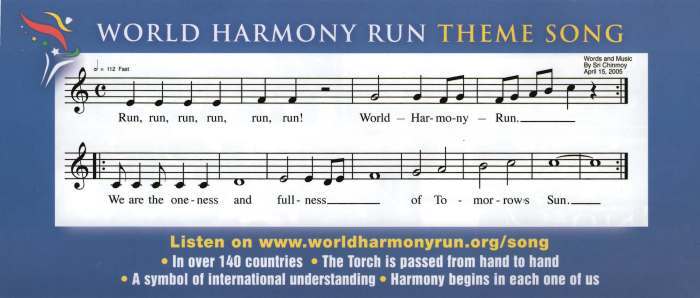 Spanish
Letra de la canción
Run, run, run, run, run, run!
World-Harmony-Run.
We are the oneness and
fullness of Tomorrow's Sun.
¡Corre, corre, corre, corre, corre!
Carrera por la armonía mundial.
Somos la unidad y la plenitud
del sol de mañana.
- Sri Chinmoy

---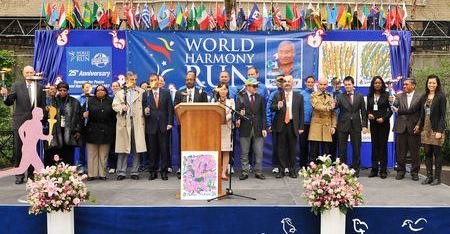 See start of the International 25th Anniversary Celebration across from the United Nations at Dag Hammarskjold Plaza in New York.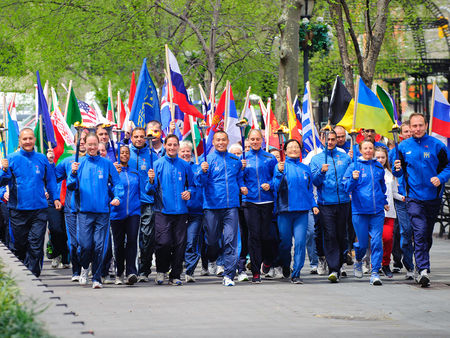 On 27th April 2012. in many cities around the world, special events marked the WHR 25th Anniversary
View some early highlights. The United Nations had proclaimed 1986 the International Year of Peace, and Sri Chinmoy wanted to offer a heartfelt and sincere expression of peace on a global scale. The opening ceremony, broadcast live on NBC-TV's The Today Show.. On April 27, 1987, five minutes of global television time was dedicated for the inaugural Sri Chinmoy Oneness-Home Peace Run with strong support from Archbishop Desmond Tutu, the UN Secretary-General, celebrities Carl Lewis, Clarence Clemons and Narada Michael Walden, and thousands...Also includes Clips from Philippines; Sahara Desert, Morocco; Botswana; Scotland, Nepal, Russia, Sri Lanka, Switzerland, Ukraine, Japan, Malaysia, Mexico, Ethiopia, Dominican Republic, Ireland, Great Britain, Colombia, Bahamas, Hungary, Spain, Mongolia, Czech Republic, Portugal, USA
---
Distance: 142 km
Team Members:
Dipavajan Renner (Austria), Sandro Zincarini (Italy), Andre Carvalho Ribeiro (Portugal), Sumahat Strohn (Germany), Mladen Vujaklija (Croatia), Kaspars Zakis (Latvia), Smarana Puntigam (Austria), Petar Mihaylov (Bulgaria), Dragan Nikolic (Serbia), Stefan Karanovic (Bosnia i Hercegovina), Barbara Pfennich (Austria), Mananyu Siffert (Austria), Rui Paulino (Portugal), Surasa Mairer (Austria), Albena Margaritova (Germany), Vladimir Ilyasov (Russian Federation)
Harmonemail:
You can send a message to the runners or read the messages.
Gallery: See more images!