Spain 2 March: Lardero - Pamplona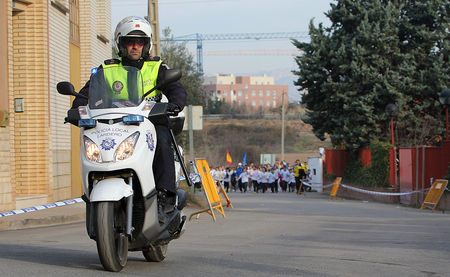 Para empezar el día tuvimos un evento increíble organizado por el Colegio Eduardo Gonzalez Gallarza en Lardero.
Our day started with an incredible event with the kids of the school Eduardo Gonzalez Gallarza in Lardero.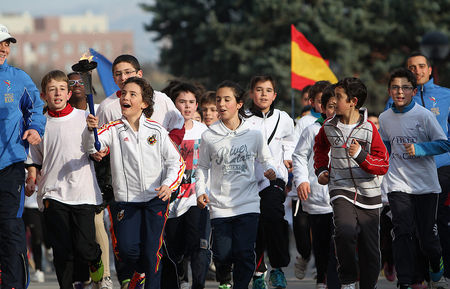 Chicos de todas las edades se distribuyeron en numerosas calles de la ciudad para tomar el relevo de la Antorcha de Armonía.
Kids of all ages waited to run with the Harmony Runners at various streets in the city.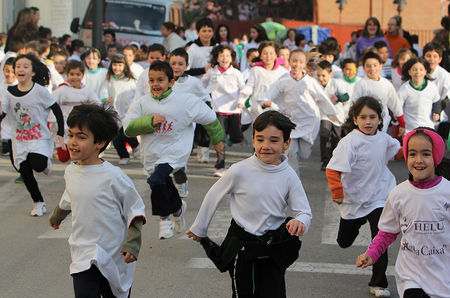 Su entusiasmo se contagió enseguida por la ciudad.
Their enthusiasm was quickly spread through the city.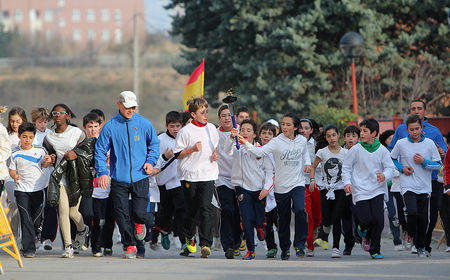 El equipo deportivo de la Residencia La Laboral empezaron la Carrera en la ciudad con nosotros.
The sport team from the Residencia La Laboral started the run in the city with us.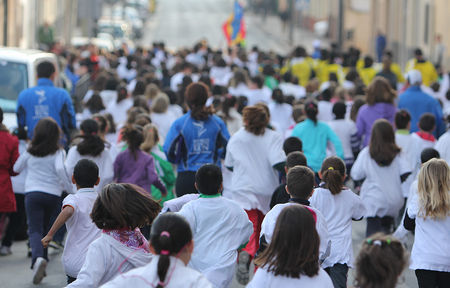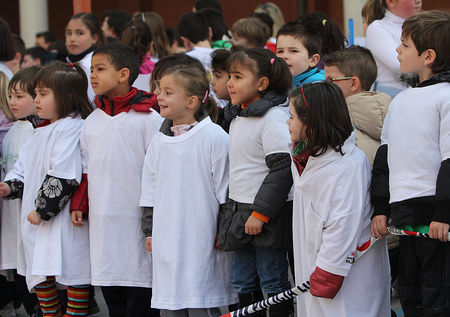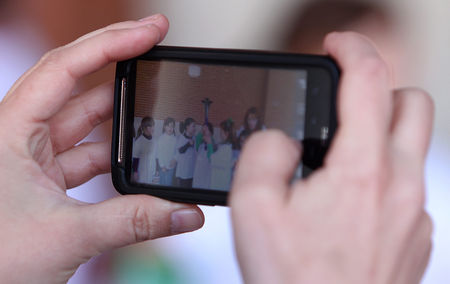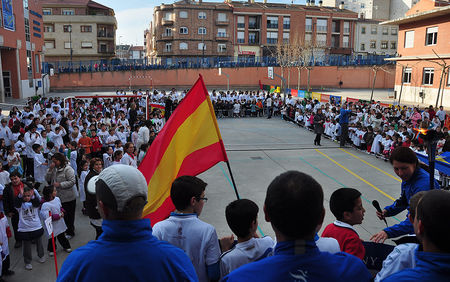 Todos los participantes nos juntamos en el Colegio Eduardo Gonzalez Gallarza...
All kids that ran with us on the streets gatered in the school Eduardo Gonzalez Gallarza...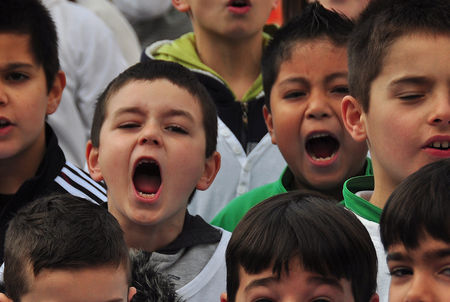 …y cantaron y bailaron para nosotros.
…and sang and danced for us.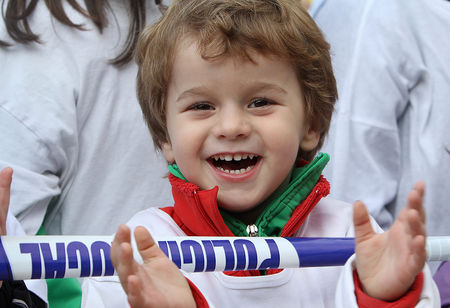 …la alegría brillaba en sus rostros.
…the joy was on their faces.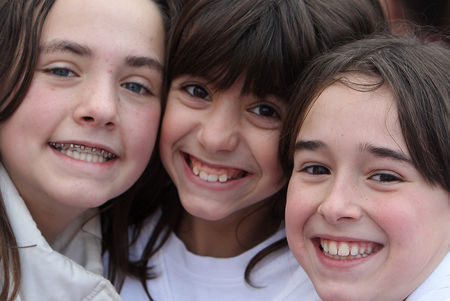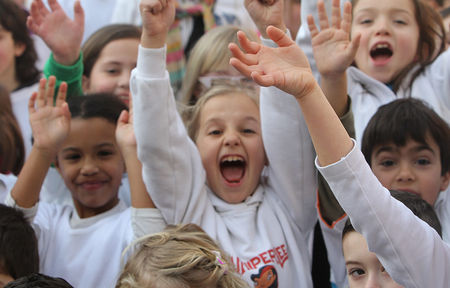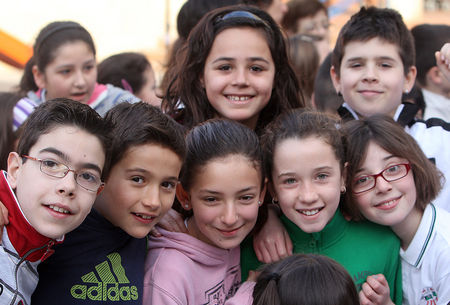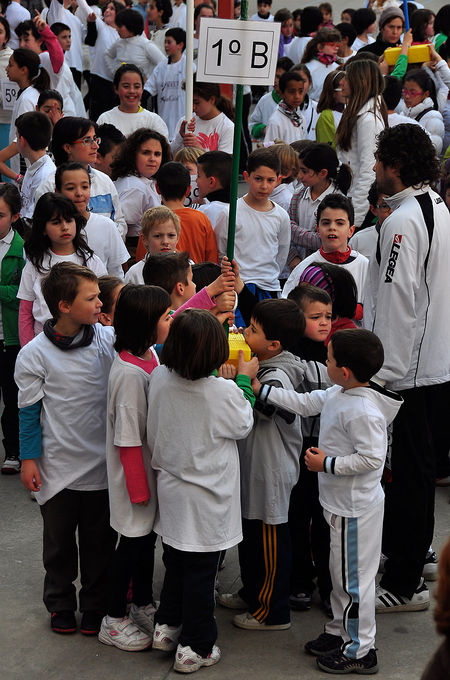 Los profesores hicieron un gran trabajo organizando las clases perfectamente.
The teachers did a geat job in organising the classes.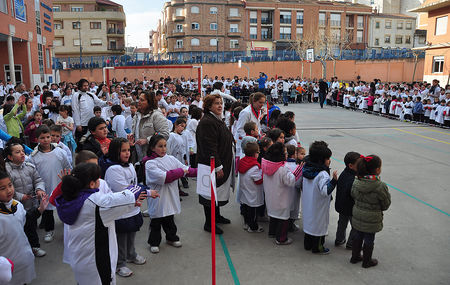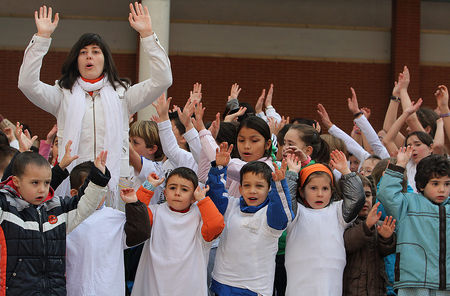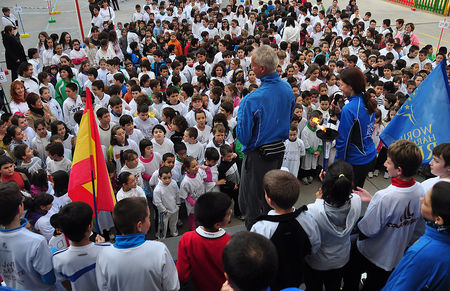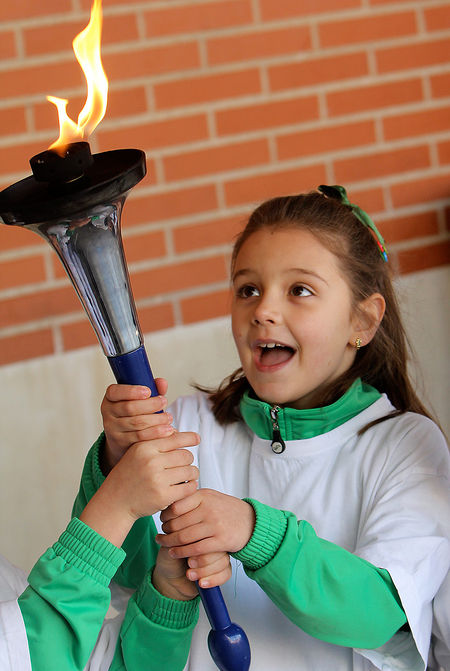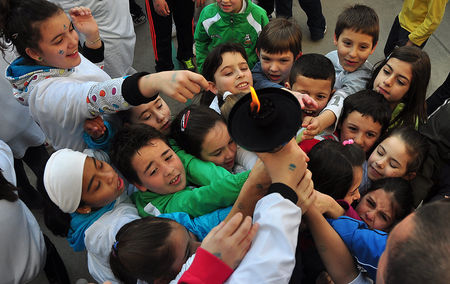 ¡Todos querian llevar la antorcha!
And everybody was keen to hold the torch.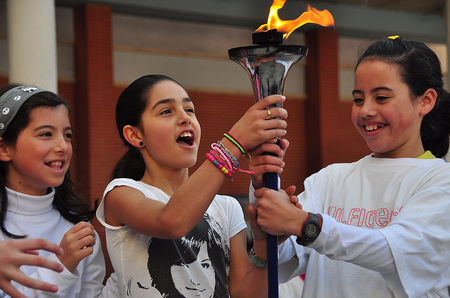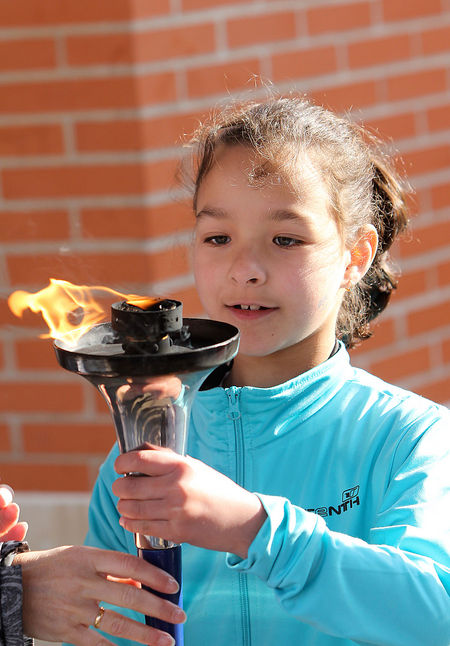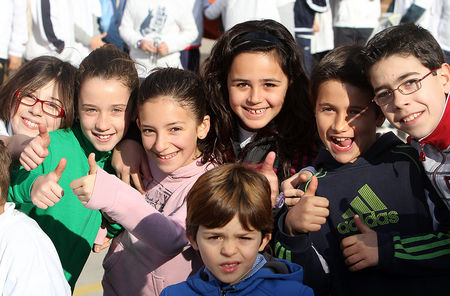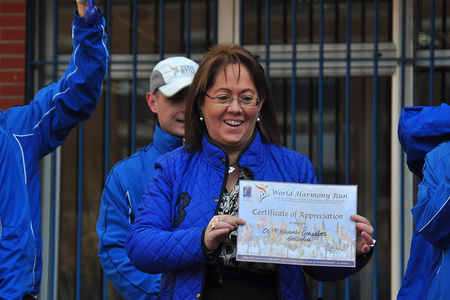 El certificado de agradecimiento fue oficialmente entregado a la directora del colegio.
The appreciation certificate was officially handed out to the director.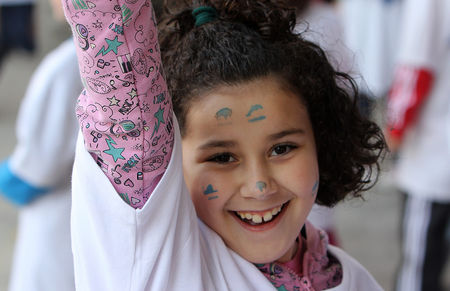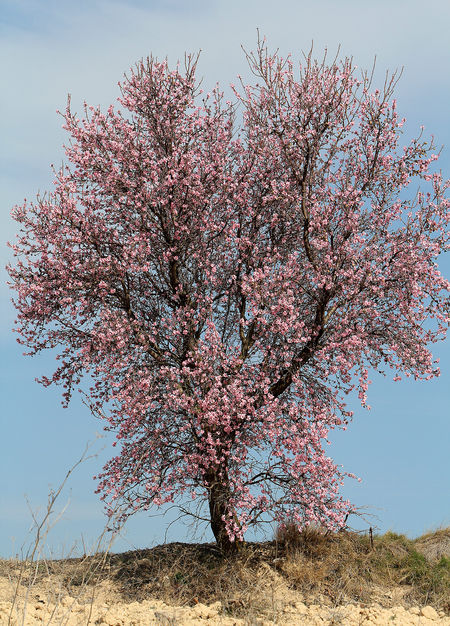 Primavera en el País Vasco.
Spring in the Basc Country.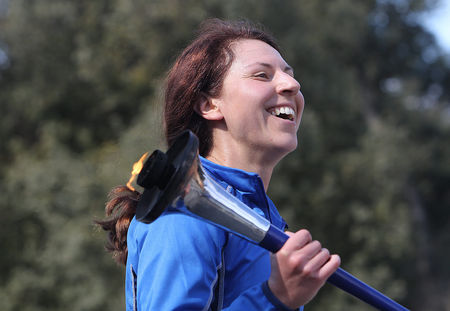 Albena, la coordinadora de World Harmony Run en España tuvo buen entrenamiento.
Such a nice run for Albena, who has coordinated the run in Spain.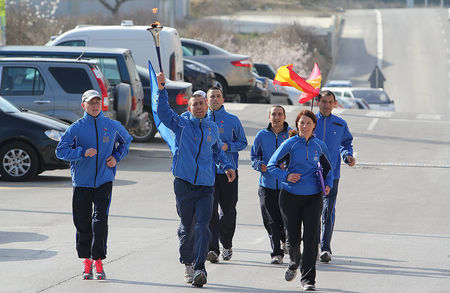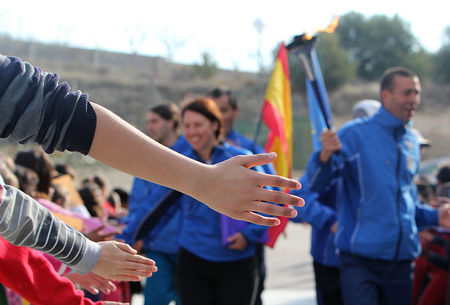 Llegamos al segundo encuentro : el Colegio Ramiro de Maeztu en Oion.
We entered the second school CEIP Ramiro de Maeztu in Oion.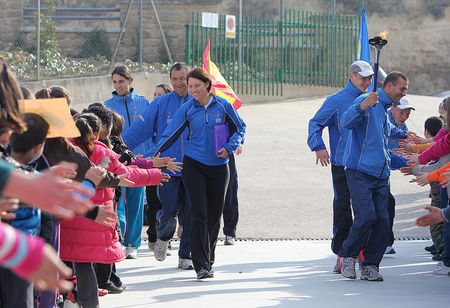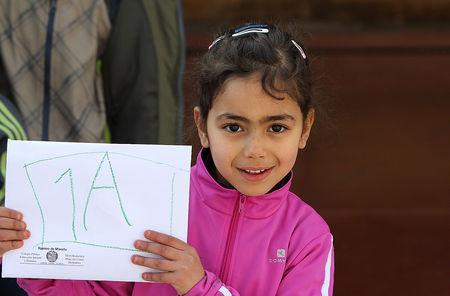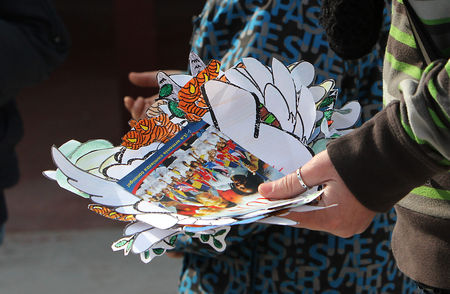 Los niños nos entregaron unos dibujos maravillosos para la exposición de World Harmony Run.
The kids had prepared wonderful paintings for us.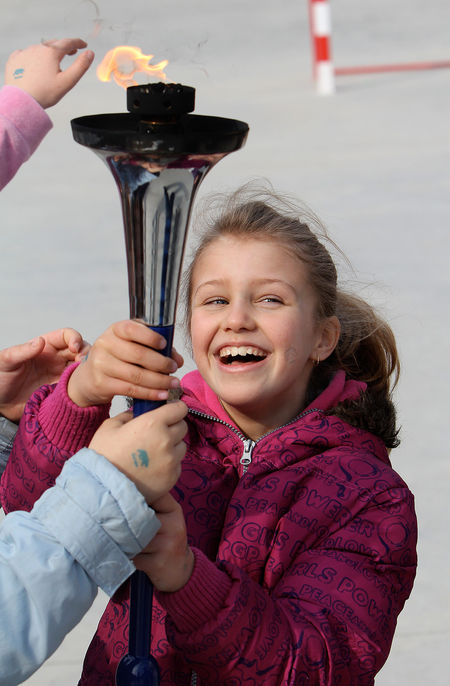 La antorcha fue tomada con mucha alegría.
The torch was taken with lots of happiness.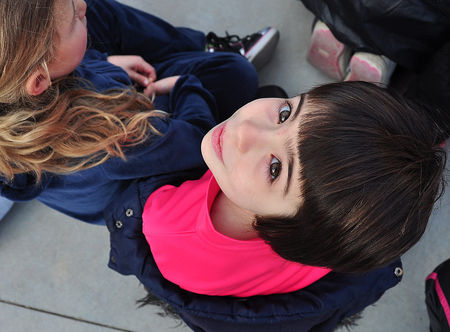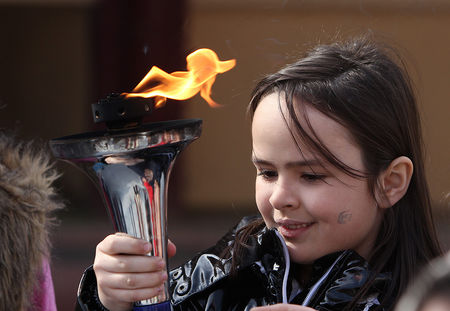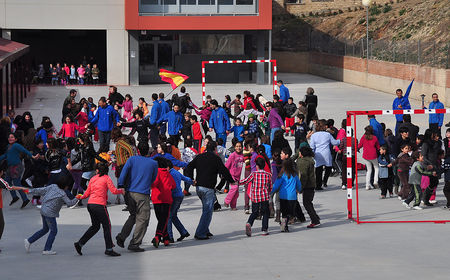 Aprendimos un baile vasco.
We learned a Basc dance...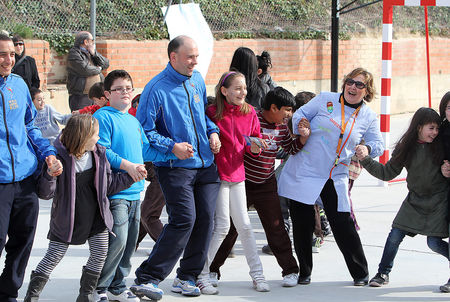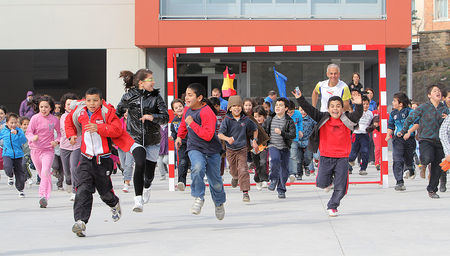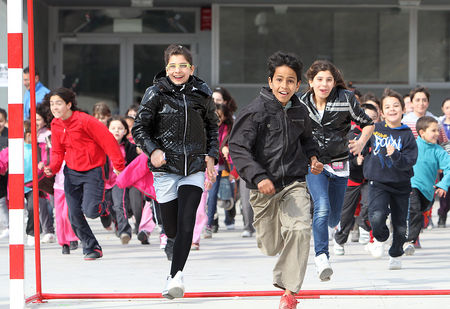 Estos corredores eran rapidísimos.
These kids were such fast runners.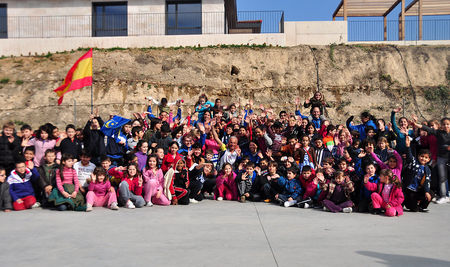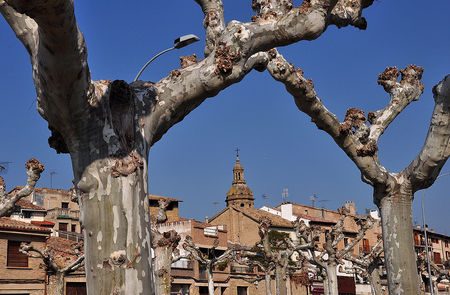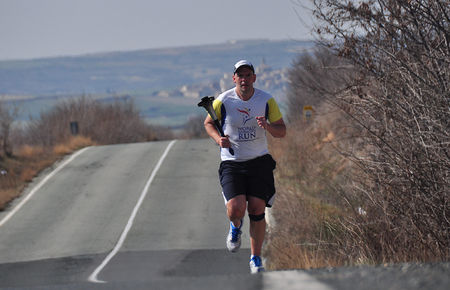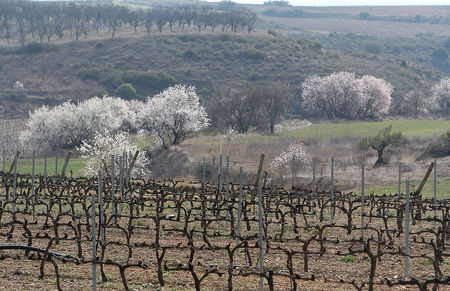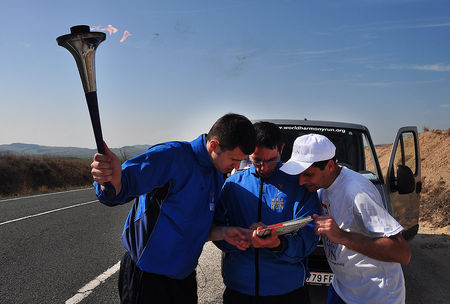 Un rápido vistazo a la ruta antes de cambiar el relevo.
A quick route discussion before setting off.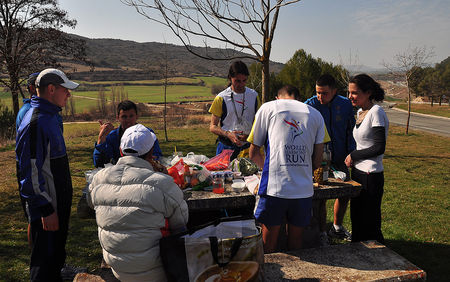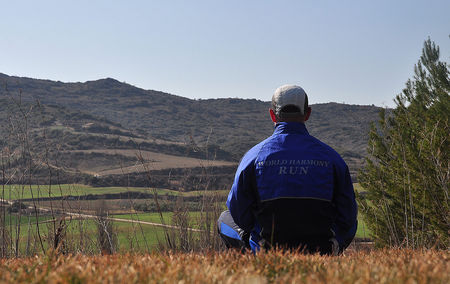 ¡Maravilloso paisaje! …
Wonderful nature…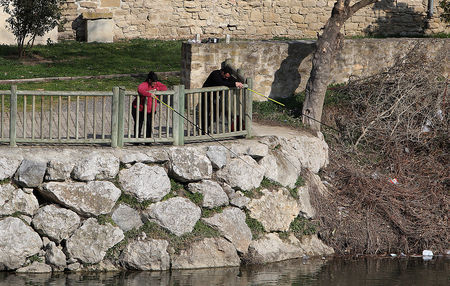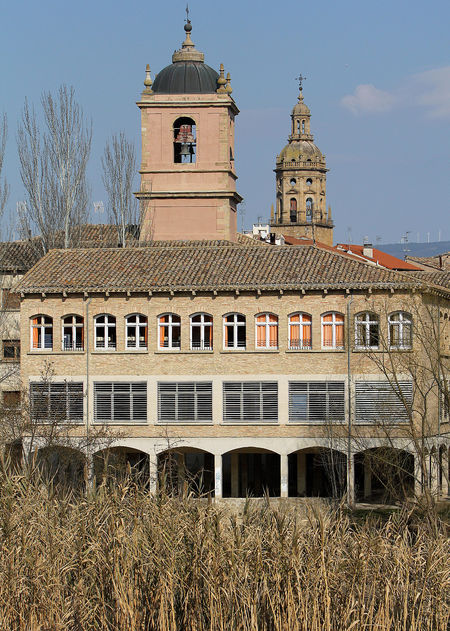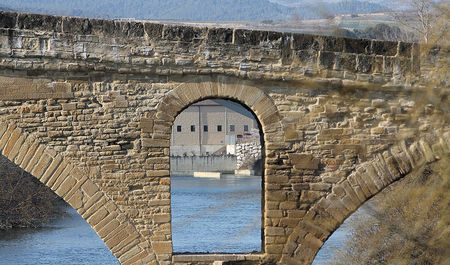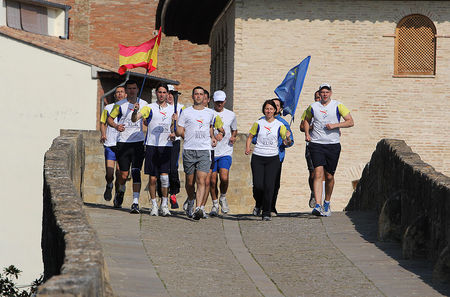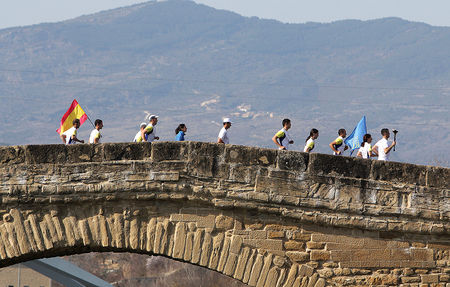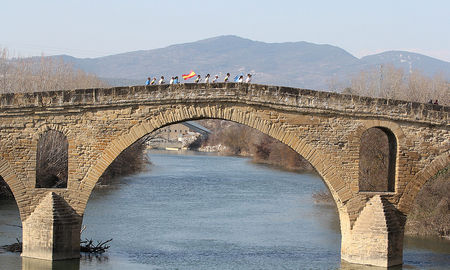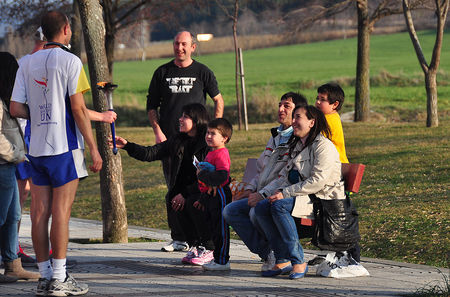 Al llegar en Pamplona hizimos amigos inmedatamente. ¡Muchas gracias España por estos días con experiencias maravillosas!
When we reached Pamplona we made friends straight away. Thank you very much Sapin for the wonderful time and experiences¡
---
Spanish / Español
Vídeo-Mensaje de
Davidson Hepburn, Presidente (2009-2011) de la Conferencia General de la UNESCO - 25° Aniversario de la Carrera de Armonía Mundial: Hacia el 2022 en un Mundo de Unidad.
Hay que trabajar juntos para construir un verdadero Mundo de Unidad. Entre las iniciativas recientes que con esfuerzo alcanzan esta meta, la Carrera de Armonía Mundial es una de las más notables y de largo alcance. Fue lanzada por Sri Chinmoy en 1987 y aún después de su fallecimiento en 2007, continúa creciendo, fomentando los importantes ideales de la UNESCO y de toda la comunidad en las Naciones Unidas. Por mi parte, me gustaría destacar algunas actividades específicas que ya realizó la Carrera de Armonía Mundial o inspiradas por ella. Tengo la esperanza de que estas actividades puedan ampliarse y enriquecerse aún más en la próxima década. 1. Visita a Patrimonios de la Humanidad 2. Interpretación Musical 3. Crear o Exhibir Arte y Poesía: 4. Valor de la Diversidad: 5. Apoyar la Aceptación Interreligiosa: 6. Honrar Ejemplos de Vida 7. Descubrir Nuevas Posibilidades: 8. Finalmente, ¡Nunca Te Des Por Vencido! Mensaje: "Estimados Amigos: Les ofrezco mis cálidos saludos ya cerca del 25° Aniversario de la Carrera de Armonía Mundial, y actividades relacionadas con una cultura de paz. Creo que todos los ciudadanos a nivel global esperan con ganas la próxima década -2022 y mucho más adelante- como una época de gran progreso y de cambio sorprendente.
Video Message from Dr. Davidson Hepburn, President (2009 - 2011) of the General Conference of the United Nations Educational, Scientific and Cultural Organization (UNESCO) for 25th Anniversary of the World Harmony Run and a vision for the decade: "Toward a Oneness-World".
Full Text of the 25th annversary message and link to 25 language informal Translations: http://www.worldharmonyrun.org/25
or Click on language button for separate youtube videos wth sub titles in varous languages
See also: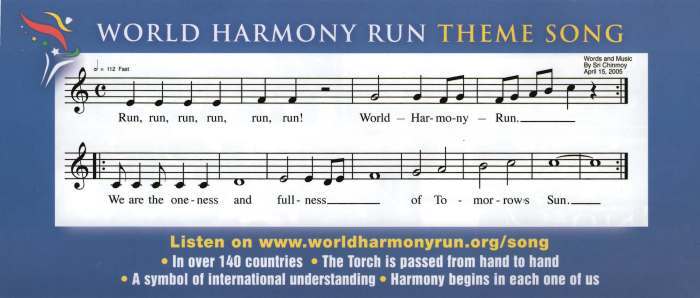 Spanish
Letra de la canción
Run, run, run, run, run, run!
World-Harmony-Run.
We are the oneness and
fullness of Tomorrow's Sun. 
¡Corre, corre, corre, corre, corre! 
Carrera por la armonía mundial. 
Somos la unidad y la plenitud 
del sol de mañana.
- Sri Chinmoy

---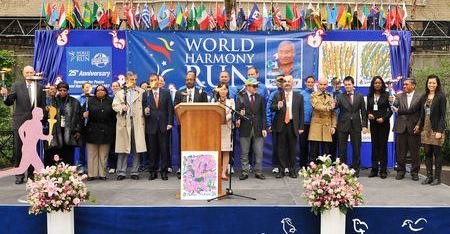 See start of the International 25th Anniversary Celebration across from the United Nations at Dag Hammarskjold Plaza in New York.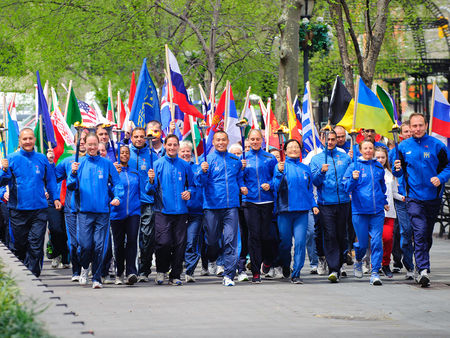 On 27th April 2012. in many cities around the world, special events marked the WHR 25th Anniversary
View some early highlights. The United Nations had proclaimed 1986 the International Year of Peace, and Sri Chinmoy wanted to offer a heartfelt and sincere expression of peace on a global scale. The opening ceremony, broadcast live on NBC-TV's The Today Show.. On April 27, 1987, five minutes of global television time was dedicated for the inaugural Sri Chinmoy Oneness-Home Peace Run with strong support from Archbishop Desmond Tutu, the UN Secretary-General, celebrities Carl Lewis, Clarence Clemons and Narada Michael Walden, and thousands...Also includes Clips from Philippines; Sahara Desert, Morocco; Botswana; Scotland, Nepal, Russia, Sri Lanka, Switzerland, Ukraine, Japan, Malaysia, Mexico, Ethiopia, Dominican Republic, Ireland, Great Britain, Colombia, Bahamas, Hungary, Spain, Mongolia, Czech Republic, Portugal, USA
---
Distance: 108 km
Team Members:
Dipavajan Renner (Austria), Sandro Zincarini (Italy), Andre Carvalho Ribeiro (Portugal), Sumahat Strohn (Germany), Mladen Vujaklija (Croatia), Kaspars Zakis (Latvia), Petar Mihaylov (Bulgaria), Dragan Nikolic (Serbia), Stefan Karanovic (Bosnia i Hercegovina), Barbara Pfennich (Austria), Rui Paulino (Portugal), Albena Margaritova (Germany), Vladimir Ilyasov (Russian Federation)
Harmonemail:
You can send a message to the runners or read the messages.
Gallery: See more images!