Spain 29 February: Valladolid - Burgos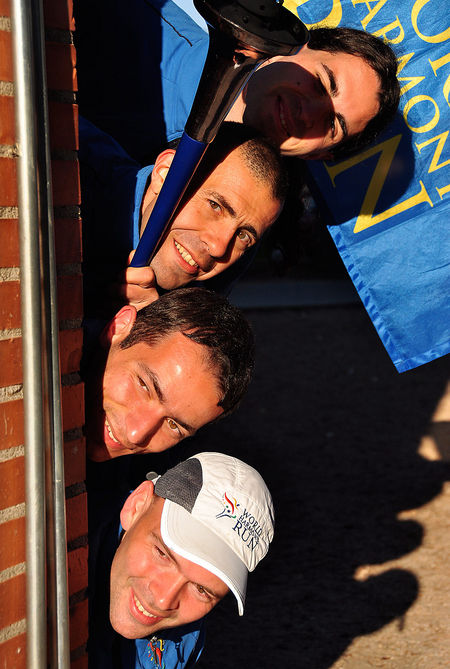 …veamos si los niños estan listos…
…let's see whether the kids are ready…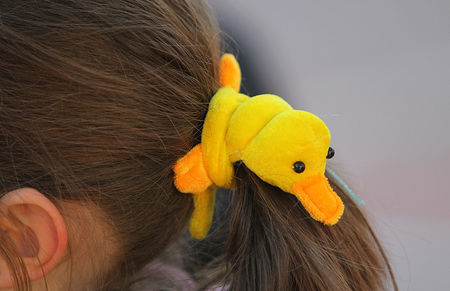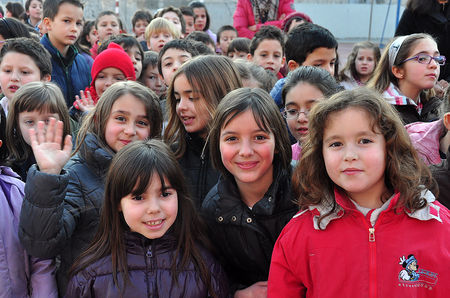 Hemos empezado el dia en Valladolid con una recepcion en el Colegio Alonso Berruguete.
We started the day in Valladolid with a visit of the primary school Alonso Berruguete.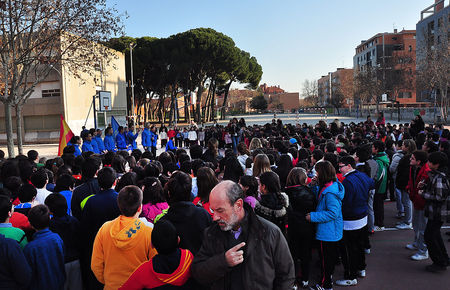 El auditorio entusiasta ha participado con gran interés en todos los juegos.
The enthusiastic audithorium was eagerly participating in all the games.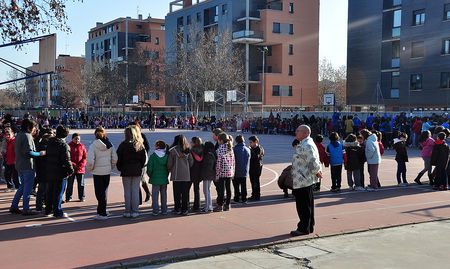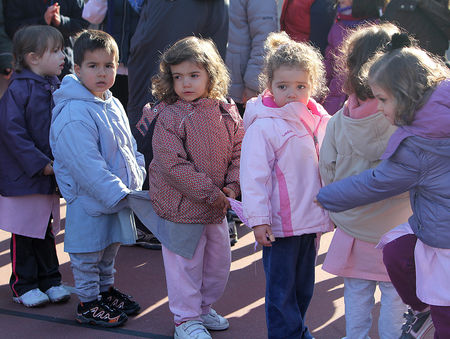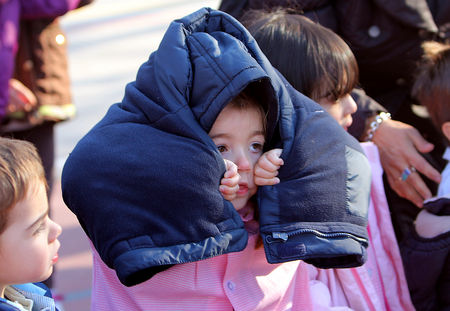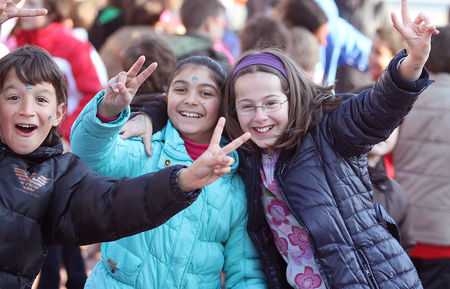 …se dejaron llevar por el mensaje de paz…
…they really got the mesage for peace…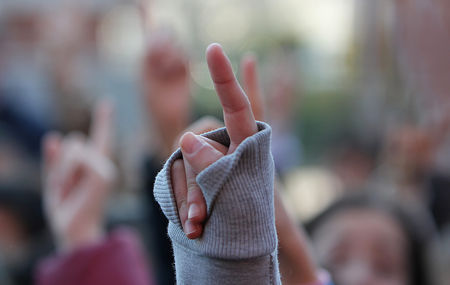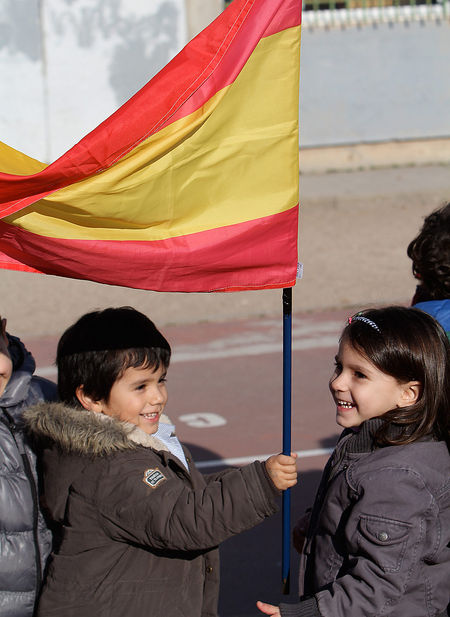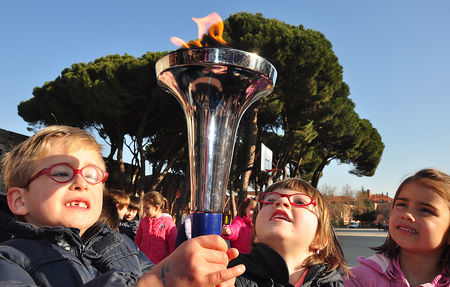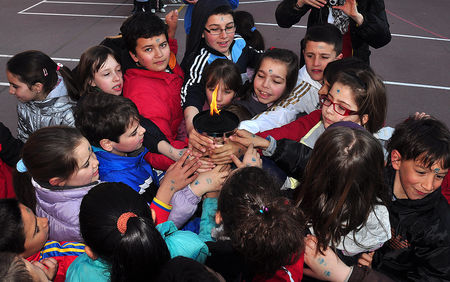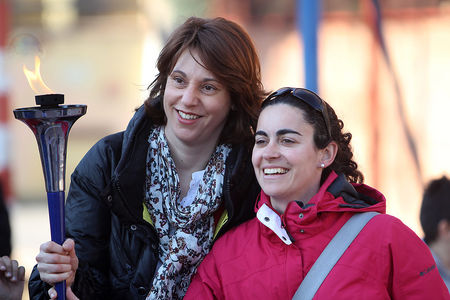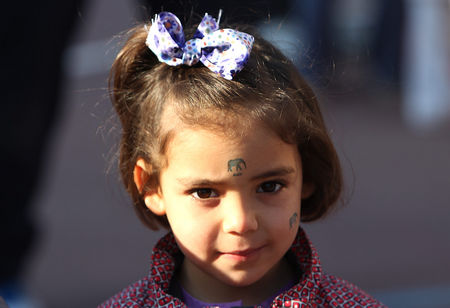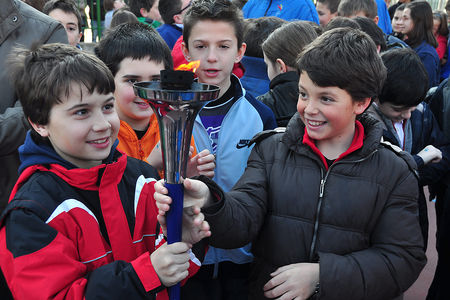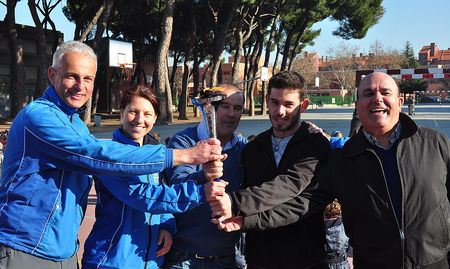 Por fin, después de todos los chicos, Jose Carlos y algunos de los profesores tienen la oportunidad de llevar la antorcha
Finally after so many kids Jose Carlos and some teachers have the oportunity to hold the torch.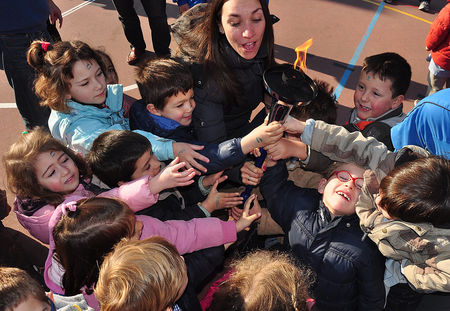 …todos quieren llevar la antorcha…
…the did not want to let go the torch…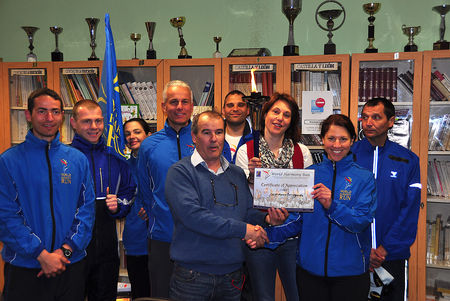 En la oficina del colegio hemos entregado al director el certificado de participación en World Harmony Run.
In the silence of the school office we handed out the certificate for participation in the World Harmony Run to the director.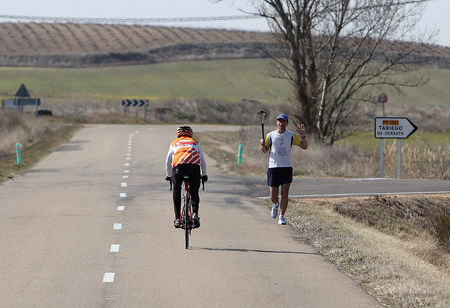 …Corriendo solo…
…Running alone…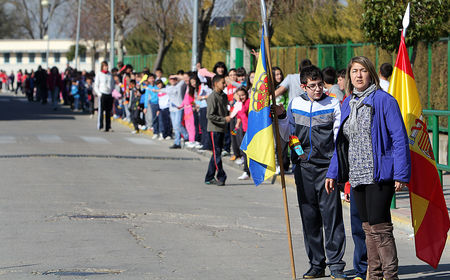 En Cabezón de Pisuerga nos han sorprendido con una cadena humana de niños y padres en el Colegio Melquiades Hidalgo.
In Cabezon de Pisuerga the school Melquiades Hidalgo suprised us with a human chane of kids and parents.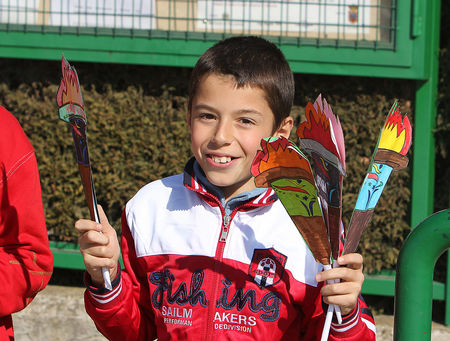 …mira que antorchas tan bonitas tengo… seguro que la llama de armonía no se apagará…
…look what nice torches I've got…sure the Harmony flame won't fade…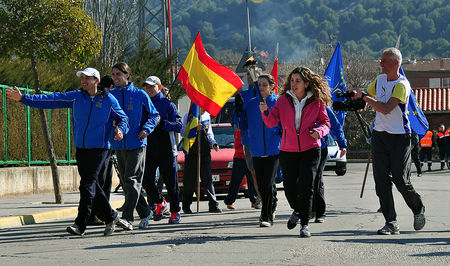 ¡Qué está pasando alli!
What is happenign over there!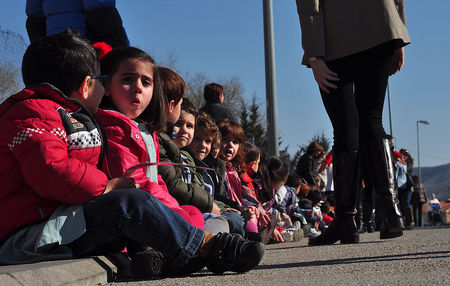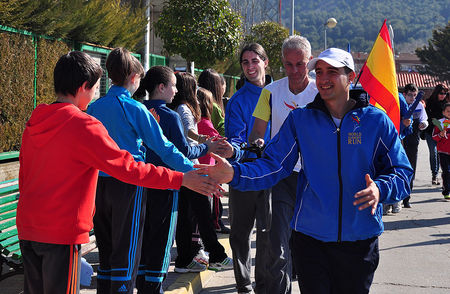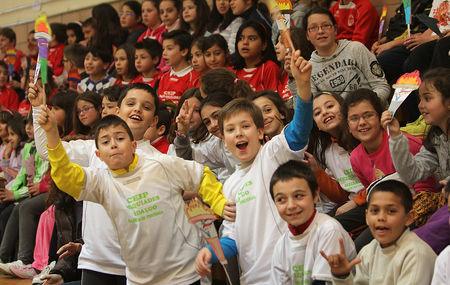 Los chicos nos jalearon cuando entramos en el gimnasio.
The kids were cheering us as we entered their gym.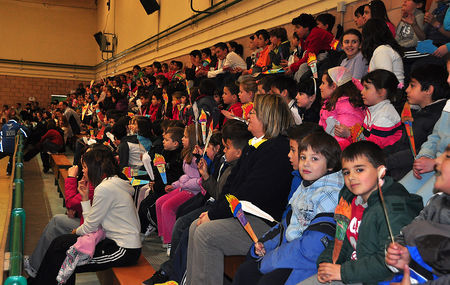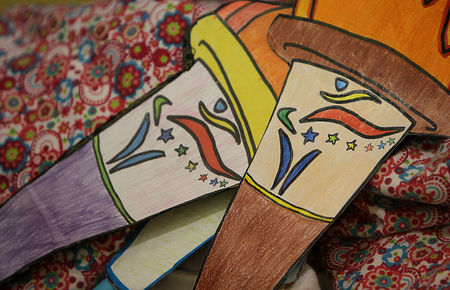 Artísticas antorchas de World harmony Run hechas por los estudiantes del Colegio Melquiades Hidalgo.
A real art work done by the children of Melquiades Hidalgo.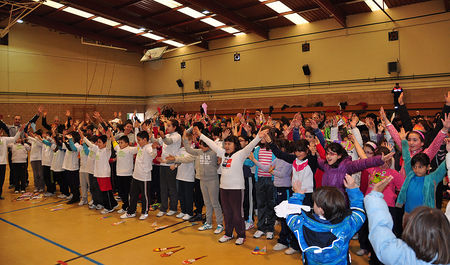 Todos hemos bailado la coreografía de la cancion de World Harmony Run.
They also danced during singing the World harmony Run song.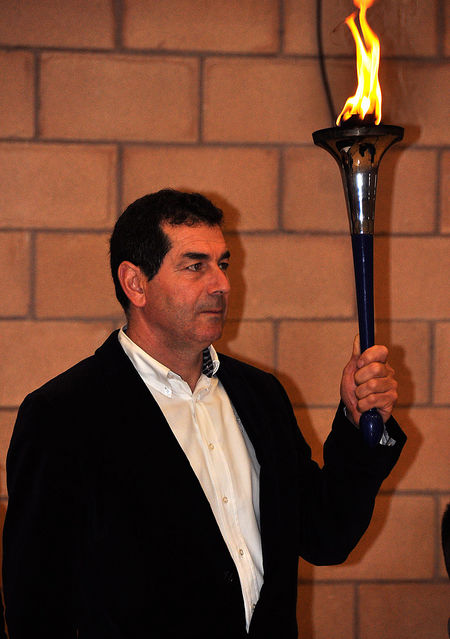 El alcalde de Cabezón de Pisuerga vino a sostener la Antorcha de Armonía y participar en la reunión junto a los escolares.
The mayor of Cabezon de Pisuerga came to the school and participated in the meeting.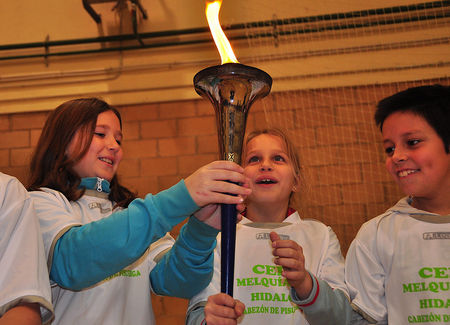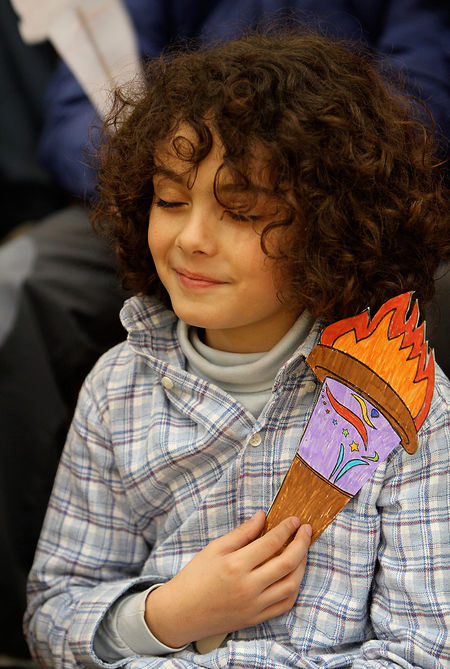 Un deseo de paz…
A wish for peace…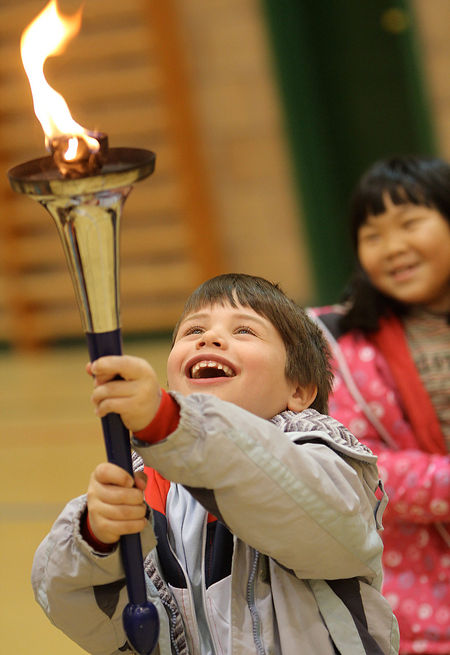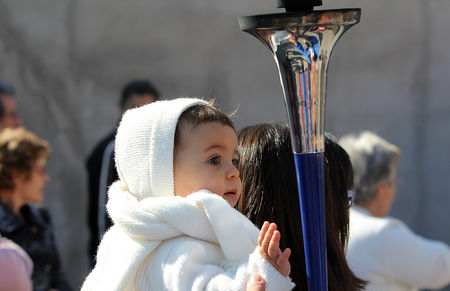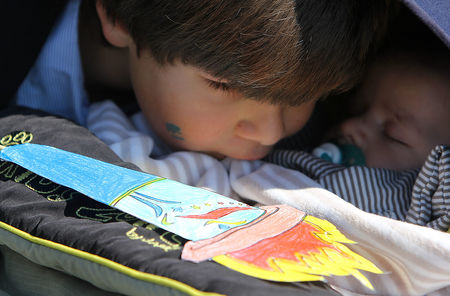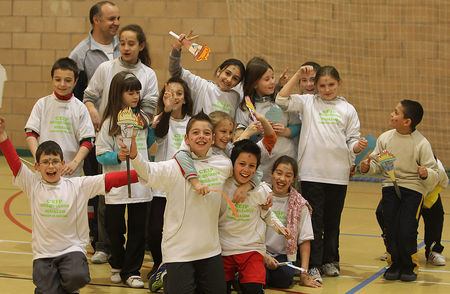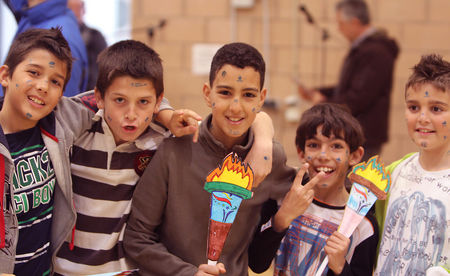 Nos divertimos mucho con los sellos.
They really had lots of fun witht he stamps.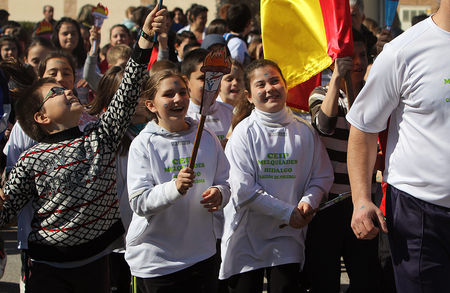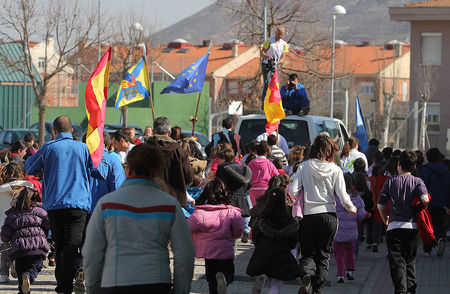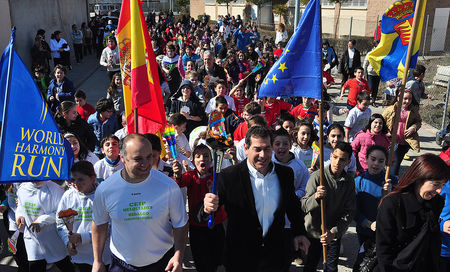 Después de los actos en el colegio, todos los chicos y los padres corrieron con nosotros.
After the meeting the whole school and the parents ran with us.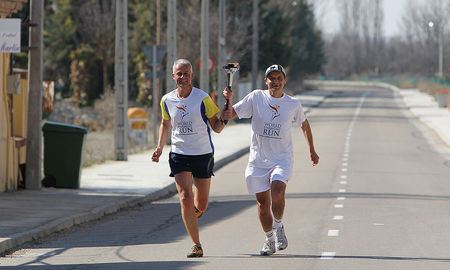 carrera de amistad…
friendship running…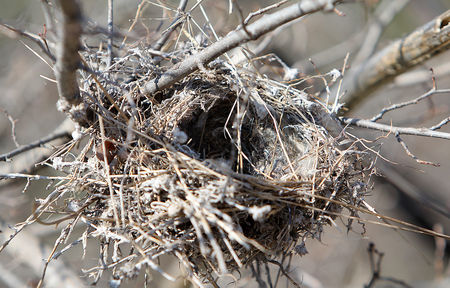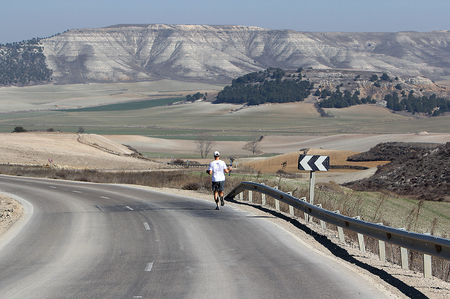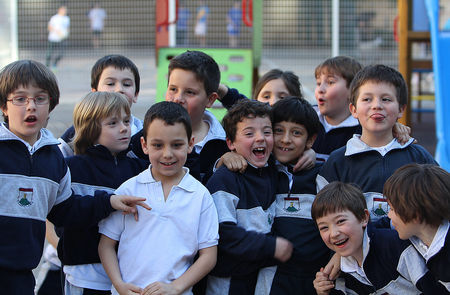 Al llegar a Burgos, hemos visitado el Colegio Internacional Campolara. Todos estaban muy animados a formar parte del equipo de la Carrera de Armonía Mundial.
Arriving to Burgos, we have brought the torch to the International School Campolara. The kids were very keen to become true members of the World Harmony Run team.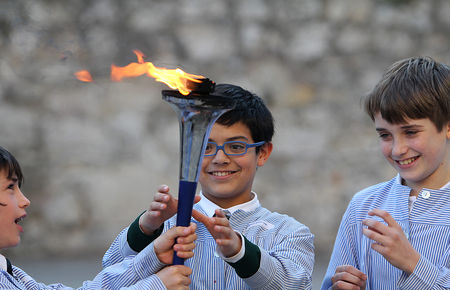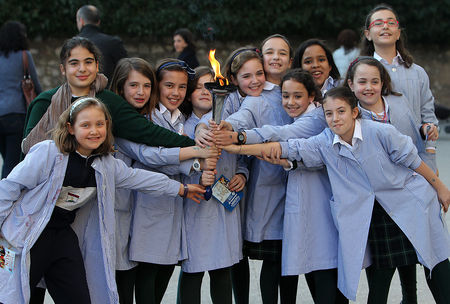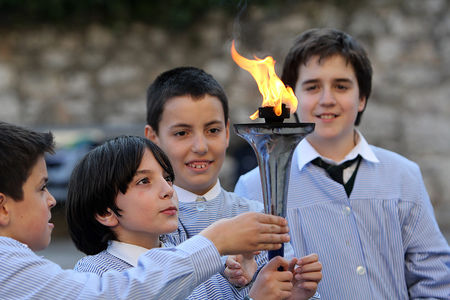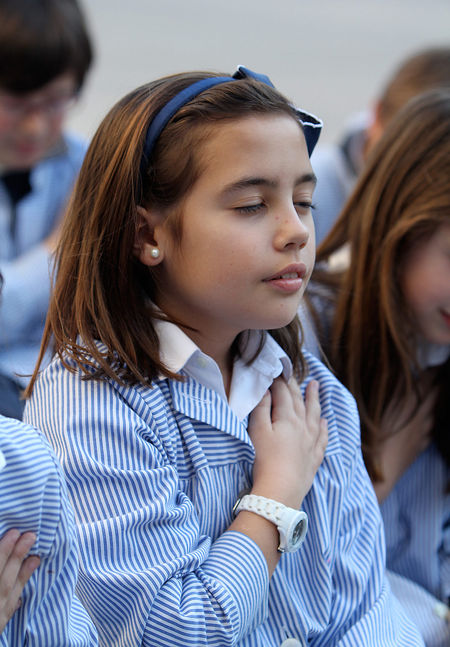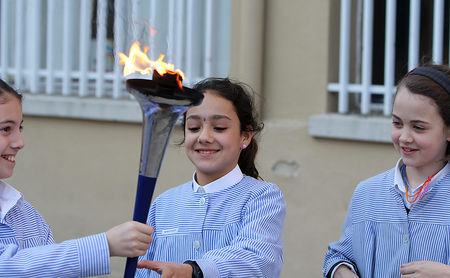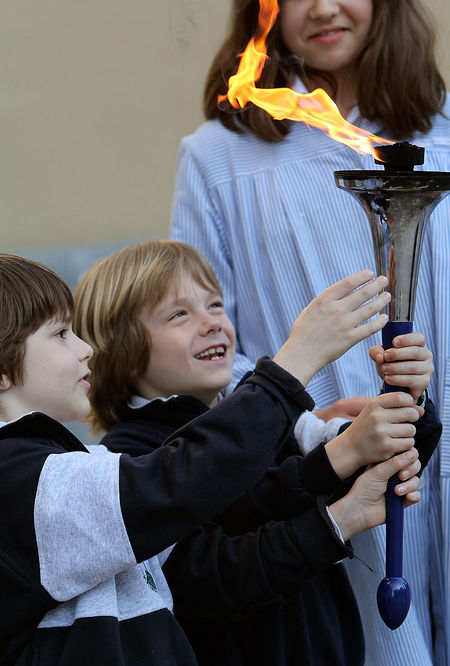 La llama de armonía nos une a todos …
The harmony flame unites us all…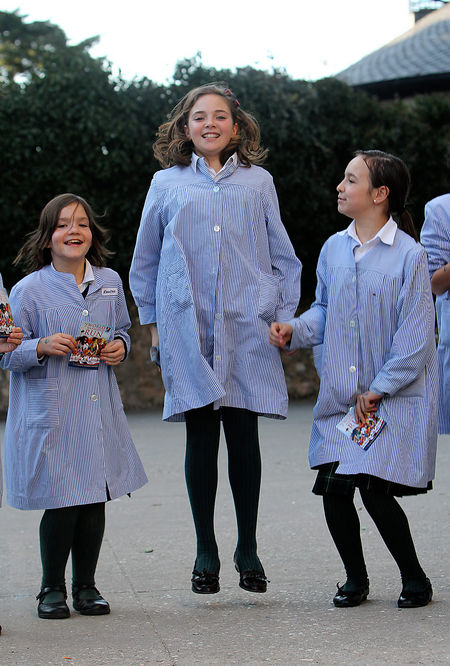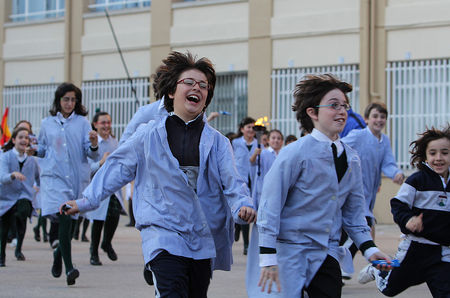 …y no puede pararse...
…and they cannot be stoped any more...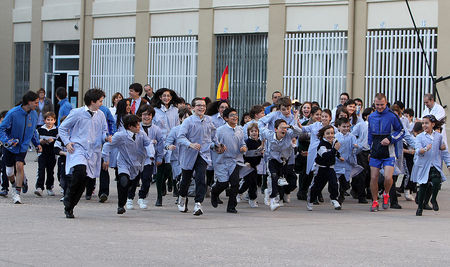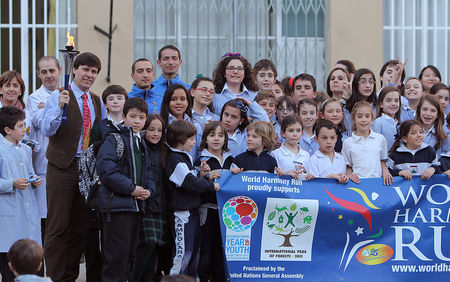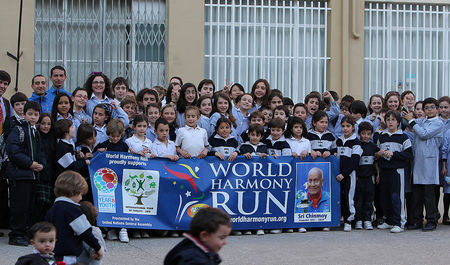 Muchas gracias por la participación.
Many thanks for the participation.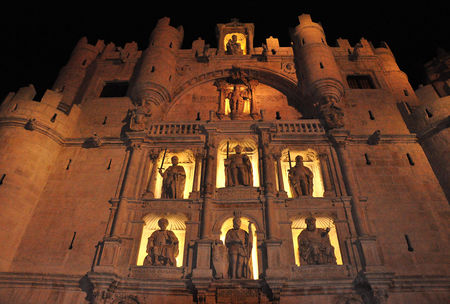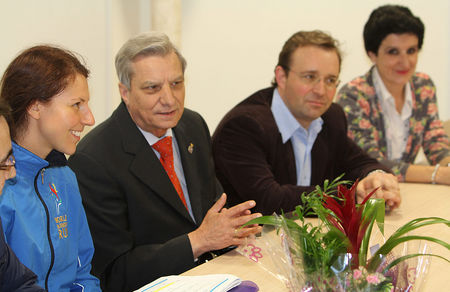 Tras las alegres experiencias en el colegio, fuimos cordialmente recibidos en el Albergue Municipal de Peregrinos por nuestros sponsors, los representantes del Ayuntamiento, del Colegio Mayor San Jerónimo...
After the nice experiences in the School we were wormly welcomed in the Albergue de Peregrinos de Burgos by all our sponsors, a representative of the City Hall...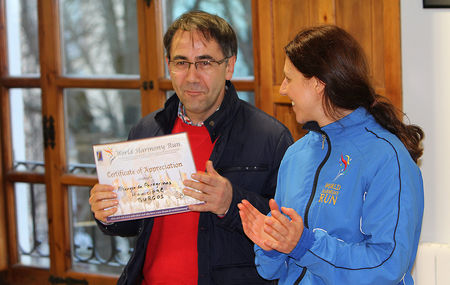 …y el director del Albergue Municipal de Peregrinos. Muchas gracias.
…and the director of the Pilgrims Hostal. Thank you very much.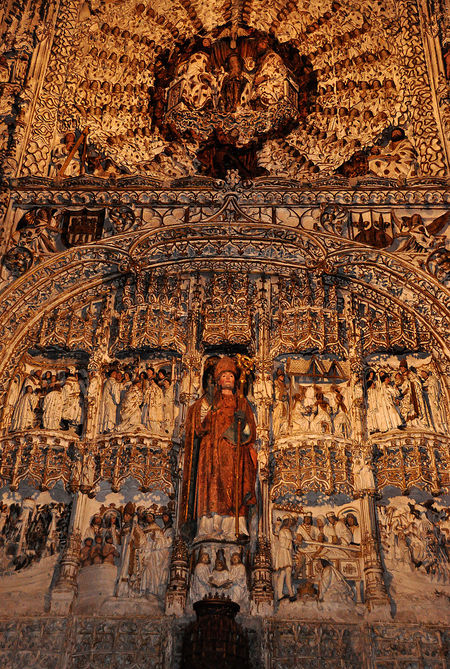 Despues de la visita a la maravillosa Catedral de Burgos…
After a worderful visit to the Cathedral in Burgos..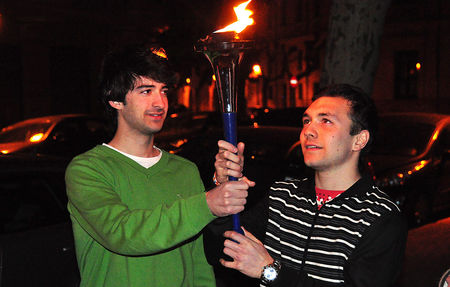 …fuimos a Colegio Mayor San Jerónimo donde estabamos invitados a cenar.
…we went to Colegio Mayor San Jeronimo where we were invited for dinner.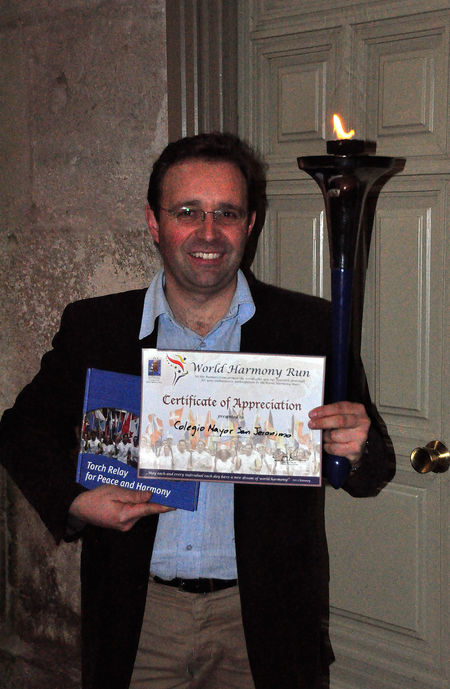 ¡Muchas gracias Colegio Mayor San Jeronimo y a la ciudad de Burgos por su hospitalidad!
Thank you very much Colegio Mayor San Jeronimo and the city of Burgos for the hospitality!
---
Spanish / Español
Vídeo-Mensaje de
Davidson Hepburn, Presidente (2009-2011) de la Conferencia General de la UNESCO - 25° Aniversario de la Carrera de Armonía Mundial: Hacia el 2022 en un Mundo de Unidad.
Hay que trabajar juntos para construir un verdadero Mundo de Unidad. Entre las iniciativas recientes que con esfuerzo alcanzan esta meta, la Carrera de Armonía Mundial es una de las más notables y de largo alcance. Fue lanzada por Sri Chinmoy en 1987 y aún después de su fallecimiento en 2007, continúa creciendo, fomentando los importantes ideales de la UNESCO y de toda la comunidad en las Naciones Unidas. Por mi parte, me gustaría destacar algunas actividades específicas que ya realizó la Carrera de Armonía Mundial o inspiradas por ella. Tengo la esperanza de que estas actividades puedan ampliarse y enriquecerse aún más en la próxima década. 1. Visita a Patrimonios de la Humanidad 2. Interpretación Musical 3. Crear o Exhibir Arte y Poesía: 4. Valor de la Diversidad: 5. Apoyar la Aceptación Interreligiosa: 6. Honrar Ejemplos de Vida 7. Descubrir Nuevas Posibilidades: 8. Finalmente, ¡Nunca Te Des Por Vencido! Mensaje: "Estimados Amigos: Les ofrezco mis cálidos saludos ya cerca del 25° Aniversario de la Carrera de Armonía Mundial, y actividades relacionadas con una cultura de paz. Creo que todos los ciudadanos a nivel global esperan con ganas la próxima década -2022 y mucho más adelante- como una época de gran progreso y de cambio sorprendente.
Video Message from Dr. Davidson Hepburn, President (2009 - 2011) of the General Conference of the United Nations Educational, Scientific and Cultural Organization (UNESCO) for 25th Anniversary of the World Harmony Run and a vision for the decade: "Toward a Oneness-World".
Full Text of the 25th annversary message and link to 25 language informal Translations: http://www.worldharmonyrun.org/25
or Click on language button for separate youtube videos wth sub titles in varous languages
See also: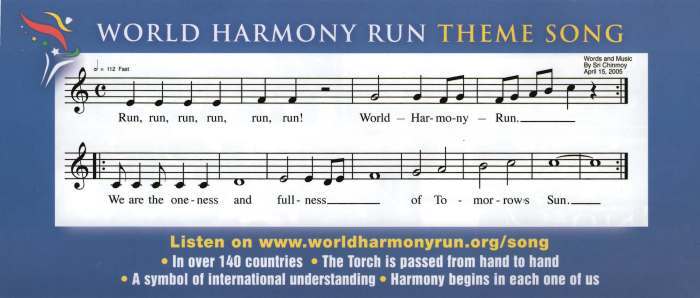 Spanish
Letra de la canción
Run, run, run, run, run, run!
World-Harmony-Run.
We are the oneness and
fullness of Tomorrow's Sun.
¡Corre, corre, corre, corre, corre!
Carrera por la armonía mundial.
Somos la unidad y la plenitud
del sol de mañana.
- Sri Chinmoy

---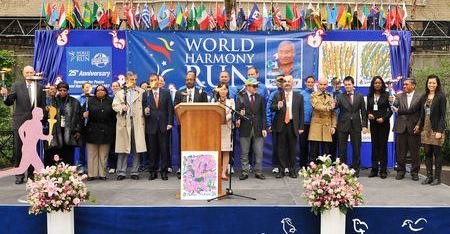 See start of the International 25th Anniversary Celebration across from the United Nations at Dag Hammarskjold Plaza in New York.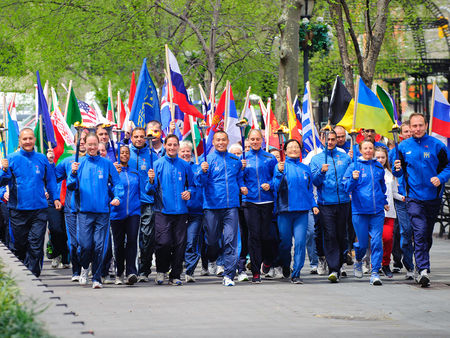 On 27th April 2012. in many cities around the world, special events marked the WHR 25th Anniversary
View some early highlights. The United Nations had proclaimed 1986 the International Year of Peace, and Sri Chinmoy wanted to offer a heartfelt and sincere expression of peace on a global scale. The opening ceremony, broadcast live on NBC-TV's The Today Show.. On April 27, 1987, five minutes of global television time was dedicated for the inaugural Sri Chinmoy Oneness-Home Peace Run with strong support from Archbishop Desmond Tutu, the UN Secretary-General, celebrities Carl Lewis, Clarence Clemons and Narada Michael Walden, and thousands...Also includes Clips from Philippines; Sahara Desert, Morocco; Botswana; Scotland, Nepal, Russia, Sri Lanka, Switzerland, Ukraine, Japan, Malaysia, Mexico, Ethiopia, Dominican Republic, Ireland, Great Britain, Colombia, Bahamas, Hungary, Spain, Mongolia, Czech Republic, Portugal, USA
---
Distance: 142 km
Team Members:
Dipavajan Renner (Austria), Sandro Zincarini (Italy), Andre Carvalho Ribeiro (Portugal), Sumahat Strohn (Germany), Mladen Vujaklija (Croatia), Kaspars Zakis (Latvia), Petar Mihaylov (Bulgaria), Dragan Nikolic (Serbia), Stefan Karanovic (Bosnia i Hercegovina), Barbara Pfennich (Austria), Rui Paulino (Portugal), Albena Margaritova (Germany), Vladimir Ilyasov (Russian Federation)
Harmonemail:
You can send a message to the runners or read the messages.
Gallery: See more images!