Greece 28 April: Pyrgos - Kalamata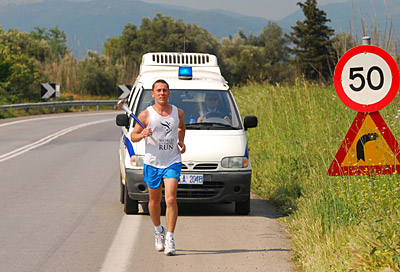 Amazing! the local police understood immediately what we call "leap frogging". It is the very special way we send two runners on the road at the same time after one another.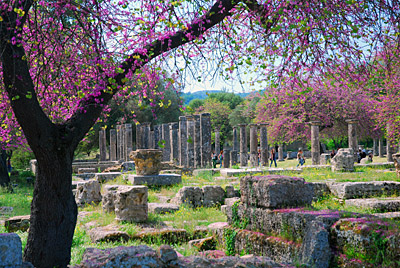 Today we took a very special time to visit the ruins of the original world famous Olympia site, where the first Olympic games of the history started around 616 B.C. It was a strong source of inspiration for us.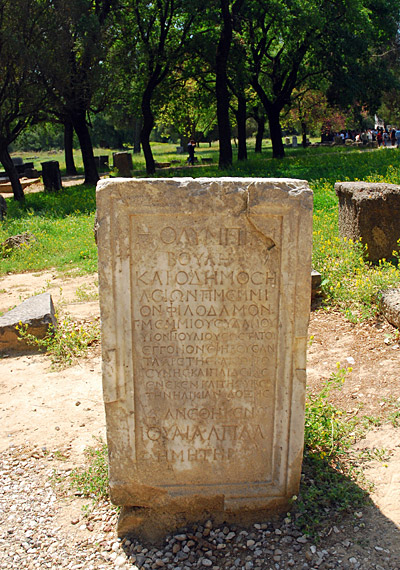 The Greek alphabet is charming and gives a strange feeling of antiquity even to the most common words, but it definitely makes most of us very confused when, for example, we try to find our way through the city.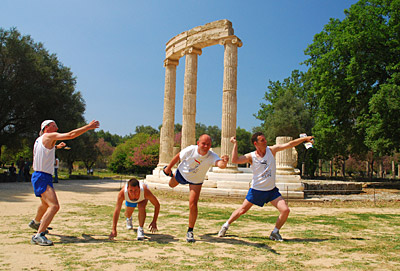 Our runners seriously considered to practice also other disciplines like the ancient Greeks used to do, javelin, discus, wrestling...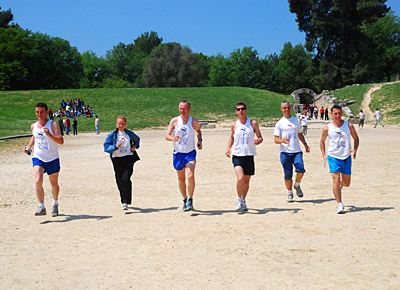 But you can't change a world harmony runner that easy. Running is definitely our favourite discipline, we could not miss the opportunity to run on the ORIGINAL OLYMPIC STADIUM of ancient Greece.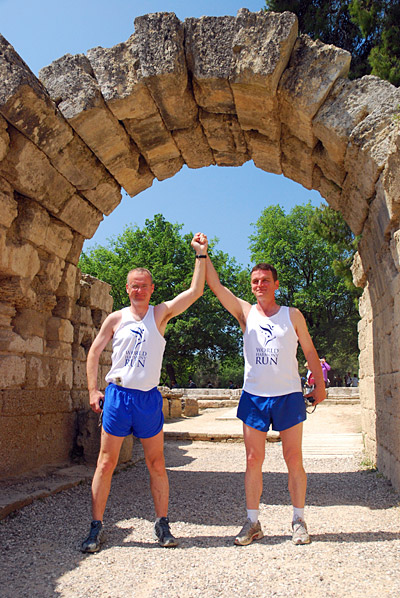 At the entrance to the Olympic stadium.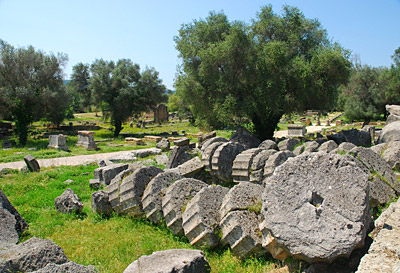 Today it could seems to be a giant puzzle, but what you can see on the picture are over 2500 fallen columns of the Zeus temple in ancient Olympia.
To practice deeeeeep breathing is very important for the runners.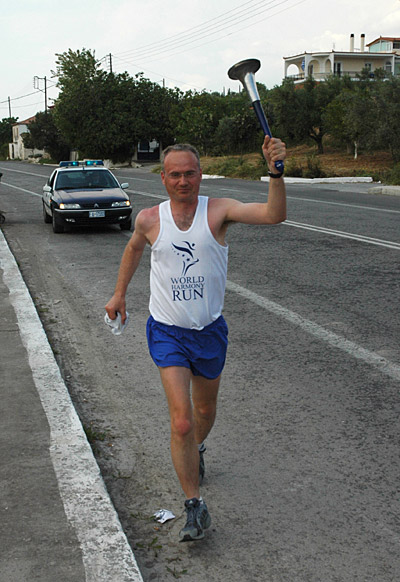 Our Czech runner Rosta was trying to escape from the police, but unfortunately he was not fast enough. The police did a very good job of escorting and protecting us. Many thanks.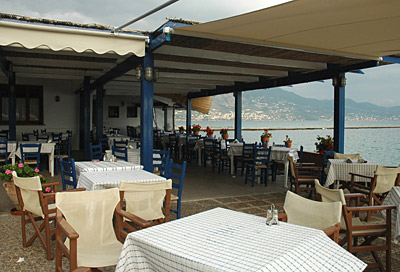 Arriving at Kalamata we were surprised to find out that at this time of the year the city is absolutely empty of tourists, but even more surprising was to discover the mountain slopes that are waiting for us tomorrow.
---
Team Members:
Ondrej Vesely and Rosta Vagner (Czech Republic), Pierre Lantuas Monfouga (France), Valentin Bebik and Nataliya Lehonkova (Ukraine), Janos Derekas (Hungary), Predrag Knezevic (Pedja) and Magda Hajdu (Serbia), Arthur Janczak (Poland), Mrittunjoy Bader (Switzerland).
Harmonemail:
You can send a message to the runners or read the messages.