Finland 20 June: Taavetti-Nastola
We started the day with the beautiful dip in the Fnnish lake in the Taavetti lomakeskus where we spent the night in little huts.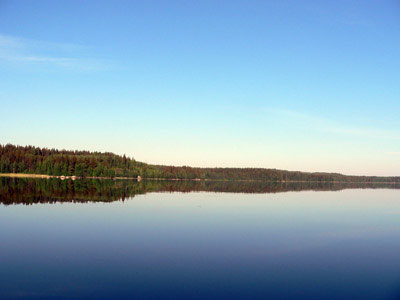 After the fulfilling breakfast the first runners were ready to challenge today's
distance. In the Etelä-Saimaa newspaper there was a huge picture on the front page about Martin and the torch, so we were happy to start a new day.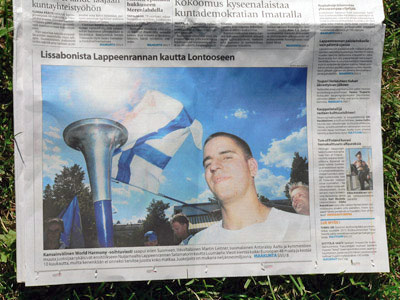 We run straight to the Kouvola city and continued to the border of Iitti.
While running to the town of Elimaki we saw the monument of Ilmari Salminen. He was one of the best long distance runners in the 1930s. Salminen began his international athletics career in 1934 by winning the 10,000 m and taking bronze in 5000 m at the first European Championships in Turin, thus becaming a main favorite at the Olympic 10,000 m run.
Spontaneously we made up our mind and gave him the torch.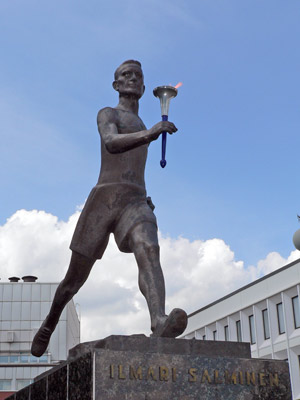 In the border of Iitti we met local runners. Two kids, Jere and Jesse joined us to Kausala which is the center of Iitti. The two 13- year old ran the whole 10 km together with the team. On the way more children joined us.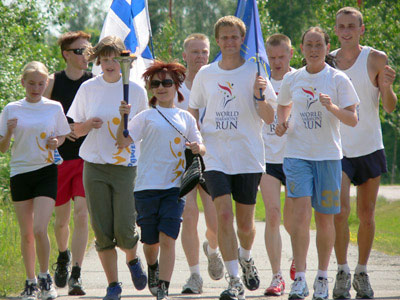 Mayor of Iitti greeted us with the nice welcoming ceremony and as an experienced marathon runner he was pleased to run with us couple of steps. Representatives from the local sport clubs joined us as well.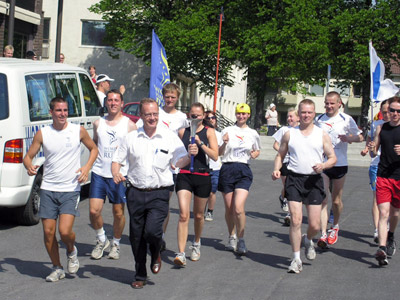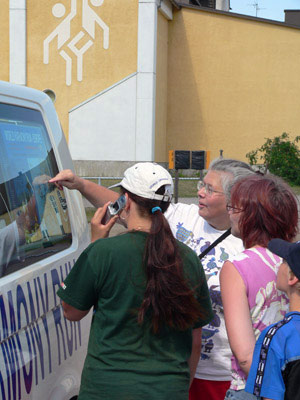 From the border of Nastola we had the local motorcycle club waiting for us. Since we had no police car, they simply drove ahead and behind the runners to warn the traffic.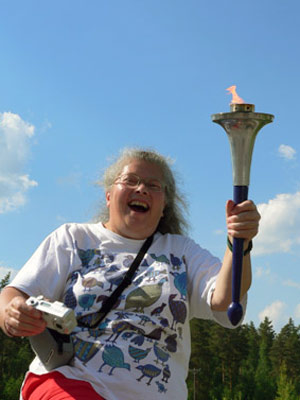 As we usually have, so also they had shifts in driving with the runners. In between we had time to chat a little bit abut the Run and also about their motorbikes.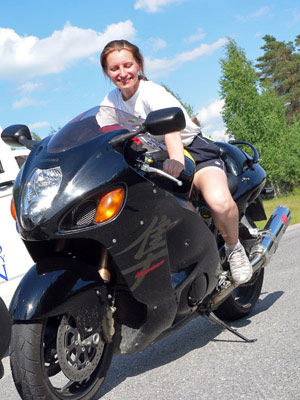 In Nastola we had a nice welcoming ceremony with a lady from the city. After giving an interview to the regional news paper we set of to meet the next group of runners and run together the last stretch for today.
Following the runners all the time inspired also our bikers, and they decided to drive ahead and get prepared to run the last few hundred meters with us.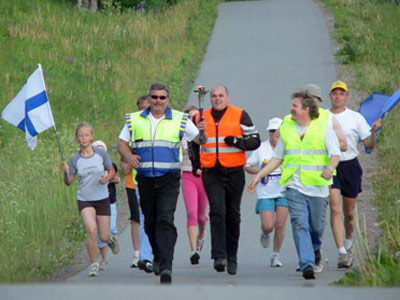 We took some pictures and after saying goodbye to each other we drove to the summer hut of Antaraloys father where after Dinner we went to bed.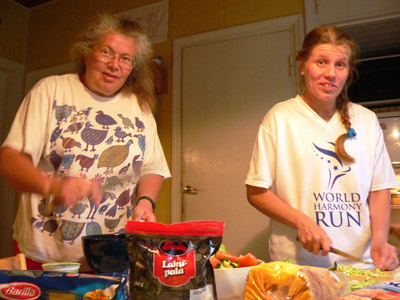 ---
Distance: 94km
Team Members:
Alexey Egorov (Russia),Antaraloy Aalto (Finland), Janos Derekas (Hungary),Svetlana Gorshkova (Russia), Olesya Ilyasova (Russia), Martin Leitner (Austria), Petr Machacek (Czech Republic), Peter Zuidema (Netherlands),
Harmonemail:
You can send a message to the runners or read the messages.