Netherlands 23 April: Eindhoven - Den Haag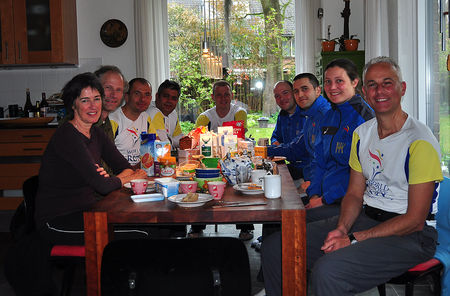 Breakfast with Jenneke & Niek. Such wonderful friends of the World Harmony Run over the last few years! Also this year again they treated us with a wonderful, homy atmosphere and meals full of love and laughter. Thanks again!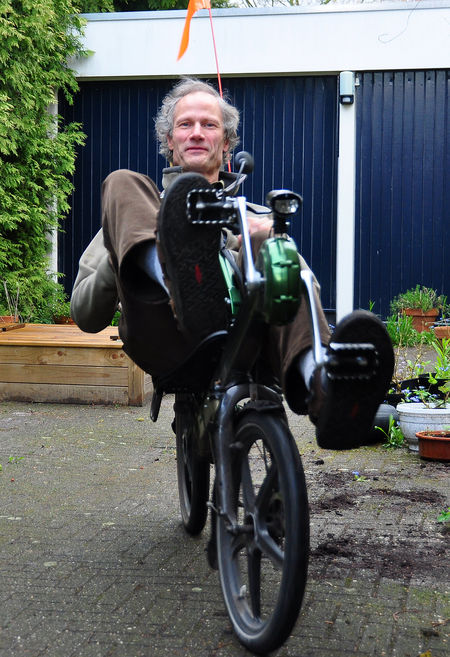 Holland is the country of the bikes. Niek is proudly showing is very special type of bike...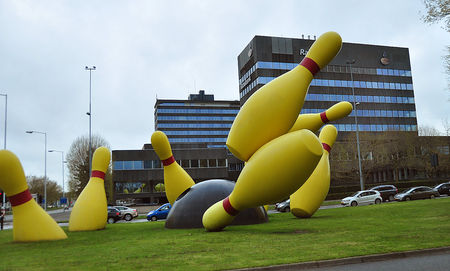 Who threw the bowlingball?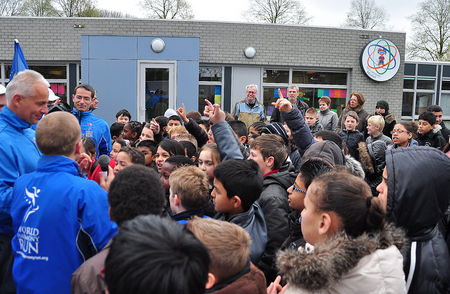 Today's program started in Eindhoven. We were enthusiastically received at the Louis Buelens Salto School. A short run around the school took us to the playground where the kids had all assembled. They were kids from many different nationalities, surely they already proved in the school that people from different nations can live together in peace and harmony! We are playing our game; who knows which country he's from?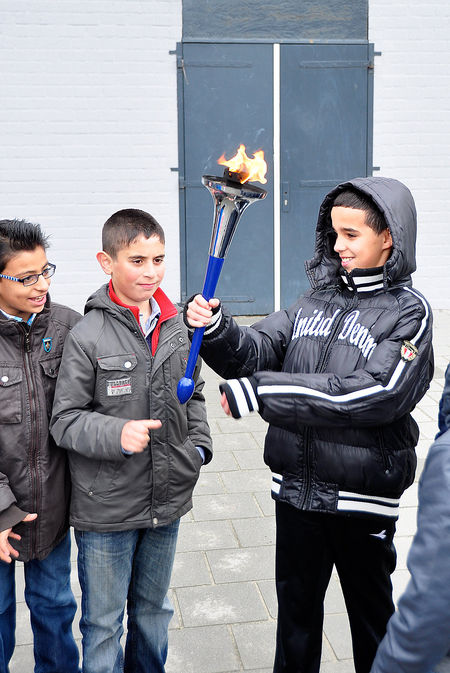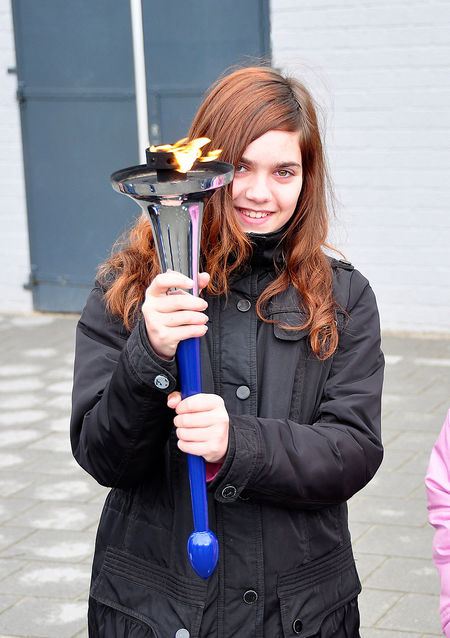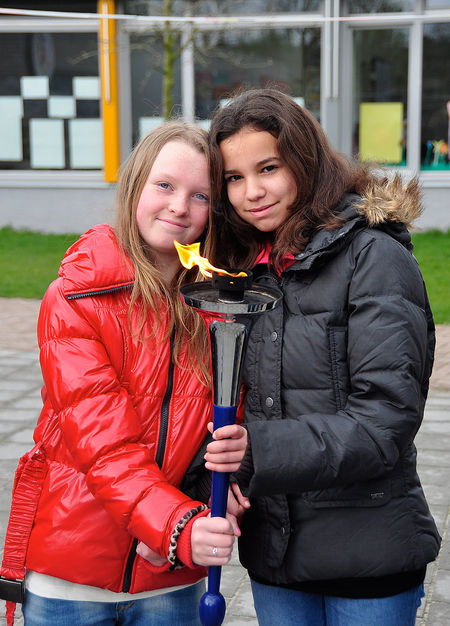 We wish....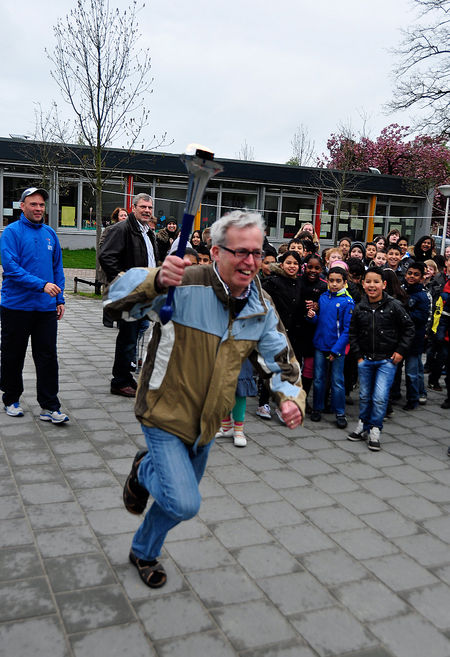 There's one rule to our little game; the teachers are not supposed to help! If they do they have to run a lap with the torch around the playground. How gladly the kids turn there teachers in when they help a little bit :-) Here the adjunct head master is running on behalf of one of his teachers who helped the kids.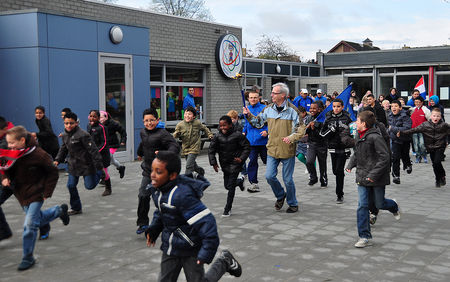 We are all becoming members of the World Harmony Run team!!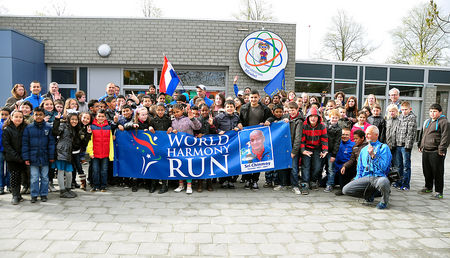 Say cheese... (very appropriate in Holland)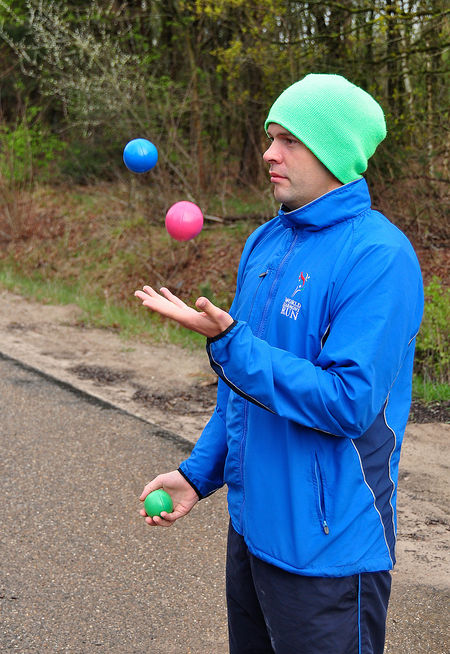 Lets get into a playful frame of mind!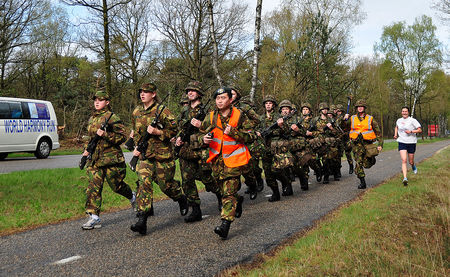 On the way from Eindhoven to Oirschot we got some unexpected reinforcements for our team!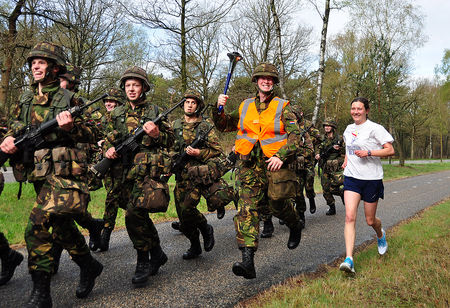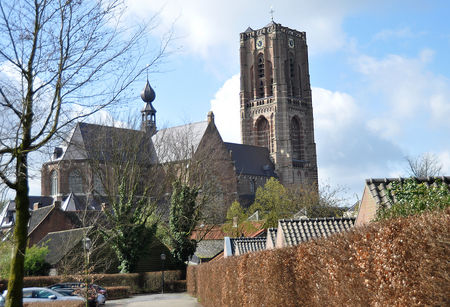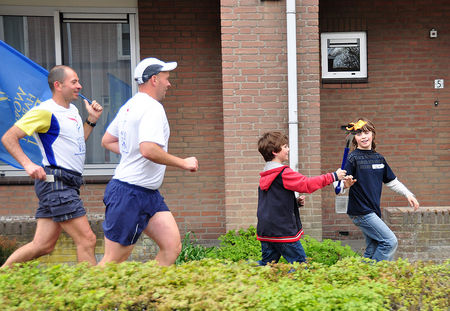 Run along!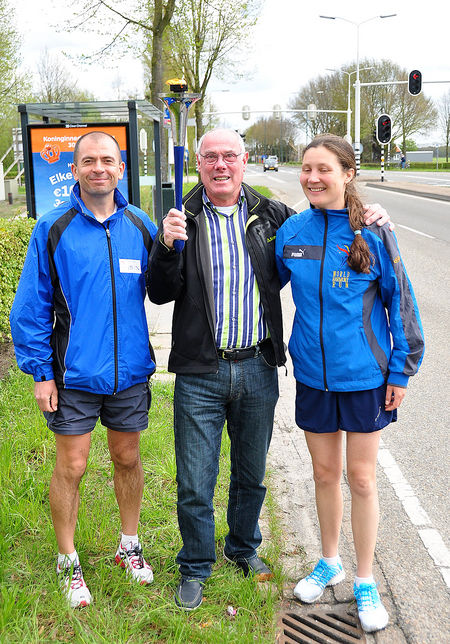 People passing by join us in a smile and a wish for Harmony...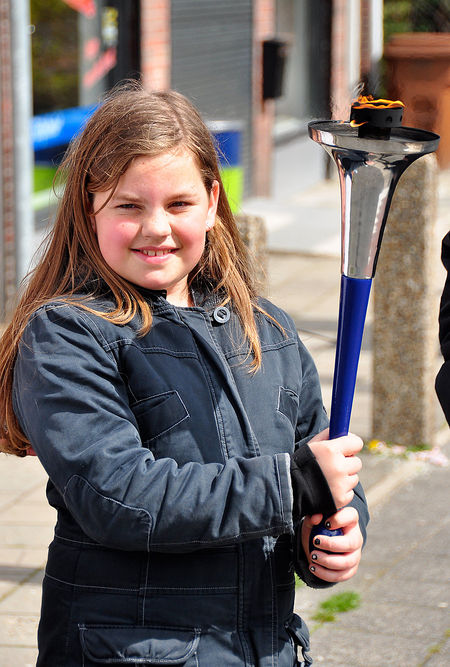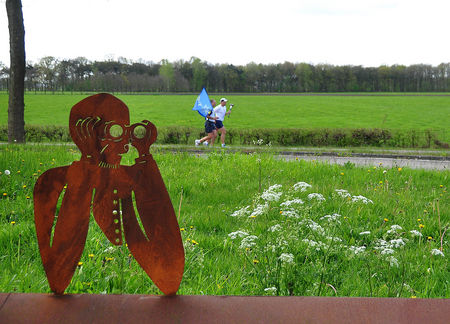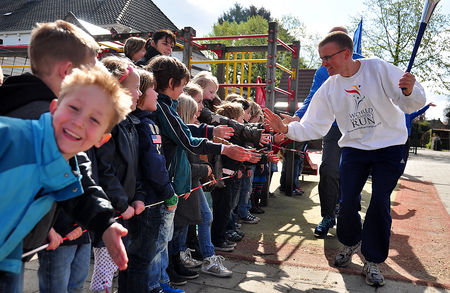 After a good 17km we arrived around 11.00 o'clock at the second and last school for today: Basisschool de Linde in Oirschot. They had prepared so well! All 360 kids were waiting for us outside, nicely lined up for our traditional high five! The music was playing cheerfully; it was great.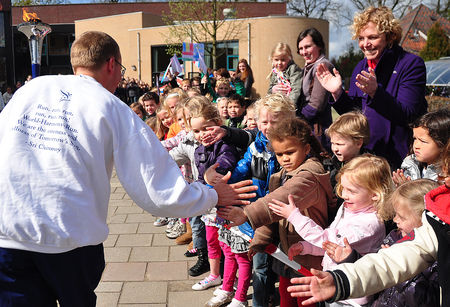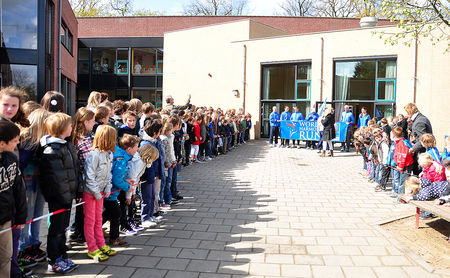 The sun came through and with so many enthusiastic kids, nothing more was needed for a great presentation. How well-behaved they were, playing the language-guessing game with a lot of zeal! Here's our second rule; if they guess all the countries correct, we sing for them, if they don't they have to sing for us!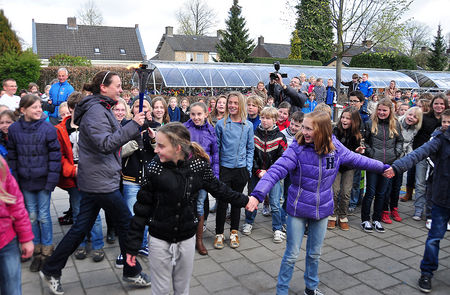 Also here the kids very eagerly betrayed their teacher who was helping a little bit! Even so; as usual we lost the game...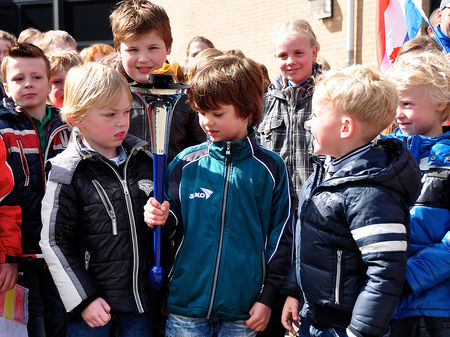 15 kids were selected on behalf of the different groups to receive the torch and make a wish for Harmony.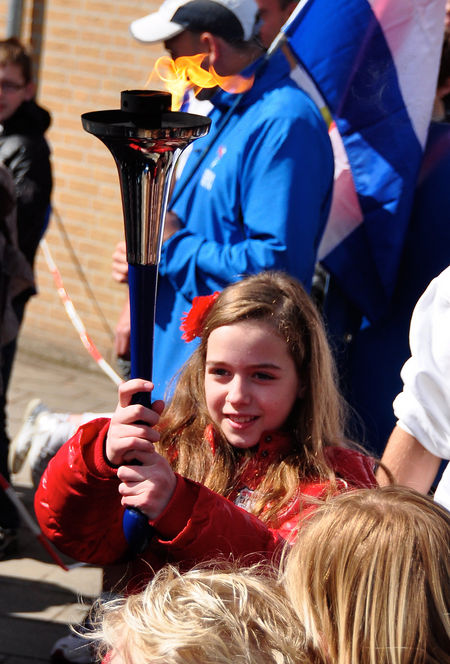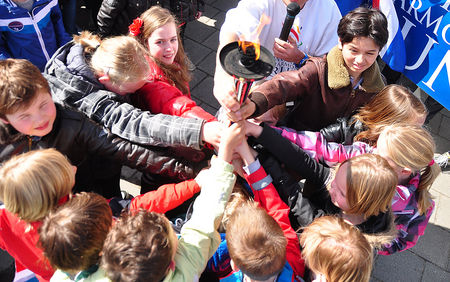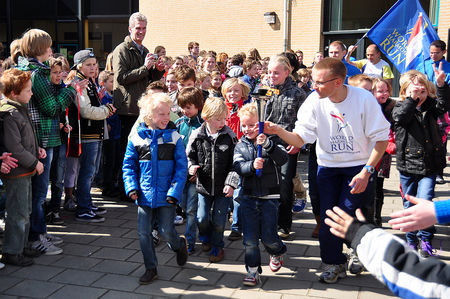 Running out the way we came in; cheered by the other children.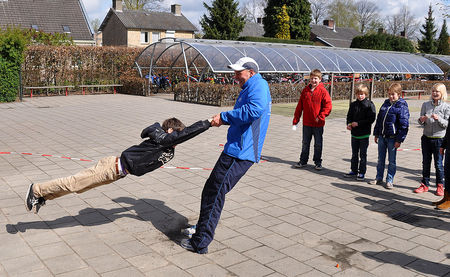 After the presentation there was time for a lot of playing around. The kids loved it, but probably we got even more joy!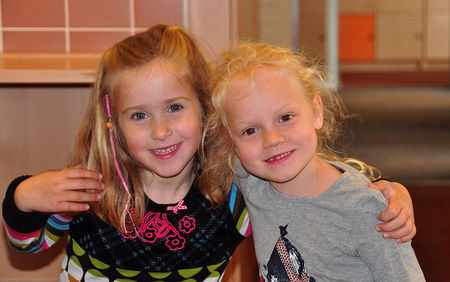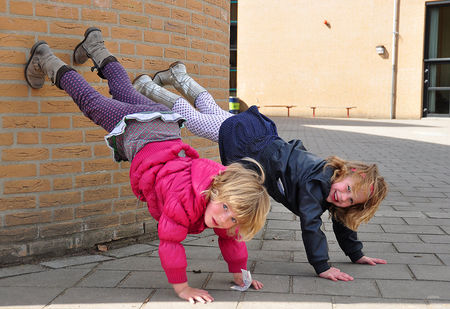 See what we can do!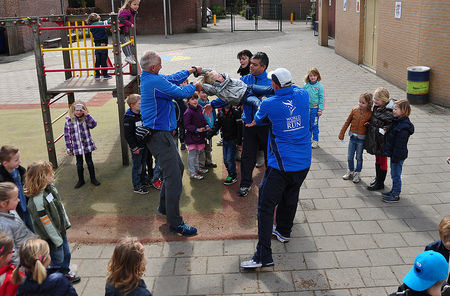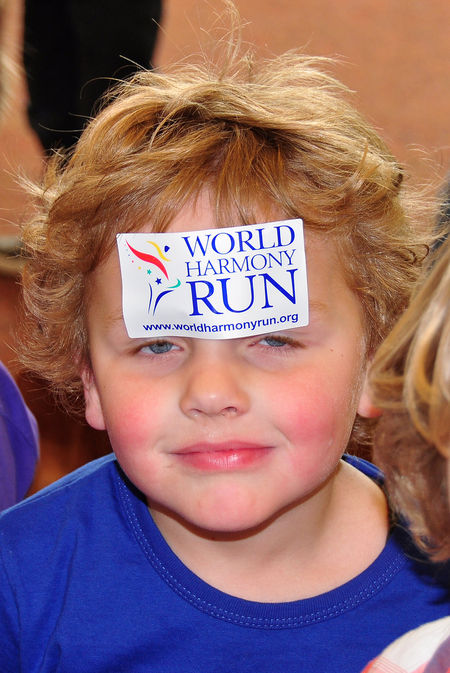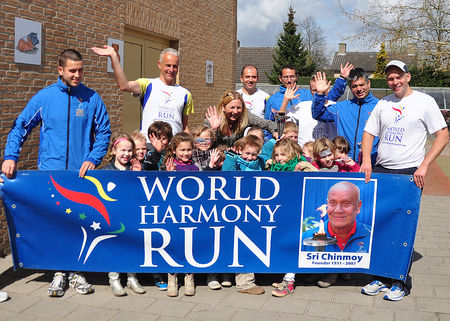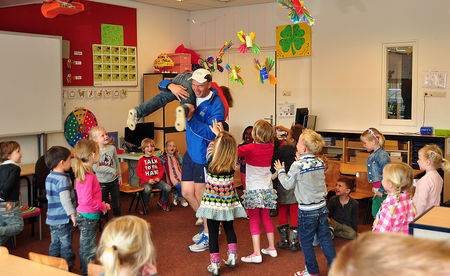 The kids never had enough it seemed, neither had Sumahat!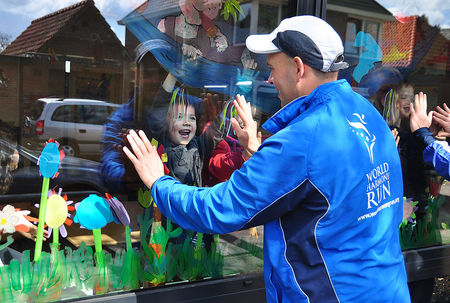 Bye bye!! Thanks a million to the children and teachers from Basisschool de Linde. We had so much joy; and what in the end will fuel our outer harmony if not our inner joy! With this joy in our hearts we had new energy for running the long stretch of more than 100 km to Den Haag where we will have some nice meetings tomorrow morning.
---
Video Message from Davidson Hepburn, President (2009 - 2011) of the General Conference of the United Nations Educational, Scientific and Cultural Organization (UNESCO) for 25th Anniversary of the World Harmony Run and a vision for the decade: "Toward a Oneness-World".
Full Text of the 25th annversary message and link to 25 language informal Translations: http://www.worldharmonyrun.org/25
or Click on language button for separate youtube videos wth sub titles in varous languages
See also: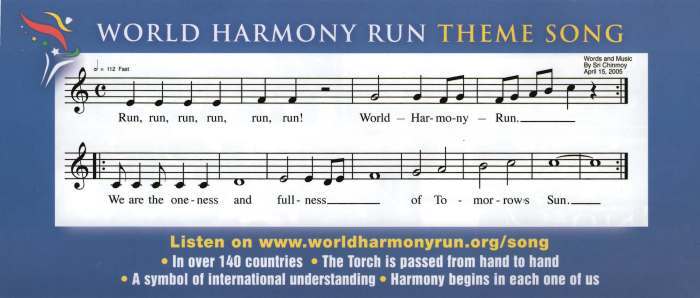 ---
Distance: 145 km
Team Members:
Dipavajan Renner (Austria), Sandro Zincarini (Italy), Sumahat Strohn (Germany), Mladen Vujaklija (Croatia), Vladimir Ilyasov (Russian Federation), Namitabha Arsic (Serbia), Layamut Tehrani (Austria/Iran), Vasanti Niemz (Germany), Dutch runners (Netherlands)
Harmonemail:
You can send a message to the runners or read the messages.
Gallery: See more images!