Netherlands 27 April: Groningen - border Netherlands/Germany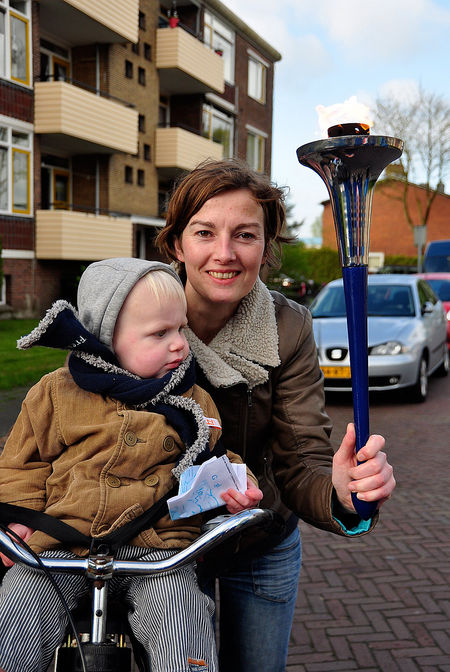 Bhadrika's sister Margreet took great care of us in Groningen by providing food and shelter. Her son Marnix gave us all joy just by being himself. Thank you Margreet!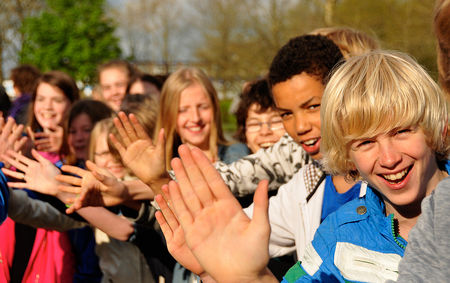 In Groningen children from elementary school 'De Pettenflet' cheerfully awaited our arrival and prepared for a warmhigh-five welcome.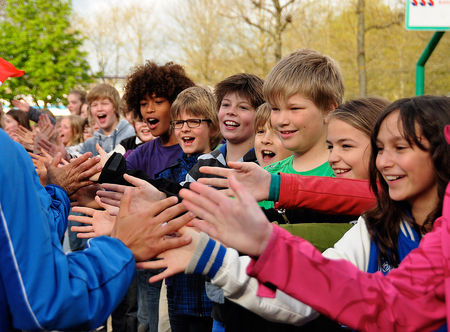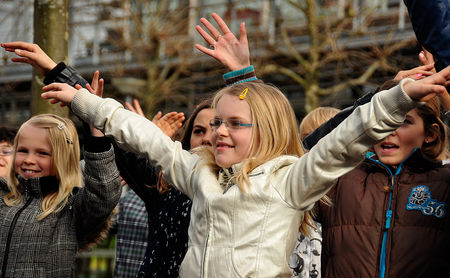 Our song and dance delighted everyone. It's a nice way to start the day with a little exercise.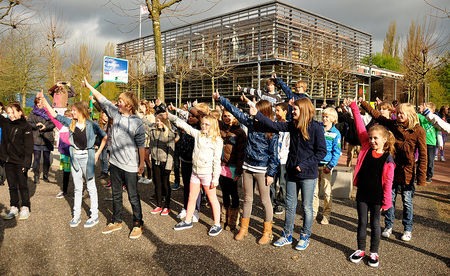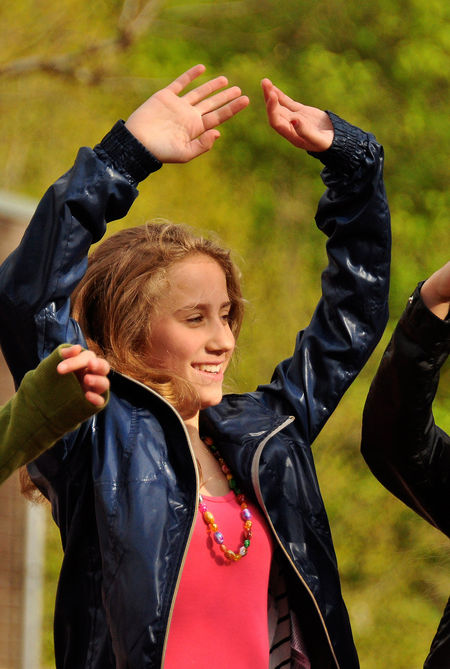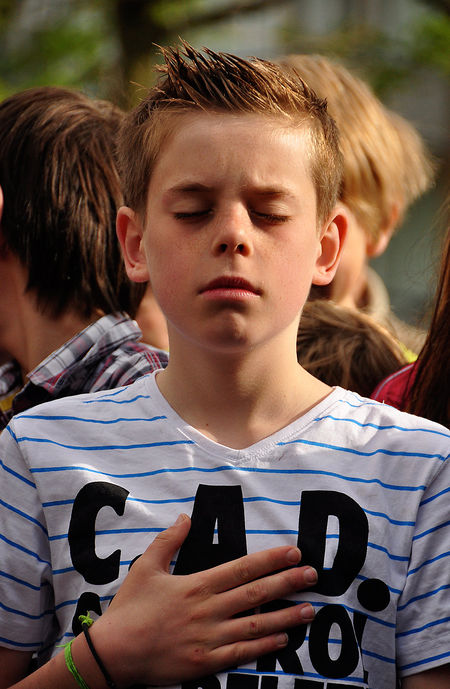 Deep down there is where peace and happiness live. The children seemed to genuinely enjoy the minute of silence to feel peace and harmony.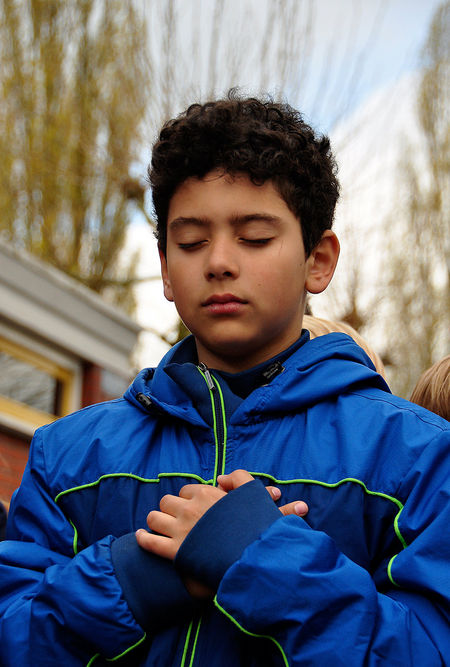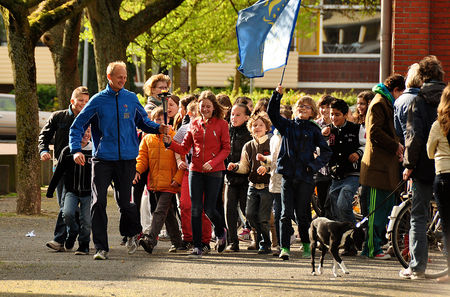 We ran a nice route through the adjacent parc. As usual the Peace Torch was the centre of everyone's attention.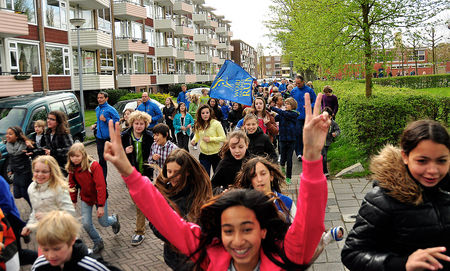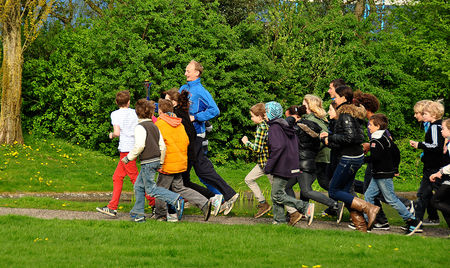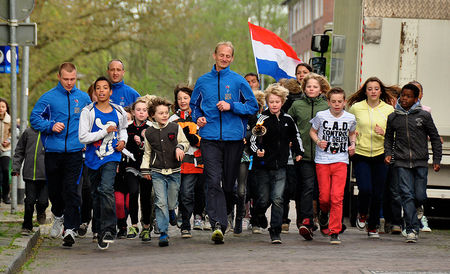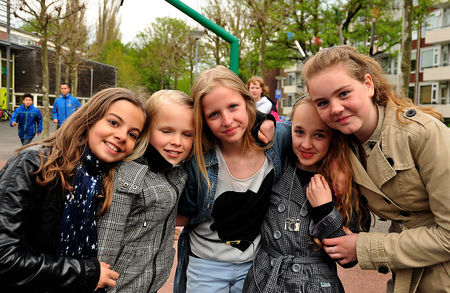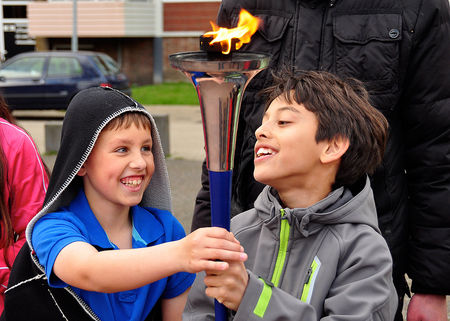 Sharing a private moment with the Torch for a personal peace wish is always something  special.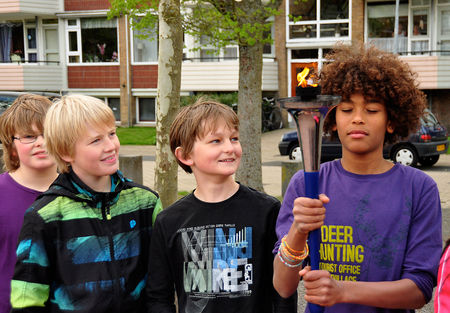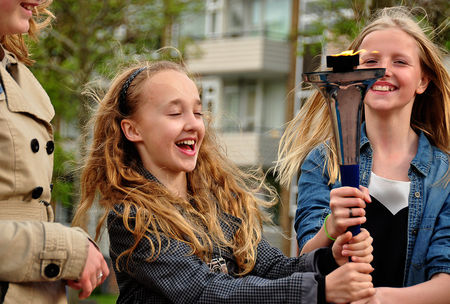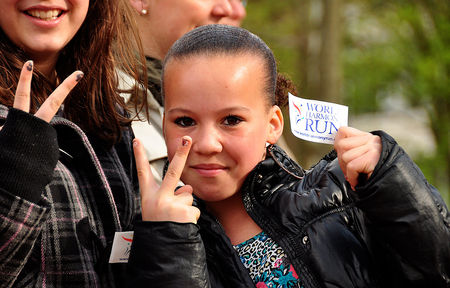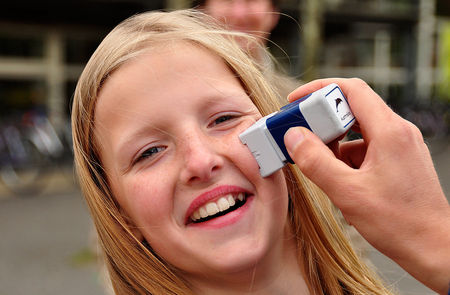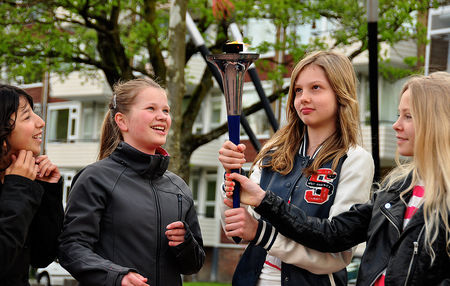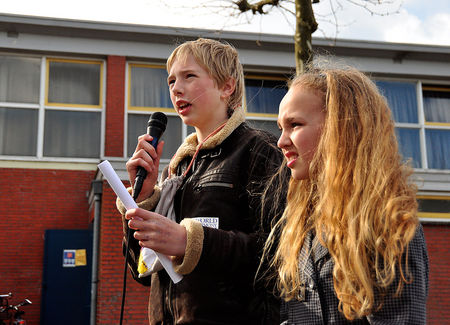 We received a beautiful drawing depicting a peace-runner crossing the globe. The drawing was made by the girl above, holding the microphone.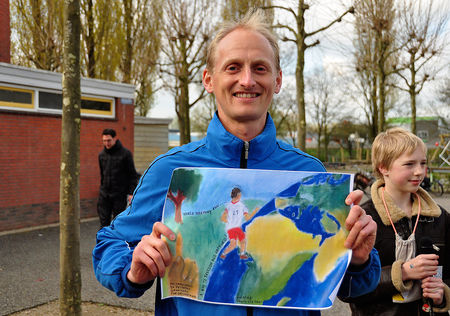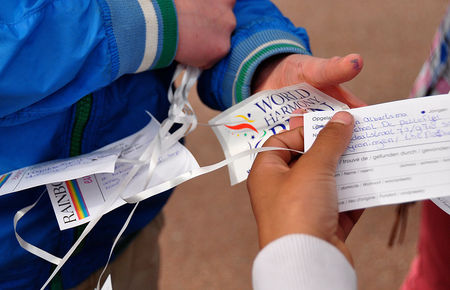 Today was a special day since it marked the 25th anniversary of the World Harmony Run. On April 27th 1987 peace-visionary Sri Chinmoy launched the 'Oneness-Home Peace-Run' to carry the message, hope and dream of world-peace all over the world by running with a peace torch. Today, 25 years later, the dream is still alive and the Run is still going strong. Happy birthday World Harmony Run/Peace Run! And thank you Sri Chinmoy for having the vision and making it a reality.
We celebrated today by giving the children a balloon to which they tied their own personal peace wish. The balloons will carry their peace-wishes through the vast sky to distant lands and places.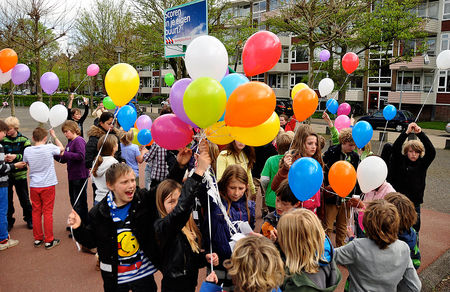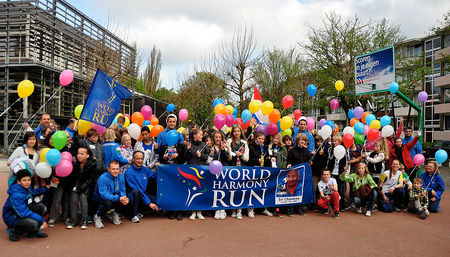 A final group picture before the balloons are released.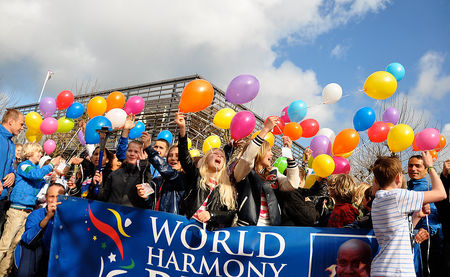 And then the countdown: 10...9...8...7...6...5...4...3...2...1...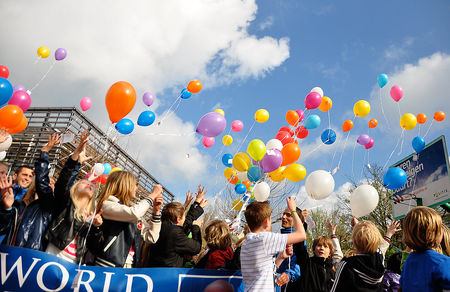 Release!!!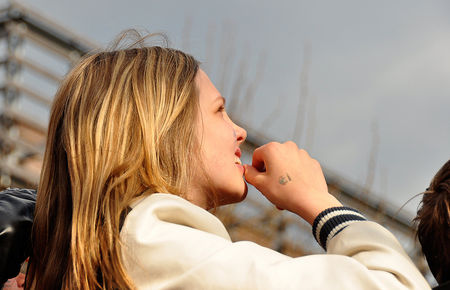 Wow, what a sight! We hope the peace-wishes will reach the four corners of the globe and we pray that they all will be fulfilled.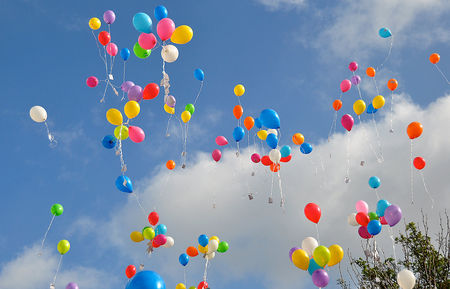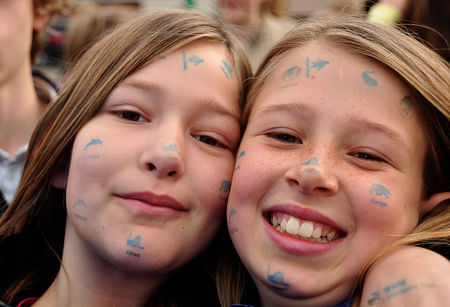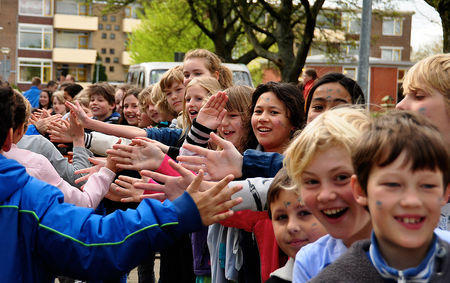 Then it was time to say good-bye again. Thank you 'De Petteflet' and especially Hanneke Venema for being such great hosts to the World Harmony Run!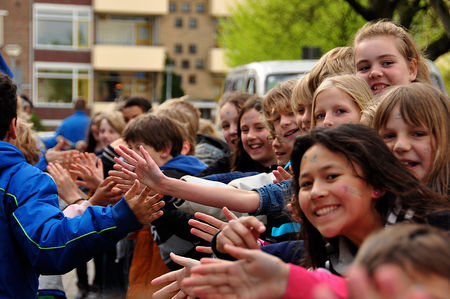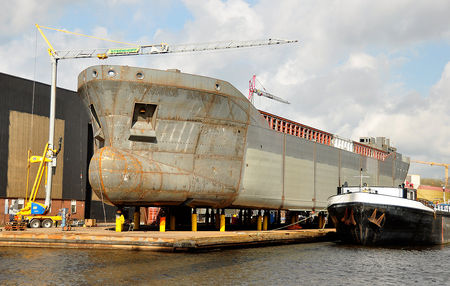 Again our journey through Holland took us past boats and sheep. The one below is in urgent need of a haircut.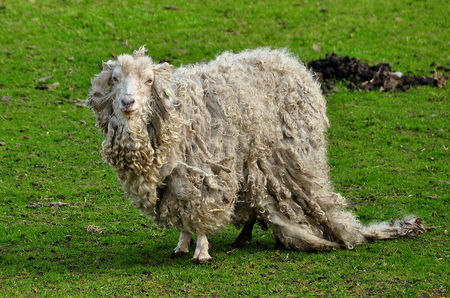 The children from elementary school 'De Hoeksteen' in Hoogezand were awaiting us on the outskirts of town and ran the final kilometre with us to their school.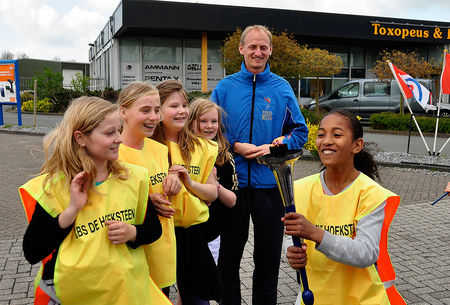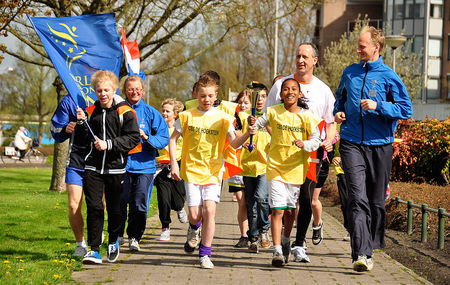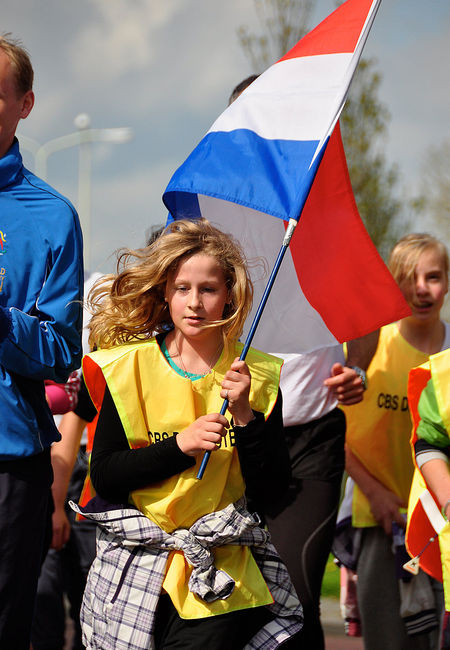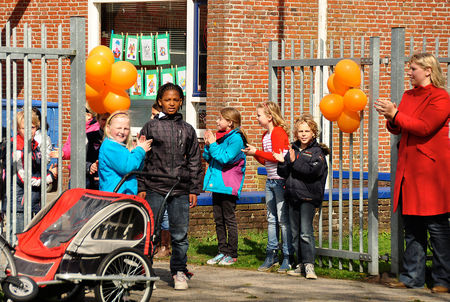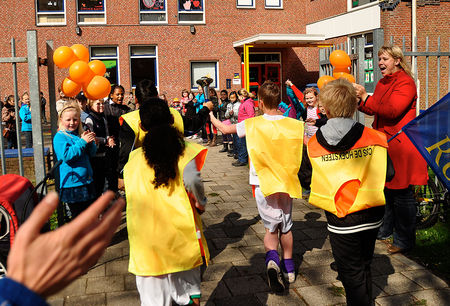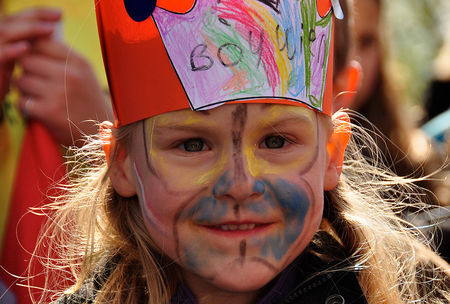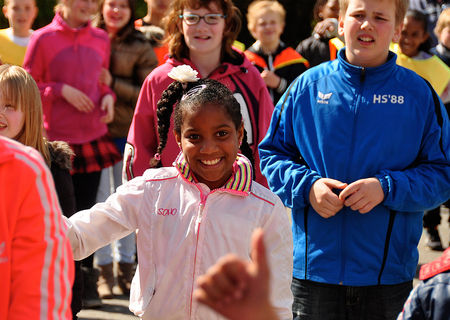 Inside we started our presentation. As always we did our song with the movements and let the children feel peace and harmony in their own hearts.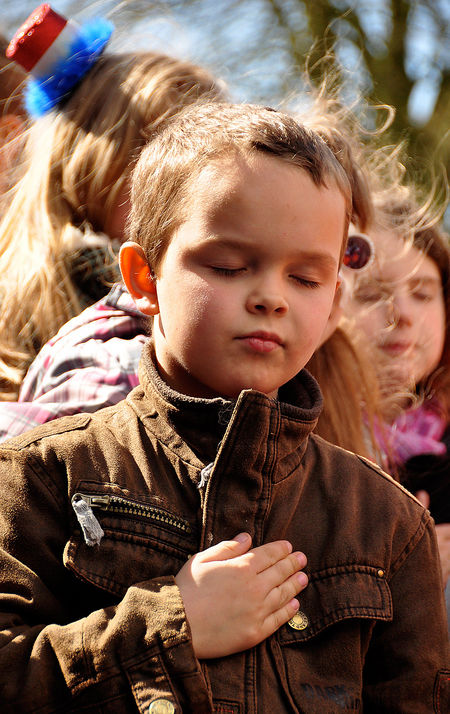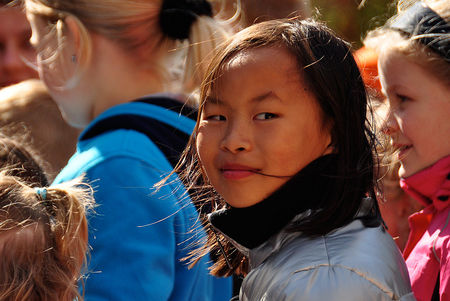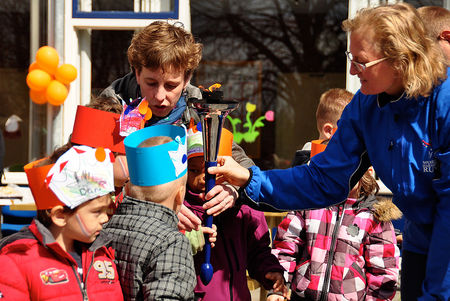 The torch was passed round and all made a special peace-wish.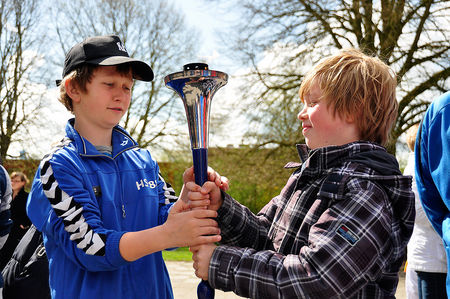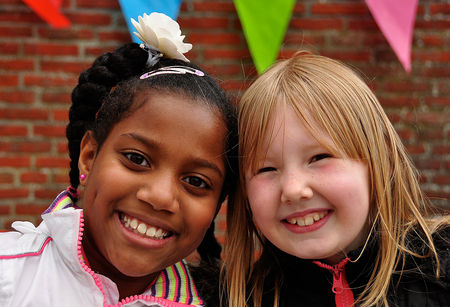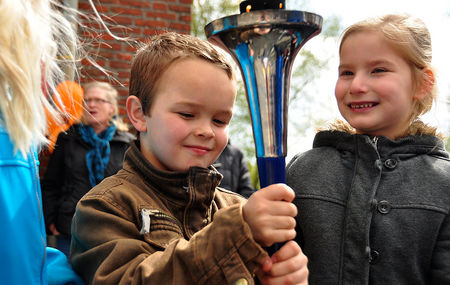 'De Hoeksteen' houses children with different nationalities. This little girl (below) is originally from Estonia and spoke perfect Russian.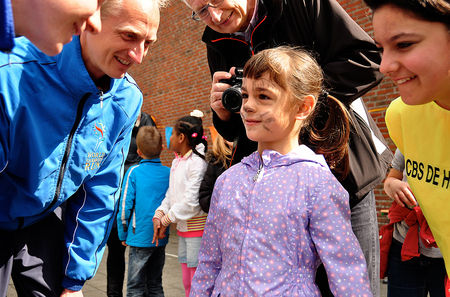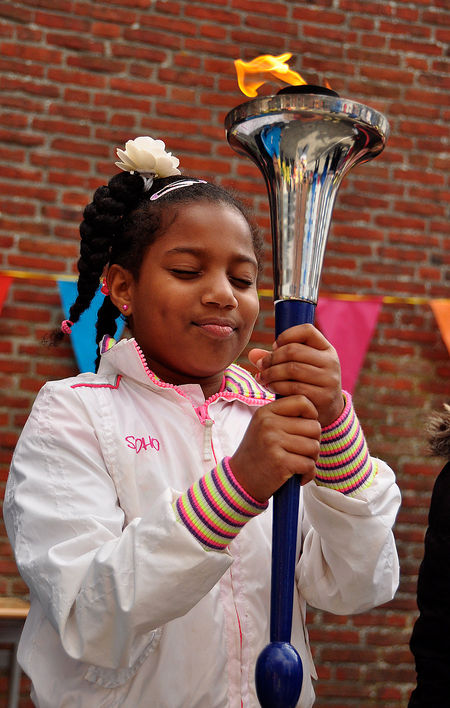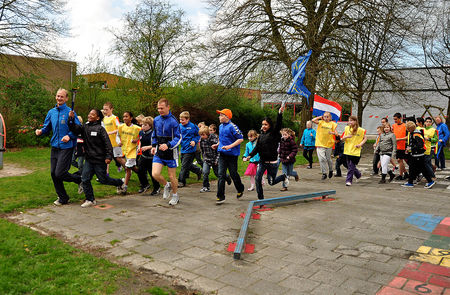 Another run and a group picture. Thank you 'De Hoeksteen' and especially principal Bert Bakema for a warm-hearted and truly uplifting reception.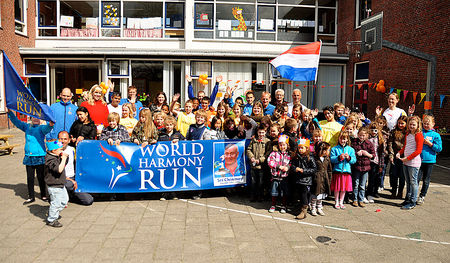 After the meeting we were treated to a delicious lunch prepared by some of the children.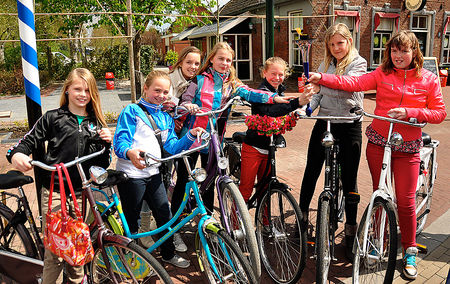 Runners meet cyclists. A spontaneous meeting on the road.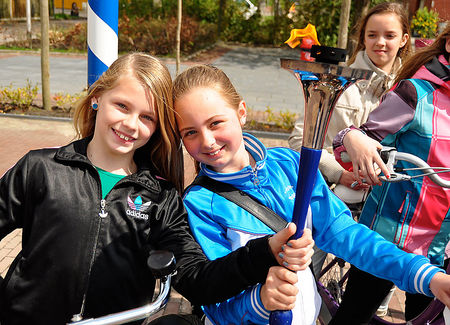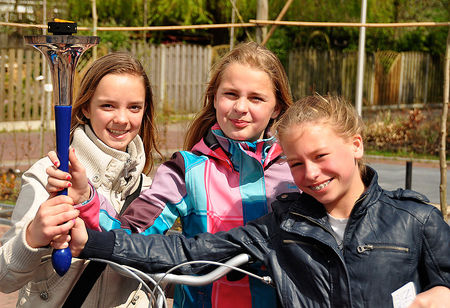 ...and another one...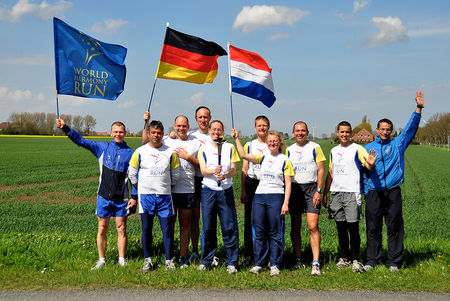 At the border with Germany our ways parted. Thank you Holland for all the hospitality and friendship! See you again next year on another World Harmony Run.
---
Video Message from Davidson Hepburn, President (2009 - 2011) of the General Conference of the United Nations Educational, Scientific and Cultural Organization (UNESCO) for 25th Anniversary of the World Harmony Run and a vision for the decade: "Toward a Oneness-World".
Full Text of the 25th annversary message and link to 25 language informal Translations: http://www.worldharmonyrun.org/25
or Click on language button for separate youtube videos wth sub titles in varous languages
See also: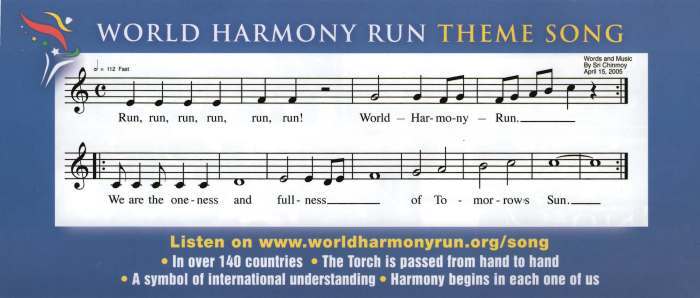 ---
Distance: 65 km
Team Members:
Dipavajan Renner (Austria), Sandro Zincarini (Italy), Sumahat Strohn (Germany), Mladen Vujaklija (Croatia), Vladimir Ilyasov (Russian Federation), Namitabha Arsic (Serbia), Layamut Tehrani (Austria/Iran), Endre Olah (Hungary), Dutch runners (Netherlands)
Harmonemail:
You can send a message to the runners or read the messages.
Gallery: See more images!