Netherlands 24 April: Den Haag - Amsterdam
Today we started running in the beautiful city of The Hague...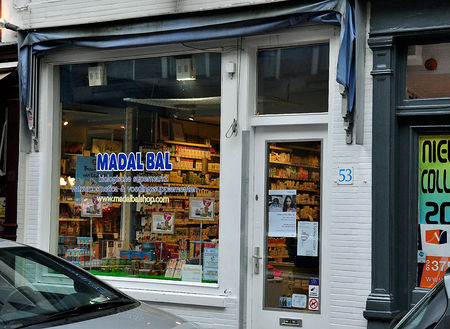 The Madal Bal health food store is where many of our local runners work. The store is always a great supporter of the Run, keeping us healthy and strong with organic food!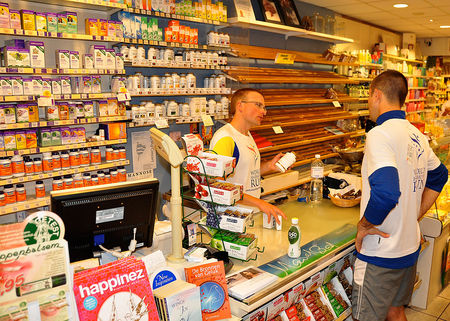 Mladen is getting some sound advice from store manager Pradeep (who happens to be a great ultra-distance runner).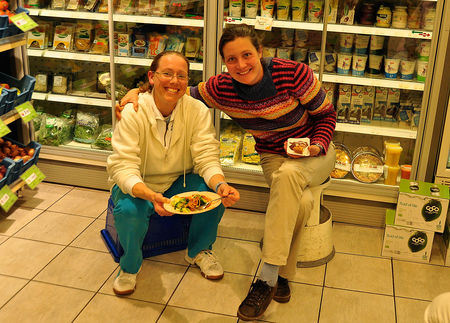 Sara and Pranayani both work in the store and they are both joining the Run in Holland this year.
After a hearty breakfast we ran towards the first school in The Hague, Da Costa School "De Spiegel".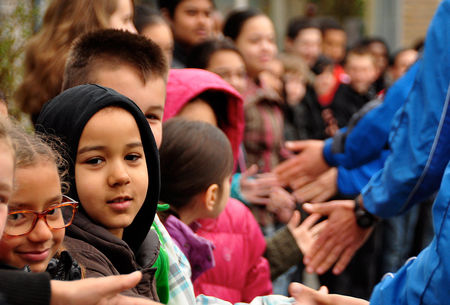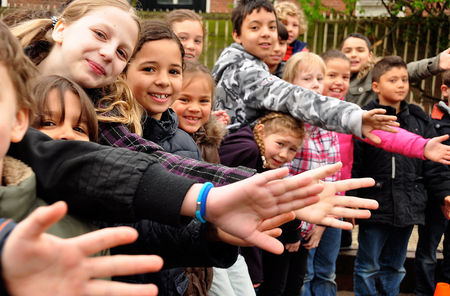 Young peace-enthusiasts greeting us!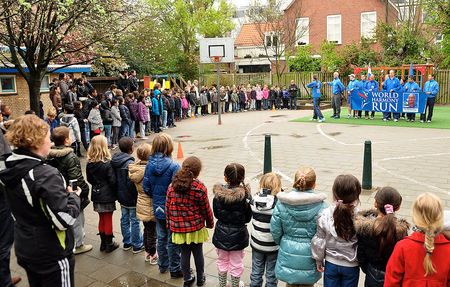 Guessing the countries, always a favourite game.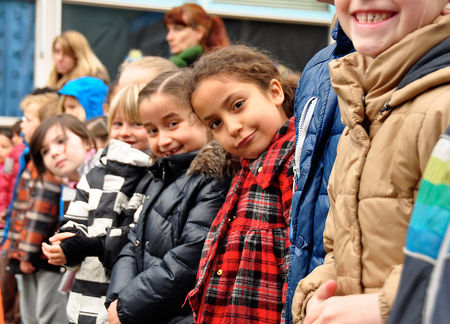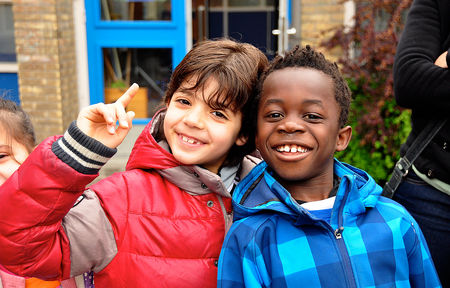 Smile! You're in the World Harmony Run!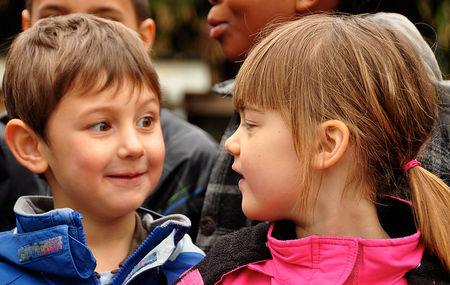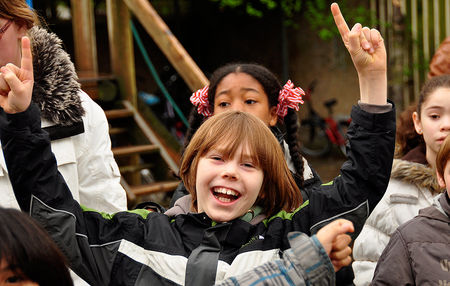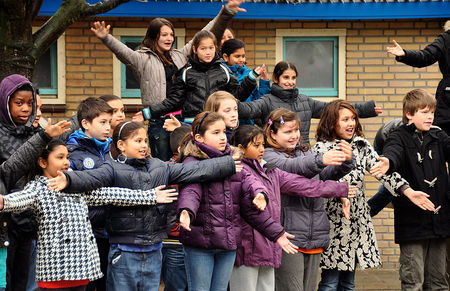 "We are the oneness and fulness of tomorrow's sun", a line from our theme song, theatrically expressed by the school children.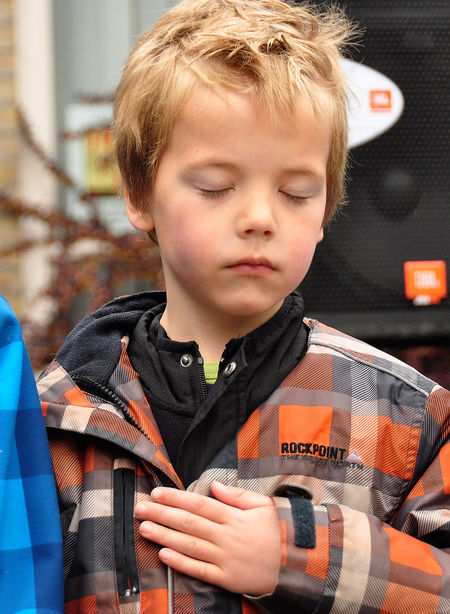 Trying to feel peace and harmony in the heart. A difficult exercise, but the children were very good at it!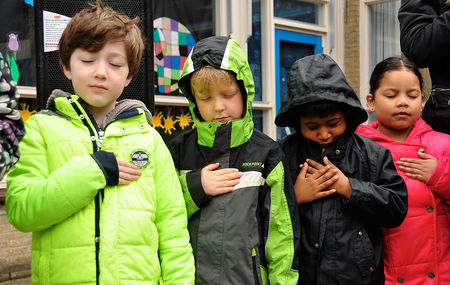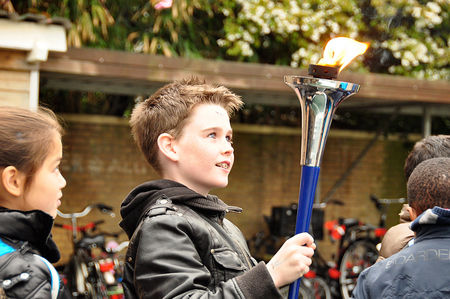 The Peace Torch is always an object of fascination and joy.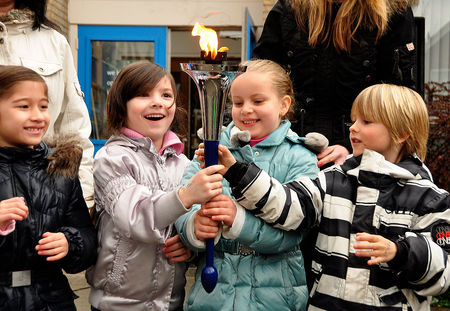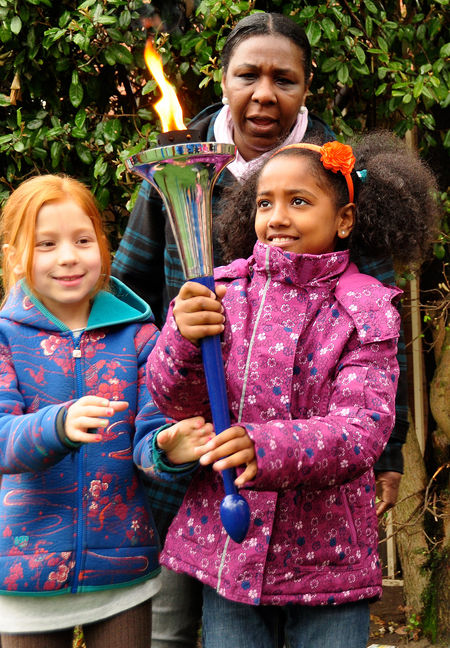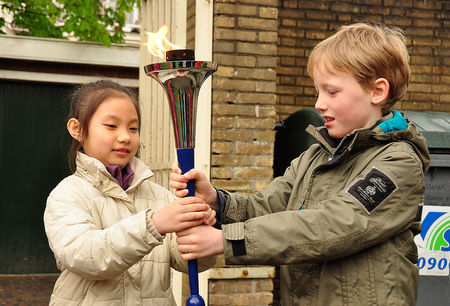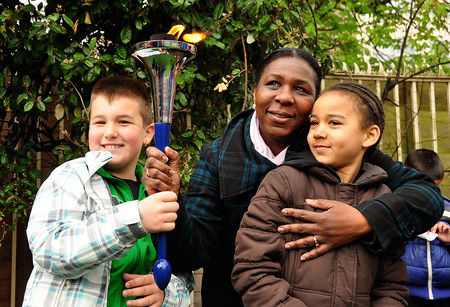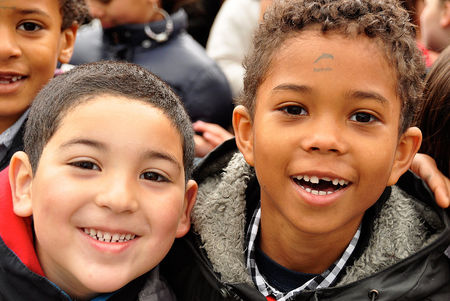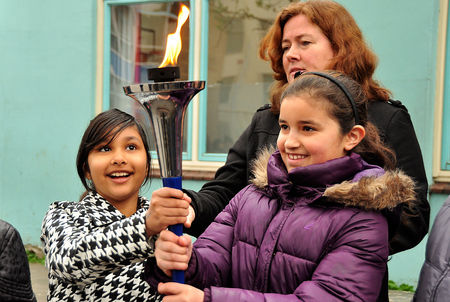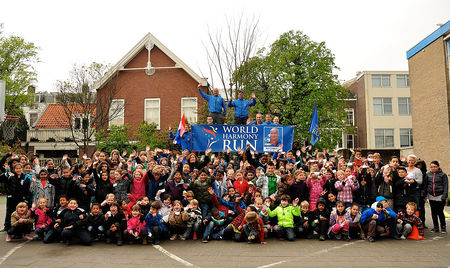 Thank you "De Spiegel" for a wonderful meeting!!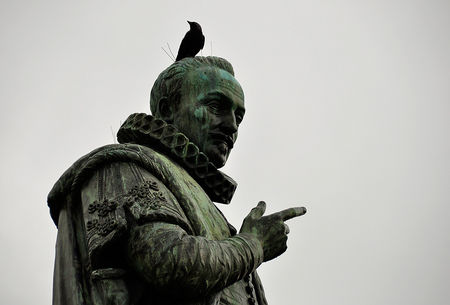 Is that a peace-dove nesting on one of our national heroes?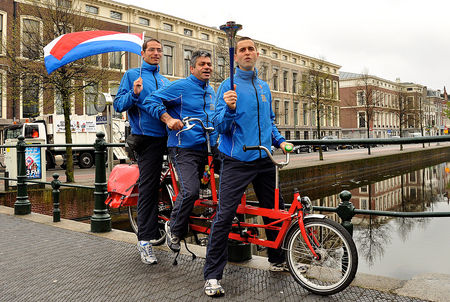 Only in The Netherlands: the World Harmony Bike-Ride.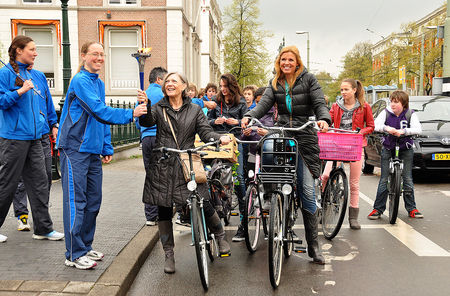 Holland really is famous for its many cyclists. There is not a road in the country that doesn't have a bike-lane next to it (okay, except highways).
From the school we ran to the political heart of the country: the 'Binnenhof' where the national parliament holds office.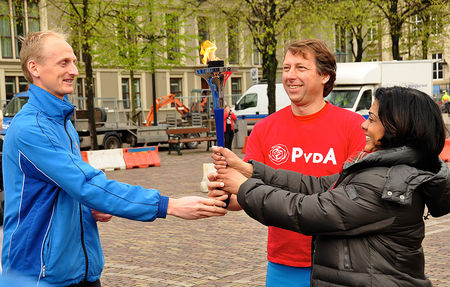 Two members of the Dutch parliament, Jeroen Recourt and Tanja Jadnanansing from the PvdA (social democratic) party, offered their support for the World Harmony Run.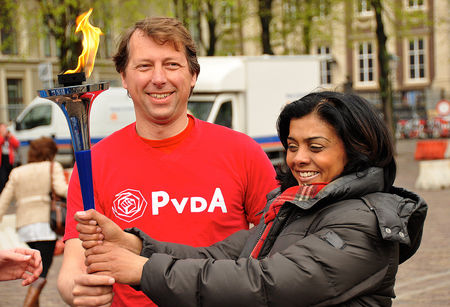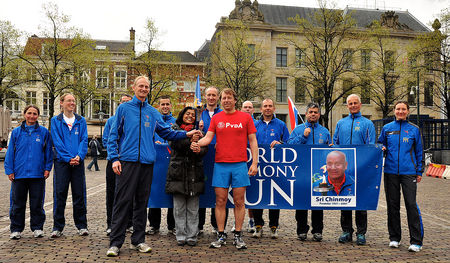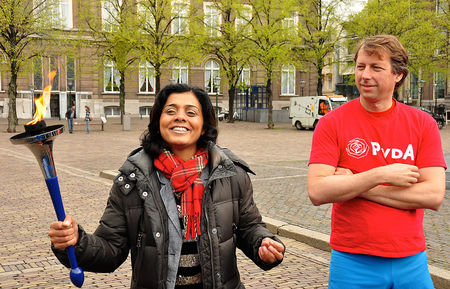 Both gave a glowing speech praising the ideals of the Run. Mrs. Jadnanansing concluded by chanting 'Om Shanti', a Hindu mantra invoking inner peace. She perfectly understood that our peace starts within. She also mentioned our shining faces. "I can see peace in your faces," she said.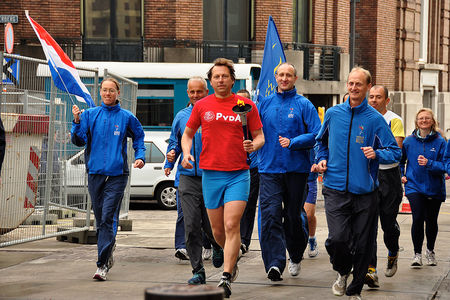 Jeroen Recourt is an avid runner, having completed several marathons, and joined us for a brisk run around the parliament.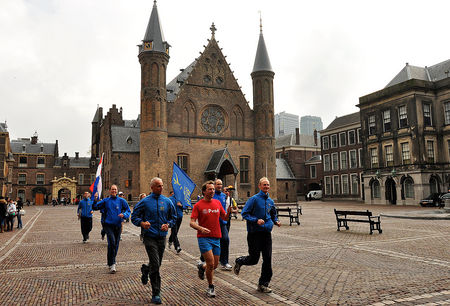 Here we cross the square where all parliament buildings are located.
From The Hague we ran North and were pleasantly surprised by many tulip fields. Holland truly proved to be the land of the flowers today.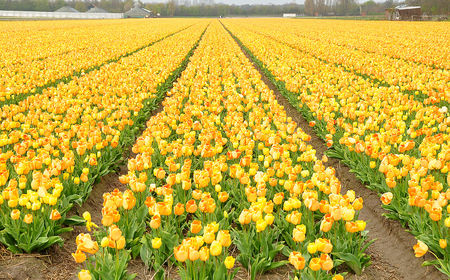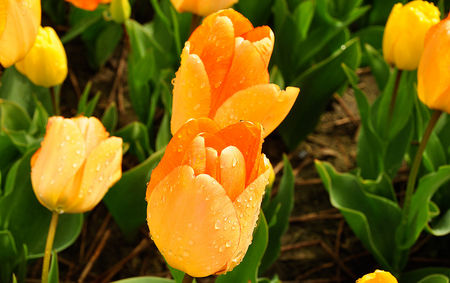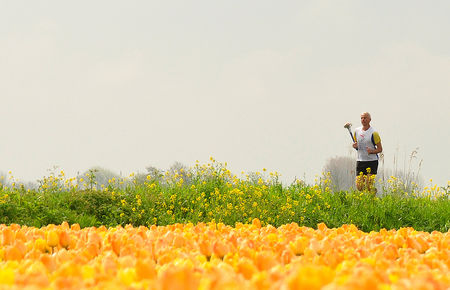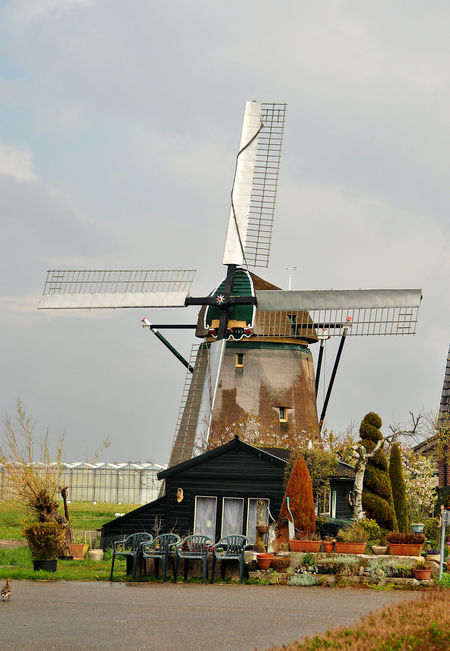 ...and the land of windmills of course.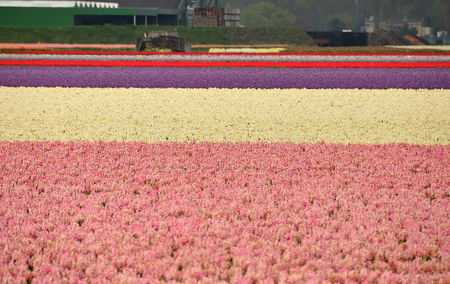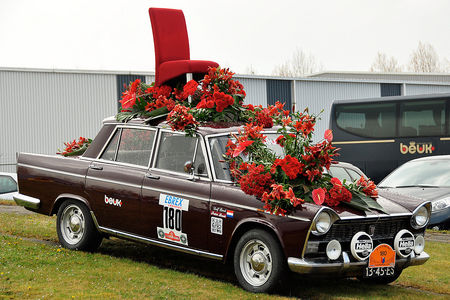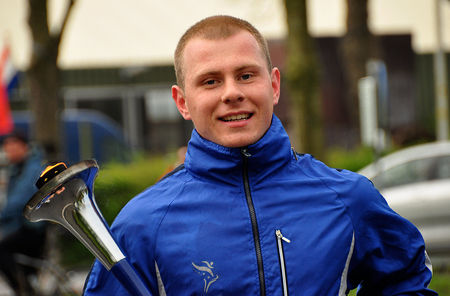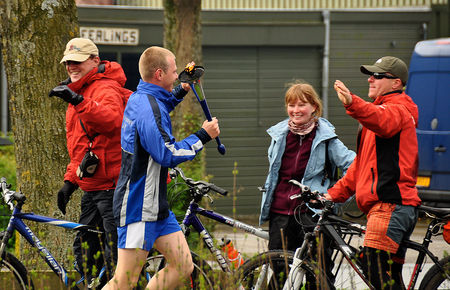 Vladimir meeting a Hungarian group of cyclists, enjoying the Dutch scenery.
We arrived in the town of Haarlem, where we had a meeting at elementary school De Satelliet. They awaited us singing the World Harmony Run song and had created beautiful banners and flags.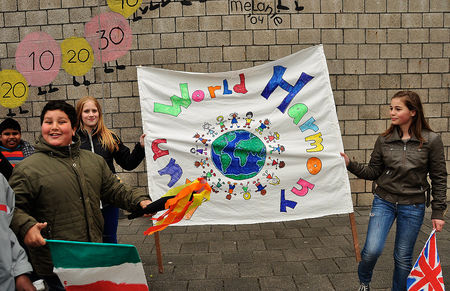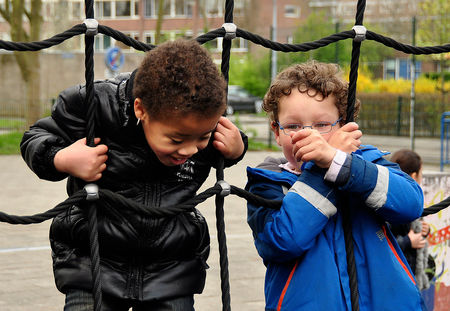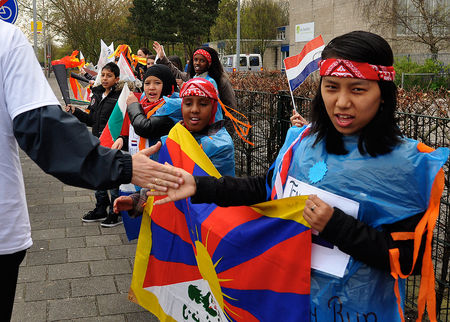 These children study at the international language school (part of De Satelliet) and are from all over the world, like this Tibetan girl.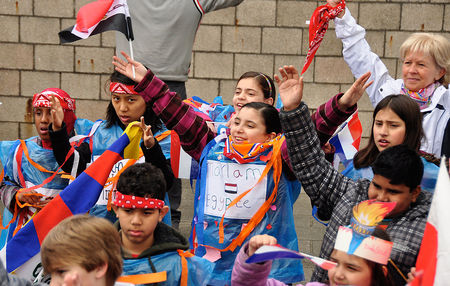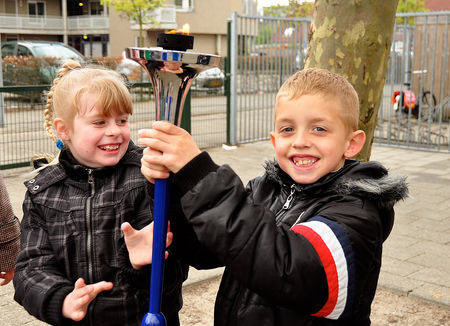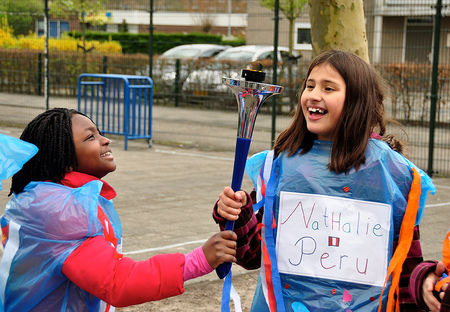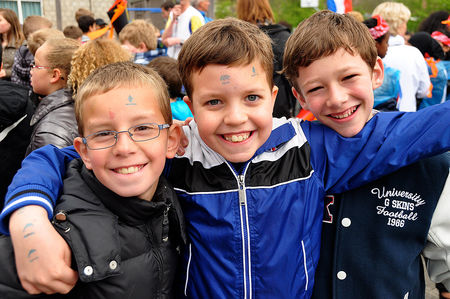 The stamps were a hit, as usual (see foreheads).
An enthusiastic run around the school concluded our visit.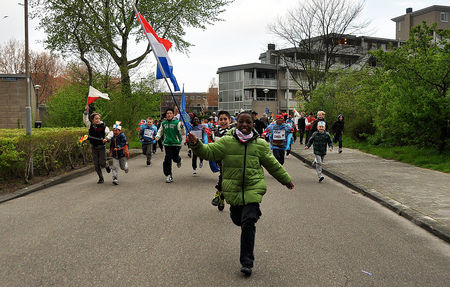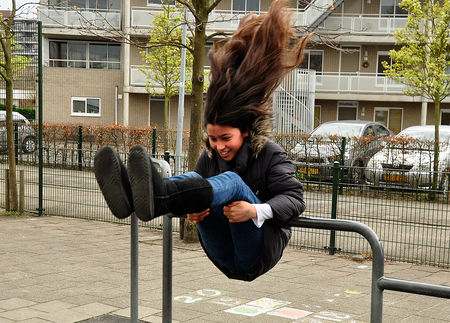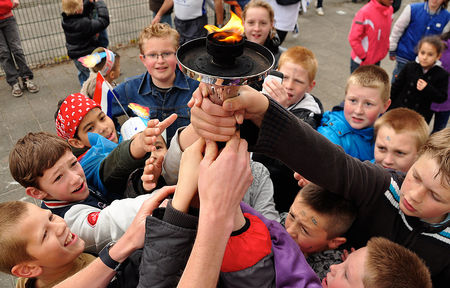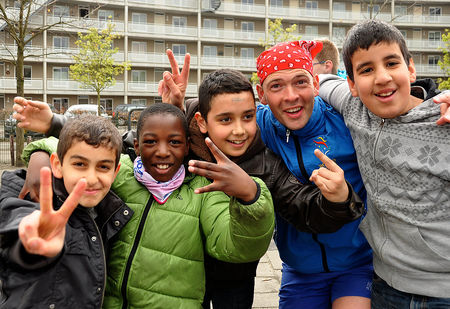 Sumahat (2nd from right), a 31-year-old child (from Germany).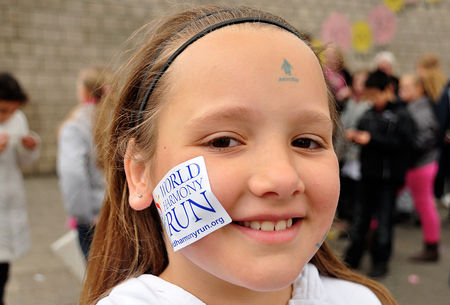 Great place for a sticker!
Thank you De Satelliet for a truly heartfelt and uplifting meeting!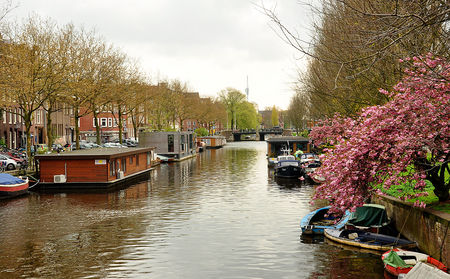 Finally, the canals of Amsterdam!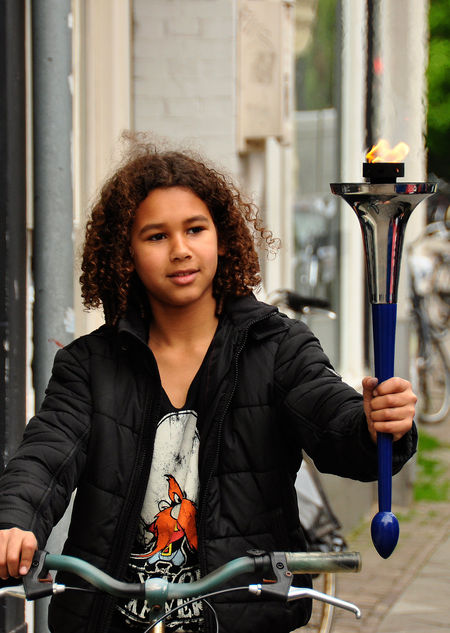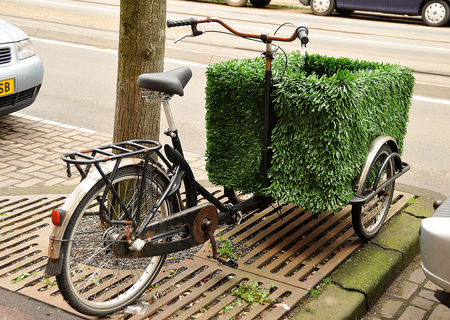 This is going green in a whole new way.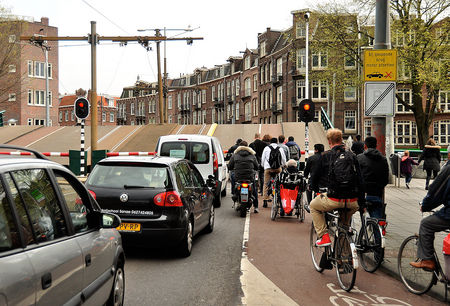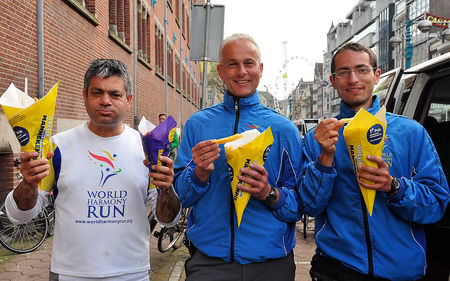 Dipavajan, our team captain (middle) is deeply enamoured of our fries.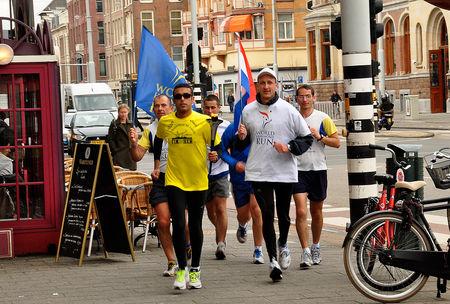 We picked up Khalid from Saudi-Arabia, who we met running in the street. He happily accompanied us to our next meeting.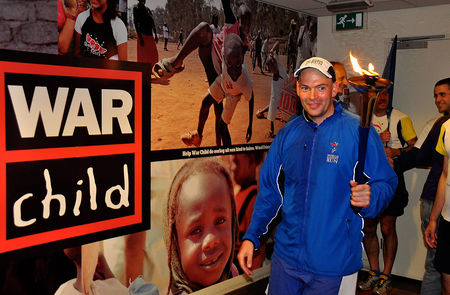 We went to the office of War Child, an organisation that supports children in war-stricken countries by offering educational and rehabilitation programs, as well as psychological help in dealing with war trauma's. War Child was started as an idealistic organization by a Dutch woman in 1995. It is now a still growing organization, helping children in over a dozen countries worldwide.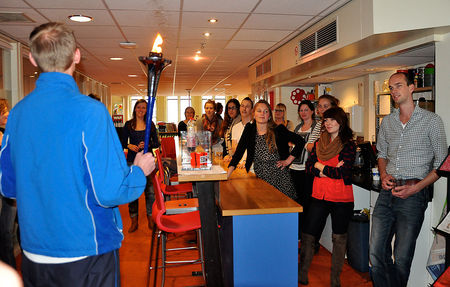 The staff was extremely kind, generous and receptive to our ideas. They were literally jumping with joy and excitement as we carried the Peace Torch into their building.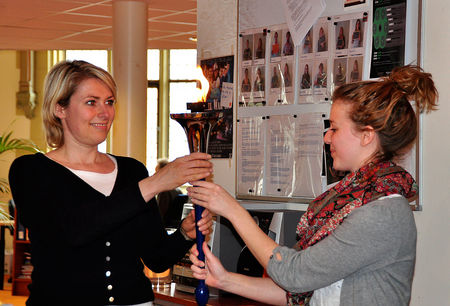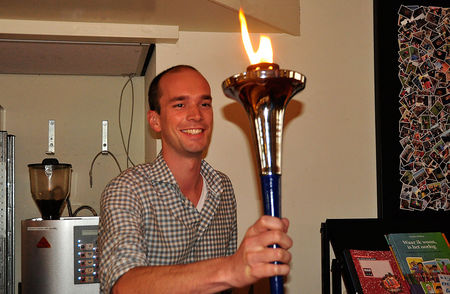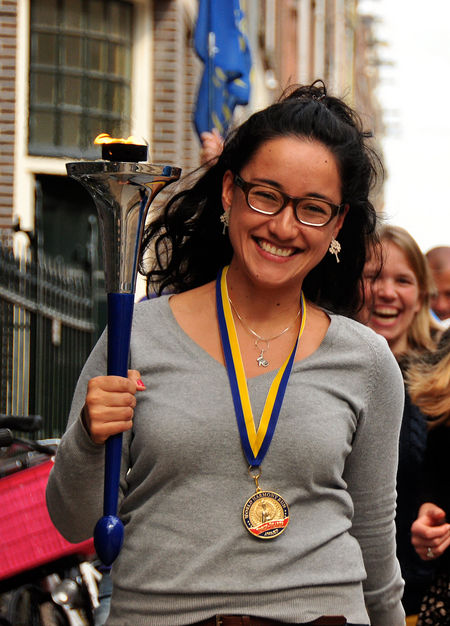 We awarded War Child our Torch Bearer Award for their outstanding work of making this world a more peaceful place for countless children. The award was received by Juliana Aguilar from Colombia on behalf of the entire organisation.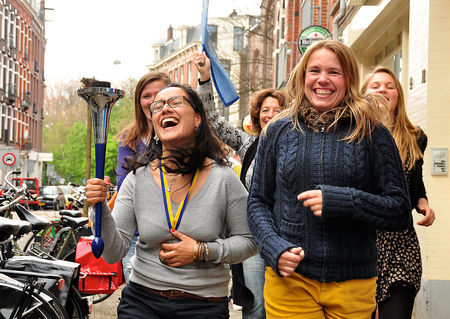 We ended our woderful meeting with a short run outside.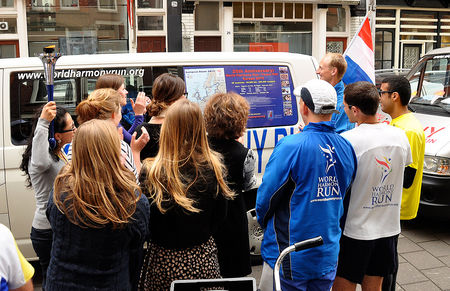 A curious and eager glance at our running route through Europe.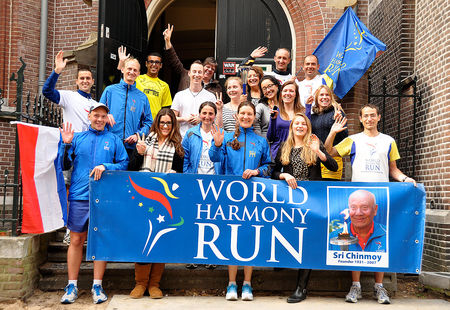 Thank you War Child for an unforgettable get together. We will hopefully see you again in the future. Keep up the good work!
---
Video Message from Davidson Hepburn, President (2009 - 2011) of the General Conference of the United Nations Educational, Scientific and Cultural Organization (UNESCO) for 25th Anniversary of the World Harmony Run and a vision for the decade: "Toward a Oneness-World".
Full Text of the 25th annversary message and link to 25 language informal Translations: http://www.worldharmonyrun.org/25
or Click on language button for separate youtube videos wth sub titles in varous languages
See also: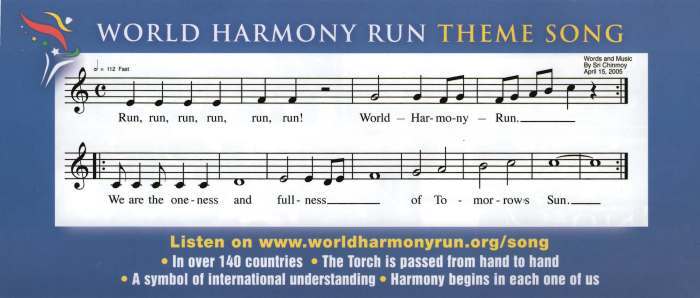 ---
Distance: 77 km
Team Members:
Dipavajan Renner (Austria), Sandro Zincarini (Italy), Sumahat Strohn (Germany), Mladen Vujaklija (Croatia), Vladimir Ilyasov (Russian Federation), Namitabha Arsic (Serbia), Layamut Tehrani (Austria/Iran), Endre Olah (Hungary), Dutch runners (Netherlands)
Harmonemail:
You can send a message to the runners or read the messages.
Gallery: See more images!