Norway 8 May: Oslo - border NOR/SWE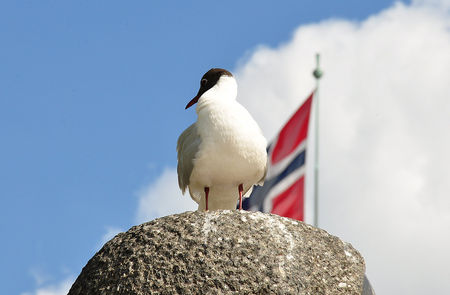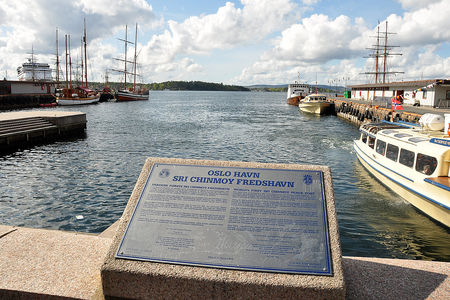 This day was reserved for special local events in the city of Oslo. The first one was an Interfaith Peace Walk from the 'Pier of Honour' in Oslo harbor, which has been dedicated as a 'Sri Chinmoy Peace Harbour' earlier, to the 'Eternal Peace Flame' at Aker Brygge.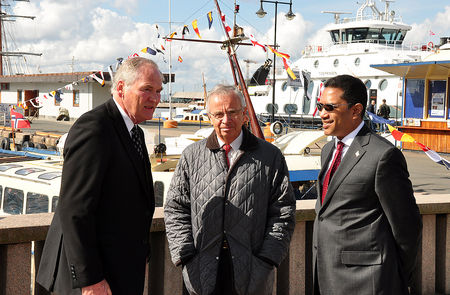 The walk was hosted by former Mayor of Oslo, Sven Kristiansen, and the World Harmony Run, on the occasion of its 25th anniversary this year. Many distinguished guests joined the walk, among them twelve Ambassadors, representatives of different faiths, and Pål Moen, former Director of Aker Brygge...
...before the start...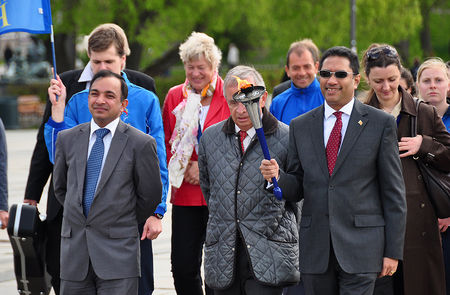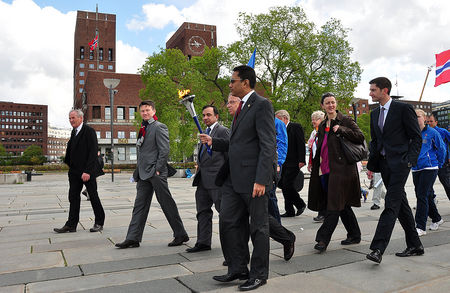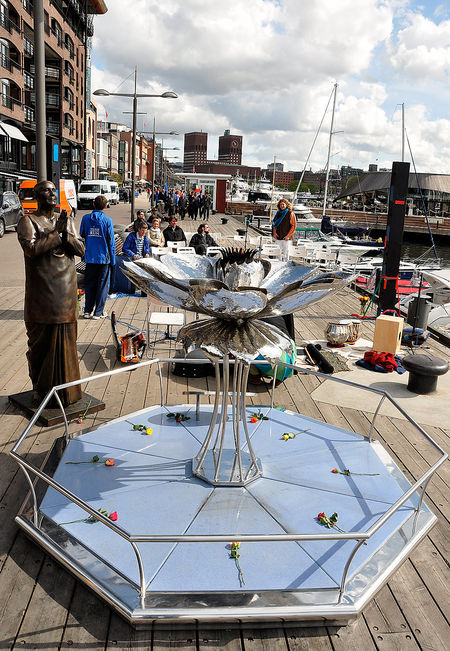 The 'Eternal Peace Flame' was installed at Aker Brygge in 2001 and has been burning ever since..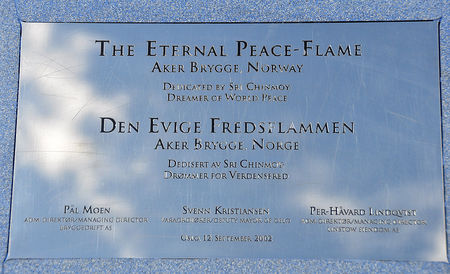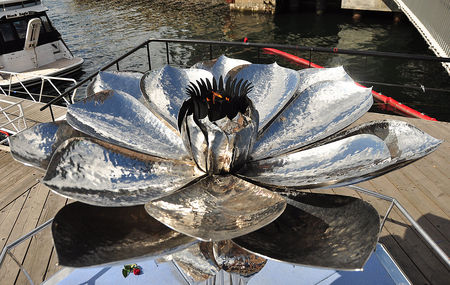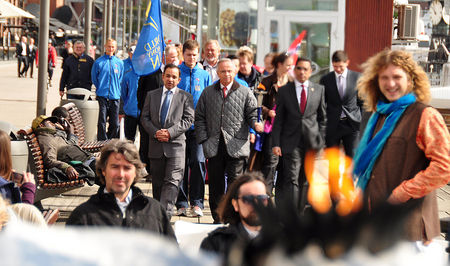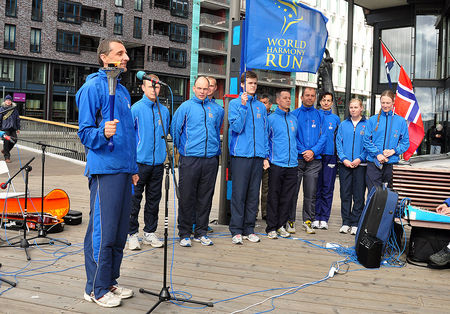 The international team of runners - some of them on the road since the Run started in February in Portugal!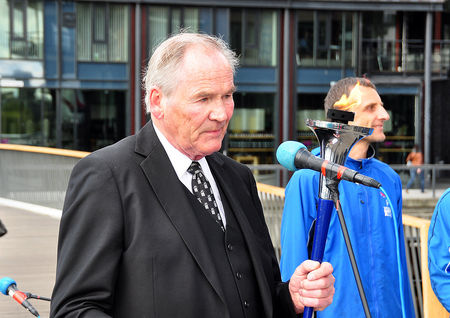 After a short introduction, the first speaker was our dear friend Svenn Kristiansen, former Mayor of Oslo.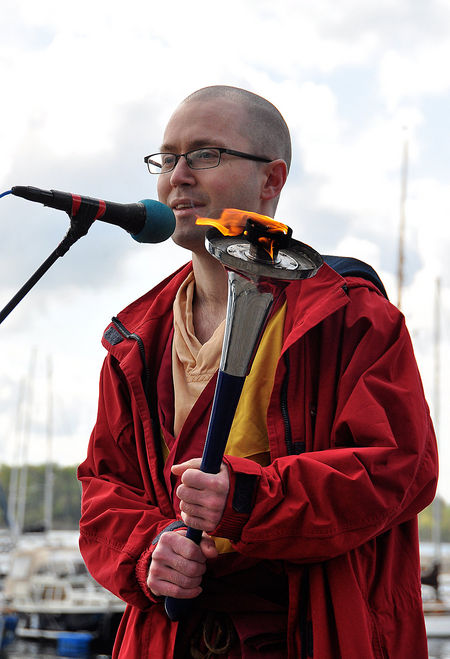 Representatives of the Buddhist, Christian and Hindu religion impressed us with their humility, sincerity and serenity when they spoke a few words and offered a prayer for peace.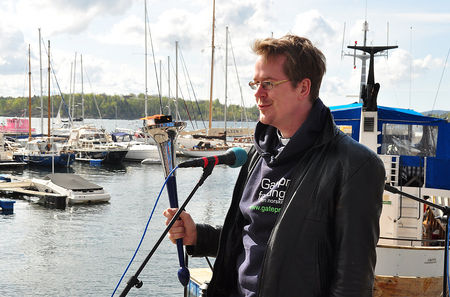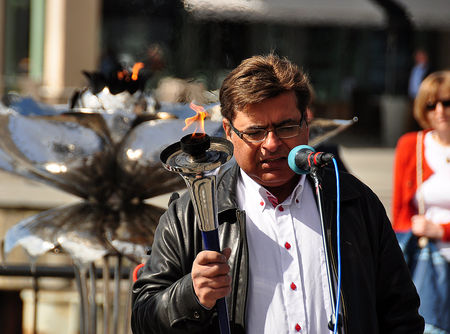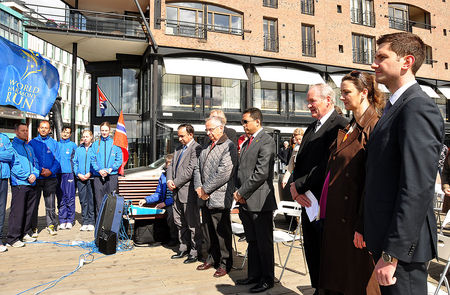 The speeches and prayers were followed by a minute of silence...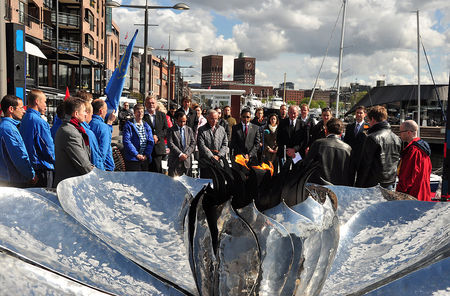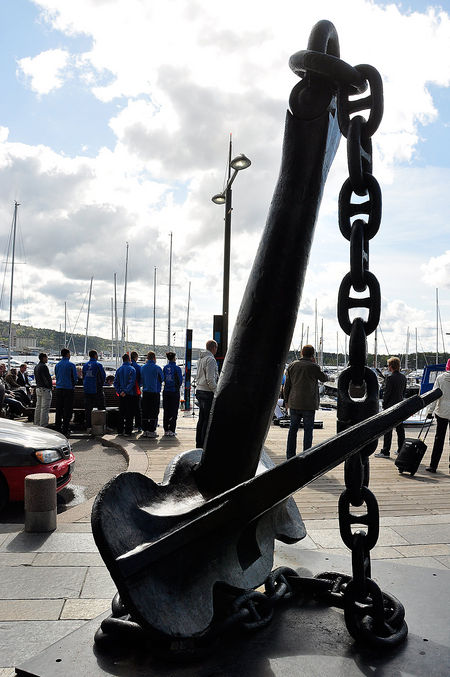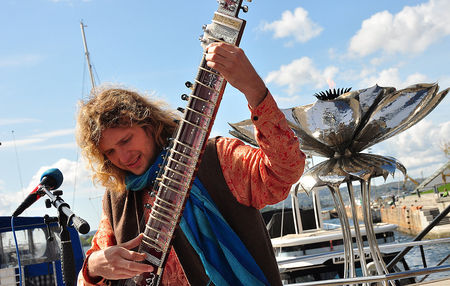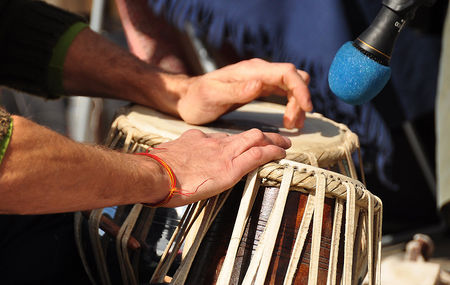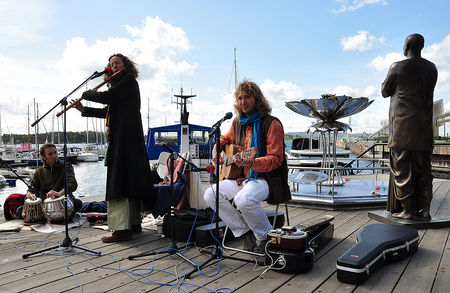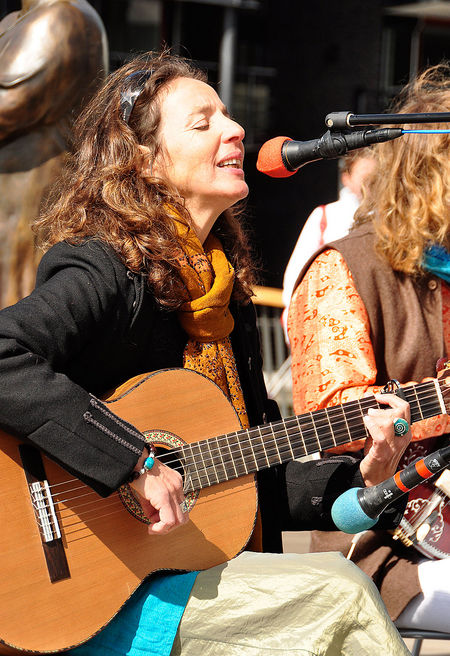 Music is a universal language; it can unite and harmonise everything. This was felt so strongly by everyone when Tal Coleman, Sigmund Vatvedt and Prem Sudeva performed peace songs from three different traditions most soulfully and with great virtuosity.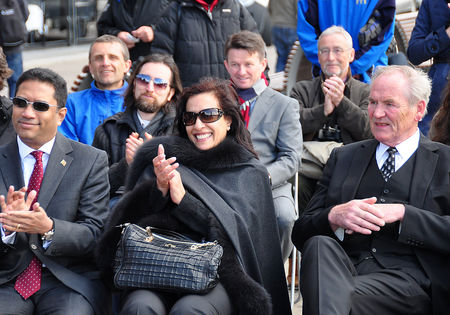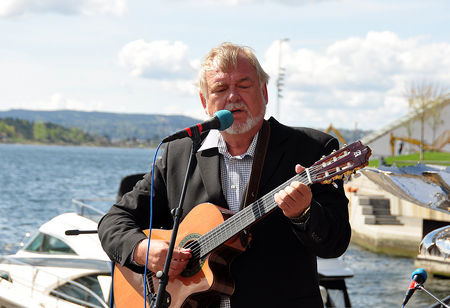 Pål Moens performance touched everybody's heart!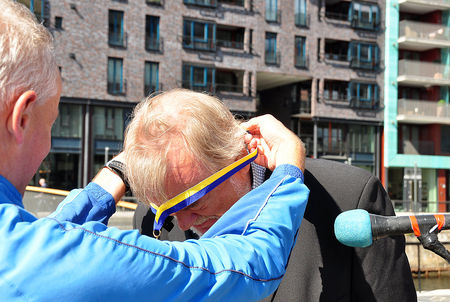 Svenn Kristiansen and Pål Moen were presented with the Torch Bearer Award...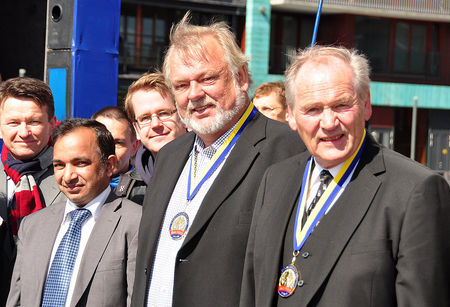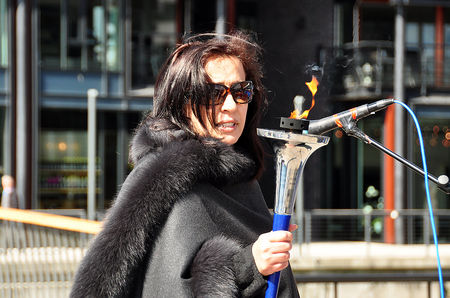 The Ambassadors of Marocco, Italy and Sri Lanka spoke extemporaneously...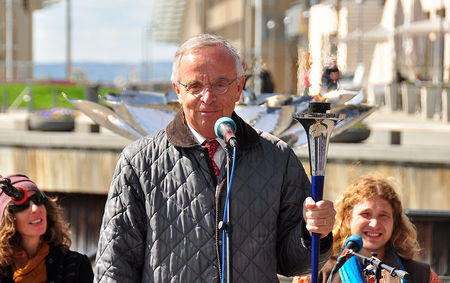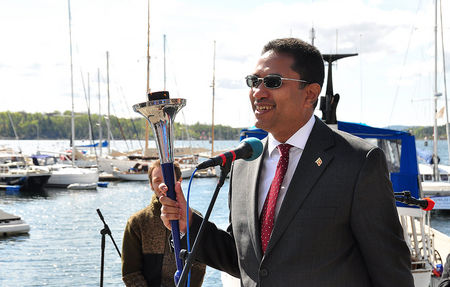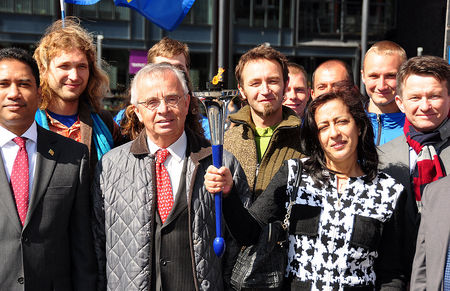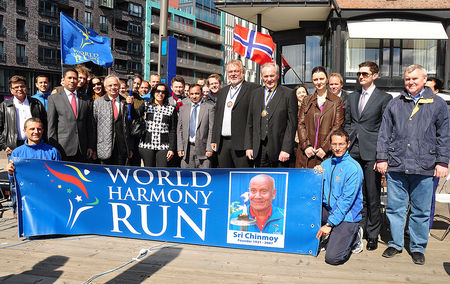 Photos with everyone...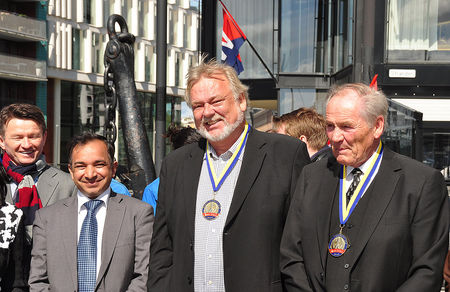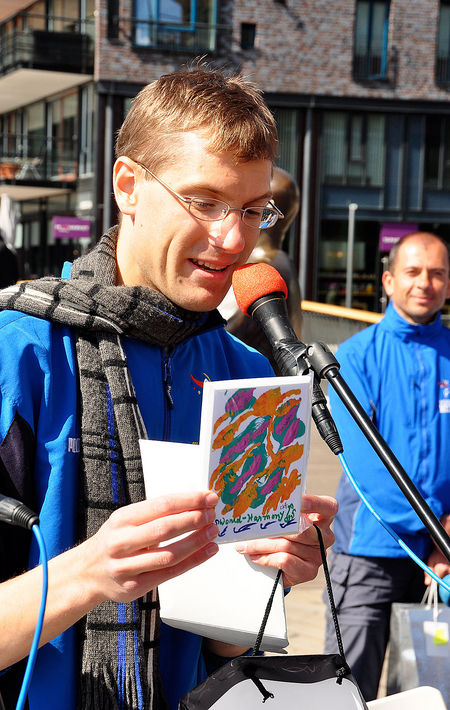 ... and gifts for everyone!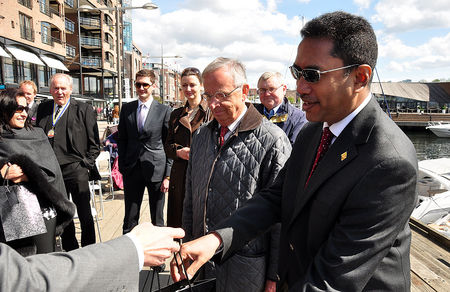 ...the Belarus Ambassador kindly received the torch...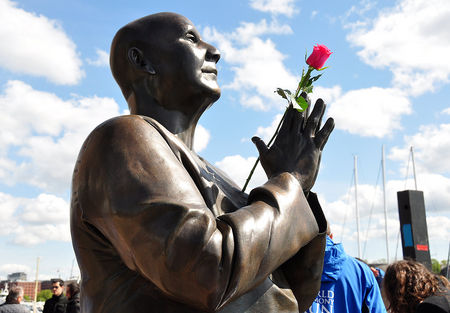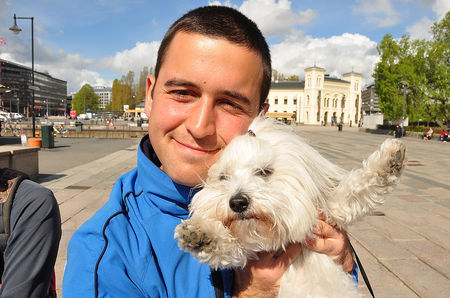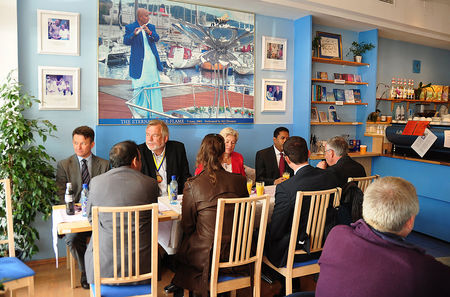 Everyone was invited to a marvellous Luncheon at the 'Fragrance of the Heart' cafe...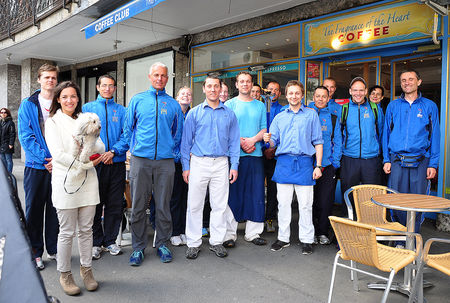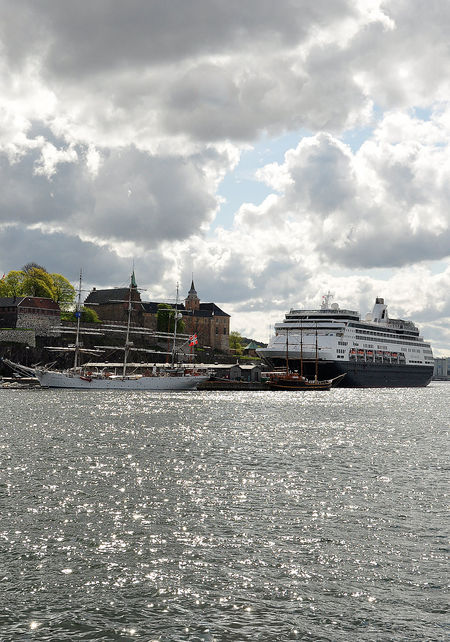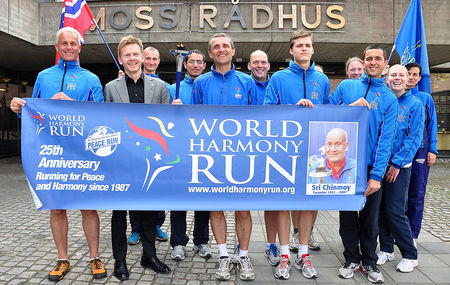 ... and on we went on our journey! Our last station of the day was Moss, where we were warmly welcomed by the Mayor Tage Pettersen. What an inspiring and uplifting day!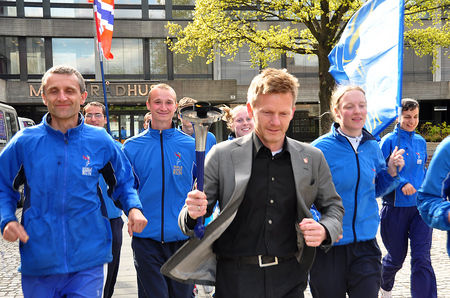 Video Message from Davidson Hepburn, President (2009 - 2011) of the General Conference of the United Nations Educational, Scientific and Cultural Organization (UNESCO) for 25th Anniversary of the World Harmony Run and a vision for the decade: "Toward a Oneness-World".
Full Text of the 25th annversary message and link to 25 language informal Translations: http://www.worldharmonyrun.org/25
or Click on language button for separate youtube videos wth sub titles in varous languages
See also: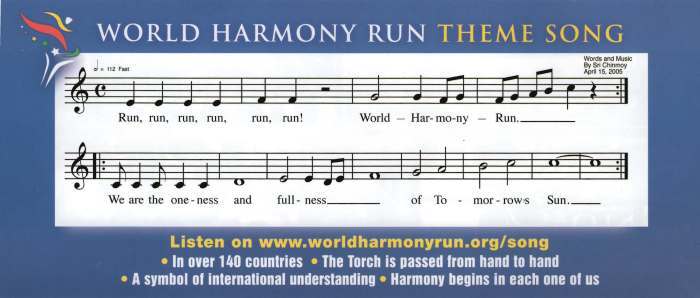 ---
---
Distance: 90 km
Team Members:
Dipavajan Renner (Austria), Sandro Zincarini (Italy), Sumahat Strohn (Germany), Mladen Vujaklija (Croatia), Vladimir Ilyasov (Russian Federation), Namitabha Arsic (Serbia), Layamut Tehrani (Iran), Lucas Szeles (Germany), Edi Brodtrager (Austria), Pratul Halper (Austria), Roos de Waart (Netrherlands), Martins Kronbergs (Latvia), Norwegian runners (Norway)
Harmonemail:
You can send a message to the runners or read the messages.
Gallery: See more images!