Finland 24 June: Helsinki - Turku
Filled with porridge, the team left Helsinki early this morning to begin the day's running. Running conditions were absolutely perfect. The sun shone brightly while a light breeze blew across the landscape. The sky was filled with fluffy white clouds and then far above wispy cirrus clouds streaked across the sky. The Finnish countryside is an expanse of pine forests, which surround everything including the plains of lush green agricultural land. The dark red and bright yellow timber houses blend harmoniously with its surroundings. It is striking how clean and pure the environment is kept.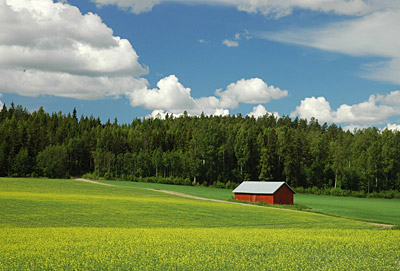 With such a large running team it was easy to cover 70 km by 11.00 am in order to meet a group of runners from the Salo marathon club.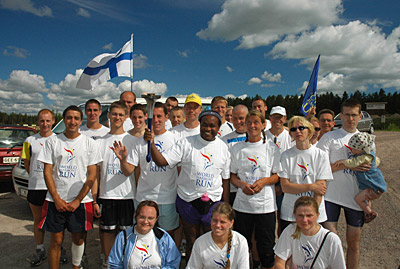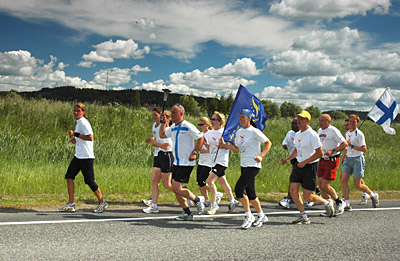 This cheerful group accompanied us to the centre of the town of Salo whereby we made a short presentation to the public.
Along the highway we passed the Nokia factory on the outskirts of Salo. This is where the Nokia business empire all began, and it is currently the only factory in Finland.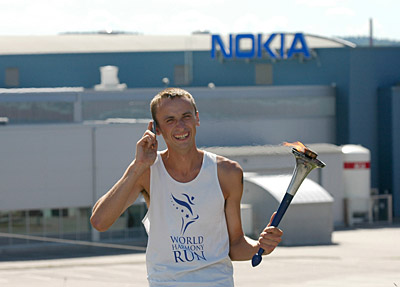 Shortly after leaving the Salo we stopped for a picnic under the shade of tall pine trees. Sandwiches and seasoned pasta went down a treat.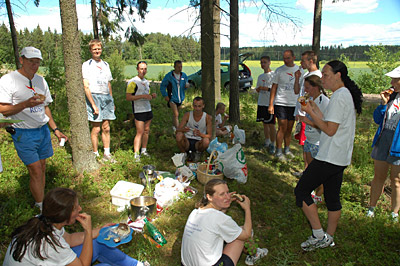 We had only 50 km to run for the rest of the day so we ran in pairs. It got a little warmer but still perfect for running.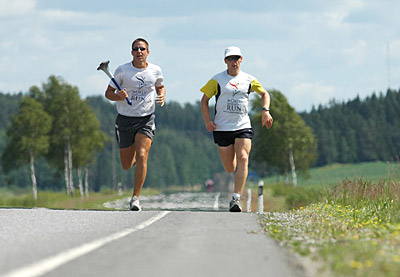 At one point we had stopped to wait for a runner. Poor Janos stepped into a ditch full of mud and then came out again with one running shoe looking like a big ball of chocolate icecream!
We quickly covered the distance and this allowed some playtime for the team. And what does anybody like to do on a warm sunny day? …Swim! We found a beautiful lake nearby. But first the boys had an epic game of ultimate Frisbee with all the players sprinting here and there, with some amazing catches and some that were so close and yet so far! Immediately after our workout we ran straight for the lake. How refreshing!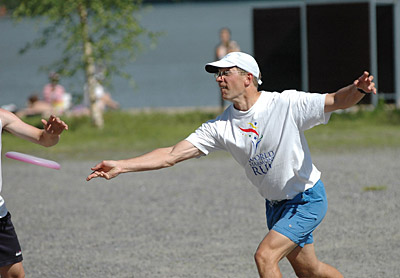 The evening approached and we arrived with torch burning and flags flying in the city of Turku. Along the river, which halves the city, many restaurant boats remain permanently docked. It was in front of one these boats that we had another presentation to the public. Afterwards we were kindly treated to food on board this restaurant boat. A colourful buffet awaited us.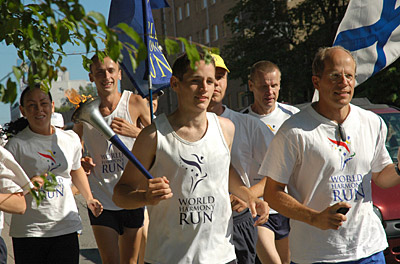 The port of Turku was only 3 km away, where after a delicious meal provided by our kind-hearted co-ordinators, we boarded the ferry to be whisked away from Finland and onwards to Sweden. We would most warmly like to thank our Finnish co-ordinators for their hospitality!
Also we would like to immensely thank Viking Line for providing free tickets for our trip to Stockholm for the whole International Team. Initially Anne had booked tickets for a smaller amount of people, but over the last few weeks the Team has increasingly grown bigger. Today Anne approached Viking Line again to request further free tickets, and they kindly and generously obliged. It is such thoughtfulness and kind consideration from companies such as Viking Line that enable the World Harmony Run to travel across the many kilometres of Europe.
At the harbour side Ieva from Latvia sadly left the Team at the end of the day. With a heavy heart she said her farewells to all of us, but she had thoroughly enjoyed her experiences and waved goodbye to us with a smile and her constant cheerfulness. She vowed to join the International Team for a longer time next year. The World Harmony Run has that effect on runners - you always want to stay longer (just ask Valentine and Jadranka). The International Team has that sense of closeness and harmony like a big family that runners love.
In the evening we went out onto the windy deck of the ship.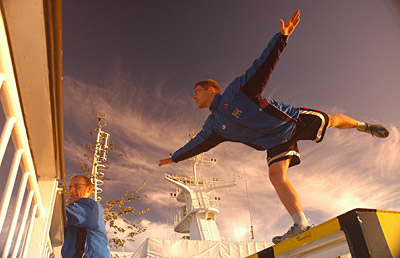 The sunset was intense across a light blue sky. Tomorrow a new day, a new country and a new adventure await us.
---
Distance: 147km
Team Members:
Alexey Egorov (Russia), Colm Magee (Ireland), Franz Hintereger (Austria),Gints Peleckis (Latvia), Jadranka Grbic (Serbia & Montenegro), Janos Derekas (Hungary), Jirka Albrecht (Czech Republic), Mark Collinson (England), Martin Leitner (Austria), Olesya Ilyasova (Russia), Ondrej Vesely (Czech Republic), Petar Mihaylov (Bulgaria), Peter Zuidema (Netherlands),Petr Machacek (Czech Republic), Svetlana Gorshkova (Russia), Valentine Bebik (Ukraine).
Harmonemail:
You can send a message to the runners or read the messages.