Finland 21 June: Porvoo - Helsinki
Wanting to be on time for an important event in Helsinki, we drove ahead and started to run at the entrance to the city of Porvoo. Fresh runners were waiting already to join us and so right after saying 'Hello' to each other we started to run into the city.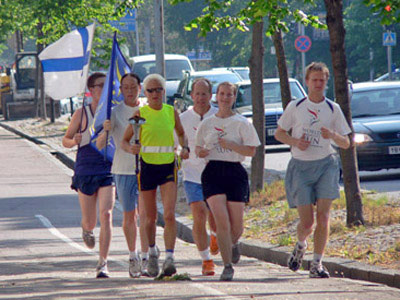 They had about 4 km to cover before arriving at the square in the old part of the town, where several photographers tried to get a good shot of the runners. The chairman of the Cultural Department welcomed us with a very touching speech that showed how much he liked the ideals that the run stands for.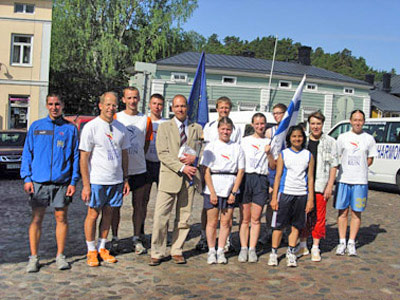 A short chat and some interviews later, everybody was ready to continue towards Helsinki. Our time schedule had to be followed to the letter, since we had planned a 17 km run without leapfroging into the city; sure enough, exactly on time at 12.20 p.m., the first runner arrived at the outskirts of Helsinki.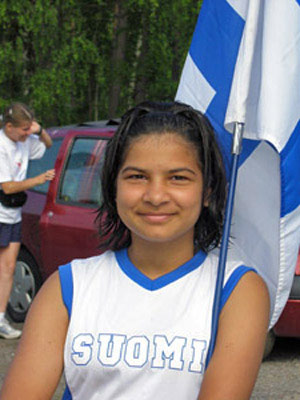 By about 2 o'clock we were about one km away from the Esplanad stage - our meeting place. Two police men on motorbikes escorted us trough the unusually heavy afternoon traffic.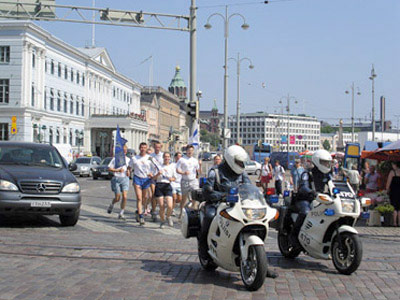 Martin almost got stuck at one stage: the police decided to lead the runners along the side walk, where the van he was driving couldn't follow them. But he managed to park the van, and run onto the stage just as his name was announced, to introduce himself to the audience.
This event in Helsinki was very special since we had about 12 guest from the embassies of different countries. Among them the ambassadors of Austria, Cyprus, Czech Republic, India, Italy and Mexico as well as representatives from Germany,Indonesia, Latvia, Egypt and Canada.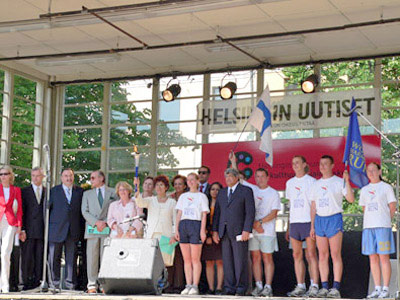 Following a presentation and rendition of the World Harmony Run Song our guests came on stage, held the torch and wished the runners all the best for the journey, before the group took off for the last few kilometers of the day.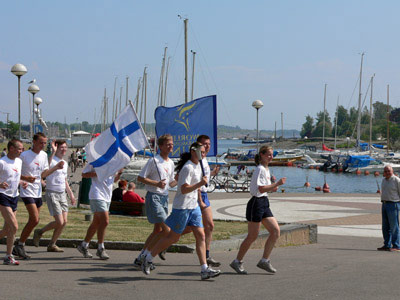 The last stretch was very enjoyable to run. The road would lead us along the coastline and we naturally didn't miss the chance to go for a swim after we finished running.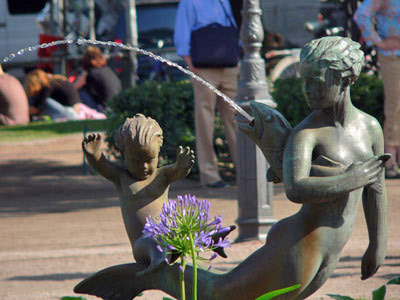 We went back to Helsinki where we stayed over night, but before going to bed we were taken to a nice vegetarian restaurant that belongs to the famous finish actress Satu Silvo. Great meal after a great day...
---
Distance: 93km
Team Members:
Alexey Egorov (Russia),Antaraloy Aalto (Finland), Janos Derekas (Hungary),Svetlana Gorshkova (Russia), Olesya Ilyasova (Russia), Martin Leitner (Austria), Petr Machacek (Czech Republic), Peter Zuidema (Netherlands)
Harmonemail:
You can send a message to the runners or read the messages.