Finland 22 June: Orimattila - Porvoo
Today we started at 8.30, at the border between Nastola and Orimattila regions; we had stopped running here on Wednesday. At the beginning we were welcomed by a friend from Nastola who had brought us a newspaper with a beautiful article about the WHR.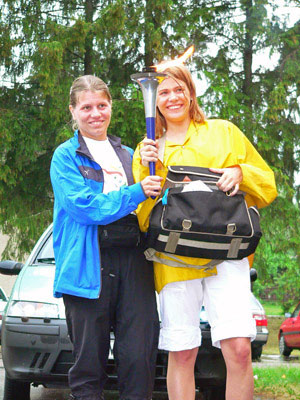 Martin and I were the first runners. It is a nice start when you feel a little bit sleepy, it's a good wake-up. We did a nice 10 km and during the run we enjoyed the company of a local marathon runner who joined us to Orimattila.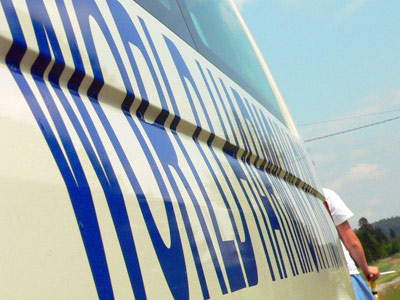 After 5 km we forgot to refill the torch, but luckily after 10 km we still had a nice flame. We were blessed by the weather gods with a rain shower - the rain was pouring the heaviest just before we reached the first meeting in Orimattila.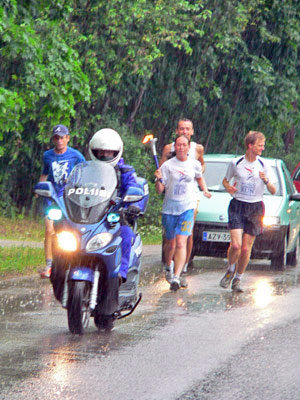 The mayor gave us a warm welcome. He was accompanied by an accordion player who played nice local music. Luckily the rain stopped, so we could have the meeting outside.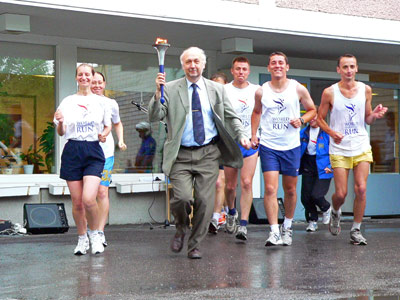 After the meeting I ran with Petr, Alex and Olesya and a local runner through a beautiful green forest with ideal running temperatures. Not as warm as it was for the last days, and we enjoyed the pristine environment very much.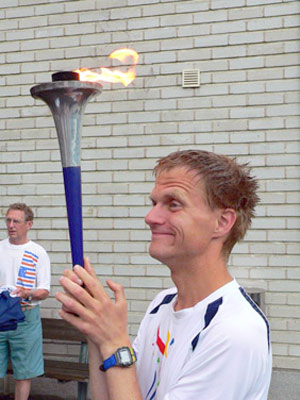 The next stop was the legendary sporting town of Myrskylä. Although there live only 2000 people here, this town has produced many nice runners - we ran with a 100 meter youth-champion, with Ari Paununen, a great 3000 meter runner and with Martin Viren, son of Lasse Viren, the Olympic Gold-winner at the 5 km and 10 km in 1972 and 1976. Together we ran to the statue of Lasse Viren were we had a meeting, surrounded by beautiful scenery.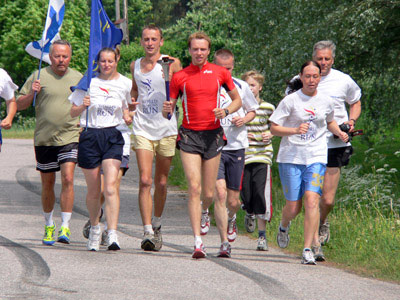 Afterwards we continued on the road to Porvoo, where we started yesterday. The next runner was Jatnavan who ran with a good pace again in a beautiful forrest. Svetlana, Janos and Anne also ran, whilst other runners did a second run. In Parvoo we found some nice articles about the run in the local newspapers.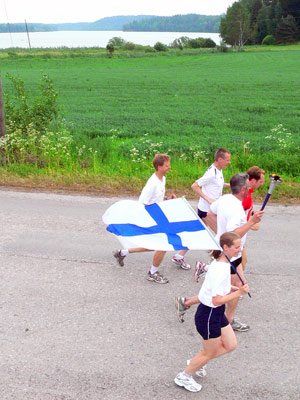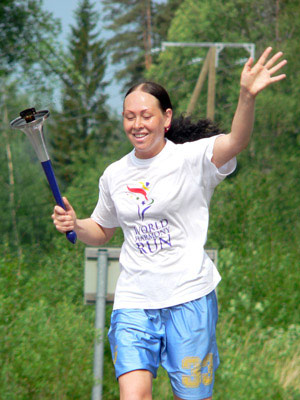 After running we went back to Helsinki where we stayed a second night. We swam in the sea and we enjoyed a nice meal made by super-cook Antaraloy.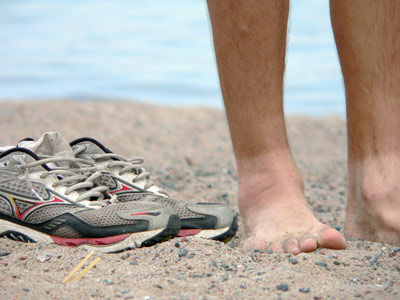 ---
Distance: 71km
Team Members:
Alexey Egorov (Russia),Antaraloy Aalto (Finland), Janos Derekas (Hungary),Svetlana Gorshkova (Russia), Olesya Ilyasova (Russia), Martin Leitner (Austria), Petr Machacek (Czech Republic), Peter Zuidema (Netherlands)
Harmonemail:
You can send a message to the runners or read the messages.