Netherlands 30 September: Den Haag - Amsterdam
Today, after a 6km run through the town, the torch arrived at one of the world's foremost international schools, the renowned International School of The Hague.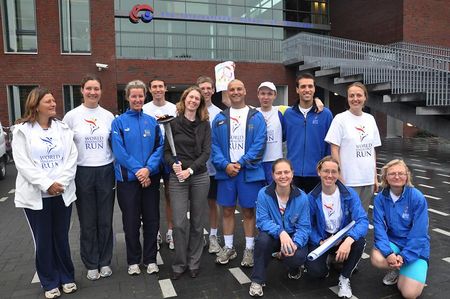 From left to right (standing): Stéphanie, Annemijn, Elke, Diganta, Mrs. Hertay, Marc, Bijon, Roger, Marco, Tatiana.
Sitting (left to right): Gabriella, Sara and Annemarie.
This large institution has recently moved into sparkling new buildings that houses 78 different nationalities of children. A relay run was laid out around the grounds with children passing the torch hand to hand past many lines of cheering pupils bearing welcome banners and artwork for Harmony.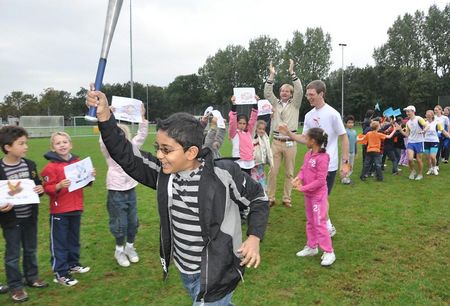 Finally Timmy, the schools young star athlete proudly carried the torch, followed by the runners, into the main glass-walled Auditorium. He proudly held the Torch aloft during the remainder of the ceremony.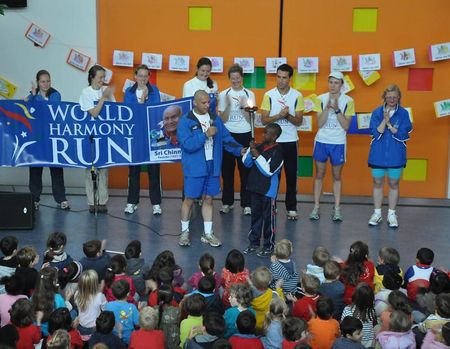 After a very warm introduction by Curriculum-Coordinator Mrs. Hertay the presentation commenced. As it was an English speaking school I was able to introduce the World Harmony Run and the rest of the runners to the 400 or so children.
It was a special event and great fun – and after one girl raised her hand to say they had also learnt the World Harmony Run Song, another singing session ensued ending with all the teachers doing the actions and just the children's voices ringing clear.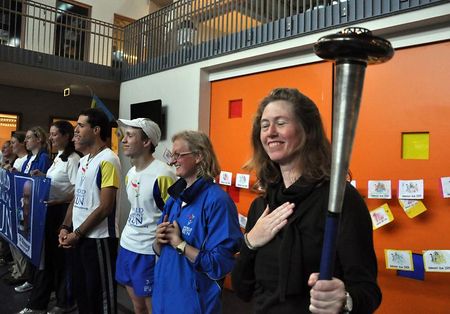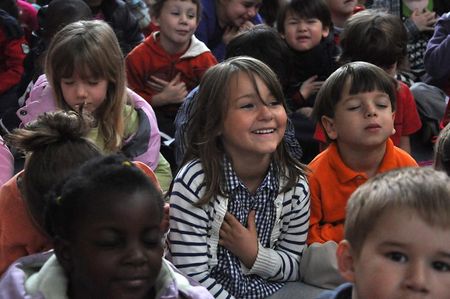 During the moment's silence, all added their wishes for Harmony to the World Harmony Run torch held aloft by Mrs. Hertay and after a round of applause for the Founder of the World Harmony Run, Sri Chinmoy, The team ran out of the school waving at the happy, international crowd.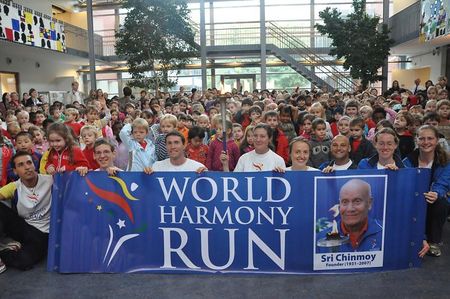 After a very enjoyable run along the beach, the runners gleefully sat down to tuck in to a local specialty – pannenkoeken! (Dutch pancakes)
The day ended in Amsterdam with games and a delicious feast.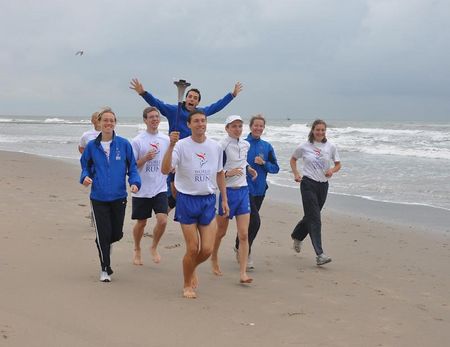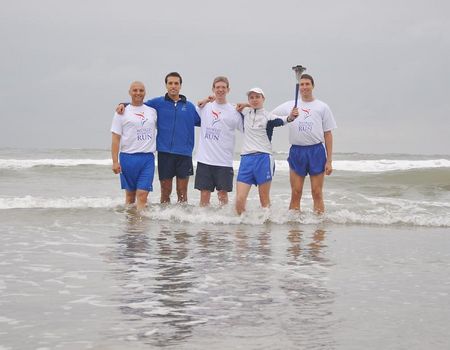 The boys getting wet feet.
---
Team Members:
Bijon (Great-Britain), Marco (Italy), Gabriella (Hungary), Judit (Hungary), Elke (Germany), Roger (Germany), Diganta Adhikari (Austria), Stéphanie (Luxemburg), Annemijn (The Netherlands), Sara (The Netherlands), Annemarie (The Netherlands)
Harmonemail:
You can send a message to the runners or read the messages.
Gallery: See more images!